The ideal introduction to Italy can be found on the Italian Riviera in northern Italy. Sanremo is a popular first stop when crossing from France to Italy due to its convenient location less than an hour from the border. This historic coastal town has made a name for itself as the home of one of the biggest events in Italian popular culture – the Festival di Sanremo. It is also host to one of the biggest one-day cycling events in the world. Apart from these events, Sanremo has plenty of attractions to make for a great Italian vacation. This Sanremo destination guide will give you everything you need to know to plan your next Sanremo trip.
What is San Remo Italy famous for?
Sanremo is most well known for being the home to the famous Sanremo Music Festival (also known as the Italian Song Festival), which has been held in this city since 1951. This is the longest running annual TV music competition in the world and also one of the longest-running television programs in the world. However San Remo also has a few other claims to fame. It is known as the City of Flowers due to its flower cultivation industry, particularly in carnations. There is also a Carnival of Flowers in San Remo, which features a parade of floats adorned in flowers. Another popular event in San Remo is the Milano-San Remo Cycling Race, which finishes in San Remo.
Sanremo first came to prominence in the mid 1700s as a popular tourist destination on the Italian Riviera, particularly for Russian royalty and aristocracy. During that time lavish hotels were built and the city developed. One of the most famous landmarks in Sanremo – Corso Imperatrice – is named after a Russian empress who spent time in the city during the 1800s. San Remo continues to be a popular Italian tourist destination today.
Why you should visit Sanremo Italy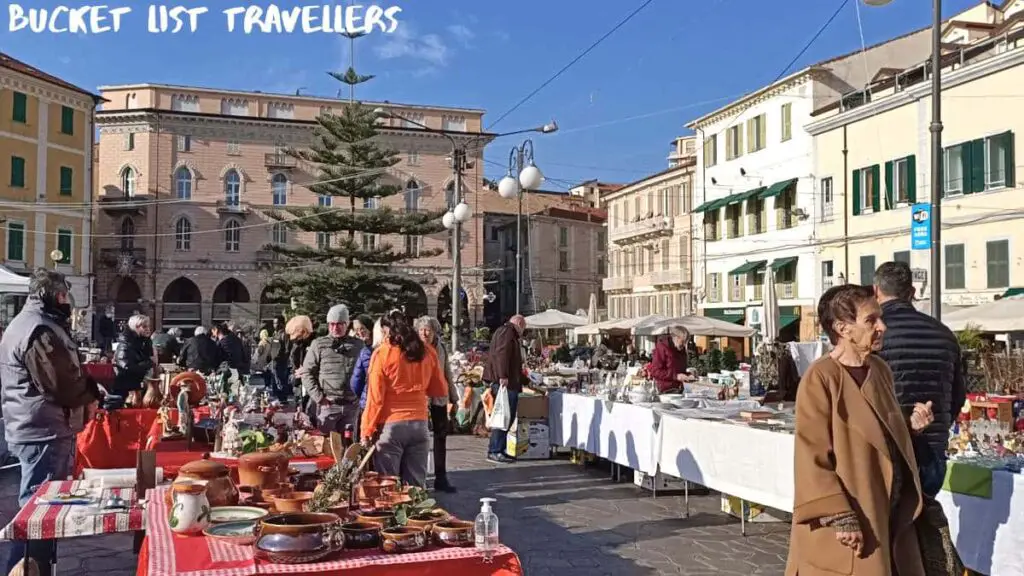 For a relaxing getaway in Italy, Sanremo is the perfect destination. Ideally located just a short drive from the border with France, this seaside resort town has a lot to offer. The old town is a labyrinth of winding alleyways filled with boutique shops as well as intimate local cafes and restaurants. As you make your way up the well worn paths of this historic city, you pass through gates that have kept the city safe for centuries. At the top of the hill, the lookout point Belvedere della Madonna Della Costa provides unparalleled views of the city and the surrounding mountainside. To view the ocean up close, why not hire a bike and take a ride along the bike path that runs along the waterfront.
Given its position on the water, its no wonder Sanremo is the perfect place to dine on fresh seafood. This coastal city is filled with cafes and restaurants serving up mouthwatering dishes to very satisfied customers. Be sure to try the local specialties like the seafood stew buridda as well as the anchovy-topped sardenaira.
Finally, a guide about San Remo wouldn't be complete without mentioning festivals and events in Sanremo. The Festival di Sanremo is a nationally televised song contest held in Sanremo. Importantly, it was inspiration for the world famous Eurovision Song Contest. Another major festival in Sanremo is the flower festival Corso Fiorito. Sanremo is often referred to as the Town of Flowers due to this long-running and spectacular event. And of course cycling fans would be familiar with the prestigious one-day sprinters classic Milan–San Remo.
Sanremo Destination Guide: Know before you go
Basic info about Sanremo Italy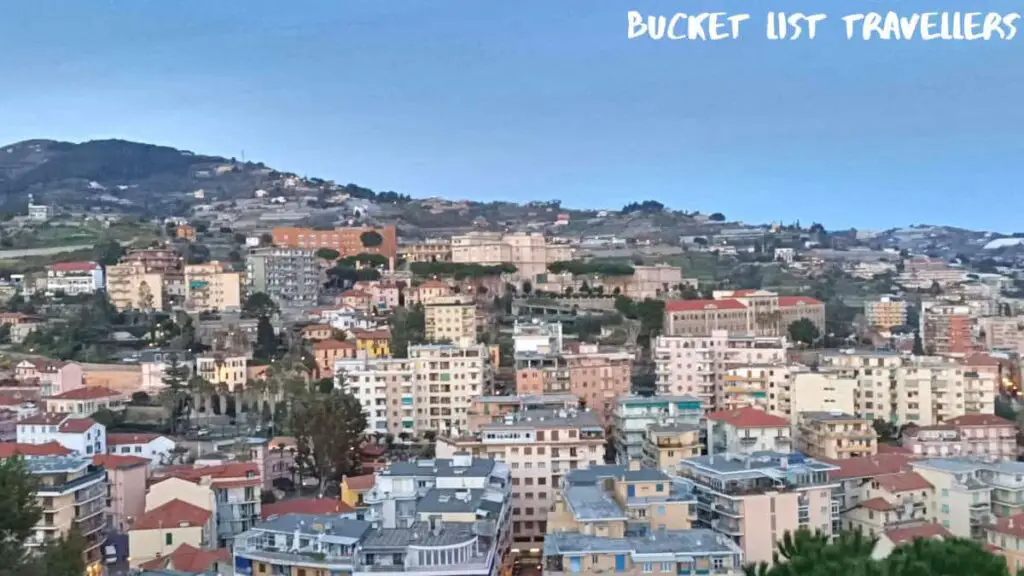 Language – Italian. Intemelio is a Ligurian dialect spoken in Sanremo. We found that English was not widely spoken in Sanremo, however in hotels and restaurants you will generally find someone who will be able to speak English.
Currency – euro (EUR). This has been the official currency of Italy since 2002. Currency exchanges can be found in most cities and ATMs are available widely throughout the country.
Population – 55,000 (2017)
Area – 55 km2 (21 sq mi)
Province – Imperia
Region – Liguria
Emergency number – 112 or 114 (sms or fax)
Police number – 17
Utilities in Sanremo Italy
Electricity – Italy uses Types C, F and L power plugs. The country operates on a 230v supply voltage at 50Hz. Power outages are not common in Italy. However in some places you need to be careful not to use too many appliances at once or you'll overload the system.
Water – the tap water in Italy is safe to drink almost everywhere in the country. However there are a some very rural areas may not have water that's safe to drink. In particular, if you see a sign that says "acqua non potabile", that means the water is not safe to drink.
Toilets – sit-down flushing toilets are the most common type of toilet in Italy. You can flush your toilet paper directly into the bin. Additionally, bidets are a common feature of many bathrooms. Public toilets are common in Italy. However many public toilets charge a fee anywhere from 50 cents to 1 euro to use.
Telephone country code: +39
Where is San Remo Italy?
Here is a San Remo Italy map:
Sanremo is in the province of Imperia in the Liguria region of northern Italy. It is a port city on the Mediterranean Sea in the Italian Riviera. Sanremo is close to the border with Monaco as well as with France.
The closest major Italian cities to Sanremo are Genoa, Turin as well as Milan. Sanremo is 1.5 hours by train from Genoa, 3.5 hours by train from Milan and around 4 hours from Turin.
How to get to Sanremo Italy
Sanremo destination guide: Arriving by land
Sanremo Italy intercity land transport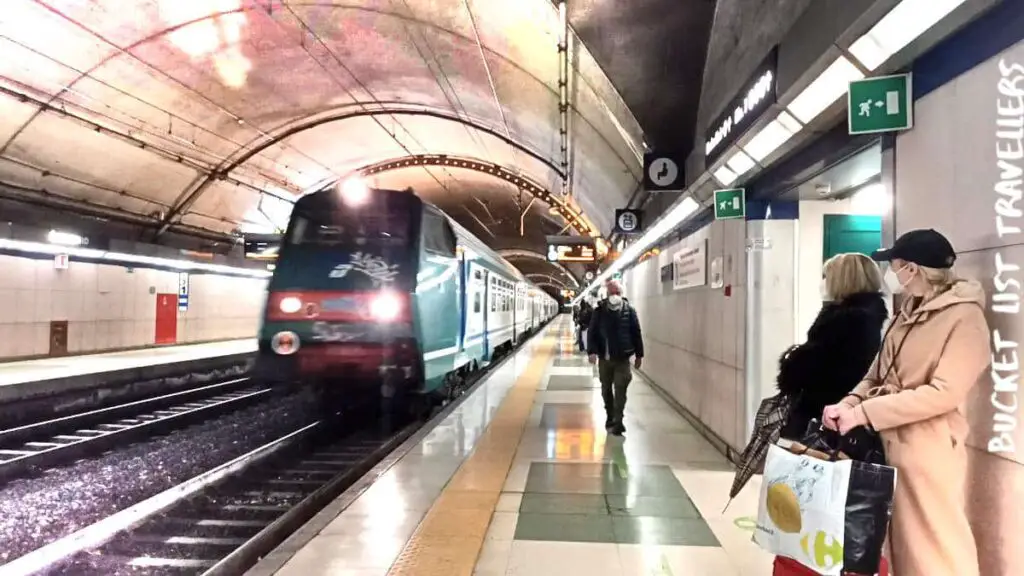 The main transport options for travelling overland to Sanremo Italy are:
Private vehicle
Private transport operator
Train
Bus
Bike
Driving to Sanremo from within Italy
If you are driving to Sanremo from within Italy, here are the travel times and distances:
Genoa – 2 hours 4 minutes (147km, 91miles) with tolls or 3 hours 50 minutes (147km, 91miles) without tolls
Turin – 2 hour 56 minutes (231km, 143miles) with tolls or 3 hours 47 minutes (213km, 132miles) without tolls
Milan – 3 hours 24 minutes (267km, 104miles) with tolls or 6 hours (320km, 199miles) without tolls
Rome – 7 hours 16 minutes (648km, 403miles) with tolls or 12 hours 47 minutes (668km, 415miles) without tolls
Intercity trains to Sanremo Italy
Trains are a cheap and efficient way to get to Sanremo Italy. Sanremo has one train station which It is located about 15 minutes walk from the main part of town.
The following train brands service Sanremo:
Eurocity services (Trenitalia) – this service connects cities across different countries in Europe. This line runs from Marseille France to Milan Italy. Additionally, it stops at a number of cities in France, Monaco and Italy along the way.
Night services (Russian Railways) – this runs from Nice France to Moscow Russia.
The main railway company in Italy is called Trenitalia.
We recommend using the app and website TrainLine to book intercity train tickets in Italy. This is the app we used. We found it very easy to use with great functionality. Another great feature is that you can see days ahead to see what times of the day were the cheapest rates.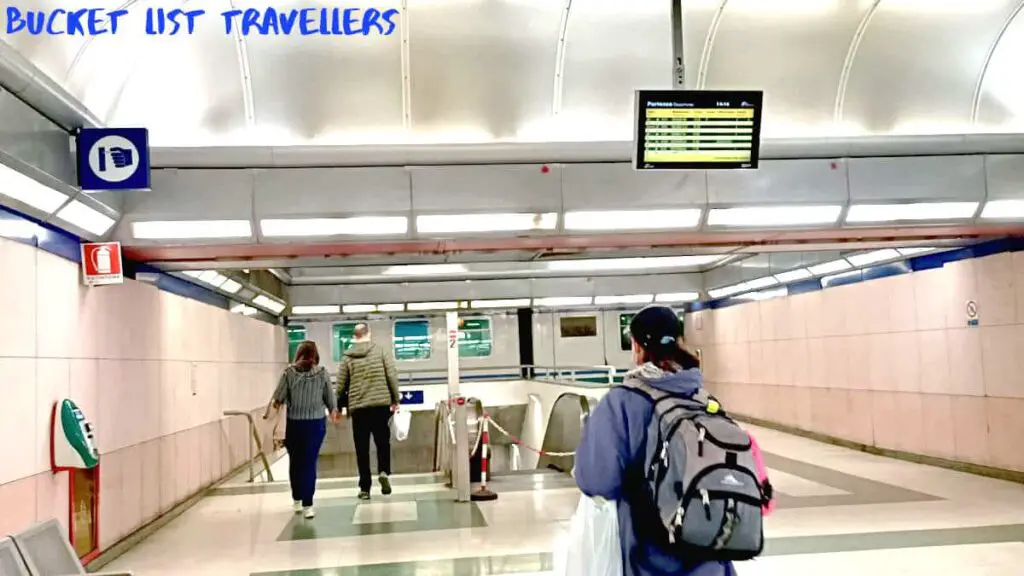 Intercity buses to Sanremo Italy
A common way to get around Italy is by using intercity buses. These are a budget friendly alternative to trains, but are generally a slower option. Intercity bus companies in Italy include Marino Autolinee, Itabus, Autolinee Federico, Interbus as well as FlixBus. Popular bus destinations from Sanremo include:
Nice Côte d'Azur (Airport) – travel time 1 hour. Tickets start from 5 euro one way.
Milan Italy – travel time 4-5.5 hours. Tickets start from 14 euro one way.
Rome Italy – travel time 13.5 hours. Tickets start from 35 euro one way.
Sanremo destination guide: Arriving by air
There is no Sanremo airport. However the nearest major airport to Sanremo Italy is Nice Côte d'Azur Airport in France (Airport code NCE). This international airport is 48km (30miles) from the city. Moreover, Nice Airport is the 3rd busiest airport in France.
Other nearby airports include:
Riviera Airport (Airport code ALL). This airport is 38km (24miles) away.
Cannes – Mandelieu Airport Airport (Airport code CEQ). This airport is 73km (45miles) away.
Cuneo International Airport, Italy (Airport code CUF). This airport is 82km (51miles) away.
The national airline of Italy is ITA Airways (Italia Trasporto Aereo).
Sanremo destination guide: Arriving by boat
The city of Sanremo is on the Mediterranean Sea. The city has 2 ports – Porto Vecchio as well as Portosole. However the main passenger ports nearby are at Genoa and Savona.
Sanremo destination guide: How to get around Sanremo Italy
Walking in Sanremo Italy
By far the easiest and cheapest way to get around Sanremo is to walk. Furthermore, most of the main attractions in the city area are within easy walking distance.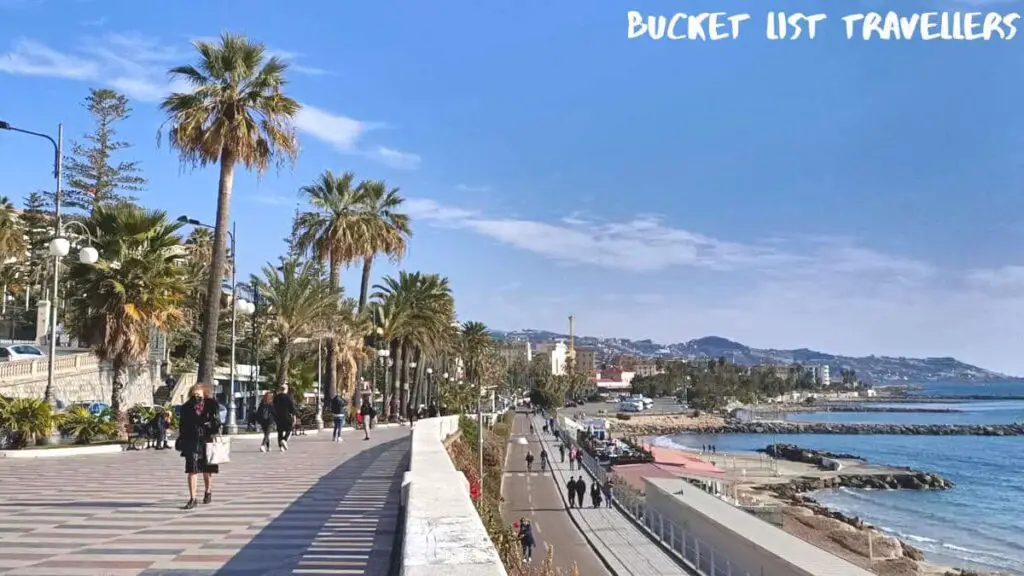 Local buses in Sanremo Italy
Local buses service Sanremo. These services are operated by Riviera Transporti. For more information, see this website: http://www.rivieratrasporti.it/
Trolleybuses in Sanremo Italy
The Sanremo trolleybus system is known as the Italian Riviera trolleybus. There are 2 lines on this system:
U Sanremo urban service (La Brezza-Villa Helios)
V Sanremo (bus station)-Ventimiglia (Piazza Costituente)
Trams in Sanremo Italy
At this time there are no trams in Sanremo. The tram service in Sanremo was discontinued in 1948.
Métro trains (subway or underground) in Sanremo Italy
Sanremo does not have a metro train system.
Vehicle hire in Sanremo Italy
A wide variety of vehicles can be rented in Italy. This includes:
Bicycles – you can hire a bike from a bike hire shop such as NoloBici.
Cars
SUVs
Campervans
Boats
The Italian drive on the right side of the road.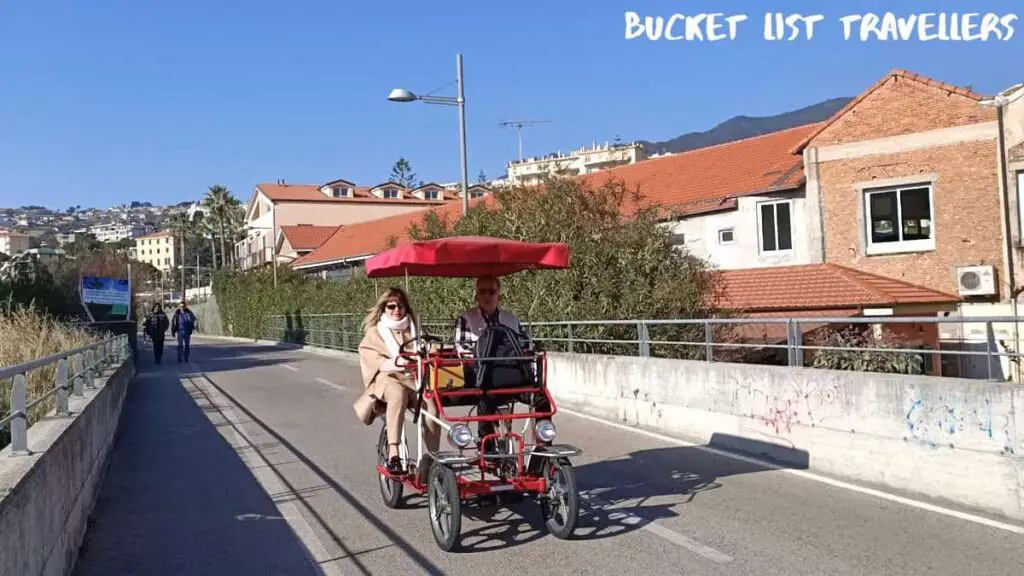 Taxis in Italy
Taxis are common in Italy. Fares are regulated and are usually metered. The exception to this will be standard journeys such as airport trips. In this case the fare will be a fixed price. Taxi rates are usually displayed inside the vehicle as well as at taxi ranks. In general your fare will include the following costs:
The pickup fee or minimum fee – this is charged as soon as you get into the vehicle
There may also be an additional fee for extra people or heavy luggage
Price per kilometre – this price can vary depending on the time of day
Price per hour – this is a price that gets charged when the taxi is stuck in heavy traffic. The price also varies depending on the time of day
It is not necessary to tip taxi drivers in Italy. At most, Italians may round up the fare to the nearest dollar as a tip.
To ensure you are charged the correct amount, be sure to only use official taxis that have a taxi sign on the roof. Also check that the taxi driver resets the metre before taking off and that the metre is working. In particular, if your trip is inside city limits "Tarrifa 1" on the metre should be lit up. Note that this is the lower and correct rate. Conversely, Tarrifa 2 and 3 should only be used for trips outside the city walls or to the airport.
Ride-share services in Sanremo Italy
Sanremo does not have any ride-share services.
Italy travel guide to travelling during Covid
We have written a detailed post outlining the Covid entry requirements. You can find the post here.
Sanremo Italy destination guide: Is Sanremo worth visiting?
Sanremo is a beautiful seaside town with a lot of charm. San Remo festivals are huge events and we certainly recommend visiting if you want to see the Sanremo Music Festival, the Flower Parade (Corso Fiorito) of San Remo or the Milan–San Remo Spring Classic road cycling race. These events certainly make San Remo worth visiting.
As a seaside resort town, San Remo is past its heyday, but it still has a lot of charm and a lot to offer. If you are travelling along the Mediterranean from France, a Sanremo vacation offers a great opportunity to relax and unwind. Additionally, its position on the train line makes it a convenient stop if you are travelling Italy by train. However if you are coming from further afield, we wouldn't recommend going out of your way specifically to visit Sanremo.
Sanremo destination guide: How long to spend in Sanremo Italy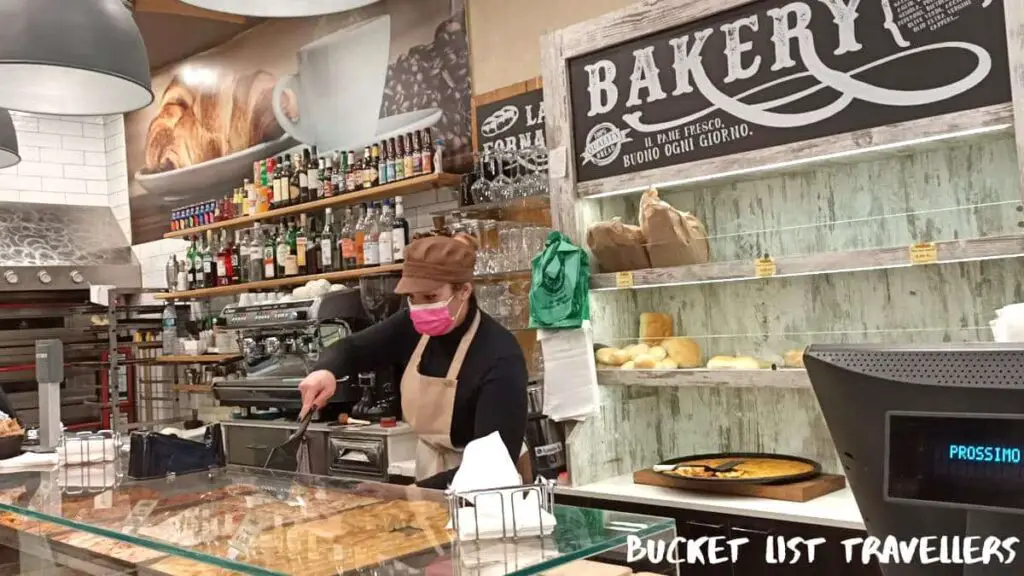 Sanremo is a great place to come for a weekend. It is a relaxed port city with a pretty old town area, some great waterfront restaurants near the port as well as some beautiful beaches. We spent 2 days in Sanremo and enjoyed taking time to enjoy the various activities available in this beautiful city.
Sanremo destination guide: What to do in Sanremo Italy
If you want to know what to do in San Remo Italy, you've come to the right place! Sanremo is a beautiful Italian city with many activities on offer. It has a range of great free activities as well as paid activities. Our list of what to see in Sanremo and what to do in San Remo Italy is below.
Sanremo destination guide: Free things to do in Sanremo Italy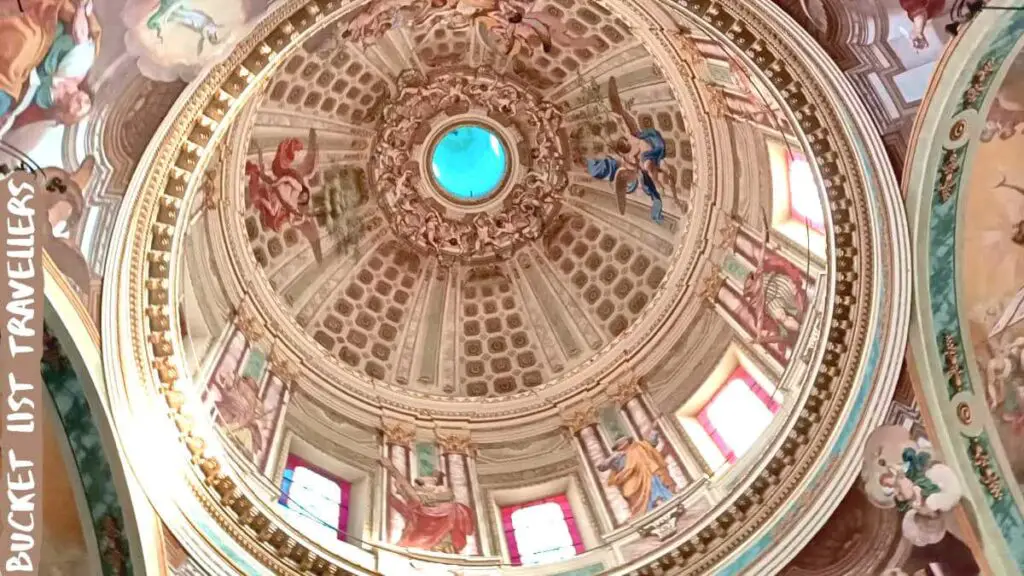 There are enough free activities in Sanremo Italy to keep you entertained for a weekend or even a leisurely week:
For more details, see our Sanremo travel guide on the 12 Best Free Things To Do in Sanremo Italy.
Sanremo destination guide: Paid activities in Sanremo Italy
Some attractions in Sanremo Italy charge an entry fee:
Russian Orthodox Church – entry fee is 1 euro for adults (as at 2023)
Forte Santa Tecla – entry fee is 4 euro for adults (as at 2023)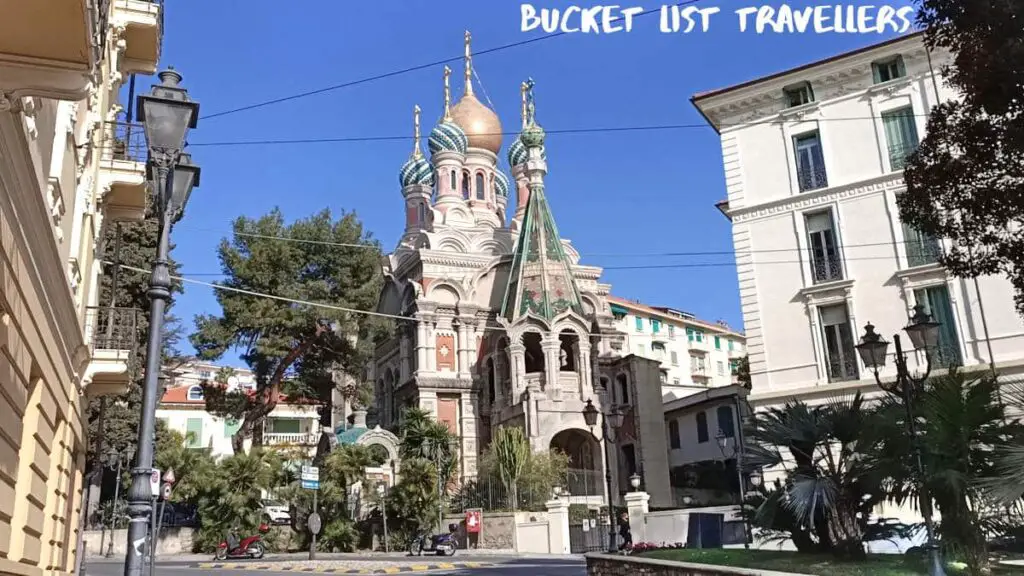 Other paid things to do in San Remo Italy include:
Casinò di Sanremo – however the building itself is free to enter
Whale watching tours
Fishing charters and tours
Sailing
Watersports
San Remo guide: Festivals in Sanremo Italy
Festival di Sanremo
The most popular Italian song content, Festival di Sanremo, is held here once a year in February. Additionally, this televised event was the inspiration for the Eurovision Song Contest. Moreover it is the longest running national TV music competition in the world.
Corso Fiorito (festival of flowers) in Sanremo Italy
In March each year Sanremo is home to the Sanremo flower festival Corso Fiorito. This is a vibrant event which includes a parade of floats adorned in flowers. Due to this parade, Sanremo known as the Town of Flowers. The flower festival has been a major event on the Sanremo calendar since 1904.
Milan–San Remo road cycling race – La Classicissima (The Spring Classic)
Currently the longest one-day, annual professional bike race in the world, the Milan-San Remo cycling race is one of the most prestigious one-day events in cycling. This event is usually held on the 3rd Saturday in March and has been running since 1907.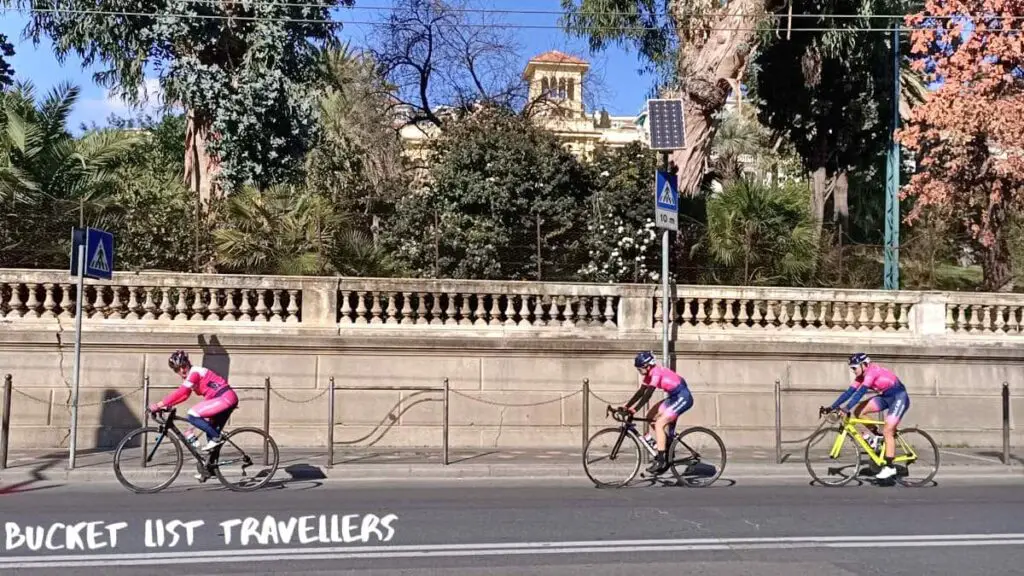 Weather in Sanremo Italy
Sanremo enjoys a warm temperate climate. Its climate is heavily influenced by the nearby Mediterranean area. During the winter it is cold with average temperature range between 7°C and 13°C in the coldest month of January. Summers last from June to September and are hot and sunny, with the average temperature range between 22°C and 27°C in the hottest month of August. It is a windy city and experiences frequent and sometimes powerful winds. The month with the most rainfall is October with 7.4 days of rain on average and the driest month is July with an average of 2.5 rainy days.
Best time to visit Sanremo Italy
If you can time your San Remo trip to coincide with one of the festivals or events, we highly recommend doing so. Sanremo is host to a number of vibrant festivals and events that are well worth seeing. The major Sanremo Events to look out for are the Festival di Sanremo in February, the San Remo flower festival in March and the Milan–San Remo cycling race, also in March. As a seaside resort town, the best time to visit San Remo is during the warmer weather, particularly from April to September. However even in the colder months there's plenty to do in San Remo including shopping, eating, strolling down the beachfront promenades and visiting the Sanremo Casino.
Internet and mobile phones in Italy
Since June 15th, 2017, Roam Like at Home (RLAT) rules came into force for European Union countries. As such, people with European Union mobile numbers are no longer charged temporary mobile roaming fees if they travel within the European Union. This means that if you have a European Union mobile number, you can use that number anywhere within the European Union and you will be charged for calls, texts and data in the same rates as if you were in your home country. There are limits to this in order to prevent abuse of these rules.
The main internet and phone companies in Italy include TIM, Vodafone, Wind, 3, Iliad.
5G has been in Italy since June 2019. However 2G is expected to continue in Italy until 2025.
The average internet speeds in Italy are reasonably fast. For Fixed Broadband the average download speed is 64mbps and upload is 19mbps (as at March 2023).
The best place to buy cell phone SIM cards in Italy are in phone stores. They can be found in shopping malls and city centres. We recommend not buying a SIM card at the airport as prices are generally higher at the airport. You will need to present photo ID in order to purchase a SIM card.
How much to budget for Sanremo Italy?
Is Sanremo expensive?
San Remo vacations suit to a wide variety of budgets. The city is easily walkable, which definitely helps keep costs down. Sanremo is also well connected to other parts of Italy by public transport. Additionally, many of the major attractions in Sanremo are free. Therefore it is possible to take a day trip to Sanremo Italy and not spend much money at all. However if you want a more luxurious experience, perhaps with some fine dining, a trip to Sanremo Casino and a stay at an upmarket Sanremo hotel, it can be easy to spend a lot as well.
Sanremo destination guide: Daily spend for a couple travelling in Sanremo Italy
As a rough Sanremo guide, we recommend the following budgets for a couple:
Low-budget daily spend – 100 euro per day for a couple will get you budget accommodation, self catering and bakery meals, walking or catching local transport to get around the city and free or cheap activities.
Mid-range daily spend – 300 euro per day for a couple will get you mid-range accommodation, walking or catching local transport to get around the city, dining at reasonably priced cafes and restaurants and some paid activities.
Luxury spend – 1000 euro per day for a couple will get you a premium experience, staying at high end hotels, travelling by private transport, doing a range paid activities and eating at high end restaurants.
Sanremo destination guide: Accommodation in Sanremo Italy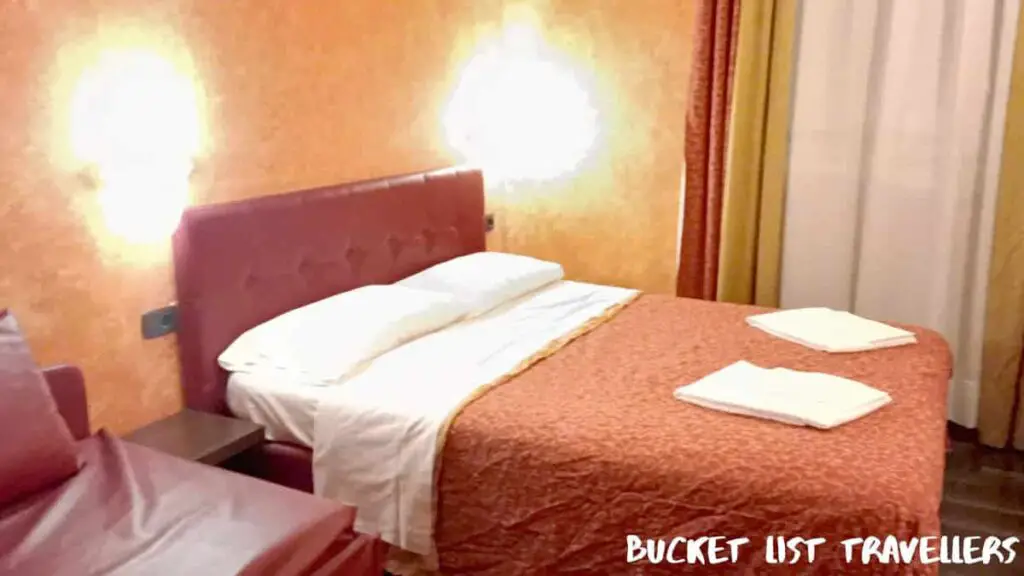 There is a good range of accommodation to suit most budgets for when you visit San Remo Italy. Airbnb operates in Italy and Sanremo has both apartments and boats available for rent.
Where to stay in Sanremo Italy?
We recommend the following accommodation in San Remo Italy:
Best 3 star hotel in San Remo Italy – we highly recommend staying at Pisolo Resort in Sanremo. We stayed here ourselves and had a very comfortable and enjoyable stay. The hotel is ideally positioned overlooking Piazza Colombo. It was great waking up to views of the local market from our bedroom window. Furthermore, the owner Michele was very friendly and helpful.
Best 4 star hotel in San Remo Italy – Hotel de Paris Sanremo is a beautiful old style hotel in a prime location. The rooms are spacious and clean and the breakfasts are delicious.
Best 5 star hotel in San Remo Italy – for a deluxe experience with old school charm we recommend the Royal Hotel Sanremo. This historic luxury hotel in San Remo has been around since 1872. It is perfectly positioned within an easy walk of restaurants, shops and the beach. Service is excellent and it has a beautiful pool area.
How much is accommodation in Sanremo Italy?
For short-term accommodation, a general price per night is as follows:
Budget accommodation – we could not find any dorm accommodation in Sanremo
Mid-range accommodation – 50-150 euro for a private room
Luxury accommodation – 200-300 euro a night for a luxury hotel
Rental property – 250-500 euro a night for a fully furnished 3-5 bedroom home
City tax on accommodation in Sanremo Italy.
Most cities in Italy charge a city tax, which must be paid to your host and is an additional charge on top of your nightly rate. Sanremo introduced its city tax on 1 June 2019. It is a per person per night charge for all guests over the age of 14. The fee is valid from 1 March to 31 October. There is a 50% discount for groups of 20 or more guests. The charge varies depending on the star rating of the accommodation. The prices as at 2022 are as follows:
1 star = 0.80 euro
2 stars = 1.10 euro
3 stars = 1.50 euro
4 stars = 2 euro
5 stars = 3 euro
Sanremo destination guide: Food in Sanremo Italy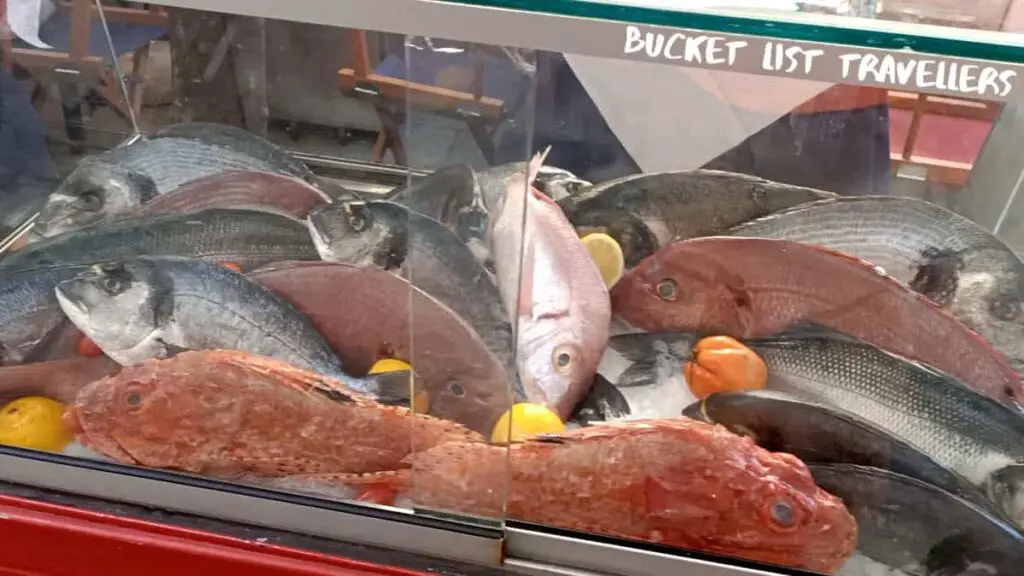 Being on the water, seafood is very popular in Sanremo.
How much does food cost in Sanremo Italy?
Our price guide for your food budget in Sanremo Italy is as follows (prices as at 2023):
Restaurant meal – 15-35 for a main dish
Bakery food – 3.50 for arancini, 1-4 euro for a slice of pizza
Glass of wine – 4-8 euro
Coffee – 1-4 euro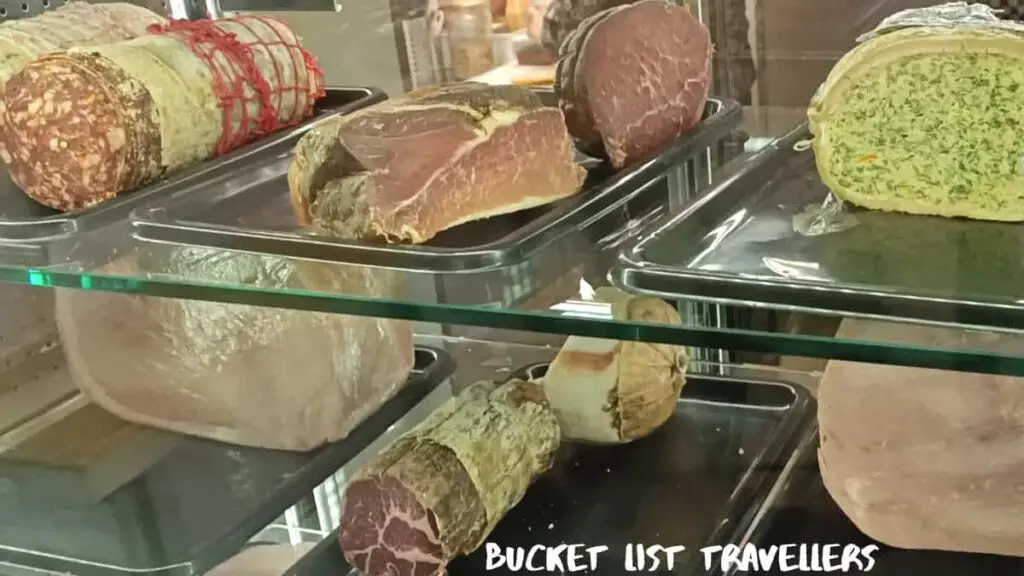 Coperto charge for restaurants in Italy
Most restaurants will charge a coperto charge if you are dining in. This cover charge is usually around 1-3 euro, but may be higher in touristy areas. It is a fixed per person charge and is meant to cover things like table linen, tableware and may also cover bread. It's a non-negotiable charge and must be listed on the menu. If you can't find it listed on the menu, ask your waiter if there is a coperto charge.
Servizio charge for restaurants in Italy
Some restaurants charge a servizio charge. This service charge is generally a percentage of your bill and must be listed on the menu. It is usually charged in restaurants in touristy areas as well as for groups of 8 or more.
Regional dishes in Sanremo Italy
Buridda
Sardenaira
Torta verde
Cheap Eats in Sanremo Italy
Panetterias or focaccerias (Italian bakeries) are great places to get cheap as well as delicious food. Slices of pizza are around 1-4 euro. Arancini are around 3.50 euro each. Other common food that can be found in Italian bakeries include panini, canoli as well as fritole.
Pizzerias are unsurprisingly abundant in Italy and are also perfect for a cheap quick meal. Prices will vary depending on size and ingredients, but expect to pay around 5-10 euro for a pizza.
Gelato in Italy will satisfy your sweet tooth but without breaking the budget. Expect to pay around 3 euro for a single scoop cone.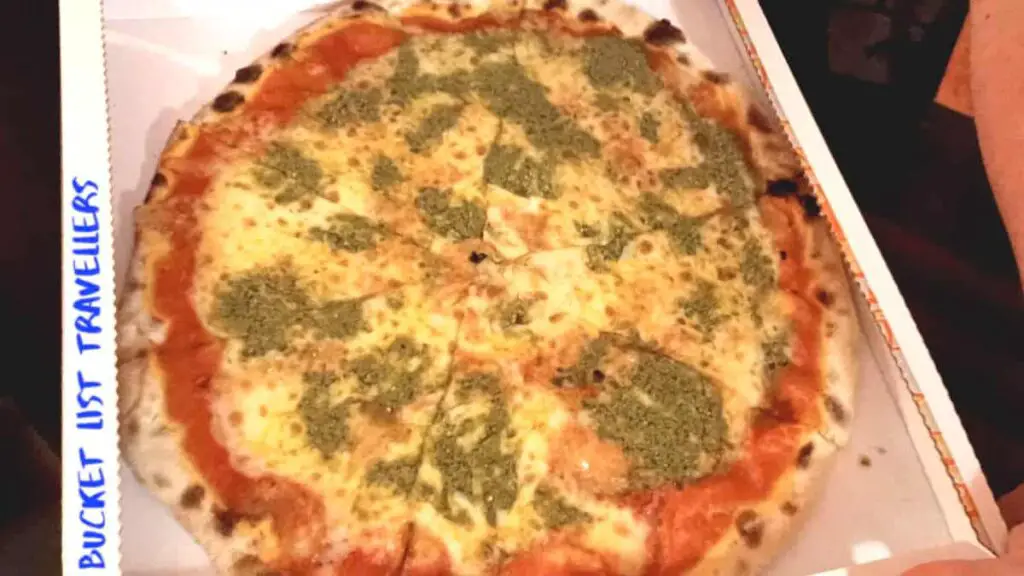 Fine dining in Sanremo Italy
Sanremo is home to one Michelin Guide restaurant.

1 star Michelin restaurants in Sanremo Italy (2023):
Sanremo Italy culture
Sanremo public holidays
New Year's Day – 1 January
Epiphany (Epifania or Befana) – 6 January
Easter Sunday (Pasqua) – typically in March or April
Easter Monday (Pasquetta) – the Monday after Easter Sunday, typically in March or April
Liberation Day (Festa della Liberazione) – 25 April
International Workers' Day (Festa del Lavoro) – 1 May
Republic Day (Festa della Repubblica) – 2 June
Assumption Day (Ferragosto) – 15 August
All Saints' Day (Ognissanti or Tutti i Santi) – 1 November
Day of the Immaculate Conception (Immacolata) – 8 December
Christmas Day (Natale) – 25 December
Saint Stephen's Day (Santo Stefano) – 26 December
National symbols of Italy
Italy flag – a tricolour flag featuring three vertical bands coloured green, white and red from left to right.
Italy coat of arms – this features a Roman wreath, a white 5-pointed star with a red border on a 5-spoked cogwheel, an olive branch, an oak branch as well as a red ribbon with the words "REPVBBLICA ITALIANA".
National flower – lily
National bird – Italian sparrow
Italian national animal – Italian wolf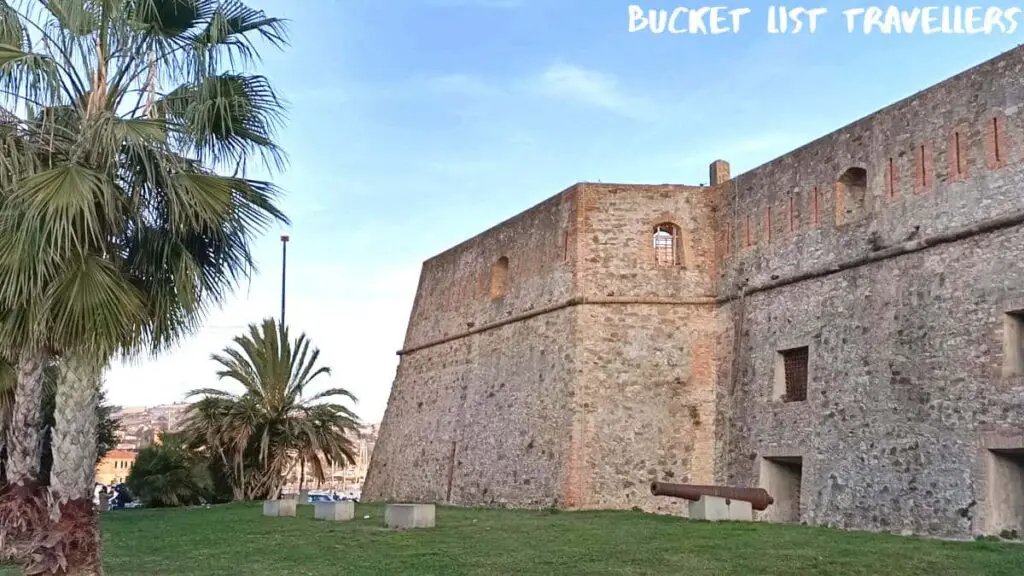 Italy pastimes
National dish – Ragu alla Bolognese
Popular drinks – Aperitivo, Negroni, Campari, Aperol Spritz, Prosecco, Limoncello, Italian wine
National sport – football
Religion – 79.2% Catholic, 3.5% Eastern orthodox, 7.5% agnostic, 4.1% atheist (as at 2021)
Famous people from Sanremo Italy
Famous people born in Sanremo Italy – actor and comedian Carlo Dapporto, director Mario Bava, admiral Giotto Maraghini, activist Giovanni Ermiglia
Sports stars from Sanremo Italy – tennis player Fabio Fognini, baseballer Alex Lidd
Is Sanremo Italy Safe?
Italy travel guide: Safety in Italy
We travelled through Italy for two weeks and generally found the country to be very safe. However as with any country, there are good areas and bad areas. When we were in San Remo we found it had a very safe atmosphere and we felt comfortable walking around both at day and during the night. However we do recommend being aware of your surroundings, particularly on public transport and in crowded areas such as Corso Imperatrice. In particular, be aware that there may be pickpockets or bag snatchers around. This is more of an issue in the bigger Italian cities of Rome, Venice, Florence, Milan and Naples, but may also be an issue in other parts of the country. Also beware that bag snatchers can even use cars as well as scooters for drive by bag snatching. Theft is the most common crime in Italy, so never leave your belongings unattended. Furthermore, make sure no-one is watching whenever you are entering pin codes and never lose sight of your credit card when making a purchase.
General safety considerations in Italy
Other general safety considerations for travel in Italy:
Drinking water – Tap water in Italy is safe to drink almost everywhere. However some very rural areas may not have water that's safe to drink. In particular, if you see a sign that says "acqua non potabile" the water is not safe to drink.
Nightlife – never leave your drink unattended because there have been reports of spiked drinks in bars and nightclubs.
Mosquitoes – the tiger mosquito has been in Italy since 1991. It spreads diseases such as Zika, dengue and chikunguya.
Altitude sickness – Italy has areas of high altitude and consequently risk of altitude sickness. Therefore allow sufficient time to acclimatise if visiting high altitude areas. Additionally, if you experience signs of altitude sickness (headache, nausea or vomiting, dizziness, tiredness, loss of appetite or shortness of breath) get help immediately.
Road safety – Italy has one of the highest road death tolls in Europe, due to driver behaviour as well as road conditions. Robberies from cars are not uncommon, particularly around gas stations. Always lock your vehicle, roll up windows and never leave valuables unattended in your vehicle. Ignore anyone who tries to flag you down – even if they are telling you you have a flat tyre. Carjackings are a risk in some parts of the country such as Sicily.
Taxis – only use official taxis designated by a taxi sign on the roof. Moreover, don't take a ride from a driver that approaches you.
Water safety – take care when swimming as currents and waves may be stronger than you expect.
Sun safety – Exposure to the sun can have adverse short-term as well as long-term effects on the skin, eyes and immune system. Wear sun protection such as sunscreen, a hat and sunglasses.
As with any destination, take all of your normal safety precautions.
Italy Blogs
You can find our Italy travel blogs below.
Affiliate Links
This website contains affiliate links, which means we may earn a commission on any purchases at no additional cost to you. Your support helps us continue our travels and make more travel blogs and travel videos, thank you!