Why you should go to Albania
Albania is a country filled with some of the friendliest people you will ever meet! We felt so welcome in this country and enjoyed spending time chatting with the locals. It is also home to amazing food, beautiful scenery and low cost travel. Its public transport and tourist infrastructure is not as developed as some of its European neighbours, which makes it a much more off the beaten path destination. In this Albania travel guide, we share everything you need to know to plan your next Albania trip.
Albania travel guide: Know before you go
Albania travel guide: Basic info about Albania
Language – Albanian. There are two dialects in the Albanian language – Tosk, which is spoken to the south as well as Gheg which is spoken in the north. English is becoming more widely spoken in the country, particularly amongst younger people. However not everyone you meet will be able to speak English.
Currency – Albanian lek (ALL). This has been the currency of the country since 1926. Currency exchanges can be found in most cities and ATMs are available widely throughout the country.
Population – 2.8 million (2020)
Area – 28,748 km2 (11,100 sq mi)
Capital – Tirana
Emergency number – 112
Police number – 112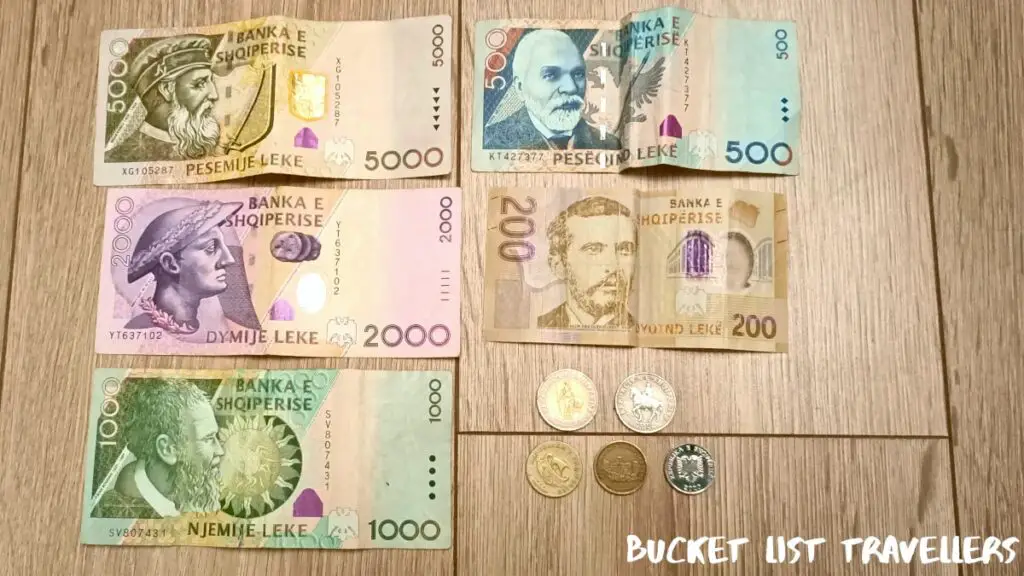 Utilities in Albania
Electricity – Albania uses Types C and F power plugs. The country operates on a 230v supply voltage at 50Hz. Power outages are common in Albania.
Water – the tap water in Albania is not safe to drink. However as the water is chlorinated, it is safe to use tap water for brushing your teeth. We recommend bringing a water purifier such as a life straw on your trip. Alternatively you can buy bottled water.
Toilets – sit-down flushing toilets are the most common type of toilet in Albania, although Turkish style squat toilets can be found in some places. Don't flush your toilet paper – use the bins provided. Bidets can be found in many bathrooms in Albania. Public toilets are common and are also free to use.
Telephone country code: +355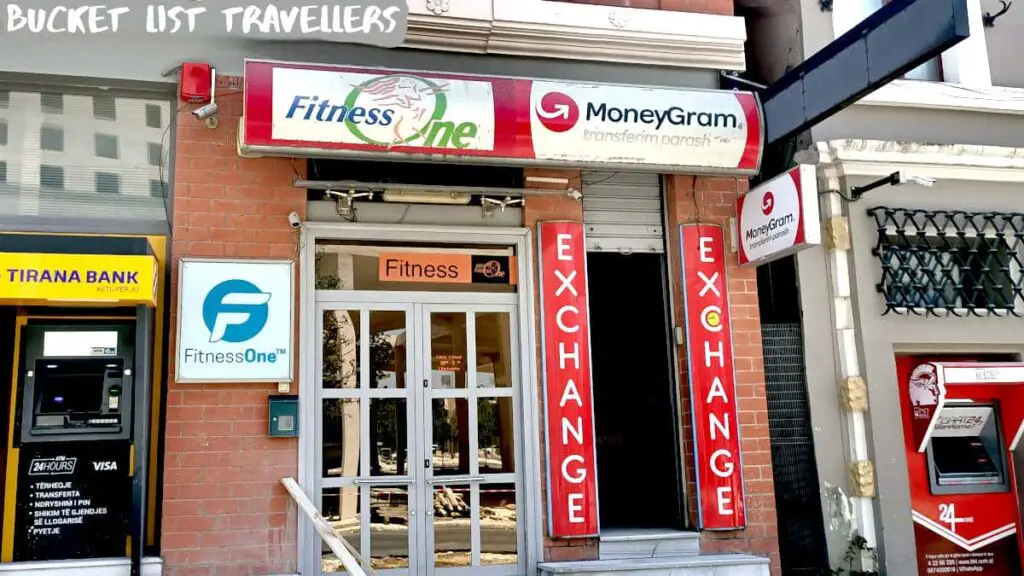 Where is Albania?
Albania is a country in the western Balkans in Southeast Europe. It is shares land borders with 4 countries – Montenegro, Kosovo, North Macedonia as well as Greece. Furthermore Albania has maritime borders with Italy and Greece. It has a coastline along the Adriatic Sea as well as the Ionian Sea.
How to get to Albania
Albania travel guide: arriving overland
Land border crossings for Albania
Albania has land borders with 4 countries:
Montenegro (we have done this border crossing)
Kosovo
North Macedonia
Greece (we have done this border crossing)
Albania land border transport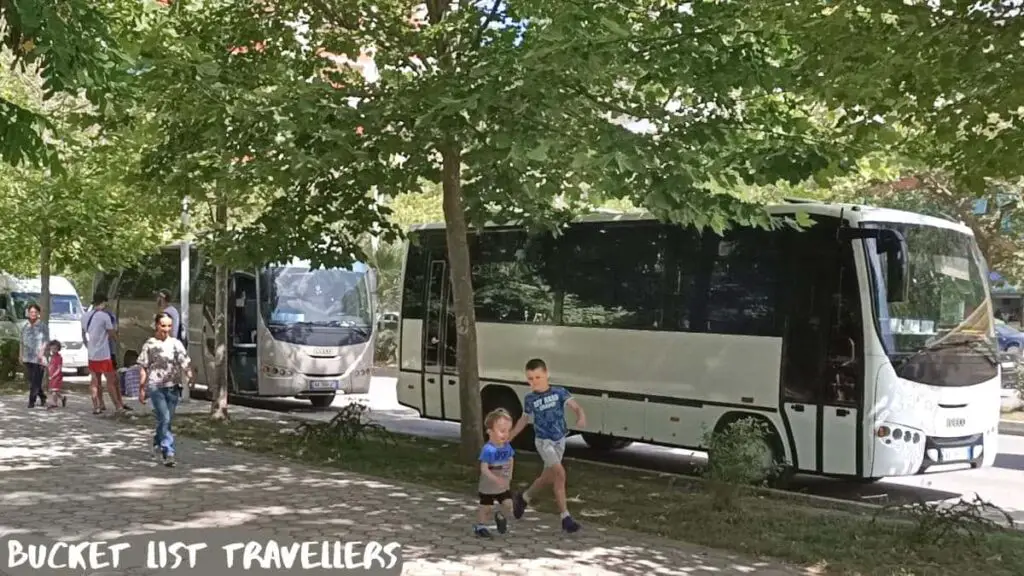 The main transport options for travelling overland to Albania are:
Private vehicle
Private transport operator
Shuttle
Intercity bus
Local bus
Mini bus (furgon)
Albania travel guide: arriving by air
There are currently 2 international airports in Albania:
Tirana International Airport Zayed-North Wings (Airport code TIA). This airport is also known as Rinas International Airport. It services the capital of Albania.
Kukës International Airport (Airport code KFZ). This airport is also known as Kukës International Airport Zayed.
Additionally, Vlorë International Airport is currently under construction.
The national airline of Albania is Air Albania.
Albania travel guide: arriving by sea
There are 4 main seaports in Albania. These are the ports of: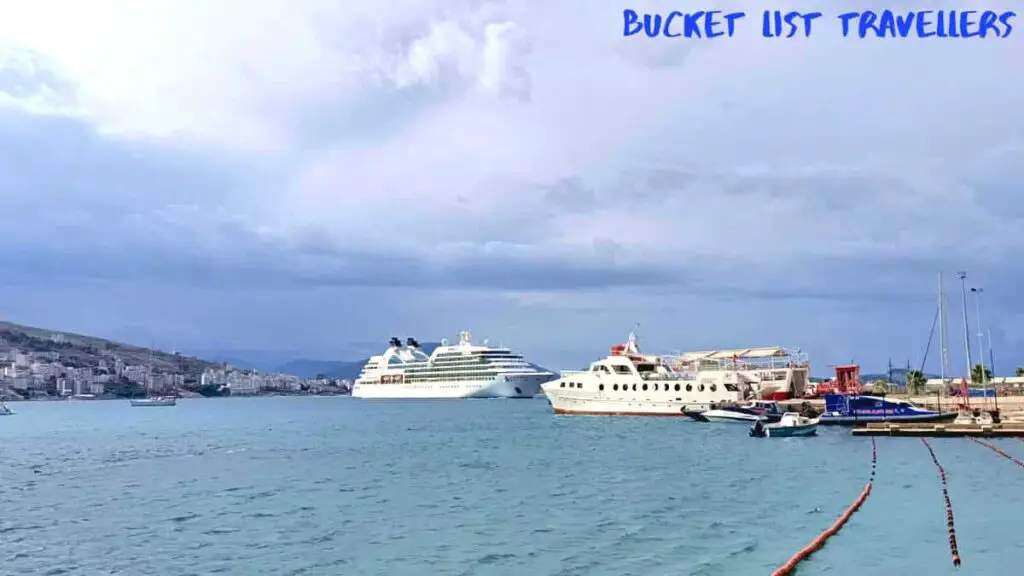 Our experience of entry to Albania
Our accommodation in Ulcinj Montenegro organised a shuttle for us from Ulcinj Montenegro to Shkodra Albania. A van picked us up across the road from our hotel at the agreed time. There were two other passengers in the minivan with us. At the border the van parked at the parking lot.
Once at the border we got all of our belongings out of the van and the driver walked with us to the checkpoint. The driver helped us pass the checkpoint. We gave our passports and were stamped out of Montenegro. We did not receive an entry stamp for Albania as they have a digital system. Our details were instead stored on their system. There was only one office which handled both exiting Montenegro and entering Albania.
After we passed the checkpoint our driver walked with us to the parking lot on the Albanian side of the border where there was a driver in a car waiting to take us to Shkodra Albania. The journey time was about half an hour plus around 10 minutes to pass the checkpoint. We were dropped off in the middle of the city. The total cost of the shuttle was 7 euro per person, which was actually cheaper than the bus alternative.
Albania travel guide: How to get around Albania
Local buses in Albania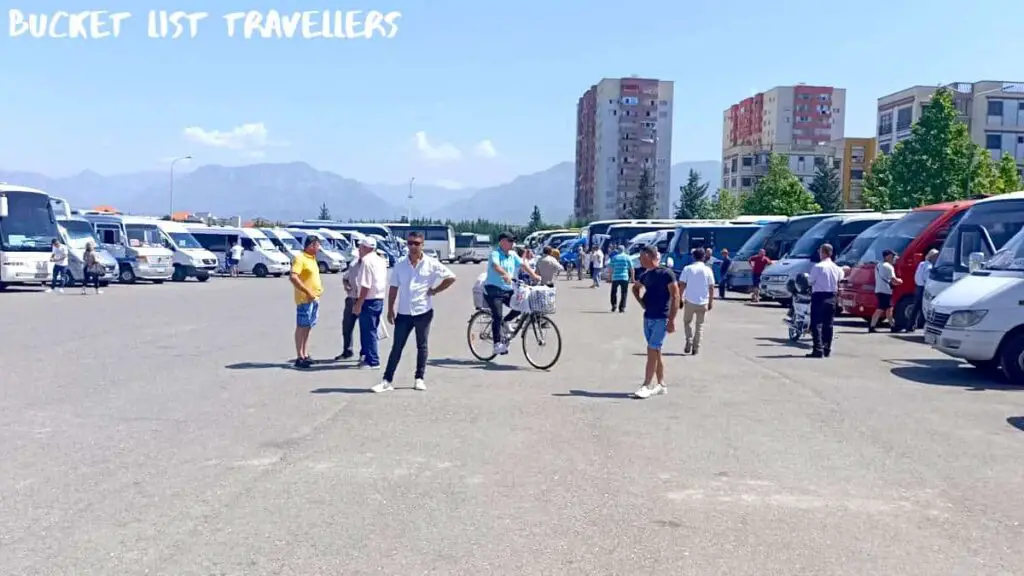 Most cities and towns in Albania have a local bus. The buses in Albania are a cheap way to get around the country. However, we found the bus network to be less connected and harder to navigate than many other parts of Europe. We also found that there was limited information on bus timetables online, and mainly only from blogs rather than official sources. In Tirana there are bus timetables displayed at the bus station. In other parts of Albania you may need to ask a local for help with locations and timings of buses.
Mini buses (furgons) in Albania
Mini buses known as furgons operate in Albania. Furgons are a popular public transport option in Albania as an alternative to buses.
Trams in Albania
There are currently no tram systems in Albania.
Metro trains (subway or underground) in Albania
There are currently no metro systems in Albania.
Intercity Trains in Albania
The Albanian rail network is used mainly for freight travel. Passengers lines are no longer in operation, although there are plans to rehabilitate the Durrës to Tirana line as well as build a line to Mother Teresa airport.
The Albanian national railway company is called Hekurudha Shqiptare (HSH). This is also known as Albanian Railways.
Intercity buses in Albania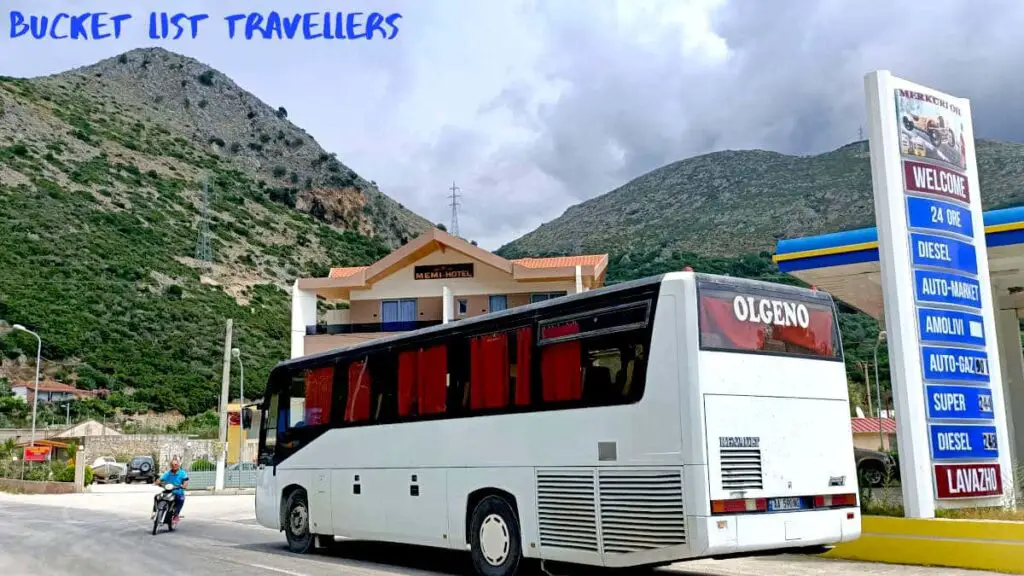 A common way to get around Albania is by using intercity buses. Intercity bus companies that operate between Albania and nearby countries include Tirana Metropol as well as AlbTrans. Bus companies such as Olgeno and Trans Butrinti run some intercity bus services within Albania. We used Olgeno to travel between Himara and Saranda. Other buses that we used within Albania weren't marked by a transport company name.
Vehicle hire in Albania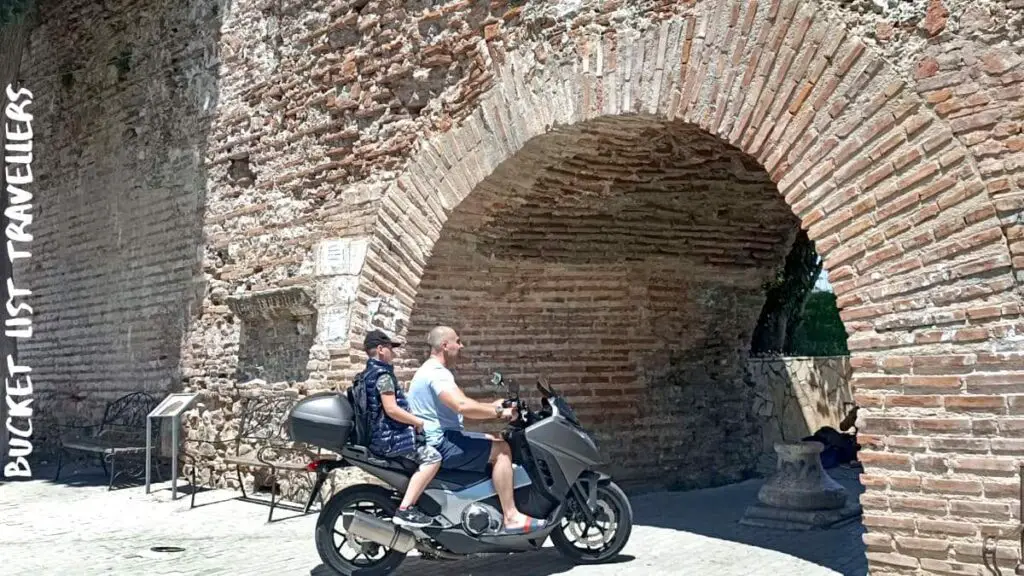 A wide variety of vehicles can be rented in Albania. This includes:
Bicycles
Electric scooters
Motorcycles
Cars
SUVs
Campervans
Boats
In Albania you drive on the right side of the road.
Shuttles in Albania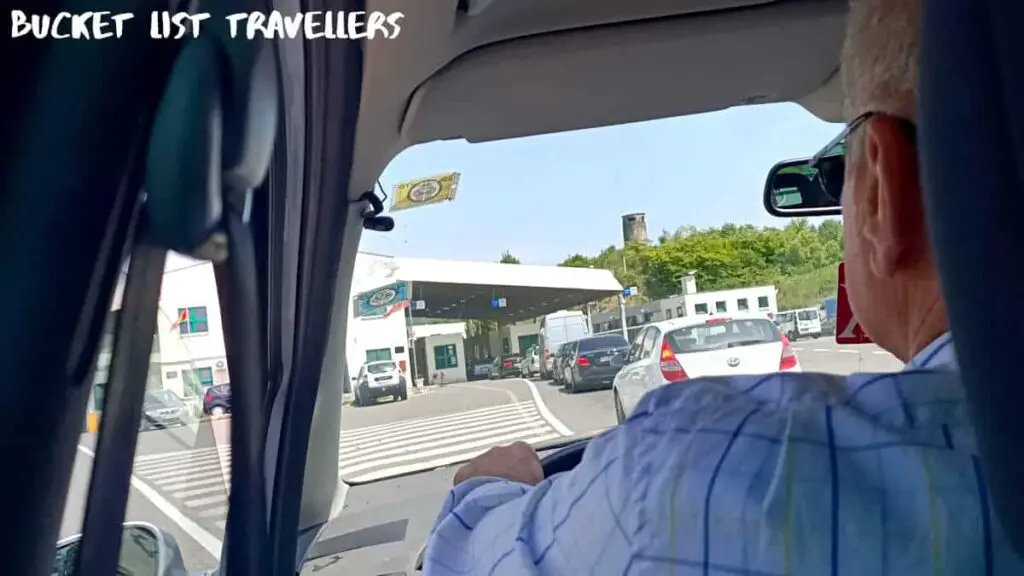 Shuttles make short repetitive journeys between two destinations or on a fixed loop. Common journeys include going between the airport and the city centre. These journeys can often be booked on demand for a fixed price.
Taxis in Albania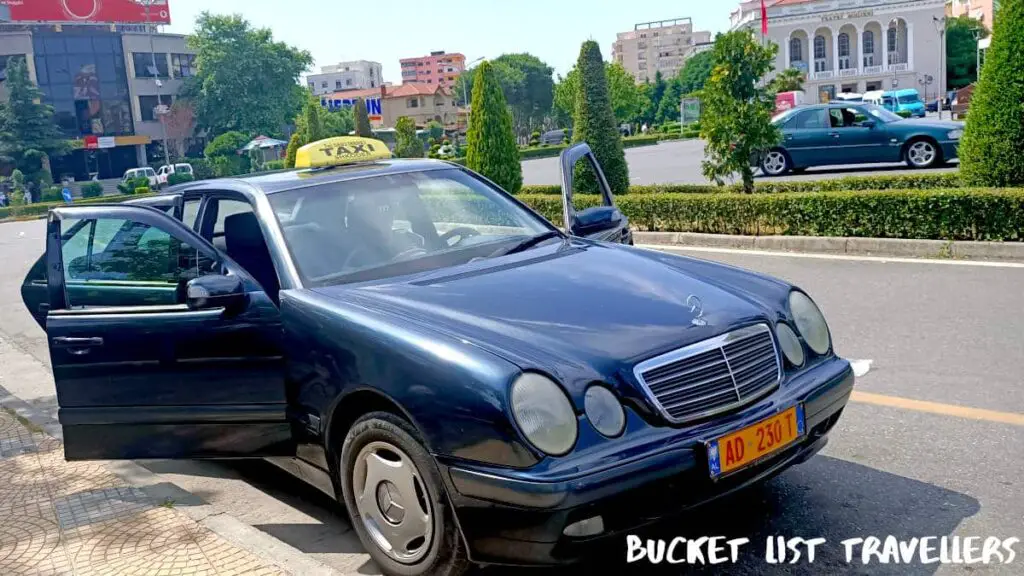 Taxis are common in Albania. Both official taxis with metered pricing as well as more informal taxis where a fixed fare is agreed beforehand are available. Official taxis will generally have prices displayed inside the vehicle. For longer journeys you can agree on a fixed price before you commence your trip. However in general your fare will include the following costs:
The pickup fee or minimum fee – this is charged as soon as you get into the vehicle. This is generally around 300 lek.
Price per kilometre
Price per hour – this is a price that gets charged when the taxi is stuck in heavy traffic.
Ride-share services in Albania
Uber, Lyft and Grab and other rider-share services do not operate in Albania.
Domestic flights around Albania
There are no domestic flights in Albania.
Albania travel guide to travelling during Covid
Entry Requirements for Albania
Covid entry requirements for Albania
You do not need any Covid vaccinations, negative Covid test results or proof of recovery from Covid to enter Albania. You are not required to quarantine when travelling to Albania.
General entry requirements for Albania
The other requirements for entering Albania are unchanged from normal times.
You need whatever visas are required for your specific country to enter Albania. Most travellers can enter Albania visa free if they are staying for less than 90 days in any 6 month.
Your passport must be valid and with at least 3 months validity from the date of entry to Albania. It must also have at least one blank page for the entry stamp.
Albania Covid mandates
Covid vaccine mandates in Albania
There are no vaccinate mandates in Albania.
Mask requirements in Albania
High quality masks must be worn in public indoor spaces and on public transport. However this requirement is neither enforced nor adhered to. You will not see many people wearing masks in Albania.
Social distancing requirements in Albania
Social distancing of at least 1.5 metres must be kept between yourself and those outside of your household in Tirana International Airport.
Where to get a Covid test in Albania
PCR Covid tests can be done at Tirana International Airport for 35 Euro. The testing centre is open 24 hours and results are provided in 90 minutes. The results are provided in English. For more information see this website.
Albania travel guide: How long to spend in Albania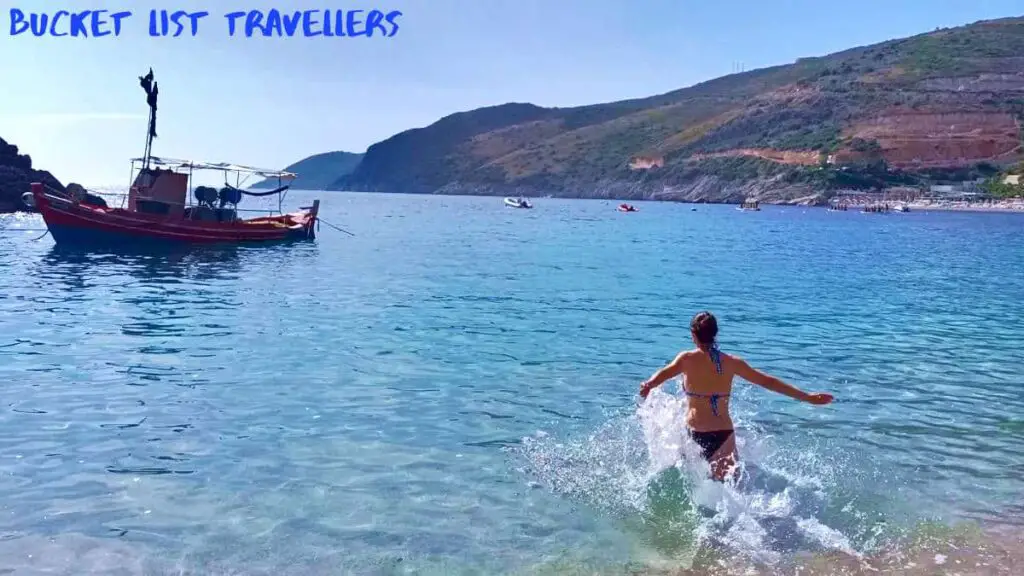 Albania is a hidden gem of Europe and definitely worth your attention. We spent 18 days travelling in Albania and loved exploring many of the charming cities and towns of this region. We were pleasantly surprised by how much we enjoyed the country. You can easily see the main destinations in Albania is a week or two however if you have more time to spend you won't be disappointed. Furthermore if you are short on time there are some great cities and beach towns that are perfect for a weekend away.
Visitors from most countries can travel to Albania for up to 90 days in any 6 month period without a visa.
Albania Travel Guide: Best Areas to Visit in Albania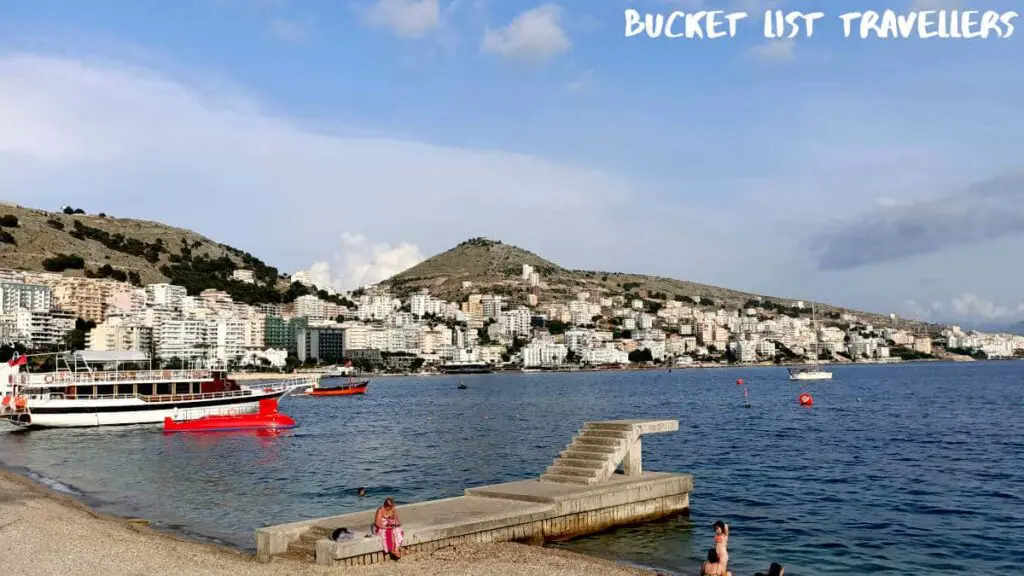 Popular areas to visit in Albania include:
Lakes – Lake Ohrid, Komani Lake, Skadar Lake, Lake Prespa
Mountains – Dajti, Mount Çika, Maja Jezercë, Mont Tomorr
National Parks – Butrint National Park, Dajti National Park, Divjaka Pine National Park, Gjocaj Grit National Park, National Park of Drenova Fir, National Park of Llogara, National Park of Lura, National Park of Thethi, Shebenik – Jabllica National Park, Prespa National Park, Shtama Pass National Park, The Fir of Hotova National Park, Tomori Mountain National Park, Valbona Valley National Park, Karaburun-Sazan Marine National Park
Wine regions – coastal plains, central hilly region, eastern mountainous region, mountainous region
UNESCO world heritage sites – Butrint (Vlorë), Historic Centres of Berat and Gjirokastër, Primeval Beech Forests of the Carpathians and Other Regions of Europe (Kukës, Elbasan), Natural and Cultural Heritage of the Ohrid Region (Korçë)
Weather in Albania
Overall, Albania enjoys a temperate and Mediterranean climate. Albania has 4 distinct seasons, with summer lasting from July to September and winter from January to March. However the weather varies considerably depending on the region. Along the coast and coastal plains the climate is Mediterranean with hot summers and mild and rainy winters. There is more of a continental climate further inland, with much cooler average temperatures year round.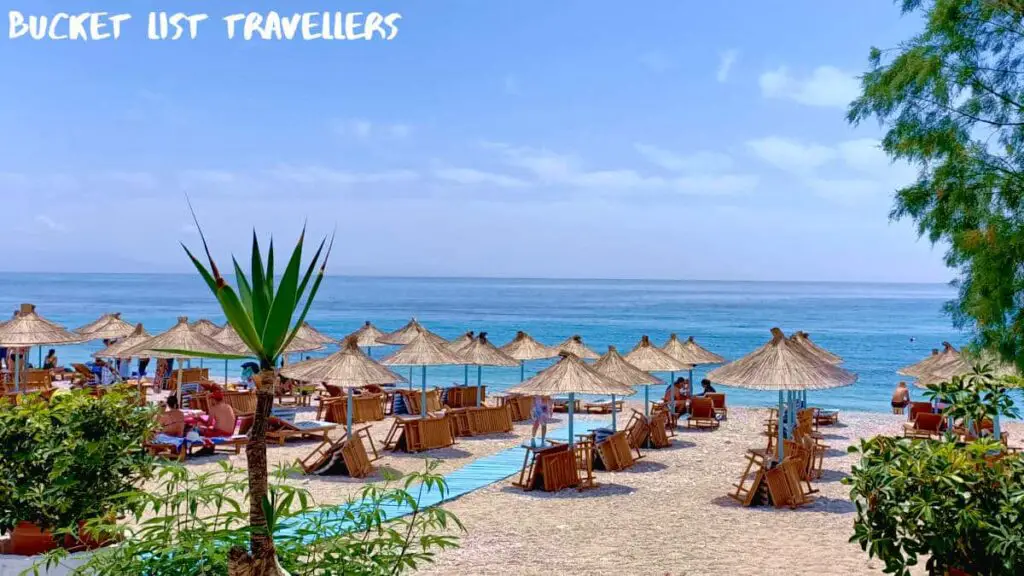 Internet and mobile phones in Albania
There are four major internet and phone companies in Albania – Vodafone Albania, One Telecommunications Albania (formerly Telekom Albania), ALBTelekom (formerly Eagle Mobile Albania) and Plus.
Albania is yet to get 5G. 2G is expected to be switched off in Albania in December 2025, however no date has been set for when 3G will be switched off.
Albania is ranked 43rd fastest in the world for mobile internet speeds and 86th fastest for fixed broadband. For Fixed Broadband the average download speed is 36mbps and upload is 10mbps (as at April 2022).
Cell phone SIM cards can be bought in a numbers of places throughout Albania. These include phone stores as well as at Tirana International Airport.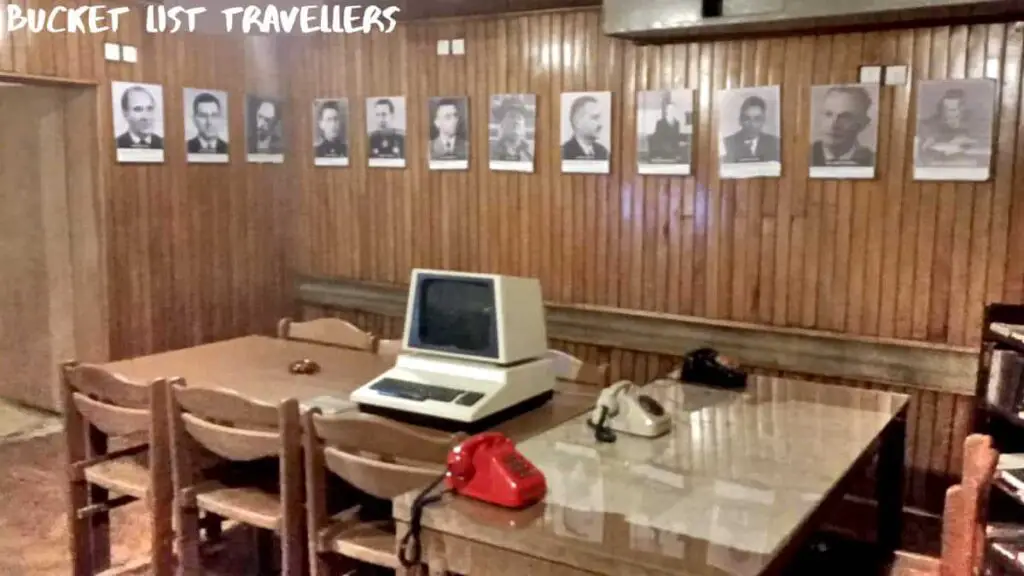 How much to budget for Albania
Albania travel guide: Daily spend for a couple travelling in Albania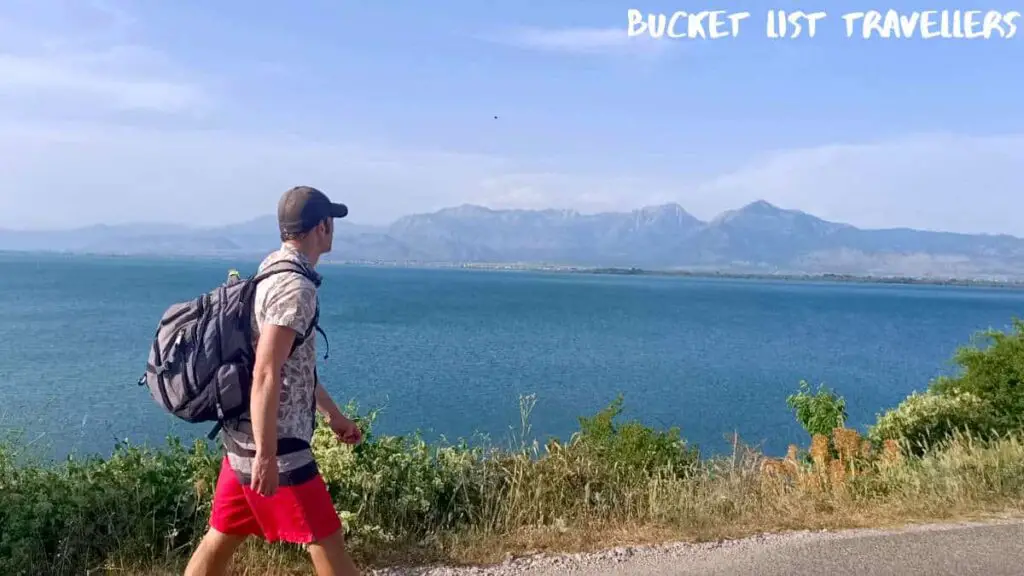 Albania is a very affordable European destination. Your vacation budget will go very far in this charming Balkan country.
As a rough guide, we recommend the following budgets for a couple:
Low-budget daily spend – 60 euro per day for a couple will get you hostel accommodation, meals from bakeries and markets, local transport and free or cheap activities such as visiting museums and parks
Mid-range daily spend – 250 euro per day for a couple will get you mid-range accommodation, local transport, restaurant meals and a few paid activities
Luxury spend – 600 euro per day for a couple will get you a premium experience in Albania, staying at luxury resorts, travelling by private transport, doing a range of paid activities and eating at high end restaurants
Albania travel guide: Accommodation in Albania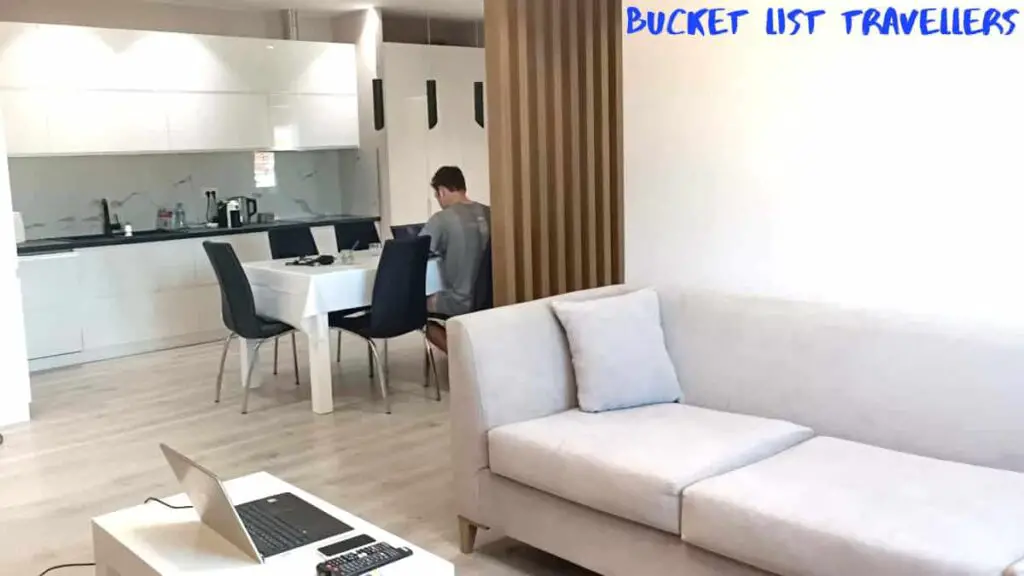 There is a good range of accommodation to suit all budgets in Albania. Airbnb operates in Albania and we were impressed with the range of options available throughout the country.
For short-term accommodation, a general price per night is as follows:
Budget accommodation – 7-20 euro for dorm accommodation
Mid-range accommodation – 25-100 euro for a private room
Luxury accommodation – 70-230 euro a night for a luxury hotel
Rental property – 30-700 euro a night for a fully furnished 3-4 bedroom home
Albania travel guide: Food in Albania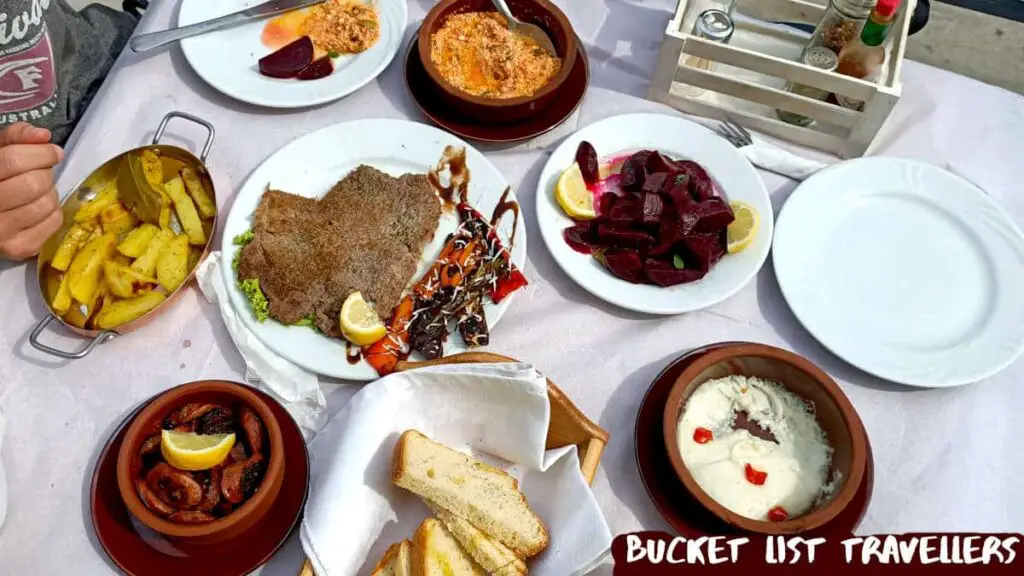 Albania has a great food scene. Meals at local restaurants are often served as small plates, which allows you to choose a variety of dishes. Meat, cheese, stuffed vegetables as well as pastry dishes feature prominently on Albanian menus. The food is hearty and tasty. Best of all, restaurant meals in Albania are relatively cheap by European standards, so eating out won't break the budget. Apart from the food, the alcoholic drink raki is very popular in Albania.
How much does food cost in Albania?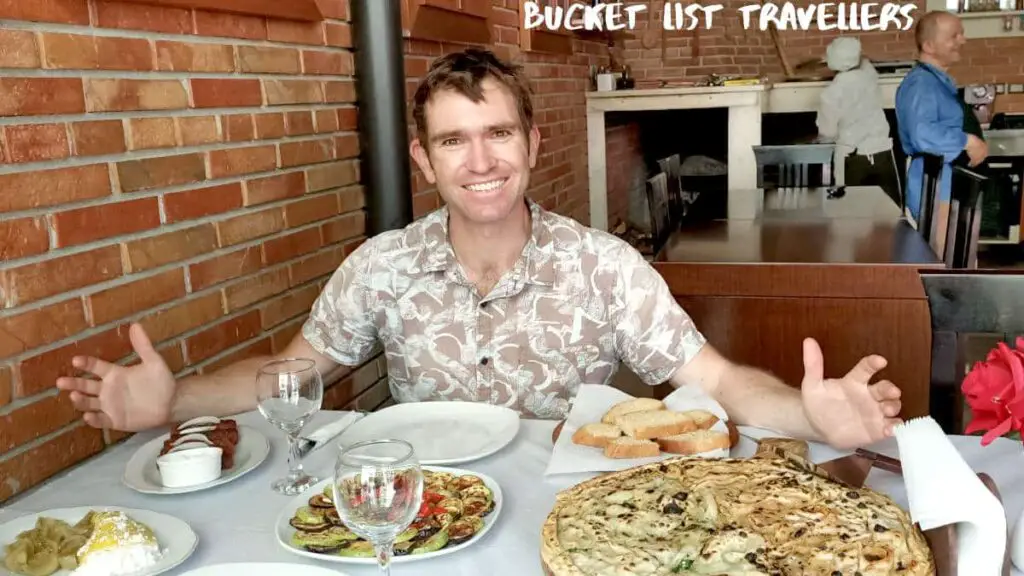 Our price guide for your food budget in Albania is as follows (prices as at 2022):
Restaurant meal – 600-2000 lek (5-17 euro) for a main dish
Local eatery – 600-1200 lek (5-10 euro) for a main dish
Bakery food – 100-240 lek (0.80-2 euro) for byrek, a slice of pizza as well as other bakery items
Glass of wine – 300 lek (2.50 euro)
Shot of Raki – 70-100 lek (0.6-0.85 euro)
Coffee – 50-150 lek (0.5-1.30 euro)
Regional dishes in Albania
Albania has many regional cuisines as well as food that is enjoyed throughout the country. Must try dishes in Albania include byrek, tavë kosi (also known as Elbasan tava), speca të Mbushura (Albanian stuffed peppers), fërgesa, qofte (lamb meatballs), shëndetli, petula (fried dough).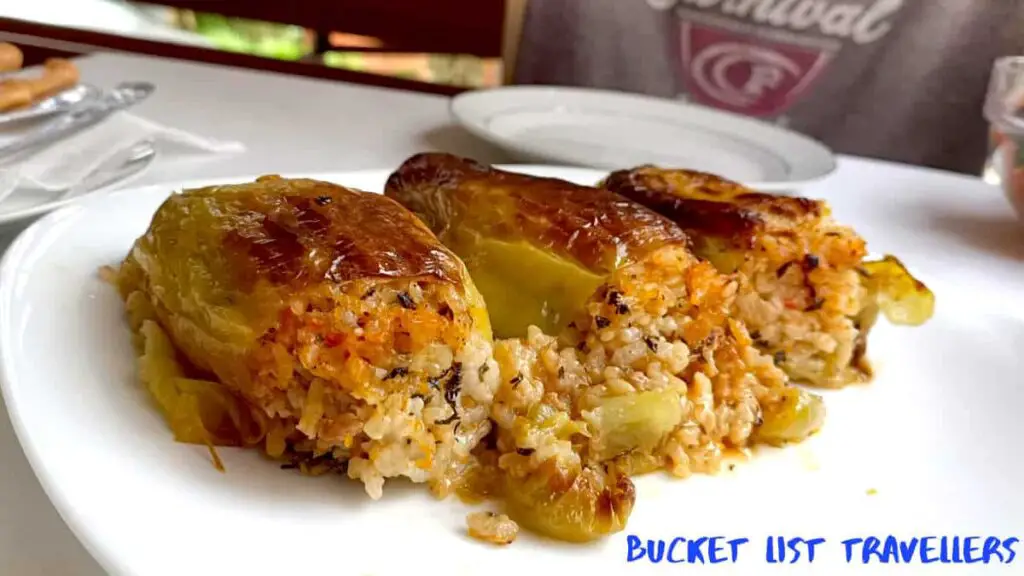 Albania culture
National holidays in Albania
New Year's Day – 1-3 January
Dita e Verës – 14 March
Nowruz – Spring equinox, March 19, 20 or 21
Easter Sunday – typically in March or April.
Easter Monday – the Monday after Easter Day, typically in March or April.
Orthodox Easter Day – typically in April or May.
Orthodox Easter Monday – the Monday after Easter Day, typically in April or May.
Eid al-Fitr – first day of Shawwal in the Islamic calendar
Labour Day – 1 May (public holiday the following Monday if it falls on a weekend)
Eid al-Adha – 10th day of Dhu al-Hijjah in the Islamic calendar
Saint Teresa Canonisation Day – 5 September
Flag Day or Independence Day – 28 November
Liberation Day – 29 November
National Youth Day – 8 December
Christmas Day – 25 December (public holiday the following Monday if it falls on a weekend)
National symbols of Albania
Albania flag – a red flag with a black double headed eagle in the centre.
Albania coat of arms – a black two-headed eagle with a golden crown. Its wings are raised in flight. It is on a red background with a gold border.
National flower – red poppy
National bird – eagle
Albania pastimes
National dish – Tavë kosi
Popular drinks – raki, coffee, beer, Albanian wine
National sport – football
Religion – 59% Islam, 17% Christianity (as at 2020)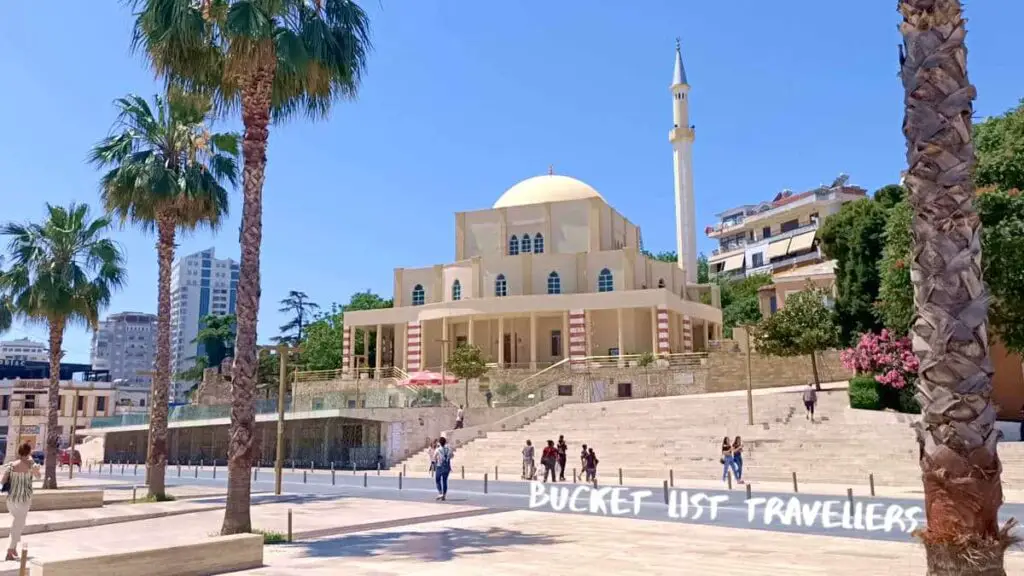 Famous Albanian people
Famous people from Albania – saint Mother Teresa, writer Ismail Kadare, military leader George Kastriot Skanderbeg, singer Inva Mula
Famous people with Albanian heritage – comedian John Belushi, actor Jim Belushi, actress Eliza Dushku, Nobel prizewinning physician Ferid Murad, Rita Ora
Albanian sports stars – footballer Lorik Cana, Olympic weightlifter Pyrros Dimas, Olympic javelin thrower Mirela Maniani, Olympic weightlifter Romela Begaj, Olympic long jumper Izmir Smajlaj, footballer Riza Lushta
Is Albania Safe?
Albania travel guide: Safety in Albania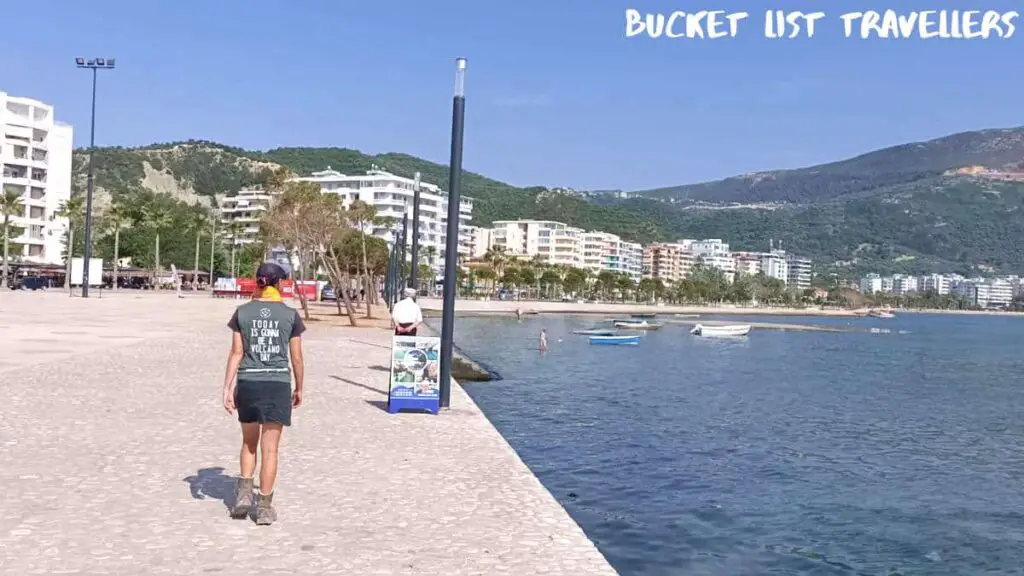 We travelled through Albania for three weeks and found the country to be extremely safe. Albania ranks 48th safest country on the Global Peace Index (as at 2021). As with any country, there are good areas and bad areas. Watch out for pickpockets particularly at crowded tourist attractions. Make sure no-one is watching whenever you are entering pin codes and never lose sight of your credit card when making a purchase.
A particular risk around the Albania and Kosovo border are unexploded landmines and ordinances. These are a dangerous remnant from the 1999 conflict. Don't stray from designated hiking paths and take any warning signs very seriously.
Albania travel guide: General safety considerations in Albania
Other general safety considerations for travel in Albania:
Drinking water – Tap water is safe to drink almost everywhere in the country.
Mosquitoes – the tiger mosquito has been found in Albania. This type of mosquito spreads diseases such as Zika, dengue and chikunguya. After being eradicated in 1967, malaria returned to Albania in 1994 and is a re-emerging disease in the country.
Altitude sickness – Albania has areas of high altitude. This comes with the risk of altitude sickness. If you are planning to visit any high altitude areas in Albania, be sure to allow sufficient time to acclimatise. If you experience any signs of altitude sickness, such as headache, nausea or vomiting, dizziness, tiredness, loss of appetite or shortness of breath, get help immediately.
Road safety – Road accidents are a significant risk on Albania. Road conditions are an issue, particularly in rural areas as well as in winter.
Water safety – If you visit any of the coastal areas or lakes, take care when swimming as currents and waves may be stronger than you expect.
Earthquakes – Albania experiences earthquake activity. If you experience an earthquake, stay away from glass, windows, outside doors and walls and anything that could fall. If you are inside get under a table, desk or solid furniture and hang onto it. Cover your head and torso to protect from falling objects. If you are outside, stay outside and go to an open area away from buildings.
Sun safety – Exposure to the sun can have adverse short-term and long-term effects on the skin, eyes and immune system. Sun protection such as sunscreen, a hat and sunglasses is very important to ensure you don't get burnt.
As with any destination, take all of your normal safety precautions.
Albania Blogs
You can find our Albania travel blogs below.
Affiliate Links
This website contains affiliate links, which means we may earn a commission on any purchases at no additional cost to you. Your support helps us continue our travels and make more travel blogs and travel videos, thank you!
Subscribe to Bucket List Travellers on YouTube