Why you should go to Slovenia
Slovenia is one of Europe's hidden gems. While it is often overlooked for its more popular neighbours Italy and Croatia, Slovenia has a treasure trove of experiences waiting to be discovered. From nature to culture to food and more, Slovenia has everything you could want for the perfect European getaway. The country is well developed and also very safe. Additionally a large portion of the population speaks English. Slovenia is very easy to travel around and is also a very affordable travel destination. In this Slovenia travel guide, we share everything you need to know to plan your next trip to Slovenia.
Slovenia is covered in mountains as well as forests, making it the perfect place for eco tourism. Moreover it has an extensive network of caves, with Škocjan Caves being UNESCO World Heritage Listed. Visiting the capital Ljubljana is like stepping into a page from a fairy tale. It has a picture perfect castle that is home to 2 superb Michelin Guide restaurants. Speaking of food, Slovenia is also home to mouth watering traditional food. Our favourite was the Kranjska Klobasa, which is a delicious type of sausage.
Slovenia's position in Central Europe has provided the country with an interesting history. At different points in time Slovenia has been part of many different empires and states. Most recently it was of Yugoslavia until it gained independence in 1991. Over the years the country has developed a rich culture, which includes a strong literary tradition, beautiful sculptures and architecture as well as vibrant festivals. Additionally there are many theatres throughout the country and puppetry in particular is very popular.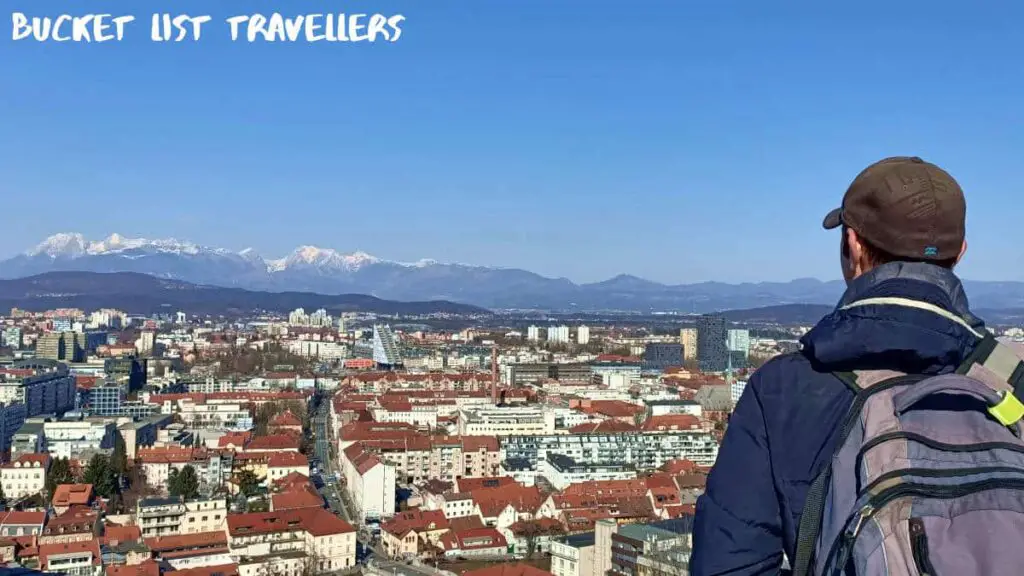 Slovenia travel guide: Know before you go
Slovenia travel guide: Basic info about Slovenia
Language – Slovene (also known as Slovenian). Hungarian and Italian are minority languages that are recognised as co-official languages in Slovenia. Croatian and Serbian are also spoken by immigrant populations in the country. English is widely spoken throughout the country. Most people, particularly in tourist areas will know at least some English.
Currency – euro (EUR). This has been the official currency of Slovenia since 2007. Currency exchanges are present in most cities and ATMs are also available widely throughout the country.
Population – 2.1 million (2020)
Area – 20,271 km2 (7,827 sq mi)
Capital – Ljubljana
Emergency number – 112
Police number – 113 (emergencies), 080 12 00 (anonymous hot-line)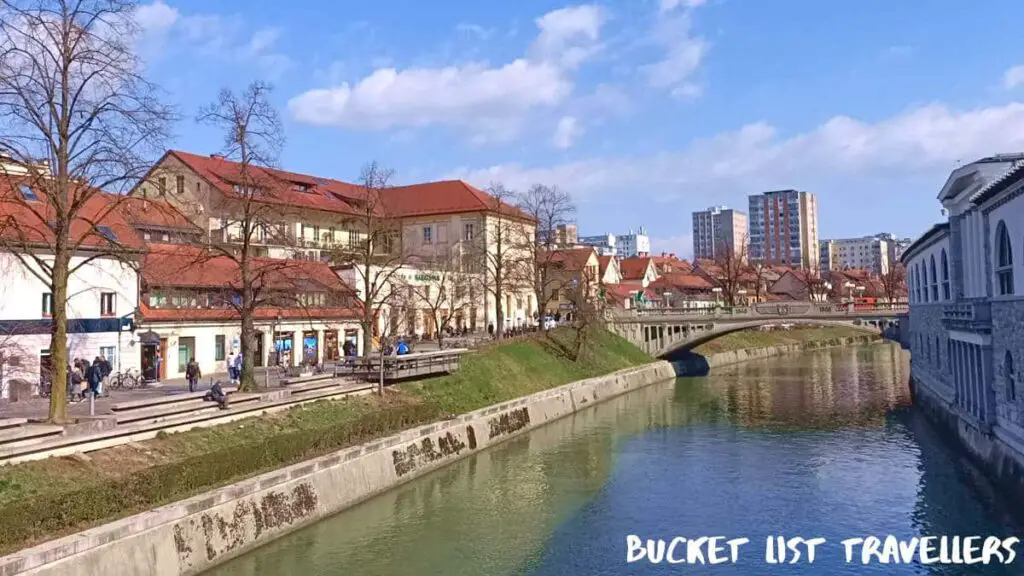 Utilities in Slovenia
Electricity – Slovenia uses Types C and F power plugs. The country operates on a 230v supply voltage at 50Hz. Power outages are not common in Slovenia.
Water – the tap water in Slovenia is safe to drink. Moreover, the country prides itself on its pristine water quality.
Toilets – sit-down flushing toilets are the most common type of toilet in Slovenia. Furthermore, you can flush your toilet paper directly into the toilet. Public toilets are common in Slovenia. Many public toilets are free to use, but some charge anywhere from 50 cents to 1 euro to use.
Telephone country code: +386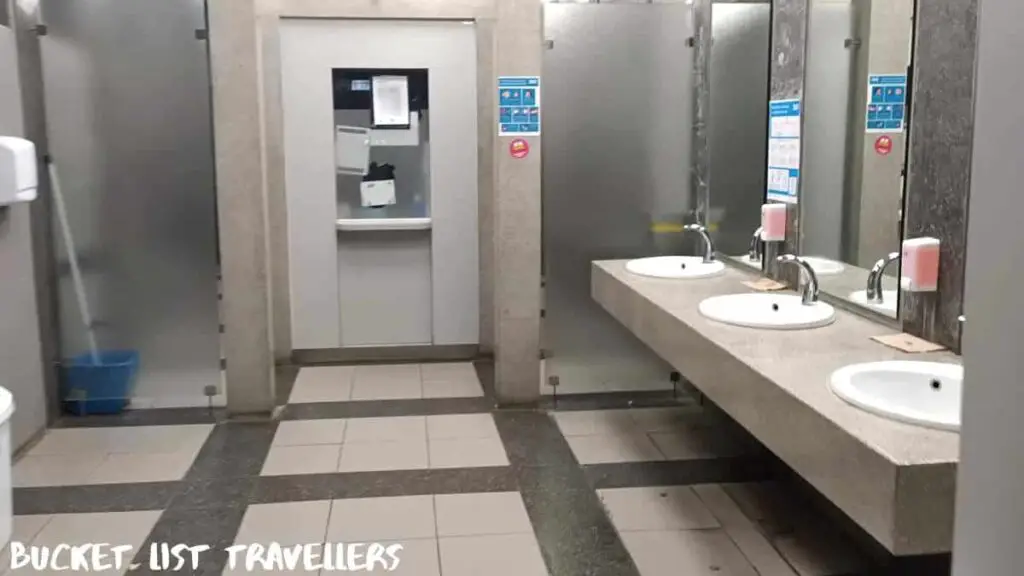 Where is Slovenia?
Slovenia is a country in Central Europe. It is shares land borders with 4 countries – Italy, Austria, Hungary as well as Croatia. The country also has coastline along the Adriatic Sea.
How to get to Slovenia
Slovenia travel guide: arriving overland
Land border crossings for Slovenia
Slovenia has land borders with 4 countries:
Italy (we have done this border crossing)
Austria
Hungary
Croatia (we have done this border crossing)
Slovenia land border transport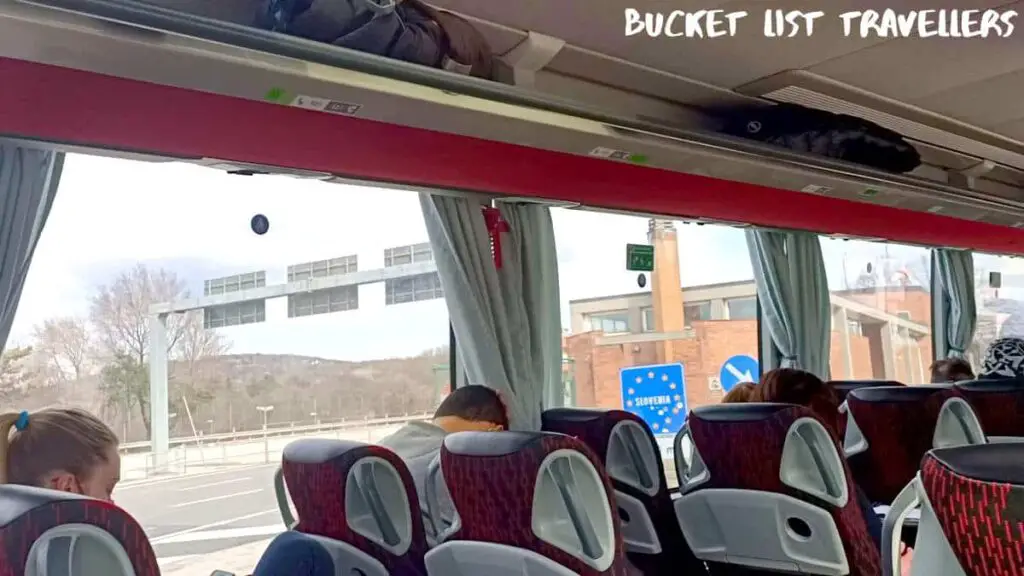 The main transport options for travelling overland to Slovenia are:
Private vehicle
Private transport operator
Train
Intercity bus
Local bus
Slovenia travel guide: arriving by air
There are 3 international airports in Slovenia. These are:
Ljubljana Jože Pučnik Airport (Airport code LJU). This was previously known as Brnik Airport. This international airport is the largest in Slovenia. It is located in the centre of the country, near the capital.
Maribor Edvard Rusjan Airport (Airport code MBX). This is located in the eastern part of the country.
Portorož Airport (Airport code POW). This airport is located in the western part of the country, close to the Croatian border.
Slovenia does not currently have a national airline. Adria Airways was previously the national airline of Slovenia, but it went bankrupt in 2019.
Slovenia travel guide: arriving by sea
There are 3 seaports in Slovenia:
The Port of Koper
Izola
Piran
Our experience of entry to Slovenia
We caught a FlixBus from Trieste Italy to Ljubljana Slovenia. Because we bought the tickets online, we had digital tickets on our phone. Our bus wasn't on the arrivals board when we arrived at the bus station. We were concerned that the bus might have been cancelled, however there were other passengers waiting for the same bus. After a slightly stressful wait, our bus finally arrived around 20 minutes late. The bus driver checked our tickets before we got on the bus. However he didn't check our passports. We had allocated seats according to our tickets, however due to Covid the first few rows had to be left vacant. Our allocated seats were in the first row so we had to find other seats. That caused a bit of confusion, but we eventually figured out what was going on and found some vacant seats.
Our bus was nearly at capacity. There was secure underbus storage for luggage if required. At the time of our trip masks awere required for all passengers on the bus. This was not enforced, but most people followed the mask rules.
As both Italy and Slovenia are part of the Schegen zone, there was no need for checks at the border. Consequently the bus just drove through the border crossing without any need to get out and show our passports.
Slovenia travel guide: How to get around Slovenia
Local buses in Slovenia
Most cities and towns in Slovenia have a local bus. The buses in Slovenia are a quick and cheap way to get around town. Buses are generally modern, clean and in good condition.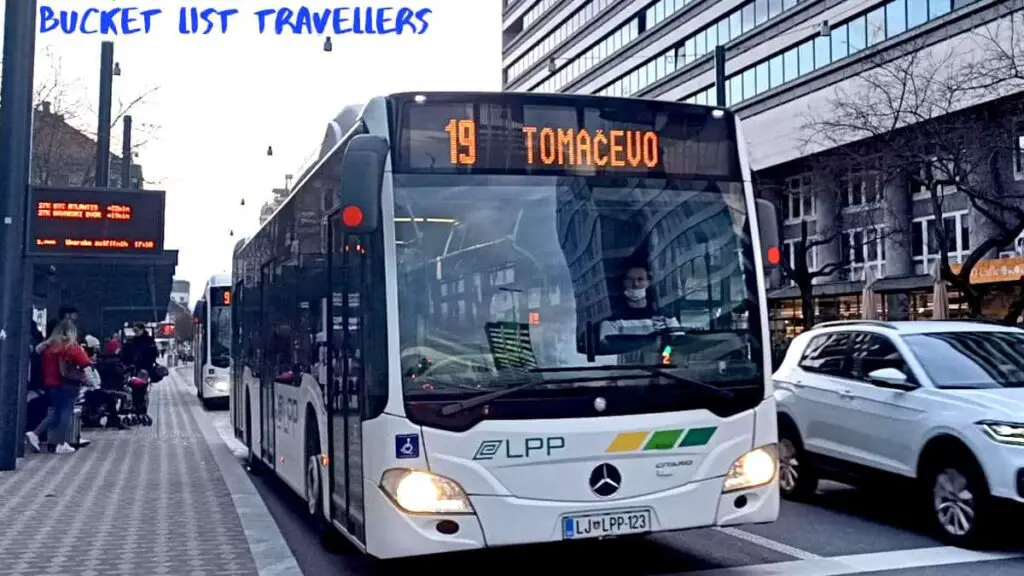 Trams in Slovenia
Trams have not operated in Slovenia since 1953.
Metro trains (subway or underground) in Slovenia
There is no Slovenia metro. Slovenia does not have a subway system.
Intercity Trains in Slovenia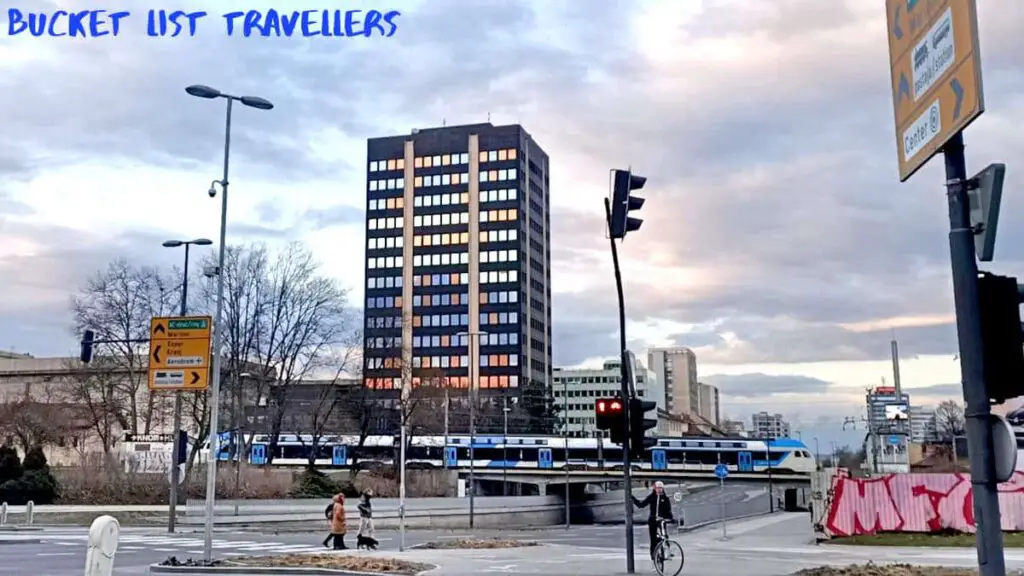 Trains are a cheap and efficient way to get around Slovenia. The network is extensive and also connects to cities outside of Slovenia.
The following train brands operate in Slovenia:
InterCity Slovenija (ICS) – this is Slovenia's intercity high speed rail service. These trains are more expensive to take as they include an ICS supplement in the ticket price.
InterCity (IC) – these trains service larger towns, cities and resorts in Slovenia. This is a limited stops service. Tickets for these trains include an IC supplement.
EuroCity (EC) – these trains connect major cities in Slovenia and Europe. This is a limited stops service. The EC trains are faster than IC trains and have fewer stops. Tickets for these trains include an EC supplement.
International Trains (MV) – these trains service international lines. Tickets for these trains include an MV supplement.
EuroNight (EN) – this international overnight rail service offers seated, couchette and sleeper carriages. An EC supplement must be paid for seats, and there is an additional supplement for couchette and sleeper tickets. Some of these trains use global prices and reservations are required.
Regional (RG) and local trains (LP) – these are the regular commuter trains that connect all parts of Slovenia.
The Slovenian state railway company that operates these services is called Slovenian Railways.
We recommend using the app and website TrainLine to book intercity train tickets between Slovenia and other parts of Europe. It is very easy to use with great functionality. Another great feature is that you can see days ahead to see what times of the day were the cheapest rates.
Intercity buses in Slovenia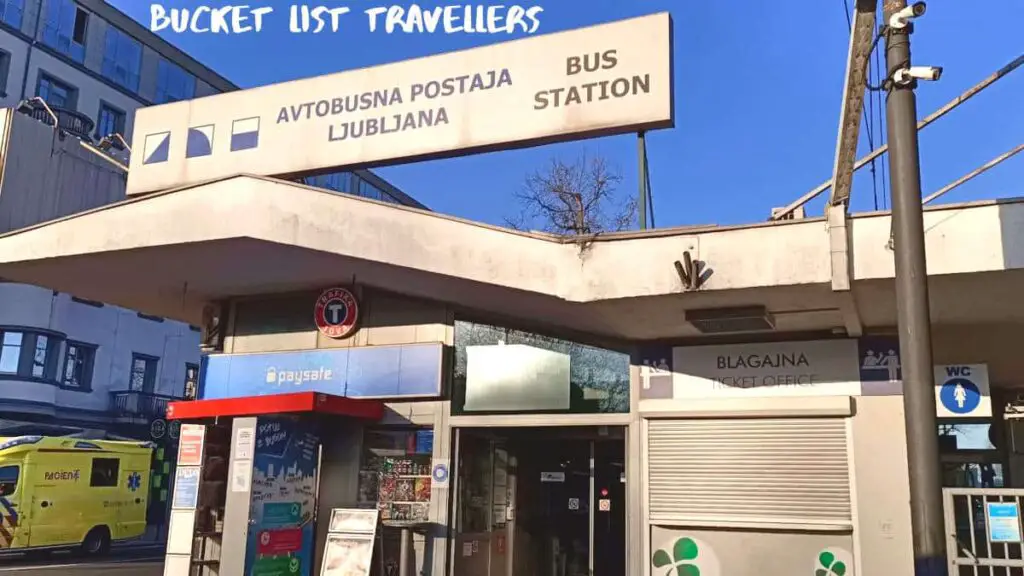 A common way to get around Slovenia is by using intercity buses. These buses connect major destinations in Slovenia as well as other parts of Europe. They are also a great option for getting to the more remote areas of the country. Intercity bus companies in Slovenia include FlixBus as well as Nomago.
Vehicle hire in Slovenia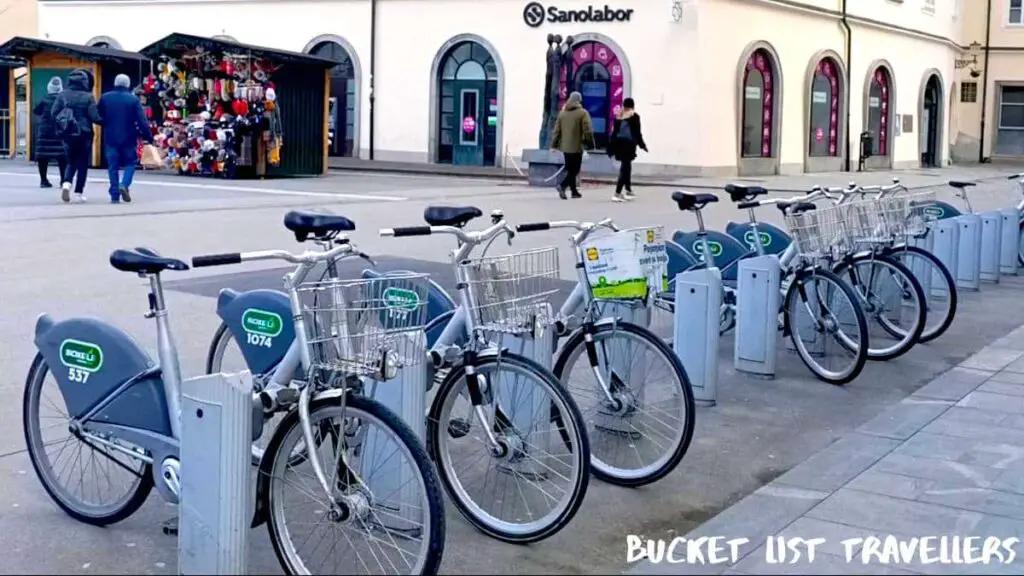 A wide variety of vehicles can be rented in Slovenia. This includes:
Bicycles – Bikes are a great way to get around Slovenia. Some areas like Ljubljana have self service bike share services. The BicikeLJ bicycle-sharing system in the capital Ljubljana is very inexpensive, with bike hire free for the first hour and only a one time 1 euro registration fee. In addition to the self service options, there are many bike rental stores around the country. Both electric and mechanical bikes are available for hire and you can also hire premium performance bikes. Expect to pay a daily rate of around 15-25 euro for bicycle hire, 35 euro for electric bike hire and 30-50 euro for a road bike.
Electric scooters – electric scooters are another popular mode of transportation in Slovenia. Expect to pay around 15 euro for a 3 hour rental or around 20 euro for a day rental.
Motorcycles
Cars
SUVs
Campervans
Boats
Slovenians drive on the right side of the road.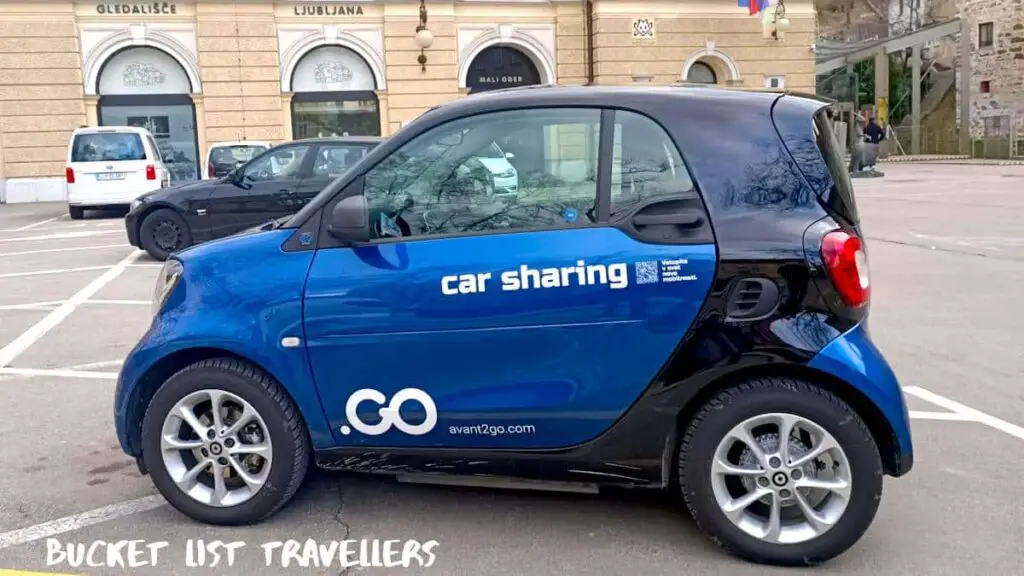 Shuttles in Slovenia
Airport shuttles are a convenient way to get from the airports in Slovenia to nearby towns and cities. GoOpti operates airport shuttles in Slovenia. Other shuttle services include ZUP Prevozi and Nomago.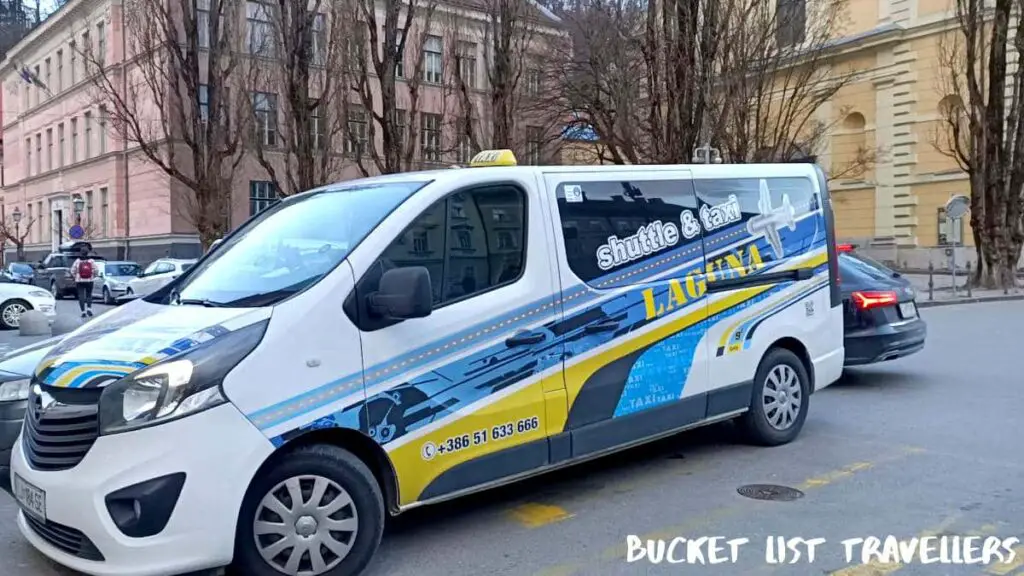 Taxis in Slovenia
Taxis are common in Slovenia. Fares are regulated and are usually metered. The exception to this will be standard journeys such as airport trips. In this case the fare will be a fixed price. However in general your fare will include the following costs:
The pickup fee or entry fee – this is charged as soon as you get into the vehicle. It is usually around 0.80-2 euro (as at 2022).
Price per kilometre – this is typically around 0.70-1.70 euro per kilometre (as at 2022).
Price per hour – this is a price that gets charged when the taxi is stuck in heavy traffic. The price also varies depending on the time of day. The cost is generally 15-20 euro per hour (as at 2022).
Charges are lower when booked by phone.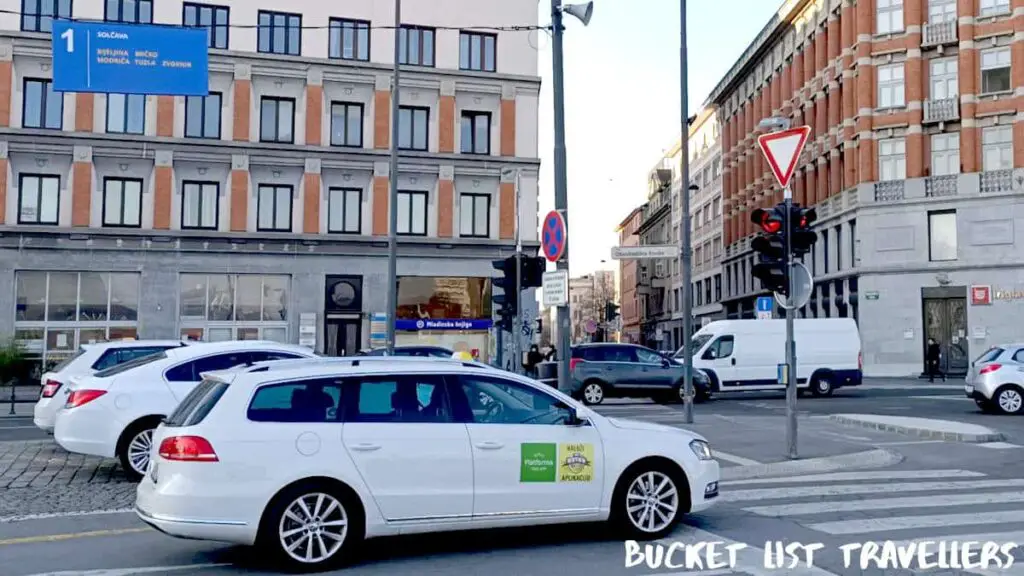 Ride-share services in Slovenia
Uber and Lyft do not operate in Slovenia. However there are services that connect drivers with empty seats with people that are travelling in the same direction and need a ride. These include Prevozi Org, BlaBlaCar as well as CarpoolWorld.
Domestic flights around Slovenia
There are currently no domestic flights in Slovenia.
Slovenia travel guide to travelling during Covid
Covid entry requirements for Slovenia
From 19 February 2022, there are no Covid entry requirements for Slovenia. However Slovenia adheres to the EU Covid entry requirements for travellers entering Slovenia from outside the EU.
There is no longer a requirement to fill out a digital Passenger Locator Form if entering Slovenia.
What is Slovenia's definition of "fully vaccinated" for Covid
Slovenia considers you fully vaccinated:
7 days after the second injection of the Pfizer Covid vaccine
14 days after the second injection of the Moderna, Sputnik V, CoronaVac or Sinopharm Covid vaccines
14 days after the single injection of the Janssen Covid vaccine
OR 21 days after the first dose of the Vaxzevria vaccine by AstraZeneca or Covishield vaccine by Serum Institute of India/AstraZeneca
In addition to this, it should be noted that Slovenia currently requires you to have had a booster shot 270 days after your 2nd vaccination (or 1st vaccination for single dose vaccines) in order to continue to be considered fully vaccinated against Covid. Only an mRNa vaccine (BionTech/Pfizer or Moderna) will be considered to be a booster vaccine.
Slovenia Covid mandates
Covid vaccine mandates in Slovenia
There are currently no Covid vaccine mandates for accessing venues in Slovenia.
Mask requirements in Slovenia
Surgical mask II or IIR or FFP2 or FFP3 masks must be worn in health care facilities.
Where to get a Covid test in Slovenia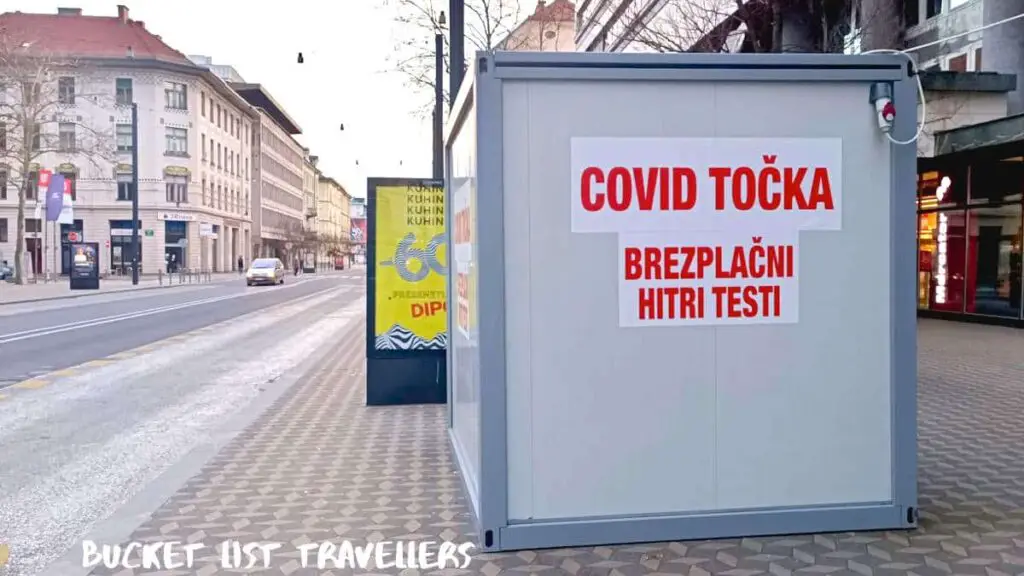 There are plenty of Covid testing stations around Slovenia offering both PCR and Rapid Antigen Tests for foreigners. Expect to pay around 7-40 euros for a Rapid Antigen Test or 80-100 euros for a PCR test. Depending on the testing centre, you may need to make an appointment in advance. You can find the testing centres on this website.
Covid tests are available at the Ljubljana airport for 95 euros for a PCR test or 20 euros for an Antigen test. However you must make an appointment in advance. Also, only payments by card are accepted. For more information see this website.
Slovenia travel guide: How long to spend in Slovenia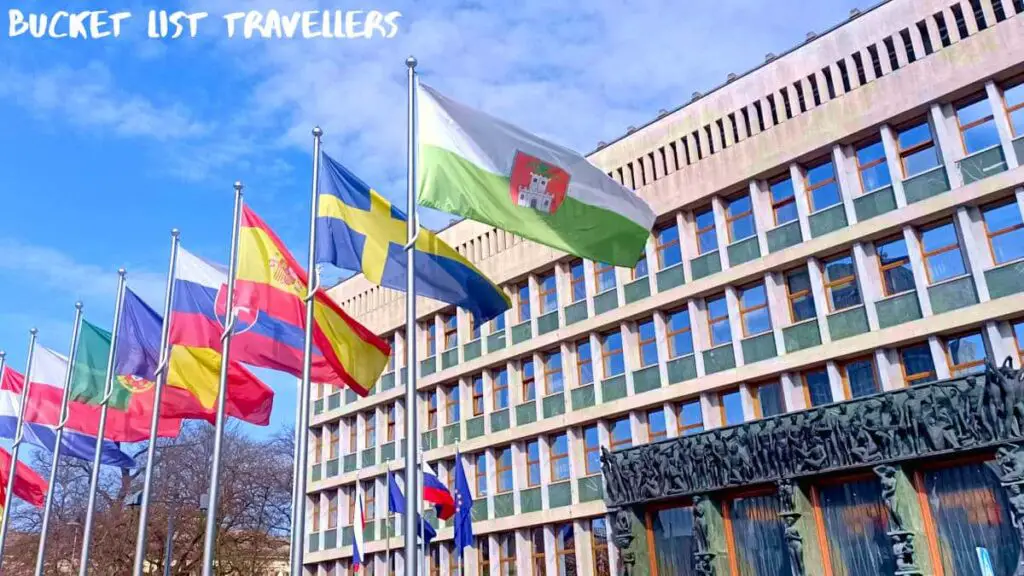 Slovenia is perfect for a day trip for those that are short on time. However there's so much to explore in the country that a longer visit of a couple of weeks would allow you experience much more of the country. We spent 3 days in Slovenia and we're keen to return and see more.
Slovenia is part of the Schengen area, which is a EU passport-free zone that covers most European countries. The Schengen provisions have abolished checks at internal borders, however police checks and temporary border controls in some situations may still apply. As Australian citizens, we don't currently need a visa to travel to any member countries of the Schengen Area so long as our stay doesn't exceed a maximum of 90 days in any one 180 day period. This 90/180 day rule for Schengen countries applies to anyone applying for a Schengen Visa as well as anyone from a country which has the Schengen Area's visa waiver stay. However at the end of 2022, the Schengen visa rules are going to change and ALL non EU citizens will need to apply for a ETIAS visa waiver before travelling to any countries in the Schengen zone. The same 90/180 day rule will apply, but everyone that is not an EU citizen and not part of the Schengen zone will need to apply for a Schengen visa.
Slovenia Travel Guide: Best Areas to Visit in Slovenia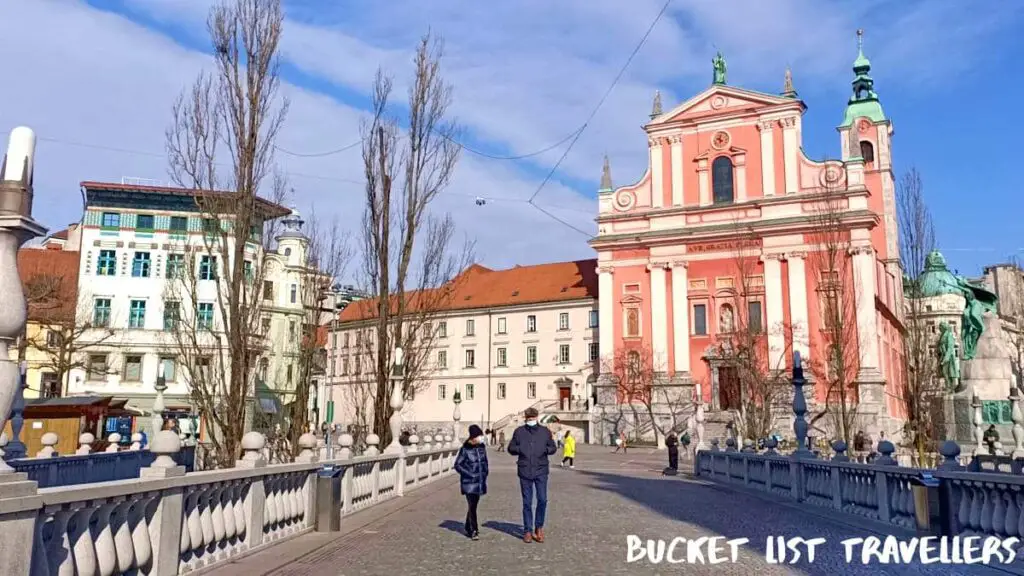 Popular areas to visit in Slovenia include:
Cities – Ljubljana, Maribor
Beaches – Portorož Beach, Svetilnik Beach, Piran Beach, Mesečev Zaliv Beach, Mestna Beach, Izola Beach
Ski resorts – Cerkno, Mariborsko Pohorje, Kranjska Gora, Bled Straza Ski Resort, Krvavec Ski Resort, Vogel Ski Resorts
Lakes – Lake Bled, Lake Bohinj, Lake Jasna
Mountain areas – Lake Bled, Julian Alps, Velika Planina, Soča Valley and Vršič Pass, Vogel, Jezersko, Tolmin Gorges, Soteska Vintgar, Logar Valley
National Parks – Triglav National Park
Caves – Postojna Cave, Škocjan Caves
Wine regions – Podravje, Primorska, Posavje
Weather in Slovenia
Slovenia has 3 distinct climate zones. Firstly there's the western plain from Nova Gorica to Northern Istria. Secondly there are the inland areas of the hills, valley bottoms and eastern plain. Finally there is the mountain regions. Precipitation is widespread throughout the country. Specifically, rainfall averages around 900mm in the eastern plains, 1,000mm to 1,500mm in the western plains and over 2,000mm in the mountains.
The western plain climate is a transitional Mediterranean climate. It has cold winters, averaging 6°C (43°F) in January. The warmest months are July and August where temperatures are around 23°C (73°F). Additionally, this region is subject to strong winds known as the 'Bora'. These winds typically occur in winter months and cause temperatures to drop.
Inland areas such as in the capital of Ljubljana experience a wider temperature range throughout the year with averages from 1°C (34°F) in January with regular fog and snow through to 28°C (82°F) in July and August. The mountain regions are colder still with abundant snowfalls in winter and strong thunderstorms in summer.
Finally, the Julian Alps are home to the highest peak in Slovenia of Triglav at 2,864 metres (9,396 feet). This area has average temperatures of -7.6°C (18.3°F) in February and 7.8°C (46°F) in August. Additionally the maximum snow cover is 3.2 metres (10.5 feet) in April.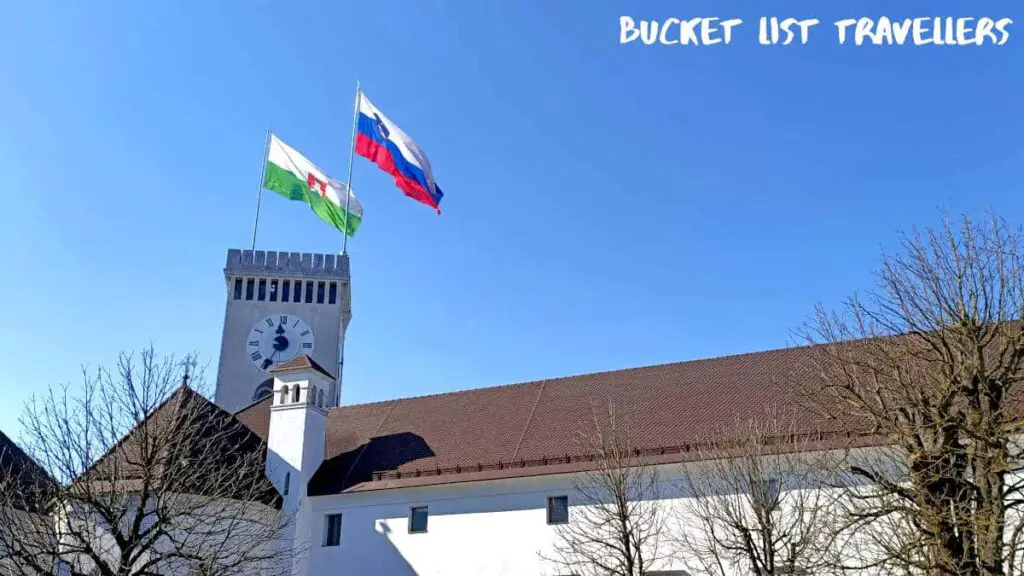 Internet and mobile phones in Slovenia
Since June 15th, 2017, Roam Like at Home (RLAT) rules came into force for European Union countries. As such, people with European Union mobile numbers are no longer charged temporary mobile roaming fees if they travel within the European Union. This means that if you have a European Union mobile number, you can use that number anywhere within the European Union and you will be charged for calls, texts and data in the same rates as if you were in your home country. There are limits to this in order to prevent abuse of these rules.
The main internet and phone companies in Slovenia include Telekom Slovenije, A1 Slovenija, Telemach mob as well as T-2.
5G has been in Slovenia since July 2020. However 2G is expected to continue in Slovenia until 2025.
Slovenia is ranked 27th fastest in the world for mobile internet speeds as well as 52nd fastest for fixed broadband. For Fixed Broadband the average download speed is 65mbps and upload is 28mbps (as at February 2022).
Cell phone SIM cards can be bought in many places throughout Slovenia. These include phone stores, convenience stores as well as gas stations.
How much to budget for Slovenia
Slovenia travel guide: Daily spend for a couple travelling in Slovenia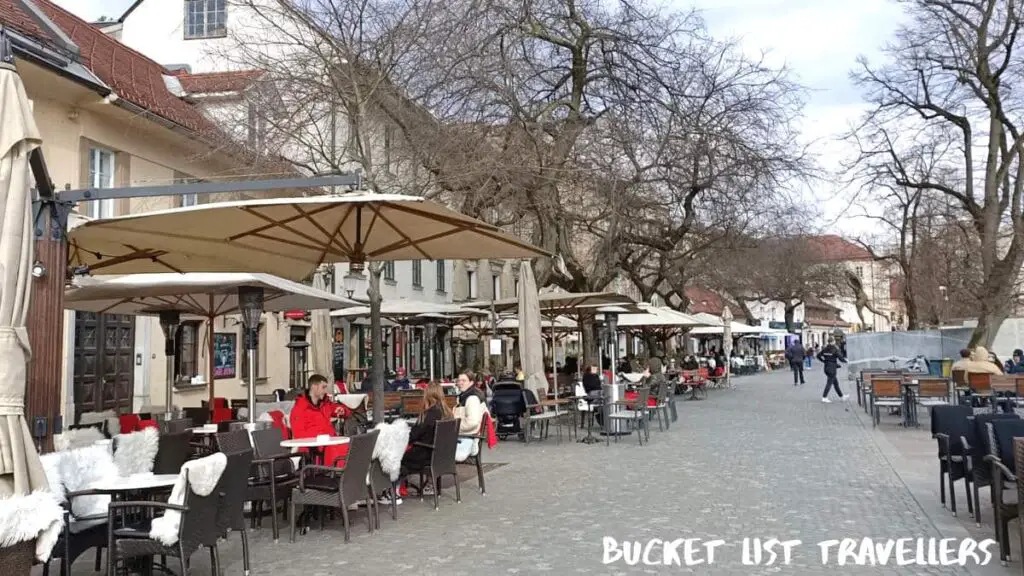 Slovenia is a cheaper alternative to many nearby European countries. Because of this, Slovenia is an excellent option for a good value European holiday. After spending the previous 3 months travelling through Spain, Andorra, France, Italy and also Monaco, we were pleasantly surprised by the prices of food and accommodation in Slovenia.
As a rough guide, we recommend the following budgets for a couple:
Low-budget daily spend – 80 euro per day for a couple will get you hostel accommodation, meals from bakeries and markets, local transport and free or cheap activities such as visiting museums and parks.
Mid-range daily spend – 250 euro per day for a couple will get you mid-range accommodation, local transport, restaurant meals as well as a few paid activities.
Luxury spend – 800 euro per day for a couple will get you a premium experience in Slovenia, staying at luxury hotels, travelling by private transport, doing a range of paid activities as well as eating at high end restaurants.
Slovenia travel guide: Accommodation in Slovenia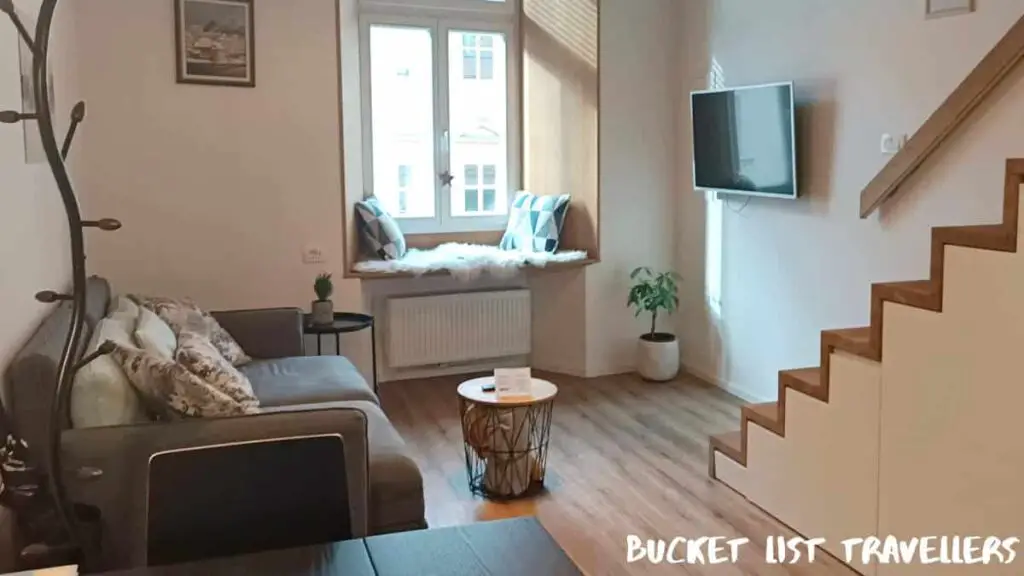 There is a good range of accommodation to suit all budgets in Slovenia. Furthermore, Airbnb operates in Slovenia and we were impressed with the range of options available throughout the country.
For short-term accommodation, a general price per night is as follows:
Budget accommodation – 10-28 euro for dorm accommodation
Mid-range accommodation – 30-150 euro for a private room
Luxury accommodation – 150-450 euro a night for a luxury hotel/resort
Rental property – 70-600 euro a night for a fully furnished 3-5 bedroom home
Slovenia travel guide: Food in Slovenia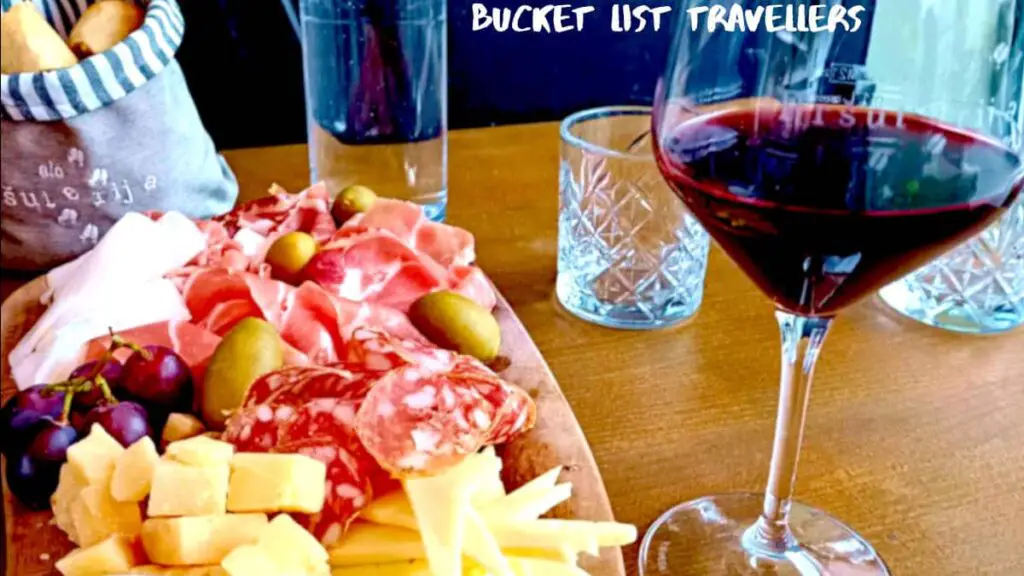 Slovenia has a great food scene. It is home to a number of Michelin guide restaurants which are generally a lot more affordable than those in nearby countries. The local food is delicious and hearty and also perfect for the cold winter months. Apart from the food, Slovenia is also renowned for its high quality wine and delicious schnapps. The biggest question you will have is "what should I eat first?"
How much does food cost in Slovenia?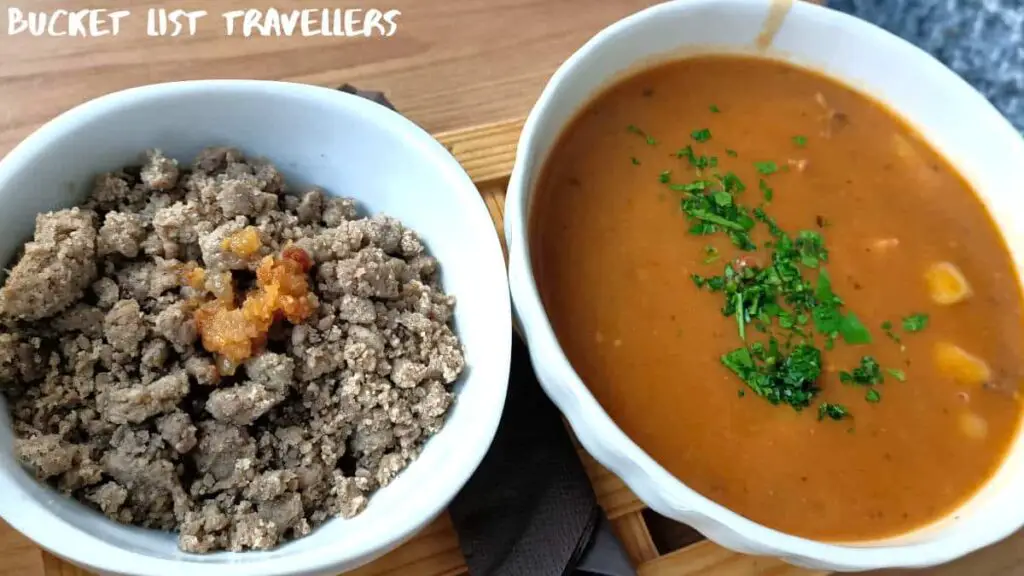 Our price guide for your food budget in Slovenia is as follows (prices as at 2022):
Restaurant meal – 8-30 euro for a main dish
Bakery food and fast food – 2 euro for a burek, 1.50-2 euro for a slice of pizza
Glass of wine – 3-6 euro
Coffee – 1-1.50 euro
Regional dishes in Slovenia
Slovenia has many regional cuisines as well as food that is enjoyed throughout the country. Must try dishes in Slovenia include:
Štruklji – rolled dumplings
Idrijski žlikrofi – stuffed dumplings
Kranjska Klobasa – also known as Carniolan sausage or Kransky sausage
Bujta repa – a sour turnip stew with fatty pieces of pork
Kremšnita – Bled cream cake
Žganci – also known as corn mush or spoonbread
Prekmurska gibanica – Prekmurian layer cake
Jota – Istrian stew
Potica – rolled dough Slovenian cake
Local prosciutto and cheese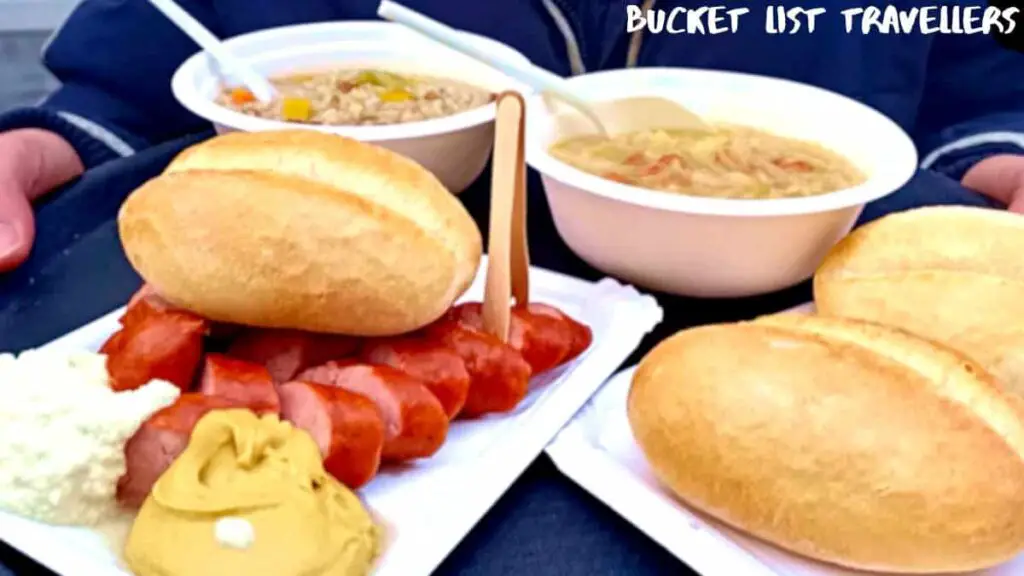 Slovenia culture
National holidays in Slovenia
New Year's Day – 1 January
Day after New Year's Day – 2 January
Prešeren Day, the Slovene Cultural Holiday – 8 February
Easter Sunday – typically in March or April.
Easter Monday – the Monday after Easter Sunday, typically in March or April.
Resistance Day – 27 April
May Day – 1 May
May Day Holiday – 2 May
Whit Sunday – this is the Christian holiday of Pentecost. It is celebrated 50 days after Easter, typically in May or June
Whit Monday – it is the day after Whit Sunday, typically in May or June
Statehood Day – 25 June
Assumption Day – 15 August
Reformation Day – 31 October
Day of Remembrance of the Dead – 1 November
Christmas Day – 25 December
Independence Day and Unity Day – 26 December
National symbols of Slovenia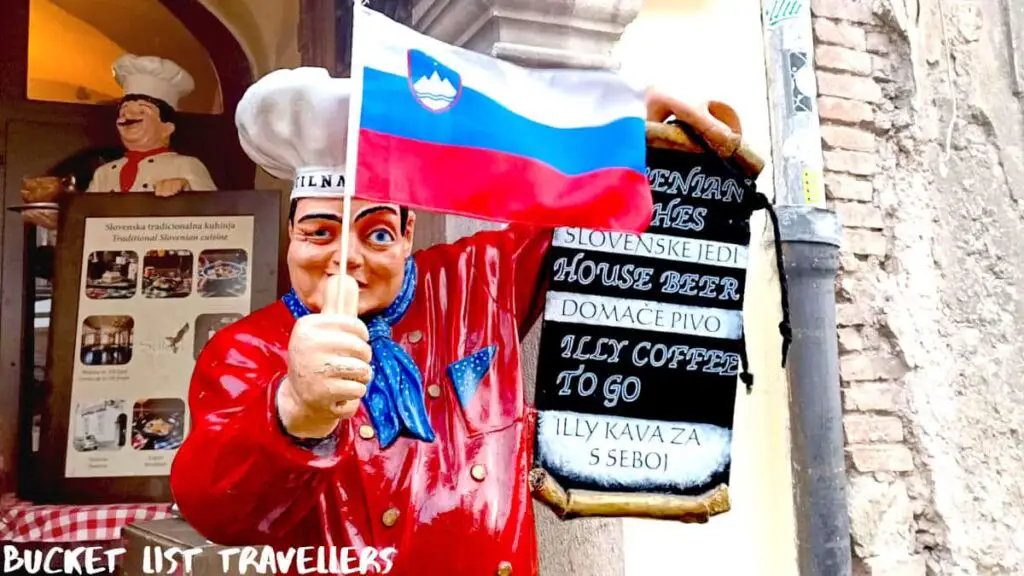 Slovenia flag – a tricolour flag featuring three horizontal bands coloured white, blue and red from top to bottom, with the coat of arms in the upper hoist side of the flag between the white and blue bands.
Slovenia coat of arms – this features a red bordered blue shield as well as a 3 peak mountain representing Mount Triglav. Under the mountain are 2 wavy lines, representing the sea and rivers of the country. Above the mountain are three golden six-pointed stars representing the Counts of Celje.
National flower – red carnation
National bird – Olm
Slovenia national animal – Carniolan Honey Bee
Slovenia pastimes
National dish – buckwheat spoonbread
Popular drinks – schnapps (plum, blueberry, honey as well as pear flavours are popular), Slovenian wine, Union and Laško beer
National sport – association football
Religion – 57.8% Roman Catholic, 2.4% Muslim, 2.3% Serbian Orthodox, 0.9% other Christian, 10.1% atheist, 23% non-religious (as at 2017)
Famous Slovenian people
Famous people from Slovenia – former first lady of the USA Melania Trump, poet France Prešeren, linguist Jernej Kopitar, philosopher Slavoj Žižek, composer Giuseppe Tartini, composer Hugo Wolf, dance music composer DJ Umek, composer Slavko Avsenik, actor Željko Ivanek, actor Jurij Zrnec
Slovenian sports stars – Olympic gold medallist hammer thrower Primož Kozmus, ski racer Tina Maze, cross-country skiier Petra Majdič, tennis player Mima Jaušovec, Olympic rock climber Janja Garnbret, ice hockey player Anze Kopitar, Olympic ski jumper Peter Prevc, tennis player Grega Žemlja, long distance swimmer Martin Strel
Is Slovenia Safe?
Slovenia travel guide: Safety in Slovenia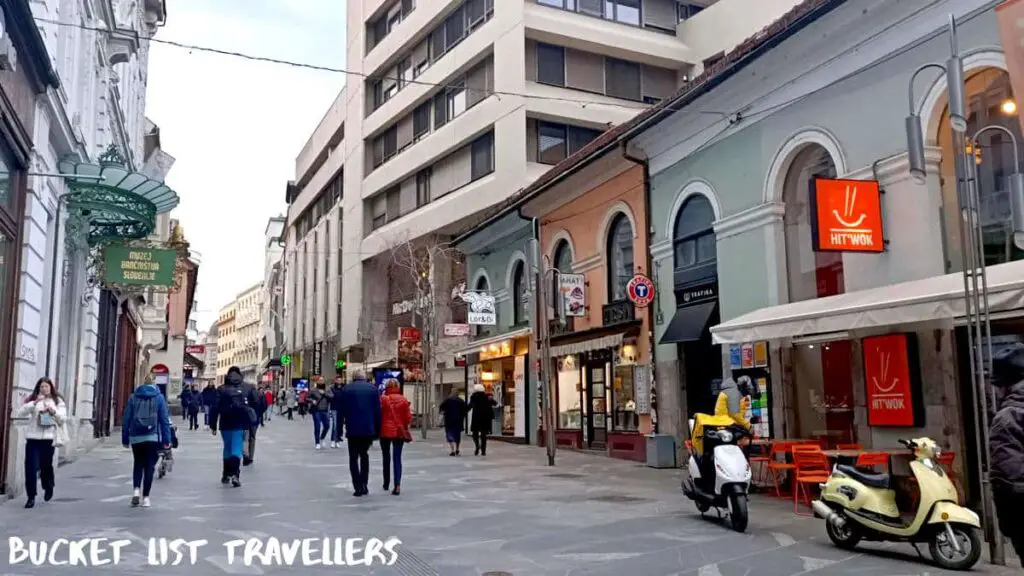 During our short 3 day stay in Slovenia we found the country to be extremely safe. Additionally, according to the Global Peace Index, Slovenia ranks amongst the top 5 safest countries in the world.
Slovenia travel guide: General safety considerations in Slovenia
Other general safety considerations for travel in Slovenia:
Drinking water – Tap water is safe to drink in Slovenia. Moreover, the country prides itself on its pristine water quality.
Mosquitoes – the tiger mosquito has been present in Slovenia since 2002. This type of mosquito spreads diseases such as Zika, dengue and chikunguya.
Altitude sickness – Slovenia has areas of high altitude. This comes with the risk of altitude sickness. Consequently, if you are planning to visit any high altitude areas in Slovenia, be sure to allow sufficient time to acclimatise. If you experience any signs of altitude sickness, such as headache, nausea or vomiting, dizziness, tiredness, loss of appetite or shortness of breath, get help immediately.
Road safety – Driving in Slovenia is generally safe and the roads are in excellent condition. Due to the mountainous terrain of the country, roads can be narrow and winding in some places. Take care when driving in the countryside.
Water safety – If you visit any of the coastal areas or lakes, take care when swimming as currents and waves may be stronger than you expect.
Sun safety – Exposure to the sun can have adverse short-term and long-term effects on the skin, eyes as well as the immune system. Sun protection such as sunscreen, a hat and sunglasses is very important to ensure you don't get burnt.
As with any destination, take all of your normal safety precautions.
Slovenia Blogs
You can find our Slovenia travel blogs below.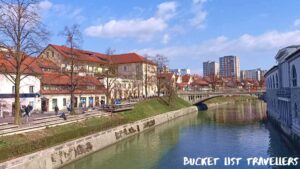 Visiting Ljubljana is like stepping into a fairy tale. Slovenia's capital is a charming picture perfect city which is safe ...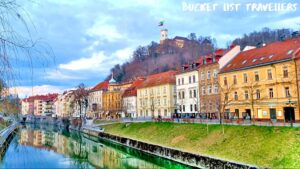 Visiting the capital of Slovenia is like stepping into a page from a fairy tale. It has a picture perfect ...

Affiliate Links
This website contains affiliate links, which means we may earn a commission on any purchases at no additional cost to you. Your support helps us continue our travels and make more travel blogs and travel videos, thank you!
Subscribe to Bucket List Travellers on YouTube