Why you should go to Costa Rica
Costa Rica is all about natural beauty, clean living and the pura vida (pure life) lifestyle. Located in Central America, between Nicaragua and Panama, it is only a 4 hour flight from the USA. It is a small country, making up only 0.03% of the earth's surface area. However it is home to a whopping 6% of the world's biodiversity. The country has a strong tourism industry, with a wide range of attractions on offer. These include beautiful beaches, spectacular volcanoes and most importantly, sloths! In this Costa Rica travel guide, we share everything you need to know to plan your next Costa Rica trip.
Know before you go
Basic info about Costa Rica
Language – Spanish. Many tour operators and hotel staff speak English in popular tourist areas. However if you prefer travelling and shopping local you will need a basic understanding of Spanish.
Currency – Costa Rican colón (CRC). Many hotels and restaurants also accept United States dollars (USD). ATMs often dispense both colones as well as US dollars.
Population – 5.094 million (2020)
Area – 51,180 km2
Capital – San José
Utilities in Costa Rica
Electricity – Costa Rica uses Types A and B power plugs. This is the same plug type as the United states. The country operates on an 110v supply voltage at 60Hz. Power outages are not uncommon. However they generally don't last for too long.
Water – the tap water in Costa Rica is safe to drink almost everywhere in the country.
Toilets – sit-down flushing toilets are the most common type of toilet in Costa Rica. Don't flush your toilet paper. Instead use the bins provided. Public toilets are not common in Costa Rica. However you can usually find toilets in cafes and restaurants.
Telephone country code: +506
Where is Costa Rica?
Costa Rica is a country in Central America. It is shares land borders with Nicaragua as well as Panama. There are coastlines both on the Pacific Ocean as well as the Caribbean Sea.
How to get to Costa Rica
Costa Rica travel guide: arriving overland
Land border crossings for Costa Rica
Costa Rica has land borders with Nicaragua as well as Panama.
There are 2 main land border crossings between Nicaragua and Costa Rica:
Peñas Blancas
San Pancho (we have done this border crossing)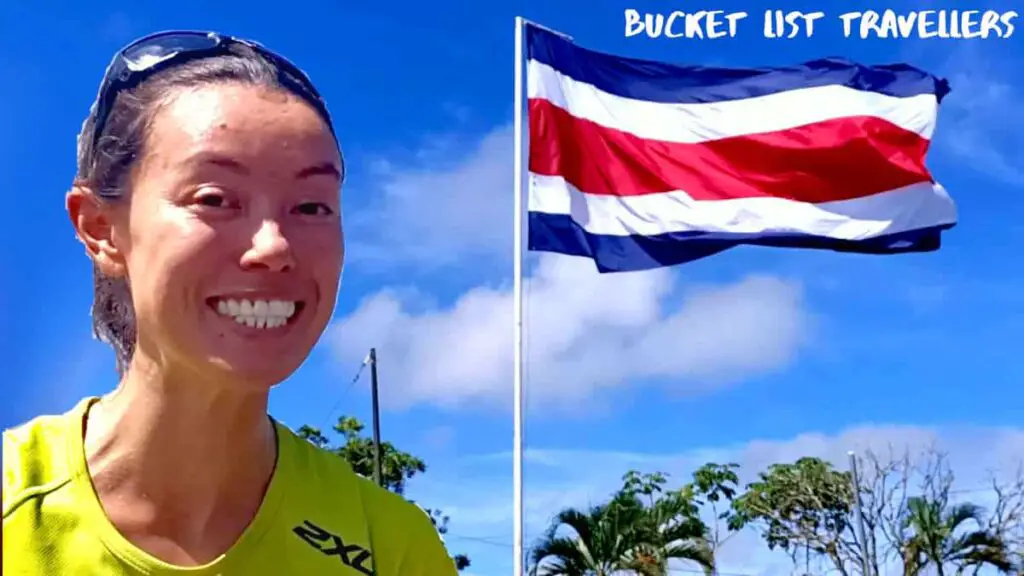 There are 3 main land border crossings between Costa Rica and Panama:
Paso Canoas (best for getting to David, Panama)
Rio Sereno (this is a quieter alternative to the Paso Canoas border crossing)
Sixaola-Guabito (on the Caribbean coast)
Costa Rica land border transport
The main transport options for travelling overland to Costa Rica include:
Private vehicle
Private transport operator
Shuttle bus
Local buses – by far the cheapest option is to take public transport
Costa Rica travel guide: arriving by air
There are 4 international airports in Costa Rica:
Juan Santamaria International Airport (Airport code SJO). This is Costa Rica's primary airport. It is also the 2nd busiest airport in Central America. This airport is located in San José.
Daniel Oduber International Airport (Airport code LIR). This airport is located in the city of Liberia. It is only an hour drive from the Peñas Blancas border crossing to Nicaragua. As such, it is a popular airport for those wishing to visit Nicaragua.
Tobías Bolaños International Airport (Airport code SYQ). This is the secondary airport operating out of Costa Rica's capital, San José.
Limón International Airport (Airport code LIO). This is the only international airport on the Caribbean side of Costa Rica. Limón is the closest city to this airport.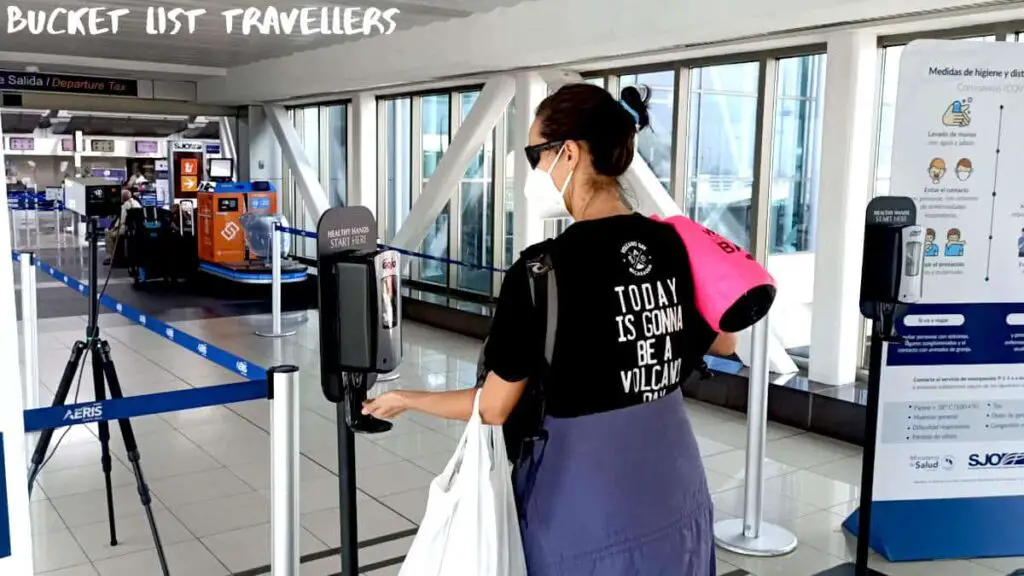 The national airline of Costa Rica is Avianca Costa Rica. US carriers with the most flights to Costa Rica include American Airlines, United Airlines and JetBlue.
Costa Rica travel guide: arriving by sea
There is a total of 8 seaports in Costa Rica. Six ports are on the Pacific Coast as well as two ports on the Caribbean Coast.
Pacific Coast ports of Costa Rica:
Puerto Puntarenas
Puerto Caldera – this is Costa Rica's main seaport. It is also a popular port for cruise ships.
Puerto Quepos – this is a cruise port
Golfito
Golfito Dulce
Punta Morales
Caribbean Coast ports of Costa Rica:
Puerto Limón – this is the largest international seaport in Costa Rica.
Puerto Moin
Costa Rica travel guide: How to get around Costa Rica
Local buses in Costa Rica
The cheapest way to get around Costa Rica is by local bus. We caught a few intercity buses around Costa Rica. This is a surprisingly comfortable way to travel around the country. One point to note is that buses in Costa Rica are not like the local buses in the Central American countries to the north of Costa Rica. The buses we took were modern coaches with padded seats as well as under-bus storage. Furthermore, they do not overcrowd the buses in Costa Rica. Once they seats are full they do not accept additional passengers. However this does have a downside. We did see some people turned away from the daily bus from Monteverde to San José.
Jeep-boat-jeep between La Fortuna and Monteverde
We highly recommend getting the jeep-boat-jeep between La Fortuna and Monteverde. This transport option is a great way to see the country while transiting between two of the most popular destinations in Costa Rica. A minivan will take you from either your accommodation or a central location to the shore of Lake Arenal. From there you get in a boat and have a scenic ride across Lake Arenal. Once you're at the other side of the lake, a minivan will be there to meet you and drive you the rest of the way to your accommodation. This was a very comfortable and enjoyable trip. You can buy tickets from one of the many tour offices operating out of La Fortuna as well as Monteverde. Expect to pay around US$20-25 per person.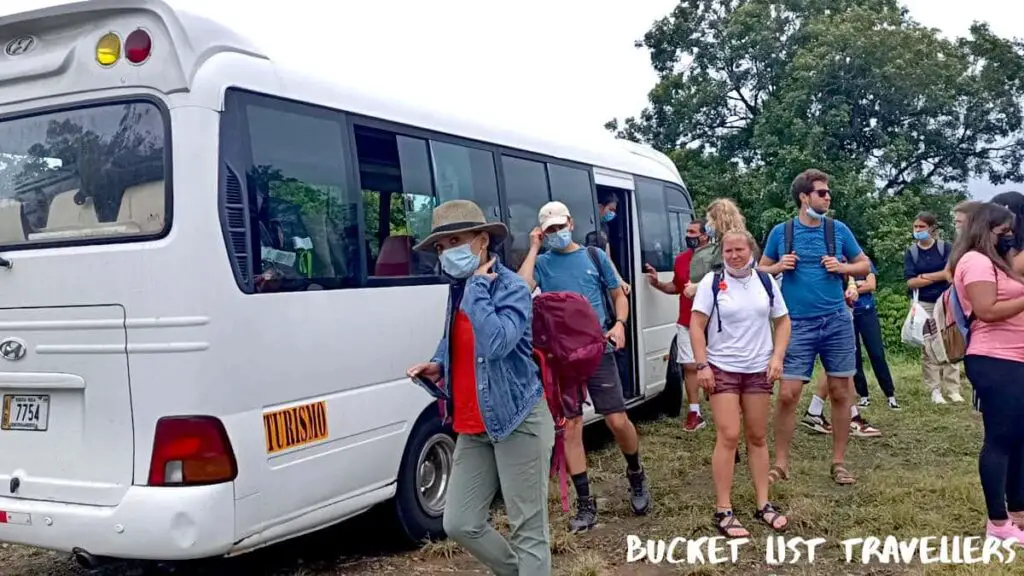 Shuttle buses in Costa Rica
A common way to get around Costa Rica is by using shuttle buses. They operate between many of the popular tourist destinations in Costa Rica. Depending on your destination, a one way ticket can cost around $45-65 per person.
Vehicle hire in Costa Rica
Bicycles, Motorcycles, ATVs, Cars and SUVs can all be hired in Costa Rica.
Taxis and Tuk-Tuks in Costa Rica
Taxis are common in Costa Rica. Conversely, tuk-tuks are not common in Costa Rica. However they can be found around the beach-side area of Nosara.
Ride-share services in Costa Rica
Uber, InDriver and Carpool are rideshare services that operate in Costa Rica. However Lyft does not currently operate in Costa Rica.
Domestic flights around Costa Rica
There are 4 airlines offering regular domestic flights in Costa Rica:
Skyway
Sansa
Aerobell
Air Caribe
These airlines service a total of 14 different locations throughout the country. Keep in mind that the central hub is San José. So if you are planning to hop around the country using flights, you'll be returning to San José fairly regularly.
Costa Rica travel guide to travelling during Covid
Covid entry requirements for Costa Rica
We have written a detailed post outlining the Covid entry requirements. You can find the post here. In a nutshell, you don't need a Covid test to enter Costa Rica. You will however need the following:
Vaccine or Costa Rica specific travel insurance
Complete an online digital health card to get a QR code. This QR code will be scanned at the border
Valid passport
Visa
Proof of onward travel
Costa Rica Covid mandates
Face masks are recommended but not mandated in public settings. However if you're on public transport or if you're indoors in public spaces you will need to wear a mask.
As at the beginning of 2022 there is a requirement to have a Covid vaccine in order to enter a lot of venues. This includes certain commercial venues. Examples include some restaurants, hotels, tours and other non-essential businesses. From 1 December 2021 to 7 February 2022, the venues themselves will have the choice of whether to require vaccination for entry. Alternatively they can choose to operate at 50% capacity. After 7 February 2022 the government is planning to require all non-essential businesses to require proof of vaccination to enter. However, this requirement is currently being litigated. As such it is unclear at this stage as to whether this requirement will go ahead.
Venues that choose to require proof of vaccination will display that requirement outside their venue. For those venues, you will then need to provide either your physical vaccination card or the QR code generated through your Health Pass to enter the venue. This QR code is the same QR code that you received when you filled out the Health Pass to enter the country. To keep up to date with what's happening in Costa Rica go on to the Costa Rica department of tourism website.
Where to get a Covid test in Costa Rica
There are plenty of Covid testing stations around Costa Rica offering both PCR and Rapid Antigen Tests. You can generally get Covid tests in hospitals and medical clinics. Expect to pay around 30,000 colones (US$50) for a Rapid Antigen Test or alternatively 50,000 colones (US$80) for a PCR test. You should get your results back wihtin 2-3 hours for a Rapid Antigen Test or the next day for a PCR test.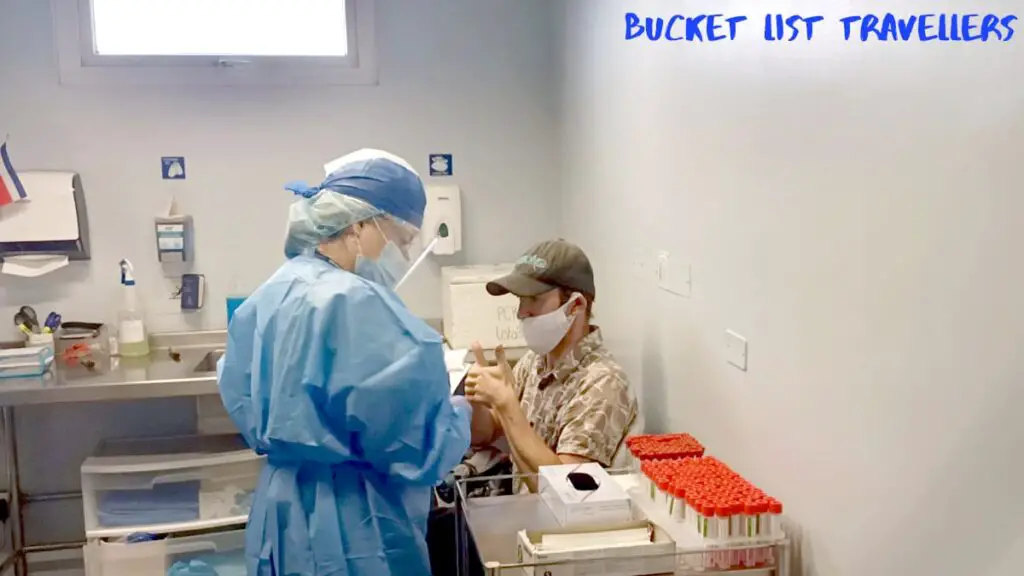 How Long to Spend in Costa Rica
We absolutely loved Costa Rica and would recommend staying for as long as you can in this beautiful country. Most people should be able to get a 90 day visa for Costa Rica. If you are short on time, you should be able to visit most of the most popular destinations around Costa Rica in a 2 week trip. Keep in mind that travel times around the country are long, so allow for that when working out how long to spend in Costa Rica.
Best Areas to Visit in Costa Rica
The most popular areas to visit in Costa Rica include:
Beaches – Tamarindo, Samara, Playa Santa Teresa, Jaco, Quepos, Uvita
Mountain areas / outdoor activities – La Fortuna, Monteverde
National Parks – Parque Nacional Manuel Antonio, Parque Nacional Corcovado, Parque Nacional Tortuguero
Cities – San José
Volcanoes – Arenal Volcano
Duty free shopping – Golfito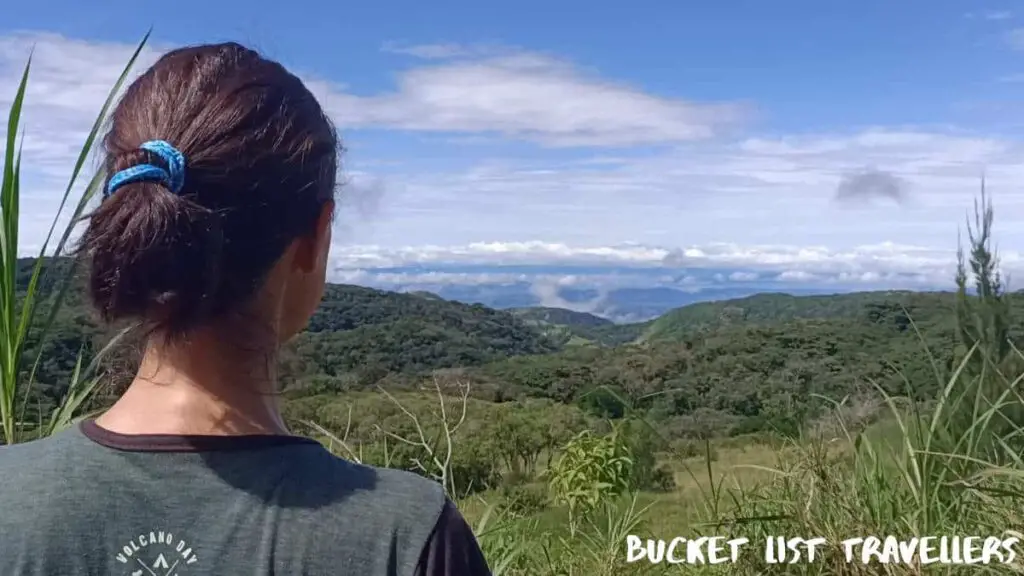 Weather in Costa Rica
Costa Rica is a tropical country with a dry and wet season. The dry season is from December until April. This is the best time to visit. The wet season in Costa Rica can be intense, depending on which part of the country you're in. Some areas such as Corcovado shut down during the wet season.The mountain regions in Costa Rica such as Monteverde have milder climates. There are also a few areas in Costa Rica that are known for having an eternal spring climate. These include areas such as San José, Heredia and Atenas.
Internet and mobile phones in Costa Rica
The main internet and phone companies in Costa Rica are Kölbi, Claro and Movistar (this may get rebranded to Tigo). Kölbi is the state-run provider and had a monopoly for many years. It has the widest coverage and is the most popular provider in the country.We were pleasantly surprised by internet speeds in Costa Rica. Many of the Airbnbs we stayed in had high-speed internet. Additionally, free wifi comes standard with most accommodation. You can also find free wifi in many restaurants and cafes catered to tourists.
Cell phone SIM cards can be bought in many places throughout Costa Rica. This includes service stations and corner stores.
How much to budget for Costa Rica?
Costa Rica travel guide: Daily spend for a couple travelling in Costa Rica
While Costa Rica isn't the cheapest country in Central America, you can still do low budget travel in the country. It is also ideal for those seeking a more luxurious experience.
Costa Rica travel guide: Accommodation in Costa Rica
There is a good range of accommodation to suit all budgets in Costa Rica. Airbnb operates in Costa Rica and we were impressed with the range of options available throughout the country. Long-term fully furnished rentals are also available in many cities and towns throughout the country.For short-term accommodation, a general price per night is as follows:
Budget accommodation – US$8-20 for dorm accommodation
Mid-range accommodation – US$20-60 for a private room, often with breakfast included
Luxury accommodation – US$100-900 a night for a luxury hotel/resort
Rental property – US$80-1000 a night for a fully furnished 3-5 bedroom home
Costa Rica travel guide: Food in Costa Rica
The main tourist areas in Costa Rica are full of great cafes and restaurants. Costa Rica also has plenty of street food to tempt your taste buds.
Costa Rica culture
National holidays in Costa Rica
New Year's Day – 1 January
Maundy Thursday – the Thursday before Easter Sunday, typically in March or April
Good Friday – the Friday before Easter Sunday, typically in March or April
Juan Santamaría Day – 11 April
Labor Day – 1 May
Annexation of the Party of Nicoya to Costa Rica – 25 July
Feast of Our Lady of the Angels – 2 August (Employers must provide an unpaid day off)
Mother's Day – 15 August
Independence Day (Día de la Independencia) – 15 September
Army Abolition Day – 1 December
Christmas Day (Navidad) – 25 December
National symbols of Costa Rica
Costa Rica Flag – Costa Rica has both a national flag as well as a state flag. The national flag has Five horizontal bands of blue, white, red. There are two blue bands on the outside, two white bands next to the blue bands and a red double width band in the very centre. The state flag is the same as the national flag with the addition of the coat of arms located within the red band, off-centre to the left. The coat of arms is only permitted to be used by the government.
Costa Rica coat of arms – the coat of arms includes 3 volcanoes, two oceans with a merchant ship in each as well as a rising sun. In the sky above the volcanoes are 7 stars. Surrounding these symbols is a golden frame with golden beads. Above are two palms jointed by a white ribbon with the words "República de Costa Rica" in gold. At the top of the coat of arms is a blue ribbon with the words "America Central". The symbols in the coat of arms all have special meaning. Three volcanoes represent the three mountain ranges of the country. The two oceans represent the Pacific Ocean and Caribbean Sea which surround Costa Rica. Merchant ships represent the maritime history of the country. Seven stars represent the 7 provinces of the country. The golden beans represent coffee.
National flower – guaria morada (also known as the purple country girl)
National bird – clay-colored thrush (previously known as the clay-colored robin)
Costa Rica pastimes
National dish – Gallo pinto is the national dish of Costa Rica. This dish is made with rice and beans. The literal meaning of the name is spotted rooster, which refers to the spotted appearance of the dish. Gallo pinto is also the national dish of Nicaragua, but the Costa Rican version is made with black beans whereas the Nicaraguan version is made with red beans.
Popular drinks – Imperial beer
National sport – football
Religion – 47% Catholic, 27% non-religious, 19% Evangelical (as at 2021)
Famous Costa Ricans
National heroes – Juan Santamaría, a key figure in maintaining Costa Rica's independence from Spain.
National sports stars – sprinter Nery Brenes.
Is Costa Rica Safe?
Costa Rica travel guide: Safety in Costa Rica
We travelled through Costa Rica for two months and found the country to be extremely safe. As with any country, there are good areas and bad areas. If you exercise your normal safety precautions, you should have nothing to worry about.
General safety considerations in Costa Rica
Other general safety considerations for travel in Costa Rica:
Drinking water – The tap water in most areas of Costa Rica is safe to drink. This is one of the few countries in Central America where it is safe to drink the tap water.
Mosquitoes – Costa Rica is a tropical country, so mosquitoes are present in many parts of the country. For the most up to date information we recommend checking the CDC or NHS websites.
Road safety – many of the more natural parts of Costa Rica are only suitable for 4WD driving. Use extreme caution if driving through bodies of water as we have heard of people getting stuck and needing to be winched out. Also keep in mind that Costa Rica is full of wildlife, and the wildlife can sometimes appear unexpectedly on reads.
Water safety – If you visit any of the coastal areas or lakes, take care when swimming as currents and waves may be stronger than you expect.
Sun safety – The UV Index is very high in Central America. Sun protection such as sunscreen, a hat and sunglasses is very important to ensure you don't get burnt.
Dogs – In many countries in Central America, stray dogs are common. For more on dog safety while travelling, check out this video.
As with any destination, take all of your normal safety precautions.
Costa Rica Blogs
You can find our Costa Rica travel blogs below.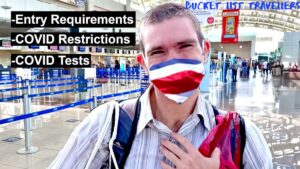 Is Costa Rica calling your name in 2022? Travel during Covid can be confusing with ever changing Costa Rica Travel ...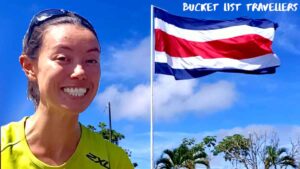 Land border crossings can be stressful experiences if you don't know what to expect, but fortunately you've come to the ...

Affiliate Links
This website contains affiliate links. This means we may earn a commission on any purchases at no additional cost to you. Your support helps us continue our travels and make more travel blogs as well as travel videos, thank you!
Subscribe to Bucket List Travellers on YouTube