Why you should visit Belize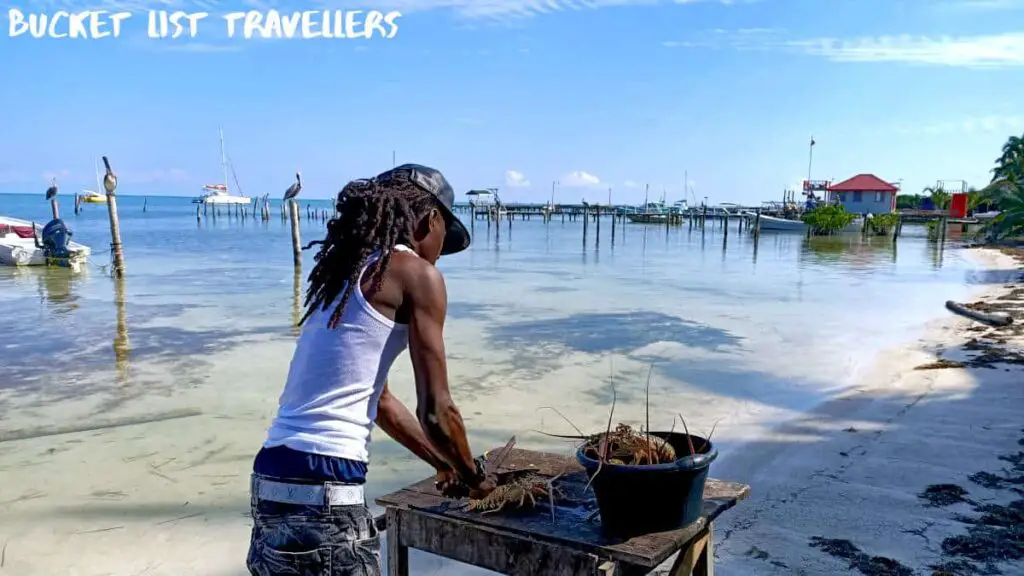 Belize is filled with natural wonders, delicious fresh local food, fascinating culture and spectacular Mayan ruins. Home to the 2nd largest barrier reef in the world, Belize is also the perfect place to marvel at pristine coral reefs and abundant marine life. With relaxed Caribbean vibes, gorgeous cayes and unspoiled beaches, Belize is the perfect place for a tropical getaway. As soon as you step into the country you can feel your troubles melt away.
Belize travel guide: Know before you go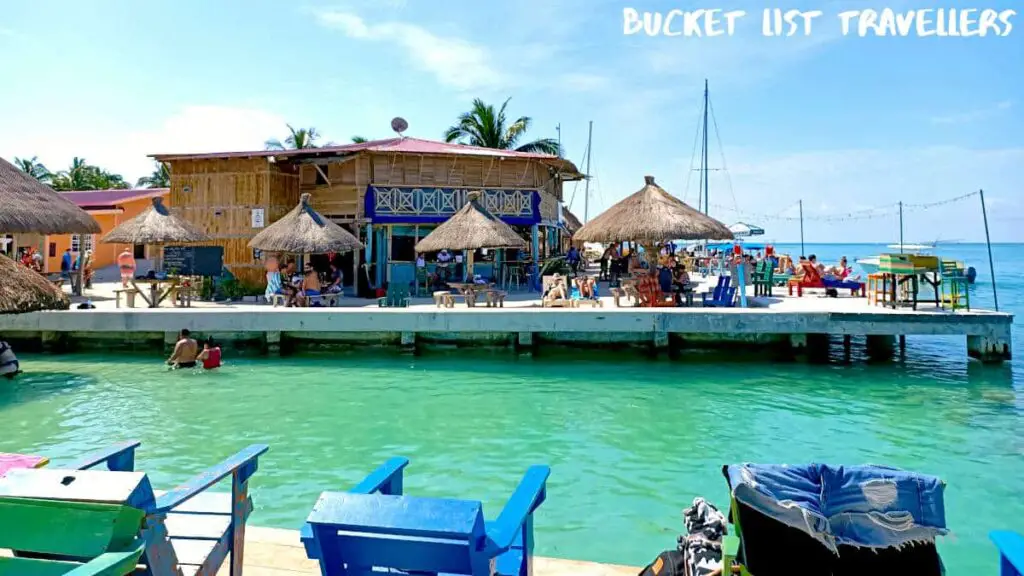 Belize travel guide: Basic info about Belize
Language – English is the official language of Belize. However Spanish is also widely spoken in Belize. Additionally, other languages spoken in Belize include Creole and Garífuna. The Mayan languages Yucatec, Mopán, and Kekchí are spoken by the Maya in Belize. Furthermore, the Belize Mennonites speak Plautdietsch.
Currency – Belize dollar (BZD)
Population – 441,471 (2022)
Area – 22,966 km2
Capital – Belmopan
Date of Independence – 21 September 1981
Emergency number – 911
Utilities in Belize
Electricity – Belize uses Types A and B power plugs, which is the same plug type as the United states. It operates on an 110v supply voltage at 60Hz. Power outages in Belize are common due to unreliable electrical systems as well as extreme tropical weather.
Water – the tap water in Belize is not generally safe to drink. The exceptions are Belize City and San Ignacio, but you should check with your accommodation to be sure. Your accommodation will usually provide bottles of purified water for guests to use.
Toilets – sit-down flushing toilets are the most common type of toilet in Belize. Don't flush your toilet paper – use the bins provided. Public toilets are not common in Belize, but you can usually find toilets in hotels and restaurants.
Telephone country code: +501
Where is Belize?
Belize is a country in Central America. It is shares land borders with Mexico and Guatemala as well as maritime borders with Honduras. Belize has a coastline on the Caribbean Sea.
How to get to Belize
Belize travel guide: arriving overland
Land border crossings for Belize
Belize has land borders with Mexico and Guatemala.
The border between Belize and Mexico constitutes some of the northern boundary of Central America within North America. There are 2 official border crossings between Belize and Mexico:
Subteniente Lopez International Bridge at Subteniente López, Quintana Roo Mexico – Santa Elena, Corozal District Belize. This is the main bridge for land border crossings between Mexico and Belize.
Chac-Temal International Bridge (also known as Chactemal Bridge) at Chetumal, Quintana Roo Mexico – Corozal District Belize.
There is one main land border crossing between Belize and Guatemala:
Beque Viejo del Carmen, Cayo District Belize and Melchor de Mencos, Petén Guatemala (we have done this border crossing).
Belize land border transport
The main transport options for travelling overland to Belize are:
Private vehicle
Private transport operator
Shuttle bus
Local transport – by far the cheapest option is to take public transport. Keep in mind that local transport is a slower option. You may also need to take multiple buses to get to your required destination.
Belize travel guide: arriving by air
There is one international airport in Belize:
Philip S. W. Goldson International Airport in the village of Ladyville near Belize City (Airport code BZE). This airport is also known as Belize Airport, Belize International Airport or PGIA.
The national airline of Belize is Tropic Air.
Belize travel guide: arriving by sea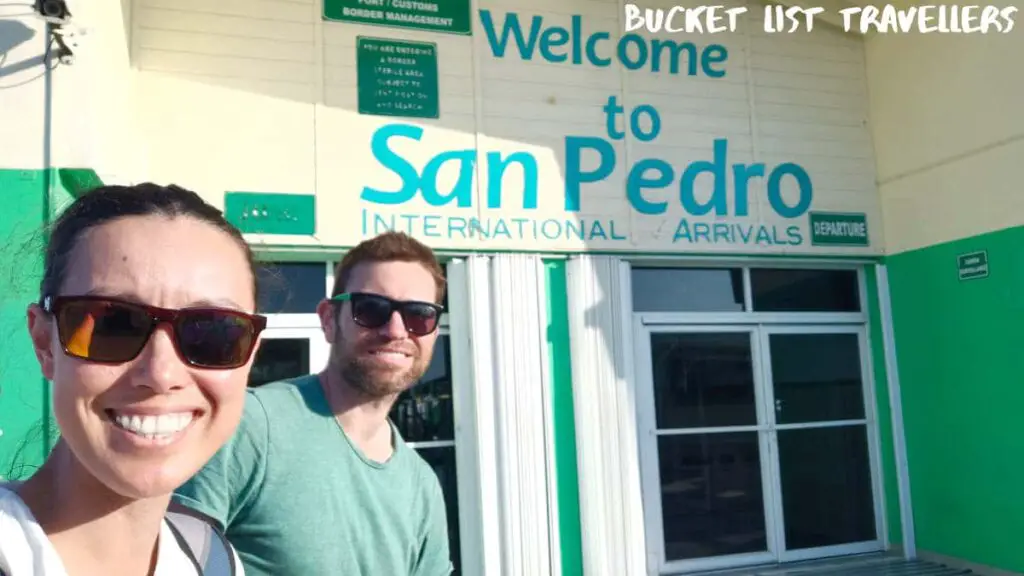 There are 3 ferry ports in Belize. These are the ports of:
San Pedro on Ambergris Caye
Caye Caulker
Belize City
Additionally there are currently 3 cruise ports in Belize, including one under construction. These are:
Port of Belize
Harvest Caye
Port Coral (currently under construction)
Ferries between Mexico and Belize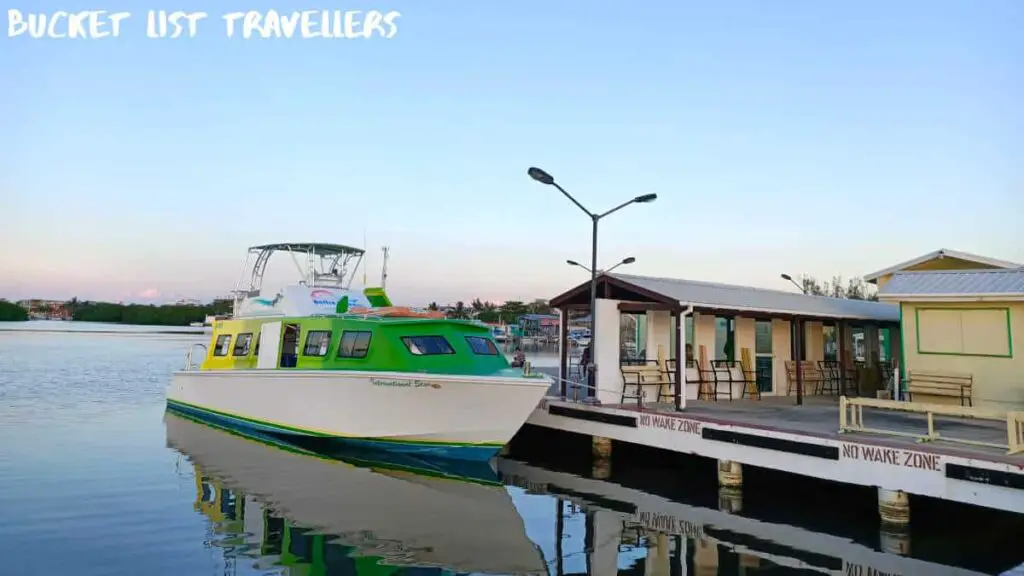 Ferries operate between Chetumal in Mexico to San Pedro and Caye Caulker in Belize. These ferries are also known as water taxis. There are two ferry companies that offer this service:
Water Jets International
San Pedro Belize Express
It takes approximately 1 hour 40 minutes to travel by ferry from Chetumal Mexico to San Pedro Belize. The immigration office is at San Pedro. Once passengers clear immigration and customs, it is a further 30 minute ferry ride to Caye Caulker. Allow around 3 hours 15 minutes for the total journey time between Chetumal and Caye Caulker. A one-way ferry ticket from Chetumal Mexico to San Pedro Belize is MXN $1,400 and a one-way ferry ticket from Chetumal Mexico to Caye Caulker Belize is MXN $1,300 (prices as at 2023).
Onward ferries to Belize City take 1 hour 30 minutes from San Pedro or 45 minutes from Caye Caulker.
Ferries between Honduras and Belize
There are ferries between Puerto Cortés in Honduras and Belize City as well as Dangriga in Belize. There is one crossing a week in each direction:
Belize City (9am Friday) – Dangriga (11am Friday) – Puerto Cortés (2:30pm Friday)
Puerto Cortés (11am Monday) – Dangriga (2:30pm Monday) – Belize City (4:30pm Monday)
Tickets cost US$80 (1,600 HNL) between Belize City and Puerto Cortés. Alternatively you can get a ticket between Dangriga and Puerto Cortés for US$50 (1,100 HNL). Starla Ferry used to operate this ferry service, however this company is not longer in business. Another water taxi company that operates in Belize is Hokey Pokey.
Cruises to Belize
A number of cruises visit Belize. Most of them dock in the Bay of Belize, is a 20 minute tender ride away from Fort Street Tourism Village in Belize City. Additionally, a new Belize port is currently under construction called Port Coral Belize. There is also a port at Harvest Caye in southern Belize which is solely used by Norwegian Cruise Line.
Our experience crossing the border between Mexico and Belize
We crossed the marine border between Mexico and Belize in January 2020. This was a scenic way to cross the border.
Our ferry ferry operator was San Pedro Belize Express Water Taxi. We used this service twice, first from Chetumal to Caye Caulker and then to Belize City. We couldn't fault the ride, what an amazing way to enter a new country!
There are a number of blogs about the customs process at Chetumal and a fair bit of misinformation. The Mexican departure tax of $575 pesos (as at 2020) is not a scam. It is the customs charge. You can book tickets online, but there is an extra 10% charge. We bought our ferry tickets in person at the office on the port at Chetumal on the morning we left. Payment options include cash or credit and you can pay with Mexican pesos or Belize dollars or a combination of both.
The other thing worth noting is that while there is a toilet on board, there is a sign saying you can only pee and not poo in the toilet! There are free toilets at Chetumal, so make sure you make use of that.
We caught the 3:30pm ferry from Chetumal. The first leg of the journey was to San Pedro on Amerbris Caye Belize, and that took roughly 1 hour 40 minutes. The ferry stops at the immigration and customs office in San Pedro, where everyone gets off and does their Belize custom paper work. You also need to pay the San Pedro port fee ($2.50 BZN per person in 2020). We were hanging around for quite a bit and then left around 5:30pm to Caye Caulker. You buy get refreshments while you wait, so not all bad. As for the ferry to Belize City, there are frequent ferries throughout the day and they cost $22 BD. We managed to get a voucher from a touter for $17 BN, so worth looking our for that.
Belize travel guide: How to get around Belize
Local buses in Belize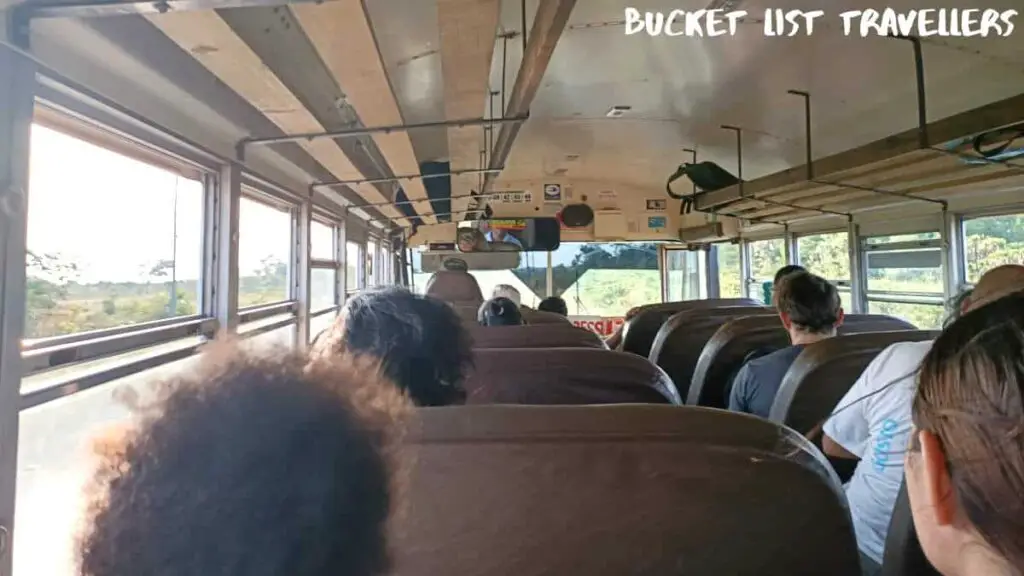 Local public buses are the cheapest way to get around Belize. The bus network is very affordable but slow going. However taking a bus in Belize is an experience in itself and is an excellent way to become immersed in the local culture. The buses in Belize are old US school buses that are painted in vibrant colours. There are not many bus stops outside of the main towns and cities, but buses will stop on the side of the road to pick passengers up if you wave them down.
Example of common bus journeys in Belize:
We paid US$4.50 per person for the bus from Belize City to San Ignacio in 2020. The trip took a few hours.
Intercity shuttle buses in Belize
Shuttle buses operate between major towns and cities in Belize. Some of the major intercity bus operators in Belize include ADO and Floralia. These coach-style buses are more comfortable than the local buses and generally include reclining seats with headrests, USB charging ports, folding food trays, personal and cargo storage, restroom and refreshments.
Examples of common shuttle bus journeys in Belize are as follows (prices as at 2023):
Belmopan to Belize City – $9 BZD per person for a 1.5 hour bus ride
Dangriga to Belize City – $15 BZD per person for a 3 hour bus ride
Punta Gorda to Belize City – $30 BZD per person for a 6.5 hour bus ride
Ferries in Belize
Ferries service San Pedro, Caye Caulker and Belize City. These ferries are also known as water taxis. There are two main ferry operators in Belize:
Water Jets International
San Pedro Belize Express
Examples of common ferry journeys in Belize are as follows (prices as at 2023):
San Pedro to Caye Caulker – US$20.50 per person for a 30 minute ferry ride
Caye Caulker to Belize City – US$20.50 per person for a 1 hour ferry ride
San Pedro to Belize City – US$30.50 per person for a 1 hour 30 minute ferry ride
Vehicle hire in Belize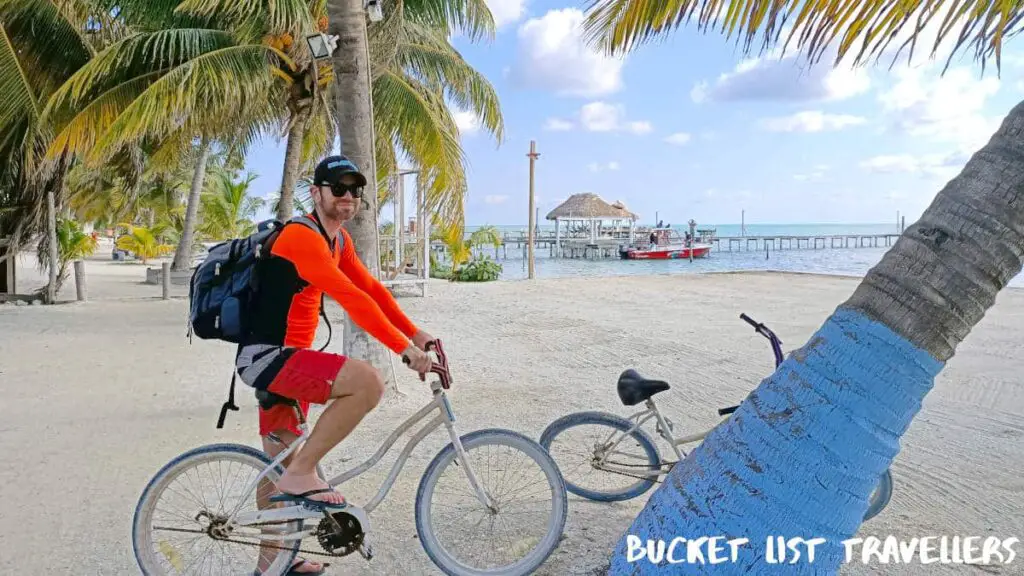 Bicycles, Motorbikes, ATVs, Golf Carts, Cars and SUVs can all be hired in Belize. Expect to pay around:
US$7.50-17.50 a day for a bicycle (mountain bike)
US$65-149 a day for a motorbike
US$49-69 a day for a golf cart
$75 BZN a day for an ATV
US$37-79 a day for a car
US$37-100 a day for an SUV
In Belize, they drive on the right hand side of the road. The roads in Belize can be challenging as most roads outside of cities and highways are unpaved. Furthermore, in the rainy season the roads can become flooded. We would recommend getting an SUV if you want to drive in the mountain areas of Belize or during rainy season. We'd also recommend avoiding driving at night as the roads are not well lit and animals such as cattle, horses and stray dogs may be on the road.
Taxis in Belize
Taxis are common in Belize. In Belize taxis look like regular cars but have green number plates. Taxi fares are per person and you may have to share your taxi with other passengers. Taxis often beep at people as they go past to indicate that they have spare seats available. Most taxis stop operating at around 6pm, so it may be hard to get a taxi at night.
Examples of common taxi fares in Belize (as at 2023):
Caye Caulker – expect to pay around US$2.50 per person per stop.
San Ignacio to the Guatemala border – $10 BZN per person.
Ride-share services in Belize
There are no ride-share services like Uber or Lyft in Belize.
Domestic flights around Belize
There are 10 commercial airports that operate regular flights in Belize:
Philip S. W. Goldson International Airport (also known as Belize International Airport)in the village of Ladyville nearBelize City (Airport code BZE). This is the only international airport in Belize.
Belize City Municipal Airport (also known as Sir Barry Bowen Municipal Airport) in Belize City (Airport code TZA). This is the closest airport to Belize City and provides transport to Belize's cayes.
Caye Caulker Airport in Caye Caulker (Airport code CUK).
Caye Chapel Airport in Caye Chapel (Airport code CYC).
Corozal Airport in Corozal (Airport code CZH).
Dangriga Airport in Dangriga (Airport code DGA). This airport services the Stann Creek District of southern Belize, including Dangriga and Hopkins.
Placencia Airport in Placencia (Airport code PLJ).
Punta Gorda Airport in Punta Gorda (Airport code PND).
San Pedro Airport (also known as John Greif II Airport) in San Pedro (Airport code SPR). This airport services San Pedro and Ambergris Caye.
Savannah Airport in Independence (Airport code INB). This airport services Independence and Mango Creek.
The domestic airlines of Belize are Maya Island Air and Tropic Air.
Belize travel guide: How long to spend in Belize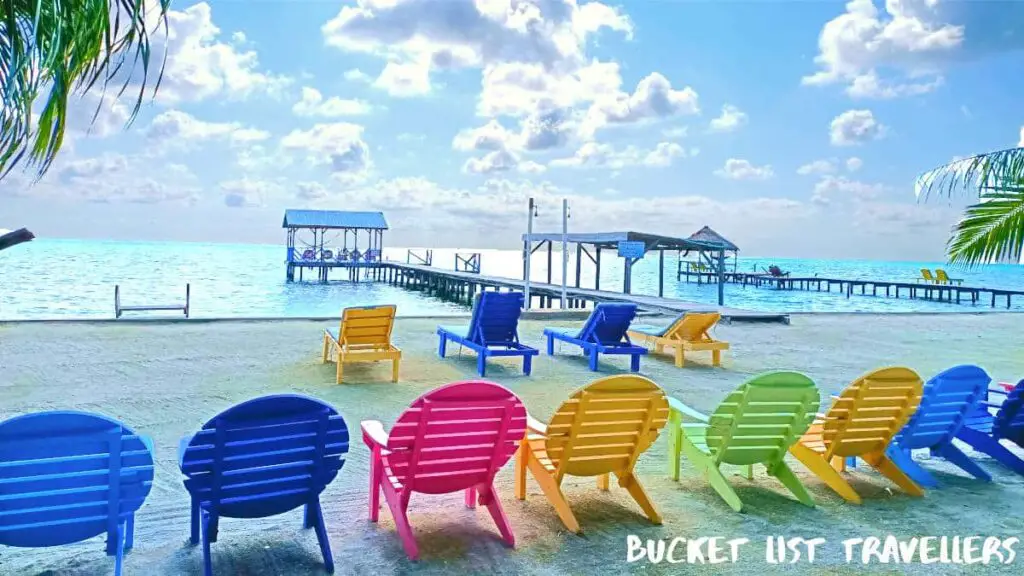 Most tourists can visit Belize for up to 30 days without needing a visa. 1 week in Belize is a good amount of time to see the major destinations. If you have the time, we recommend devoting more time to this beautiful country to see all that it has to offer. We spent 5 nights in Belize and felt that we only just scraped the surface of what this beautiful country has to offer.
Best time to visit Belize
The best time to visit Belize is during the dry season from late November to mid April. In particular, Belize is busiest for tourism between December and March. Additionally, prices are at their highest from mid December to mid January. For those planning to visit Belize during these months, it's wise to book well in advance to secure accommodation.
If you want to avoid the crowds as well as high season prices, the cheapest time to visit Belize is during the low season in the months of June to October. However this is the rainy season in Belize, which means heavy rain (mostly at night and early morning), high temperatures and possible hurricanes. It's also a time when some hotels and tourists attractions close. For a good balance of reasonable prices and better weather we recommend the shoulder season months of November and May.
Belize travel guide: Best areas to visit in Belize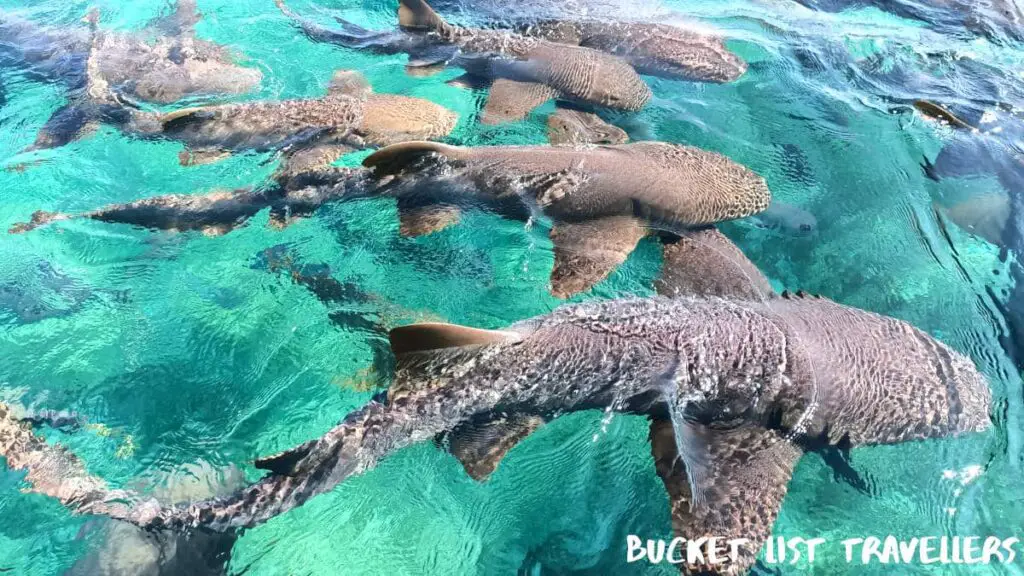 Belize is full of amazing Mayan ruins, stunning cayes as well as the second biggest barrier reef in the world! Popular areas to visit in Belize include:
Mayan Ruins – Caracol, Cerros, Lamanai, Xunantunich, Cahal Pech, Nim Li Punit, Altun Ha.
UNESCO world heritage site – Belize Barrier Reef Reserve System.
Lakes and natural pools – Five Blues Lake.
Islands and Cayes – Caye Caulker, Ambergris Caye, Tobacco Caye, Half Moon Caye, Laughing Bird Caye.
National Parks – Aguas Turbias National Park, Bacalar Chico National Park, Billy Barquedier National Park, Chiquibul National Park, Five Blues Lake National Park, Gra Gra Lagoon National Park, Guanacaste National Park, Honey Camp National Park, Laughing Bird Caye National Park, Mayflower Bocawina National Park, Monkey Bay National Park, Nojkaaxmeen Elijio Panti National Park, Payne's Creek National Park, Peccary Hills National Park, Río Blanco National Park, Sarstoon-Temash National Park, St. Herman's Blue Hole National Park.
Caves – Actun Tunichil Muknal (ATM Cave), Barton Creek Cave, Crystal Cave.
Beaches – Placencia Beach, Hopkins Village Beach, Secret Beach on Ambergris Caye, The Split on Caye Caulker, Half Moon Caye.
Wildlife – Shark Ray Alley, Cockscomb Basin Wildlife Sanctuary, Gladden Spit Marine Reserve.
Weather in Belize
Belize is a tropical country with a dry and wet season. The dry season is between November and April and this is the best time to visit. The hottest months of the year are April and May, with average temperatures in the capital of Belmopan around 29C (84F) and January the coolest month with an average of 24C (75F).
Belize has a hurricane season which generally runs from June to November and mainly affects the cayes and central/northern parts of the country.
Internet and mobile phones in Belize
The main internet and phone company in Belize is Digi (previously BTL). Additionally, Smart! is a new cell phone provider in Belize. Other internet companies in Belize include Central Cable Vision as well as Channel Broadcasting Cable.
As of March 2023, Belize was ranked 100th in the world for fixed broadband speed. The best wifi in Belize is in tourist hotspots like Ambergris Caye and Caye Caulker. Free wifi comes standard with most accommodation and you can find free wifi in many restaurants and cafes catered to tourists.
Cell phone SIM cards are sold in Digi and Smart stores in Belize. SIM cards can also be bought at Belize Airport. While there is no longer a Digi store at the airport, SIM cards are sold at grocery shops outside the airport as well as in a shop called TC Paradise Auto Rental.
How much to budget for Belize?
Belize travel guide: Daily spend for a couple travelling in Belize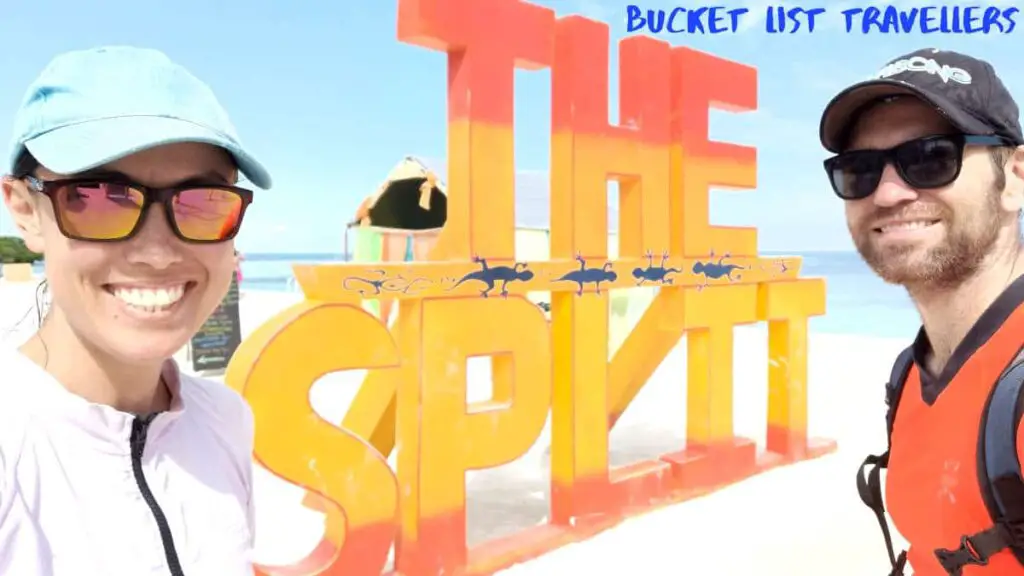 Belize is a great value budget destination, but it also caters to those after a more luxurious experience.
As a rough guide, we recommend the following budgets for a couple:
Low-budget daily spend – US$70 per day for a couple will get you hostel accommodation, meals at local eateries and markets, local transport and free or cheap activities such as going to the beach.
Mid-range daily spend – US$150 per day for a couple will get you mid-range accommodation, local transport or shuttles and a few tours during your trip.
Luxury spend – $1000 per day for a couple will get you a premium experience in Belize, staying at luxury resorts, travelling by private transport, doing a range of tours and eating at high end restaurants.
Belize travel guide: Accommodation in Belize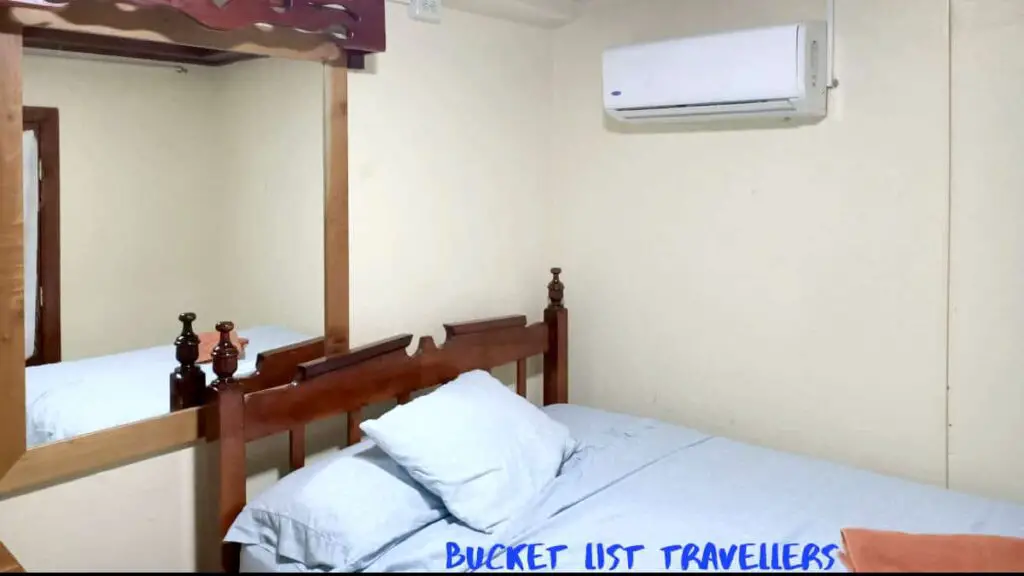 Belize has a good range of accommodation to suit all budgets. Airbnb operates in Belize. Long-term fully furnished rentals are also available in areas like Ladyville, Belmopan and Belize City.
How much is accommodation in Belize?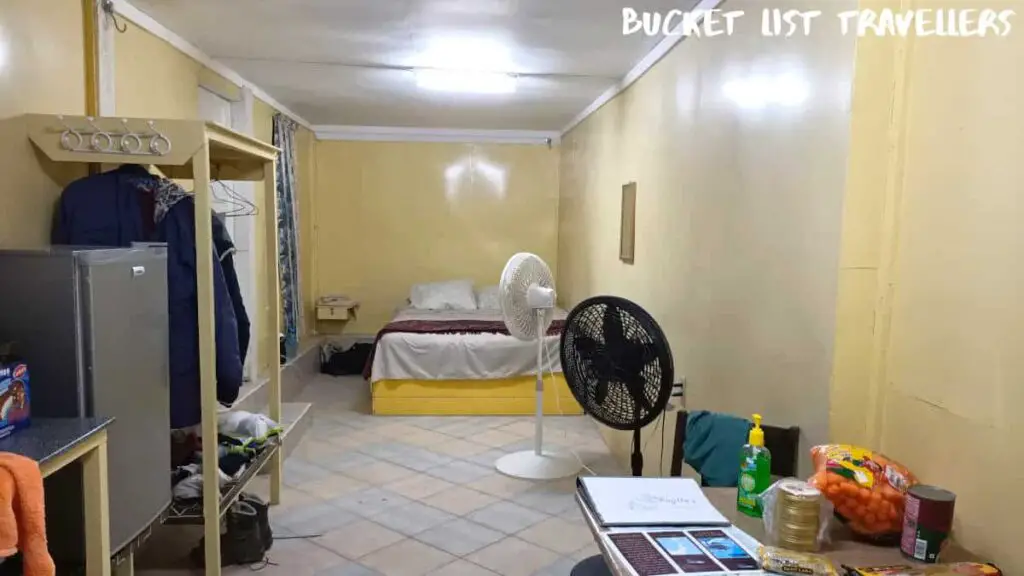 For short-term accommodation, a general price per night is as follows:
Budget accommodation – US$12-36 for a bed in dorm accommodation
Mid-range accommodation – US$50-80 for a private room
Luxury accommodation – US$80-600 a night for a luxury hotel
Rental property – US$85-800 a night for a fully furnished 3-4 bedroom home
Belize travel guide: Food in Belize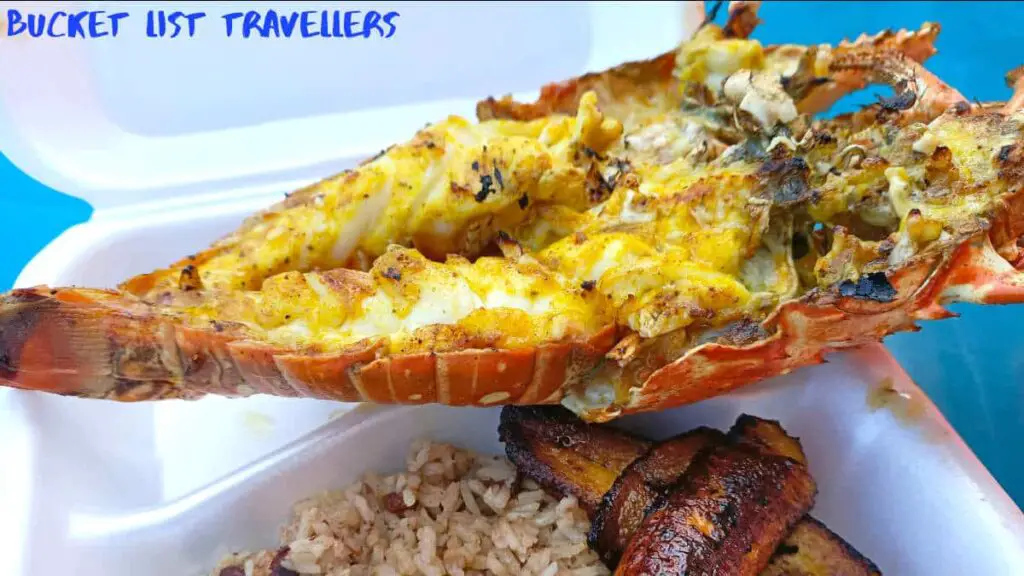 The main tourist areas in Belize are full of great cafes and restaurants. Belize also has plenty of street food to tempt your taste buds.
How much does food cost in Belize?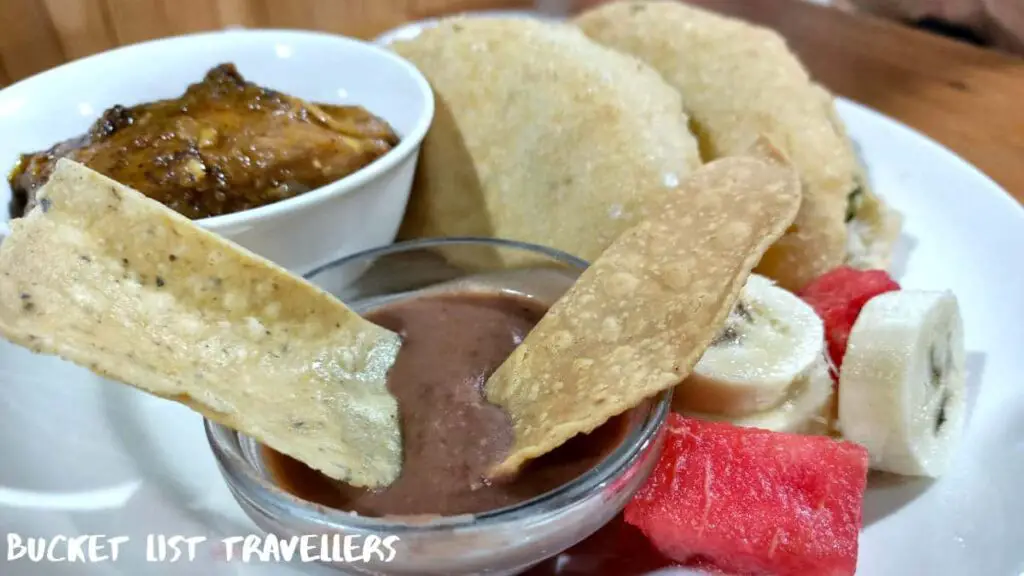 Our price guide for your food budget in Belize is as follows:
Restaurant meal – US$15-20 for a main dish ($30-40 BZD)
Local eatery – US$5-$15 for a main dish ($10-30 BZD)
Street food – US$2.50-5 ($5-10 BZD)
Beer (try the local beer Belikin) – US$2.50 ($5 BZD)
Coffee – US$2.50 ($5 BZD)
Must try dishes in Belize
Rice and beans
Fry Jacks
Conch Fritters
Ceviche
Garnaches
Johnny Cakes
Boil Up
Cochinita Pibil
Tamalito/Dukunu
Salbutes
Chimole (Black Soup)
Hudut
Tamale
Meat pie
Sere
Cow Foot Soup
Panades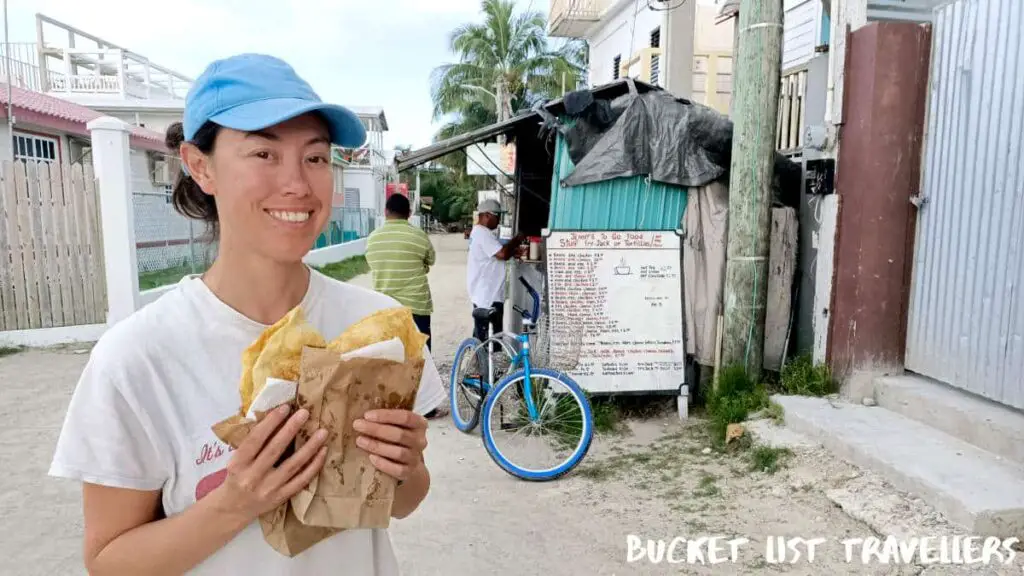 Belize culture
Weekends in Belize
In Belize, weekdays are Monday to Friday and weekend days are Saturday and Sunday. Some banks and shops in open on Saturdays in addition to weekdays. Public transport in Belize operates every day, although services may be reduced on Sundays. Also keep in mind that some Belize shops close between noon and 1pm for lunch.
Belize public holidays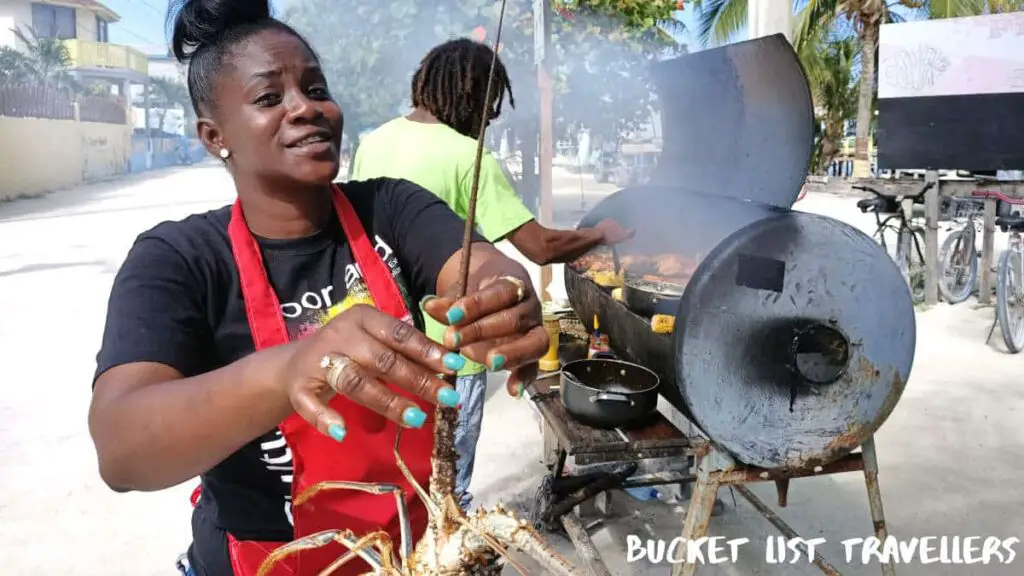 Belize's national holidays are as follows:
New Year's Day – 1 January
George Price Day – 15 January
National Heroes & Benefactors Day (previously known as Baron Bliss Day) – 9 March
Good Friday
Holy Saturday
Easter
Easter Monday
Labour Day (also known as International Workers' Day) – 1 May
Commonwealth Day (also known as Sovereign's Day) – 24 May
Emancipation Day – 1 August
Saint George's Caye Day (or National Day) – 10 September
Independence Day – 21 September
Pan America Day – 12 October (previously known as Columbus Day)
Garifuna Settlement Day – 19 November
Christmas Day – 25 December
Boxing Day – 26 December
National symbols of Belize
Belize flag – the flag is royal blue with two horizontal red stripes at the top and bottom. In the centre of the flag is a white circle containing a mestizo man and a man of African descent both holding the national coat of arms.
Belize coat of arms – this consists of 25 leaves circling a mahogany tree between a mestizo man wearing trousers and holding a bearing axe as well as a man of African descent wearing trousers and holding a paddle. The men are holding the national coat of arms containing a paddle and squaring axe, a saw and a beating axe as well as a sailing ship.
National flower – the national flower of Belize is the Black Orchid (Encyclia Cochleatum).
National bird – the national bird of Belize is the Keel Billed Toucan (Ramphastos sulfuratus). This is also known as the bill bird.
Belize national animal – the national animal of Belize is the Baird's Tapir. This is also known as the mountain cow.
Belize pastimes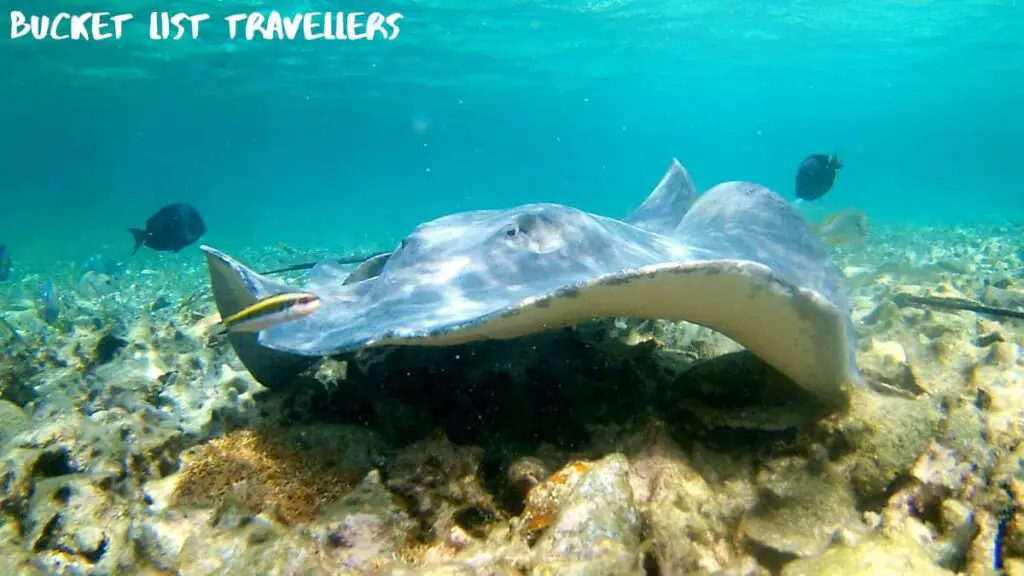 National dish – the national dish of Belize is rice and beans. This is usually cooked in coconut milk.
Popular drinks – Belikin beer, rum punch, fresh fruit juice, Panti Rippa, Cranbarrel, Caribbean Gold Rum.
National sport – football.
Religion – 40% Catholic, 8% Pentecostal, 5% Seventh-day Adventist, 5% Anglican, 4% Mennonite, 4% Baptist, 3% Nazarene, 2% Jehovah's Witness, 15% No religion (as at 2010).
Famous Belizean people
National heroes of Belize – Baron Bliss, Gwendolyn Lizarraga (Madam Liz), George Cadle Price, Barry Bowen, Philip S.W. Goldson, Cleopatra White, Samual Haynes, Captain Monrad Metzgen.
Famous people from Belize – rapper and politician Shyne (Moses Michael Levi Barrow), writer Zee Edgell, artist and musician Pen Cayetano, musician Gerald Rhaburn, musician Andy Palacio, journalist and public policy advisor Ann-Marie Williams, architect Sue Courtenay, historian Emory King, businessman Michael Anthony Ashcroft, musician Wilfred Peters, pianist and composer Francis Reneau, recording artist and entrepreneur Lova Boy, actress Nadia Cattouse.
National sports stars of Belize – Olympic gymnast Simone Biles, Olympic track and field athlete Marion Jones, baseball player Chito Martínez, footballer Deon McCaulay, basketball player Milton Palacio.
Is Belize Safe?
Belize travel guide: Safety in Belize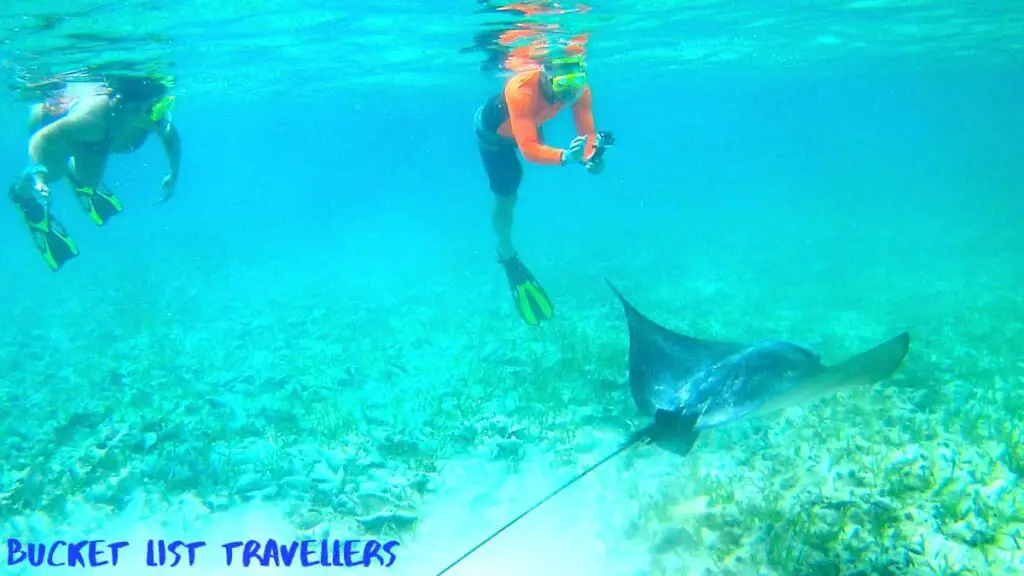 We felt very safe on Caye Caulker and in San Ignacio. However we felt very uneasy around Belize City. We had a few people come up to us and warn us to be careful and we felt unsure of who to trust. We walked from the ferry terminal in Belize City to the bus stop, and that 15 minute walk was one of the times we felt the least safe during in our time in Central America.
Belize travel guide: General safety considerations in Belize
Other general safety considerations for travel in Belize:
Drinking water – outside of Belize City and San Ignacio the tap water in Belize is not safe to drink. Most hotels will provide bottled water for guests to use.
Mosquitoes – mosquito borne illnesses are a significant risk in Belize, particularly dengue fever. Zika and Chikungunya are also present in Belize. Additionally, malaria is present in some areas of Belize such as Stann Creek. For the most up to date information we recommend checking the CDC or NHS websites.
Road safety – take care on roads in Belize as they are often unpaved and unlit.
Water safety – if you visit any of the coastal areas or lakes, take care when swimming as currents and waves may be stronger than you expect.
Earthquakes – Belize is not directly affected by earthquakes but can feel tremors from neighbouring countries.
Hurricanes – Belize is on the Atlantic hurricane belt and is vulnerable to hurricanes. Hurricane season in Belize officially runs from 1 June to 30 November.
Sun safety – the UV Index is very high in Central America. Sun protection such as sunscreen, a hat and sunglasses is very important to ensure you don't get burnt.
Dogs – in many countries in Central America, stray dogs are common. For more on dog safety while travelling, check out this video.
As with any destination, take all of your normal safety precautions.
Belize Blogs
You can find our Belize travel blogs below.
Affiliate Links
This website contains affiliate links. This means we may earn a commission on any purchases at no additional cost to you. Your support helps us continue our travels and make more travel blogs as well as travel videos, thank you!
Subscribe to Bucket List Travellers on YouTube