Why you should go to Guatemala
Guatemala is the birthplace of chocolate! Moreover, it is filled with rugged natural beauty, charming cities and rich Mayan culture. Set on the ring of fire, Guatemala has an impressive 37 active volcanoes! With mountainous terrain, travel times within the country can be long and arduous. However if you make the journey you will be rewarded with an unforgettable travel experience. Guatemala is a great low cost destination. Unsurprisingly it is also a popular spot on the Central America backpacker trail. It was one of our favourite countries in the region, and it will be yours too! This Guatemala travel guide will give you everything you need to know to plan your next Guatemala trip.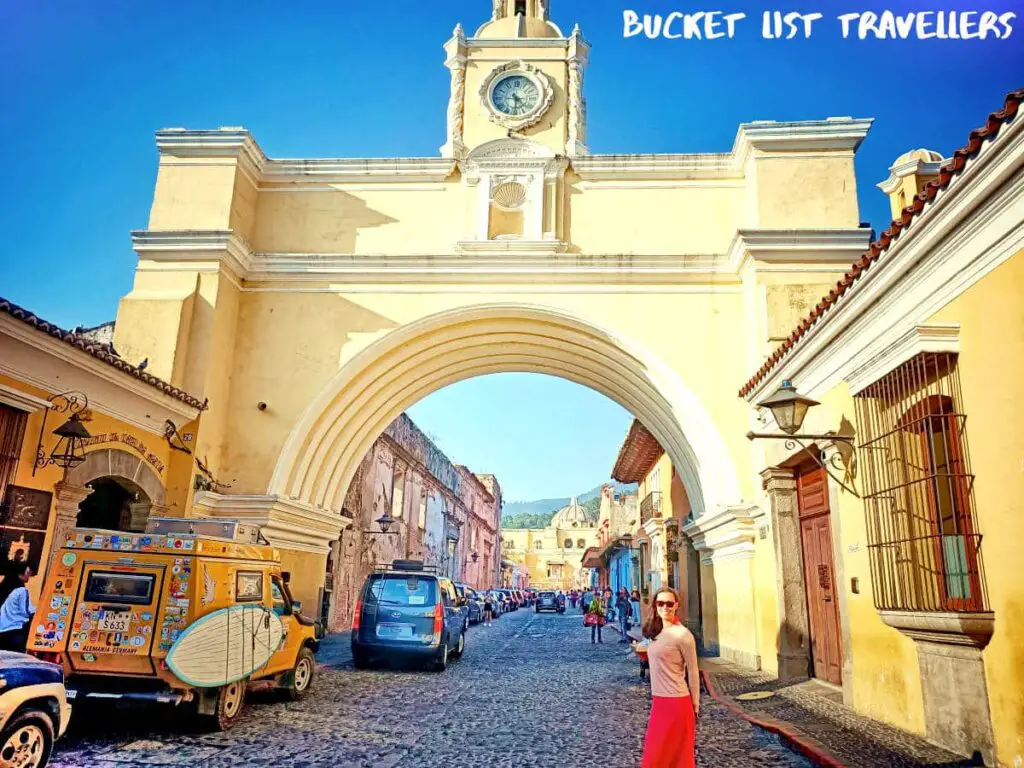 Know before you go
Basic info about Guatemala
Language – Spanish. Many tour operators and hotel staff speak English in popular tourist areas. However if you prefer travelling and shopping local you will need a basic understanding of Spanish.
Currency – Guatemalan quetzal (GTQ). Many hotels and restaurants also accept United States dollars (USD). Keep in mind you will generally get better rates if you pay in quetzales. ATMs in some areas of Guatemala such as Antigua dispense both quetzales as well as US dollars.
Population – 16.86 million (2020)
Area – 108,889 km2
Capital – Guatemala City
Emergency number – 1500 (bilingual operator)
Police number – 110
Utilities in Guatemala
Electricity – Guatemala uses Types A and B power plugs. This is also the same plug type as the United States. The country operates on a 120v supply voltage at 60Hz. Power outages are not uncommon. Fortunately they generally don't last for too long.
Water – the tap water in Guatemala is not safe to drink. However your accommodation will usually provide bottles of purified water for guests to use.
Toilets – sit-down flushing toilets are the most common type of toilet in Guatemala. Don't flush your toilet paper. Instead, use the bins provided. Public toilets are not common in Guatemala. However you can usually find toilets in cafes and restaurants.
Telephone country code: +502
Where is Guatemala?
Guatemala is a country in Central America. It is shares land borders with Mexico, Belize, El Salvador as well as Honduras. Guatemala has a long coastline along the Pacific Ocean. It also has a short coastline on the Caribbean Sea.
How to get to Guatemala
Guatemala travel guide: arriving overland
Land border crossings for Guatemala
Guatemala has land borders with Mexico, Belize, El Salvador as well as Honduras.
The border between Guatemala and Mexico constitutes much of the western and northern boundary of Central America within North America. There are 10 official border crossings between Guatemala and Mexico:
Ciudad Hidalgo, Chipas Mexico – Ciudad Tecún Umán, San Marcos Guatemala
Talismán, Chipas Mexico – El Carmen, San Marcos Guatemala
Union Juárez, Chipas Mexico = Toquían Grande, San Marcos Guatemala
Mazapa de Madero, Chipas Mexico – Sibinal, San Marcos Guatemala
Ciudad Cuahtemoc, Chipas Mexico – La Mesilla, Huehuetenango Guatemala
Carmen Xhán, Chipas Mexico – Gracias a Dios, Huehuetenango Guatemala
Nuevo Orizaba, Chipas Mexico – Ingenieros, El Quiché Guatemala
Frontera Corozal, Chipas Mexico – Bethel, Petén Guatemala
El Ceibo, Tabasco Mexico – El Ceibo, Petén Guatemala
El Martillo, Tabasco Mexico – El Naranjo, Petén Guatemala
There is one main land border crossing between Guatemala and Belize:
Beque Viejo del Carmen, Cayo District Belize and Melchor de Mencos, Petén Guatemala (we have done this border crossing)
There are 4 main land border crossings between Guatemala and El Salvador:
La Hachadura, Ahuachapán El Salvador – Ciudad Pedro de Alvarado, Jutiapa Guatemala
Las Chinamas, Ahuachapán El Salvador – Valle Nuevo Guatemala, Jutiapa Guatemala
Anguiatú, between El Molino, Guatemala and El Panal, El Salvador
San Cristόbal, between El Progreso, Guatemala and Santa Ana, El Salvador
There are 3 main land border crossings between Guatemala and Honduras:
Corinto, between Puerto Barrios, Guatemala and Omoa, Honduras
Agua Caliente, between Esquipulas, Guatemala and Nueva Ocotepeque, Honduras
El Florido, between Chiquimula, Guatemala and Copán Ruinas, Honduras
Guatemala land border transport
The main transport options for travelling overland to Guatemala are:
Private vehicle
Private transport operator
Shuttle bus
Local transport – by far the cheapest option is to take public transport. Keep in mind that local transport is also a slower option. Furthermore, you may need to take multiple buses to get to your required destination.
Guatemala travel guide: arriving by air
There are two international airports in Guatemala:
La Aurora International Guatemala Airport in Guatemala City (Airport code GUA). This is the 4th busiest airport in Central America. Guatemala Airport is a hub for the airlines Avianca Guatemala as well as Transportes Aereos Guatemaltecos.
Guatemala travel guide: arriving by sea
A number of cruises visit Guatemala. On the Pacific Coast they dock at Puerto Quetzal. Additionally, on the Caribbean Coast they dock at Puerto Santo Tomás de Castilla.
How to get around Guatemala
Local transport in Guatemala
Local buses are the cheapest way to get around Guatemala. The local buses are called camionetas. Tourists often refer to these as chicken buses. The bus network is very affordable but slow going. However taking a bus in Guatemala is an experience in itself. It is also an excellent way to become immersed in the local culture. The buses in Guatemala are old US school buses. These repurposed buses are painted in vibrant colours. A one way ticket costs around 2 quetzales (around US$0.30). To get more details on buses in Guatemala, we recommend visiting this website.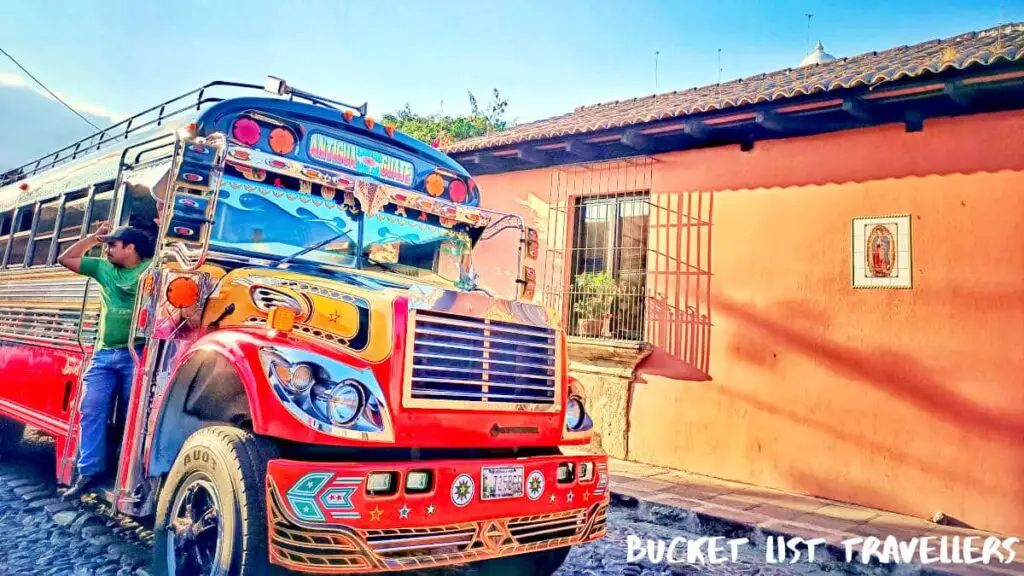 Publico boats on Lake Atitlán
To get in between the villages on Lake Atitlán you will need to catch a boat. The cheapest option are the publico boats. A boat ride on a publico boat will cost you between 10 and 25 quetzales per person. The price depends on how far along the lake you go. Publico boats are reasonably frequent. Alternatively, you may be able to pay publico prices for a private boat if they are going in that direction anyway. Make sure you confirm the price before your trip. You pay the fare at the end of your journey. Importantly, take care when getting in and out of the boats. This is because it can be a bit tricky stepping from a rocky boat onto the pier. With this in mind, we wouldn't recommend the publico boats for mobility impaired travellers.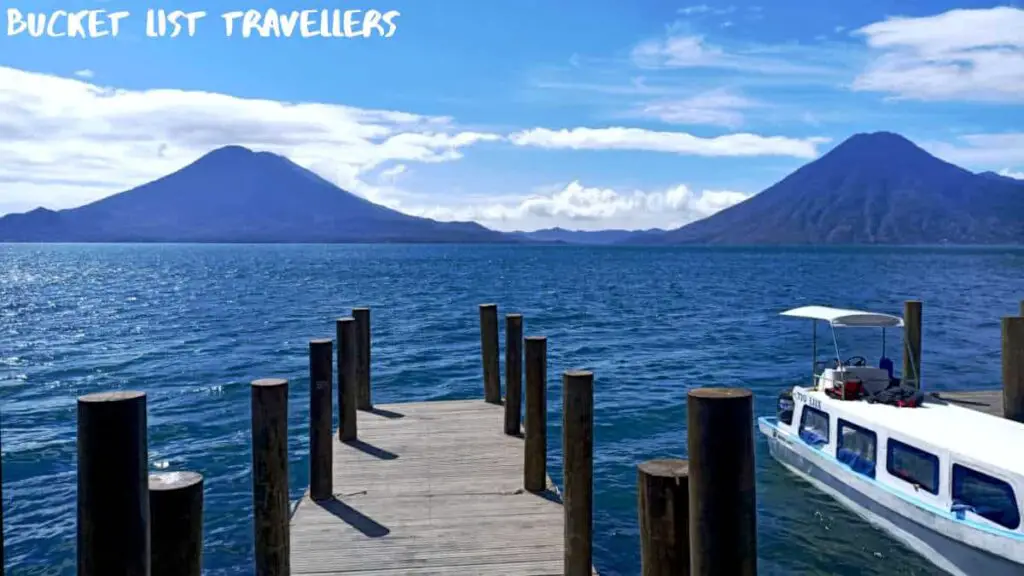 Minibuses in Guatemala
Minibuses operate between major tourist destinations in Guatemala. You can often book these shuttle buses through your accommodation. Alternatively you can also book them through tour operators. Keep in mind that travel times are long due to the mountainous terrain in Guatemala as well as the road conditions. We'd recommend not planning activities on travel days as travel times can vary considerably.
As an example of costs and travel times in Guatemala, here are some of the minibus trips we made in 2020:
Flores to Lanquín – 100 quetzales per person for an 8 hour bus ride
Lanquín to Antigua – 125 quetzales per person for an 8 hour bus ride
Antigua to Lake Atitlán – 50 quetzales per person for a 3 to 4 hour bus ride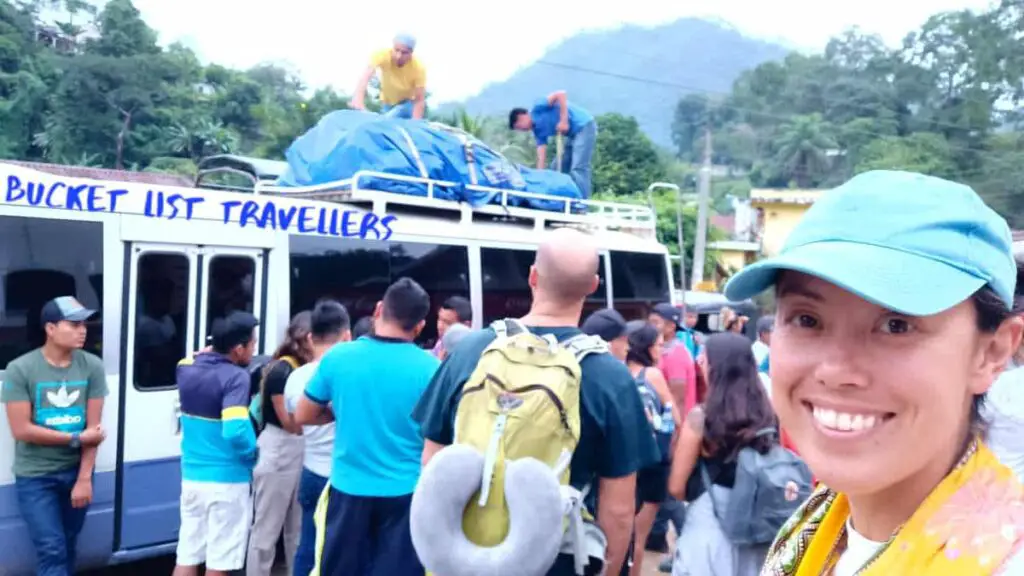 Vehicle hire in Guatemala
Bicycles, Motorcycles, ATVs, Cars and SUVs can all be hired in Guatemala. Expect to pay around:
US$45-75 a day for a bicycle (mountain bike)
US$25-90 a day for a motorcycle
US$50-60 a day for an ATV
US$15-70 a day for a car
US$30-100 a day for an SUV
In Guatemala, they drive on the right hand side of the road. The roads in Guatemala can be challenging. This is due to the mountainous terrain as well as the road conditions. While there is work going in to improve the road infrastructure, there are still dirt roads to popular tourist destinations such as Semuc Champey. Furthermore, in the rainy season the roads can become flooded. We would recommend getting an SUV if you want to drive in Guatemala. Additionally, avoid driving at night. This is because the roads are not well lit and animals such as cattle, horses and stray dogs may be on the road.
Taxis and Tuk-Tuks in Guatemala
Taxis and Tuk-Tuks are common in Guatemala.
Ride-share services in Guatemala
Uber, inDriver as well as CarpoolWorld are rideshare services that operate in Guatemala.
Domestic flights around Guatemala
There are 3 commercial airports operating in Guatemala:
La Aurora International Guatemala Airport in Guatemala City (Airport code GUA). This is the closest airport to Guatemala City, Antigua and Lake Atitlán.
Mundo Maya International Airport in Flores, Petén (Airport code FRS). This airport services areas such as Flores, the Mayan ruins of Tikal as well as the neighbouring country Belize.
The domestic airline of Guatemala is TAG Airlines (Transportes Aéreos Guatemaltecos). The main domestic route in Guatemala is between Guatemala City and Flores. This is a good option for seeing the northern part of Guatemala if you are short on time. Travelling this route by road can take the best part of one day. Conversely, the flight time is only one hour. Flights cost around US$100 per person one way.
The other destination available in Guatemala is Puerto Barrios (Airport code PBR). It is a one hour flight from Guatemala City. Flights cost a bit over US$100 per person one way.
Guatemala travel guide for travel during Covid
Guatemala Covid entry requirements
All arriving passengers must complete an online Health Pass before arrival. Effective 11 March 2022, foreign travellers entering Guatemala will be required to present the following for entry to Guatemala:
All travellers aged 12 and over must provide proof of full vaccination. To be considered fully vaccinated, the final dose must have been received at least 2 weeks before entering Guatemala. The final dose is the 2nd dose for a 2 dose vaccine such as Moderna, Pfizer and AstraZeneca, or a single dose for a single dose vaccine such as Johnson & Johnson.
AND All travellers aged 10 and over must provide proof of a negative Covid PCR or Antigen test from a certified lab. This should be conducted no more than 3 days prior to check in at the airport or arrival at the land border.
NOTE: If you have a medical condition that prevents you from vaccinating against Covid, you should provide a medical certificate of the relevant condition.
Guatemala Covid mandates
Face masks must be worn in public settings in Guatemala. All businesses must follow industry-specific restrictions. These include operating hours as well as capacity limits.
Guatemala has a four-tier colour coded system for handling Covid risk. This is applied at the municipal level. Guatemala has 340 municipalities, and the Covid requirements in each municipality will depend on its risk level.
Red Alert:
Public transport is capped at 50% capacity
Markets, malls and restaurants can operate with capacity limitations
Hotels must close common areas and cannot hold events
National and recreational parks, bars, event venues, gyms, cinemas and theatres cannot operate
Festivals, fairs and concerts are not permitted
Orange Alert:
Public transport is capped at 50% capacity
Markets, malls as well as restaurants can operate with capacity limits
National, recreational parks, gyms as well as entertainment businesses can operate with capacity limits
Bars, event venues, cinemas as well as theatres cannot operate
Yellow Alert:
Public transport is capped at 75% capacity
Most businesses can operate with capacity limits as well as with social distancing measures in place
Cinemas and theatres may operate
Bars and event venues cannot operate
Green Alert – most restrictions are lifted. However no municipalities are currently at this level.
Where to get a Covid test in Guatemala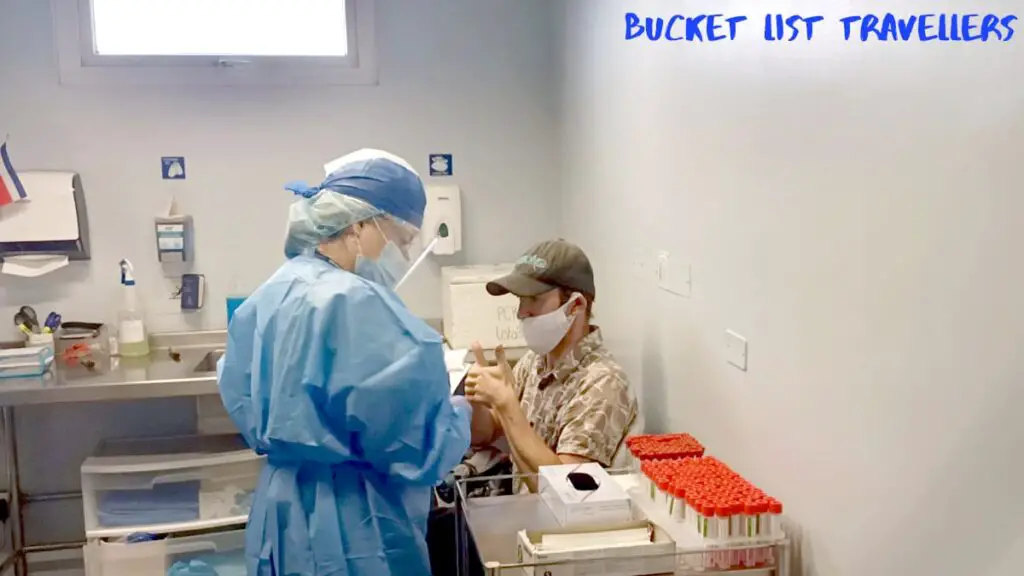 Covid tests are available at private clinics as well as hospitals in Guatemala. This includes Guatemala City as well as in many departments throughout Guatemala. Antigen testing typically costs Q300-Q600 (US$40-80). PCR generally testing costs Q600-Q1,500+ (US$80-200+), depending on turnaround time. Results are emailed within 2 to 48 hours. Public hospitals and laboratories offer antigen testing for symptomatic patients and close contacts without cost. However wait times may be long and results may not come back quickly.
How Long to Spend in Guatemala
The most common visa is a CA4-90 day visa. This grants you access to Guatemala, Honduras, El Salvador as well as Nicaragua for a maximum of 90 days total. 2 weeks in Guatemala is a good amount of time to see the major destinations. However if you have the time, we recommend devoting more time to this beautiful country to see all that it has to offer. We spent 2 weeks in Guatemala and we would have happily spent a lot more time in this beautiful country.
Best time to visit Guatemala
The best time to visit Guatemala is during the dry season from November to April. In particular, Guatemala is busiest for tourism between December and March. Prices are at their highest in the month of January as well as during Easter. For those planning to visit Guatemala during these months, it's wise to book well in advance to secure accommodation.
If you want to avoid the crowds as well as high season prices, the cheapest time to visit Guatemala is during the low season in the months of May and August. This is the rainy season in Guatemala, however the rain usually only lasts a couple of hours a day during the late afternoon in the most popular tourist destinations.
Best areas to visit in Guatemala
Guatemala is full of amazing Mayan ruins, stunning waterways, spectacular volcanoes as well as a UNESCO world heritage city. The most popular areas to visit in Guatemala include:
Mayan Ruins – Tikal
UNESCO world heritage city – Antigua
Lakes and natural pools – Lake Atitlán and Semuc Champey
Islands – Flores
Volcanoes – Acatenango and Fuego Volcanoes, Pacaya Volcano, Volcan Atitlán
Beaches – Monterrico, Livingston, Playa Tilapa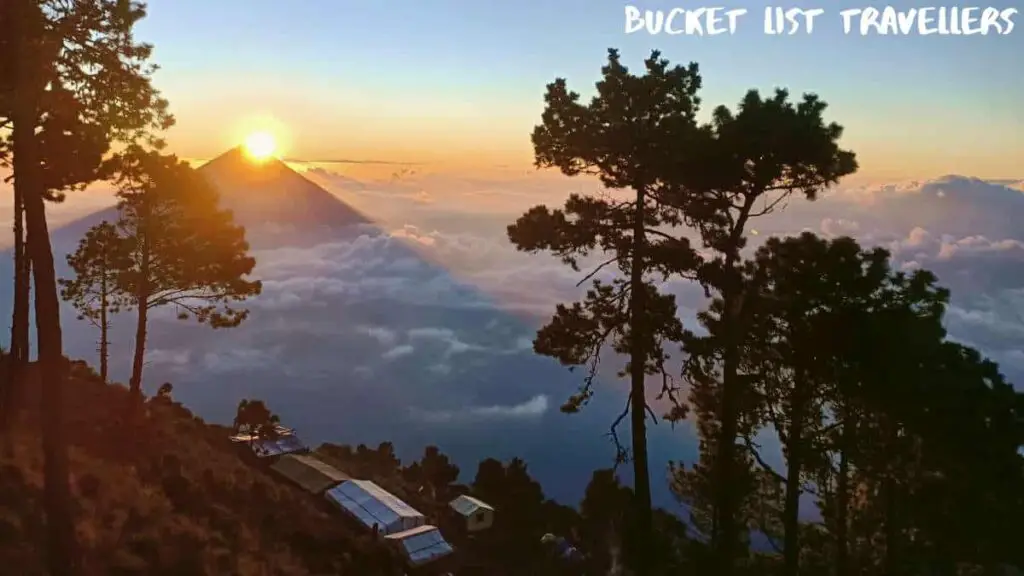 Weather in Guatemala
Guatemala is a tropical country with a dry and wet season. The dry season is between November and April. The dry season is the best time to visit.
The mountain regions in Guatemala such as Antigua and Lake Atitlán have milder climates. Additionally, Guatemala has a hurricane season which generally runs from June to November. However hurricanes  mainly affect the Caribbean side of Guatemala.
Internet and mobile phones in Guatemala
The main internet and phone companies in Guatemala are Tigo and Claro. Tigo has the widest coverage but is slightly more expensive. Both currently operate on 4G. Movistar is another common provider. As of December 2021, Guatemala was ranked 95th in the world for mobile internet speed and 119th for fixed broadband speed. However high speed optic fibre internet is available in some areas of Guatemala. Additionally, free wifi comes standard with most accommodation. You can also find free wifi in many restaurants and cafes catered to tourists.Cell phone SIM cards can be bought in many places throughout Guatemala.
How much to budget for Guatemala?
Guatemala travel guide: Daily spend for a couple travelling in Guatemala
Guatemala is a great value budget destination. Additionally it also caters to those after a more luxurious experience. As a rough guide, we recommend the following budgets for a couple:
Low-budget daily spend – US$35 per day for a couple will get you hostel accommodation, meals at local eateries and markets, local transport and free or cheap activities such as pub trivia, going to the beach and entry to the national park areas.
Mid-range daily spend – US$100 per day for a couple will get you mid-range accommodation, local transport or shuttles and a few tours during your trip.
Luxury spend – $500 per day for a couple will get you a premium experience in Guatemala. This includes staying at luxury resorts, travelling by private transport, doing a range of tours as well as eating at high end restaurants.
Guatemala travel guide: Accommodation in Guatemala
Guatemala has a good range of accommodation to suit all budgets. Airbnb also operates in Guatemala. Long-term fully furnished rentals are also available in areas like Antigua, Lake Atitlán and Guatemala City.
For short-term accommodation, a general price per night is as follows:
Budget accommodation – US$5-15 for dorm accommodation
Mid-range accommodation – US$15-40 for a private room, sometimes with breakfast included
Luxury accommodation – US$60-200 a night for a luxury hotel
Rental property – US$200-350 a night for a fully furnished 3-5 bedroom home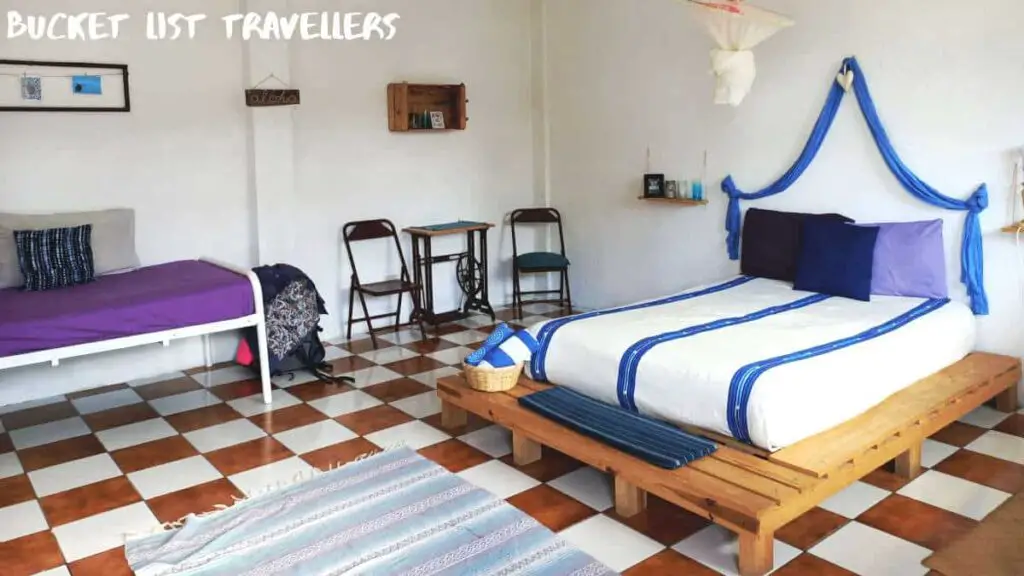 Guatemala travel guide: Food in Guatemala
The main tourist areas in Guatemala are full of great cafes and restaurants. Guatemala also has plenty of street food to tempt your taste buds.
Our price Guatemala travel guide for your food budget in Guatemala is as follows:
Local eatery – US$5 for a main dish (40 quetzales)
Street food – US$0.75-1.50 (6-12 quetzales)
Beer (try the local beer Gallo) – US$1.50-2 (12-15 quetzales)
Coffee – US$2 (15 quetzales)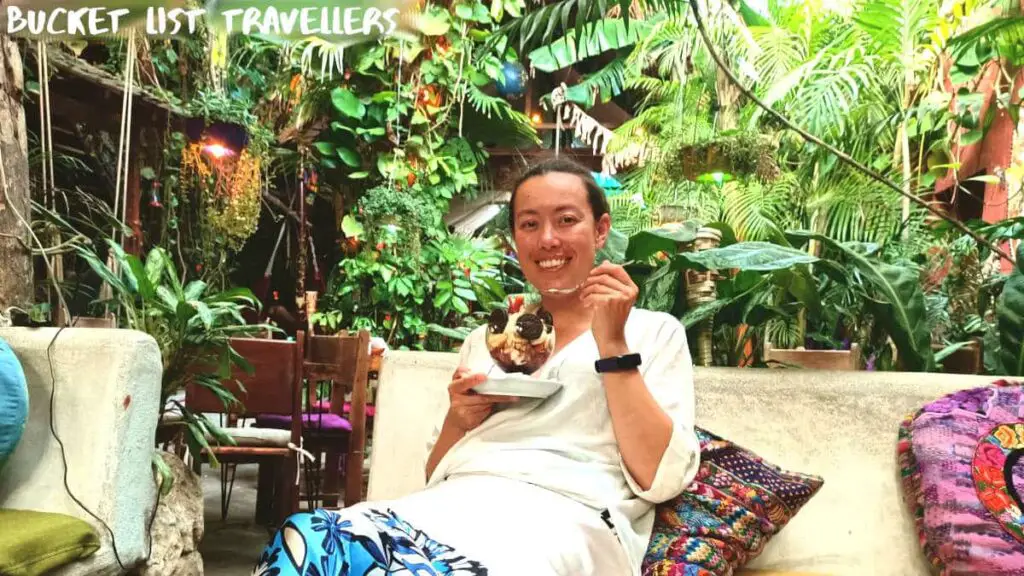 Must try dishes in Guatemala include pepian, tostadas, enchiladas, gallo en chicha as well as rellenitos.
Guatemala culture
Guatemala National Holidays
New Year's Day – 1 January
Holy Wednesday – this is a bank holiday which occurs during Easter (Semana Santa) in March or April each year
Maundy Thursday
Good Friday
Holy Saturday
Labor Day – 1 May (also known as International Workers' Day)
Mother's Day – 30 May (only observed by mothers)
30 June (variable) – Army Day
Bank Holiday – 1 July
Assumption Day – August 15
Independence Day of Guatemala – 15 September
Day of the Race – 12 October (Bank Holiday)
Revolution Day – 20 October
All Saints' Day – 1 November
Christmas Eve – 24 December (from noon onward)
Christmas Day (Navidad) – 25 December
Local holidays, usually the patron saint day, are celebrated in each area
National symbols of Guatemala
Guatemala flag – two sky blue vertical stripes with a white band containing the Guatemala coat of arms in the middle. The blue bands represent the Pacific Ocean and the Caribbean Sea as well as the sky over the country. The white band symbolises peace as well as purity
Guatemala coat of arms – this consists of the quetzal bird, crossed Remington rifles, crossed swords, a laurel wreath as well as a parchment with the words "liberty 15 of September of 1821". The quetzal is the national bird of Guatemala. It represents freedom as well as independence. Additionally, the rifles represent the will to defend Guatemala. The crossed swords represent justice and honour. The laurel wreath represents victory. The words on the parchment are the date of Guatemala's independence from Spain
National flower – monja blanca (a type of orchid, also known as the white nun)
National bird – Resplendent Quetzal
Guatemala pastimes
National dish – Guatemala doesn't have a national dish. However pepián is very popular. Moreover, this stew is one of the oldest dishes in Guatemala. It is a spicy stew which arose from a blend of Mayan as well as Spanish cultures. It is usually made with chicken. Pepián can also be made with beef or pork
Popular drinks – Gallo beer, quetzalteca as well as Guatemalan coffee
National sport – football (soccer)
Religion – 42% Catholic, 39% Protestant (as at 2018)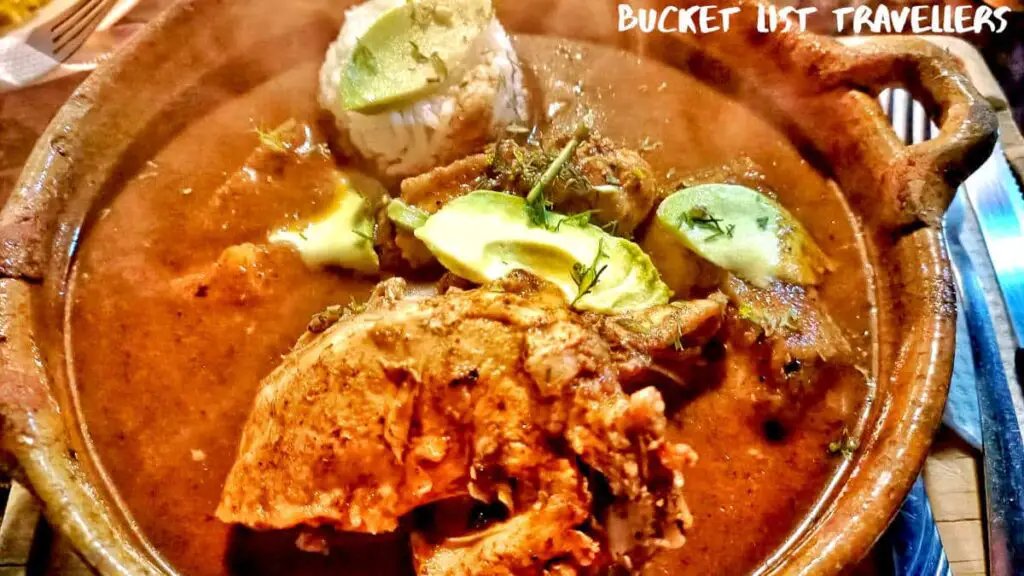 Famous Guatemalans
National heroes – the last ruler and king of the K'iche-Maya people, Tecún Umán; general and president Justo Rufino Barrios; general and president Miguel García Granados
National sports stars – Olympian silver medalist racewalker Érick Bernabé Barrondo García, Footballer Carlos Ruiz
Is Guatemala Safe?
Guatemala travel guide: Safety in Guatemala
We found Guatemala to be a very safe place to visit. However petty crime and crimes of opportunity can be an issue. Consequently we recommend taking care to keep your valuables secure and out of sight. As with any country, there are some areas that are safer than others. By and large though, we found the country very safe.
Guatemala travel guide: General safety tips for Guatemala
Other general safety considerations for travel in Guatemala:
Drinking water – The tap water in Guatemala is not safe to drink. However most hotels will provide bottled water for guests to use
Mosquitoes – There are mosquitoes in most areas of Guatemala. The exception to this is the high altitude areas of Antigua as well as Lake Atitlán. In 2021, the main risks related to mosquito borne diseases were at Tikal. For the most up to date information we recommend checking the CDC or NHS websites
Road safety – In Guatemala we often travelled standing up in the back of vans as well as in vehicles without helmets or seat belts. Be aware that this does come with an element of risk
Water safety – If you visit any of the coastal areas or lakes, take care when swimming. This is because currents and waves may be stronger than you expect
Sun safety – The UV Index is very high in Central America. Sun protection such as sunscreen, a hat and sunglasses is very important to ensure you don't get burnt
Altitude sickness – Guatemala has areas at high altitudes, so altitutde sickness is a risk. This is particularly the case if you are planning to do a volcano hike on Acatenango Volcano. Consequently, if you are planning to visit a high altitude area, make sure that you acclimatise. We recommend spending at least 48 hours in Antigua or Lake Atitlán before doing the Acatenango Volcano hike to acclimatise to the altitude.
Dogs – In Guatemala as well as other countries in Central America stray dogs are common. For more on dog safety while travelling, check out this video.
As with any destination, take all of your normal safety precautions.
Guatemala Blogs
You can find our Guatemala travel blogs below.
Affiliate Links
This website contains affiliate links. This means we may earn a commission on any purchases at no additional cost to you. Your support helps us continue our travels and make more travel blogs as well as travel videos, thank you!
Subscribe to Bucket List Travellers on YouTube