Why you should go to Nicaragua
Nicaragua is known as the land of lakes and volcanoes. It is a country of spectacular beauty and warm friendly people. Nicaragua cost of living is very low, which makes it the perfect destination for travellers on a budget. It has an emerging tourism industry with a good range of accommodation options to suit all budgets. In this Nicaragua travel guide, we share everything you need to know to plan your next Nicaragua trip.
Nicaragua travel guide: Know before you go
Nicaragua highlights
Step back in time in the colonial cities of Granada and León
Sample the best Nicaragua local food cooked from authentic Nicaraguan fritanga
Take a thrilling volcano board ride down the side of an active volcano
Experience a vibrant Nicaraguan festival such as the running of the bulls in Granada or the Hípica horse riding festival
Visit one of the most beautiful places in the world – Ometepe Island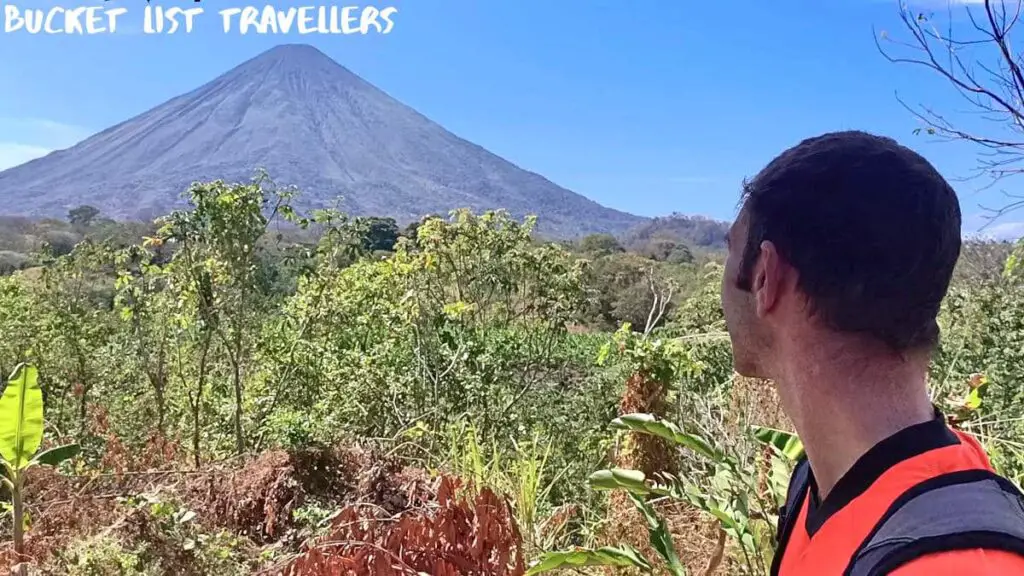 Nicaragua travel guide: Nicaragua facts and information
Nicaragua main language – Spanish. Many tour operators and hotel staff speak English in popular tourist areas in Nicaragua. However if you prefer travelling and shopping local you will need a basic understanding of Spanish. Additionally, on the Caribbean Coast, English, Creole, Miskito, Garifuna and Rama are spoken.
Nicaragua currency – Nicaraguan córdoba (NIO) is the currency of Nicaragua. Many hotels and restaurants also accept United States dollars (USD). Additionally, ATMs dispense both cordobas and US dollars. For more details on money in Nicaragua, see this post.
Nicaragua population – 6.625 million (2020)
Area – 130,370 km2
Capital of Nicaragua – Managua
Emergency number – 118
Police number – 101 (tourist police), 118 (police)
Utilities in Nicaragua
Electricity – Nicaragua uses Types A and B power plugs. This is the same plug type as the United states. It operates on a 120v supply voltage at 60Hz. Power outages in Nicaragua are not uncommon. However these generally don't last for too long.
Water – the tap water in most major cities of Nicaragua is safe to drink. However in some beach and rural areas the tap water is not safe to drink. In these areas your accommodation will generally provide filtered water for guests to use.
Toilets – sit-down flushing toilets are the most common type of toilet in Nicaragua. Don't flush your toilet paper. Instead, use the bins provided. Public toilets are not common in Nicaragua. However you can usually find toilets in cafes and restaurants.
Telephone country code: +505 (Nicaragua dialing code).
Where is Nicaragua?
Nicaragua is the largest country in Central America. Nicaragua bordering countries are Honduras and Costa Rica. Additionally, Nicaragua has coastlines both on the Pacific Ocean as well as the Carribean Sea.
Nicaragua geography
Nicaragua geographic features
The land of lakes and volcanoes, Nicaragua is home to 19 volcanoes, two major inland lakes as well as a large number of lagoons. Of the 7 active volcanoes in Nicaragua, Volcano San Cristobal (also known as El Viejo) is the highest and one of the most active volcanoes in Nicaragua. It last erupted on March 9 2021. A volcano that still experiences volcanic activity is Masaya Volcano. It is possible to look into the crater of this volcano and see lava.
Lake Nicaragua (also known as Lake Cocibolca) is the largest lake in Nicaragua. Additionally, in the centre of this lake is Ometepe Island – an island which has two volcanoes on it! Another Nicaragua must see location is Laguna de Apoyo. This is a lagoon which sits in the caldera of an extinct volcano. The water of the lagoon is pleasantly warm due to being a volcanic lake. Additionally it has some of the cleanest water in Central America, making it the perfect place to go swimming.
Nicaragua has coastlines along both the Pacific Ocean as well as the Caribbean Sea of the Atlantic Ocean.
The Nicaragua highest point is Mogotón Peak, which stands at 2,103 metres (6,900 feet). This is located in the department of Nueva Segovia, near the border with Honduras.
Nicaragua departments
The country of Nicaragua is divided into 15 departments and two autonomous regions. These departments are similar to states or provinces. The Nicaragua departmentos (departments of Nicaragua) and autonomous regions are:
Boaco Nicaragua (capital Boaco)
Located at the centre of Nicaragua, Boaco is in cattle country. The city of Boaco is also called the "Two-Storey City" due to its hilly terrain.
Carazo Nicaragua (capital Jinotepe)
Located midway along Nicaragua's Pacific Coast, Carazo has coffee plantations, Río Escalante-Chacocente Wildlife Reserve as well as a number of charming towns and cities. Olive ridley sea turtles come here during Nicaragua turtle hatching season, which is between July and December each year. The festivals of Tope de los Santos are celebrated in Diriamba, Jinotega and San Marcos each year. Notably, the UNESCO play El Güegüense is performed during the Diriamba festival.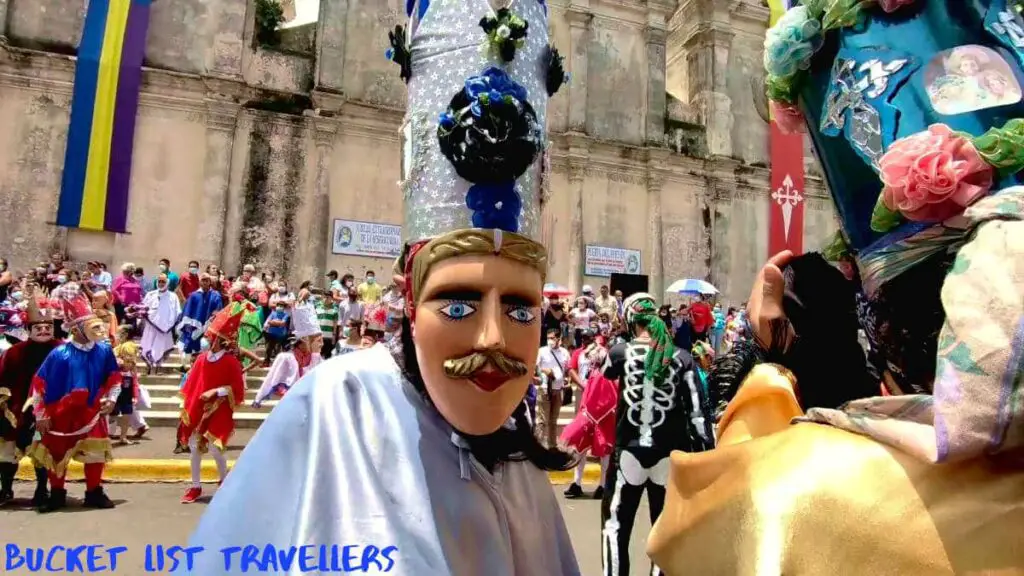 Chinandega Nicaragua (capital Chinandega)
Bordering Honduras on the Nicaragua Pacific Coast, Chinandega is one of the hottest areas in Nicaragua. The major Nicaragua Port of Corinto is located in Chinandega. Additionally, this department is a major agricultural area, producing rum from sugar cane as well as products such as bananas, peanuts, shrimp and salt.
Chontales Nicaragua (capital Juigalpa)
Chontales is located in the centre of Nicaragua on the eastern side of Lake Nicaragua. It's main economic activities are in livestock (particularly cattle), fishing and growing apples. Nicaragua's highest active volcano, San Cristobal, is in Chontales.
Estelí Nicaragua (capital Estelí)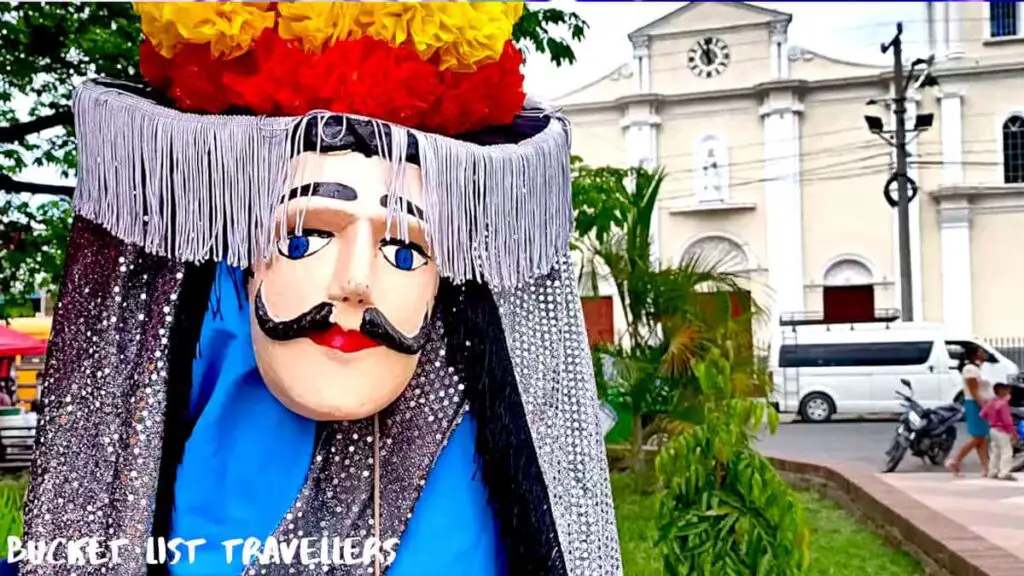 Located in Nicaragua's northern highlands, Estelí has a milder climate than other parts of Nicaragua. It's capital is Nicaragua's 3rd largest city and is also known as "the Diamond of the Segovia". The city of Estelí is one of the major cigar-producing cities worldwide. It also has a great food scene with a wide range of cafes and restaurants serving both local and international cuisine. Outside of the capital, Estelí is also home to a number of nature reserves including Miraflor and Tisey-Estanzuela.
Granada Nicaragua (capital Granada)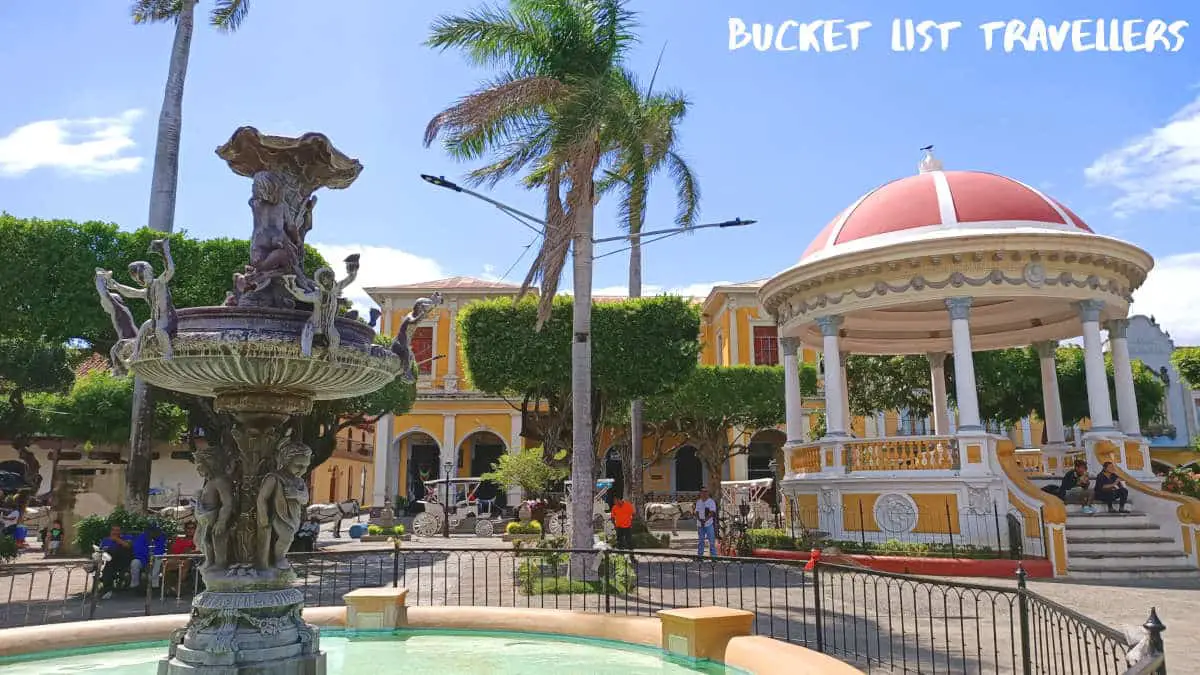 The colonial city of Granada is one of the best Nicaragua cities to visit. It is a charming city with colourful buildings, colonial architecture and horses and carriages going down the street. It's central location makes it a great base for exploring Nicaragua. Day trips from Granada include Laguna de Apoyo, boat rides around Las Isletas on Lake Nicaragua as well as visiting Masaya Volcano and Mombacho Volcano.
Jintotega Nicaragua (capital Jinotega)
The department of Jinotega extends across the central part of northern part of Nicaragua and along the border with Honduras. This department is the largest producer of Nicaraguan coffee, accounting for around 80% of the country's coffee production – one of the major Nicaragua exports. It has a cool mountain climate and an abundance of natural beauty, including the UNESCO listed Bosawás Biosphere Reserve. A charming and historic town we recommend visiting in Jinotega is San Rafael del Norte.
León Nicaragua (capital León)
León (lion in English) is on the northern end of Pacific Coast of Nicaragua. One of the top reasons to visit León is for Nicaragua volcano boarding on Cerro Negro Volcano. This is one of the top adventure experiences in the world and can only be done in Nicaragua. The department of León also has a number of black sand beaches such as Las Peñitas and El Tránsito. Additionally, the city of León is Nicaragua's second biggest city. This city has a rich history and was once the capital of Nicaragua. One of Nicaragua's most iconic cultural icons comes from here – the Nicaragua gigantona. This is a giant puppet that parades the streets with dancing and music. A must visit in the city is the gorgeous rooftop of the Cathedral Basilica of the Assumption of León. Beware that León has one of the warmest climates in Nicaragua – León is HOT!
Madriz Nicaragua (capital Somoto)
Madriz is a department in northern Nicaragua which is on the border with Honduras The main attraction in this department is Somoto Canyon, which is a National Monument. You can do a day trip to Somoto Canyon where you can hike, swim and take a boat ride through the canyon.
Managua Nicaragua (capital Managua)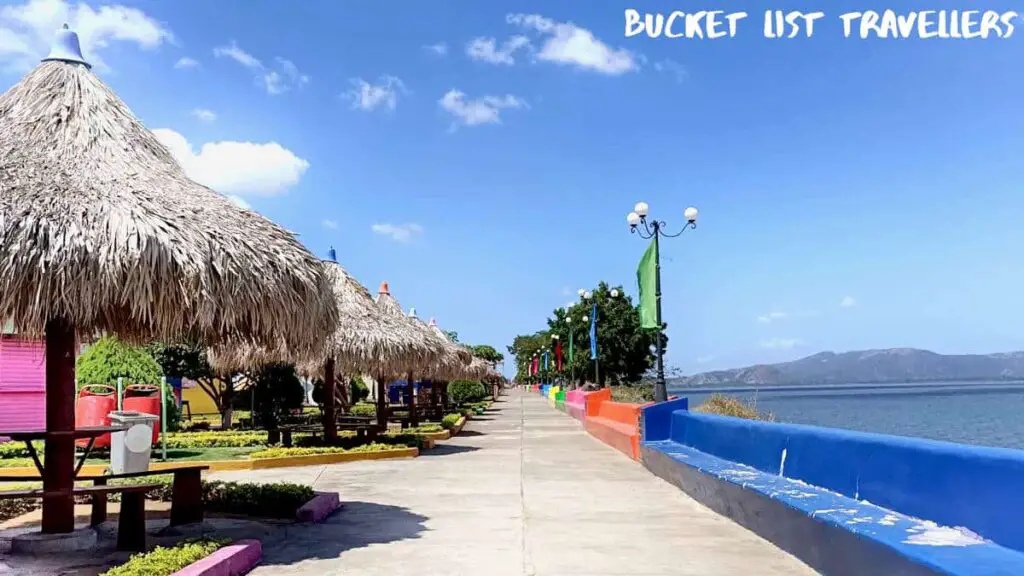 The department of Managua is halfway up the Nicaragua Pacific Coast and also lies on the shore of Lake Managua. It is home to the Nicaraguan capital, the city of Managua. From here you can get buses or micro buses to other parts of Nicaragua. The Nicaragua international airport is also located in this department. Popular beaches in Managua include Playa de Pochomil as well as Montelimar Beach.
Masaya Nicaragua (capital Managua)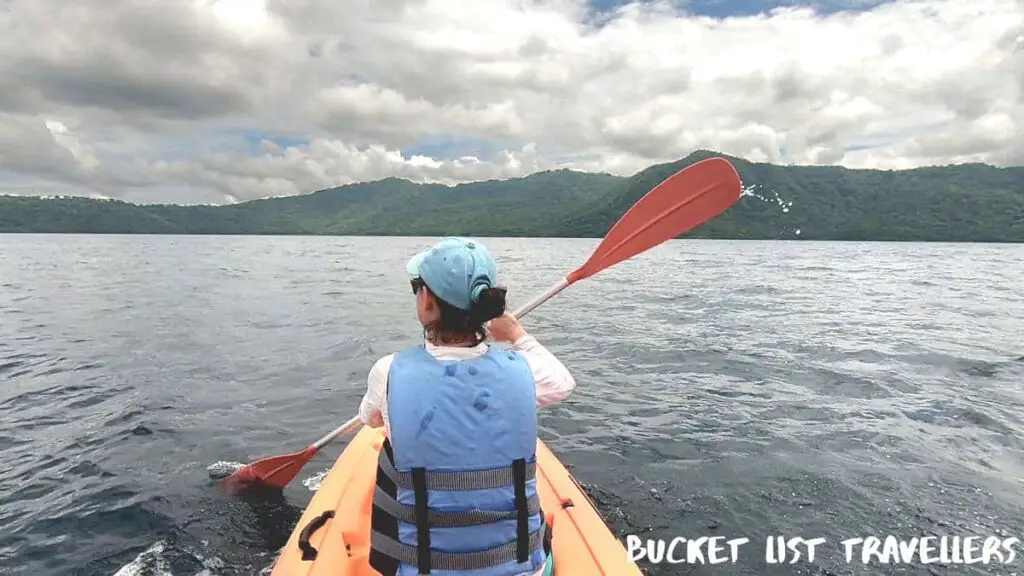 Located in the heart of Nicaragua, Masaya is known as the Cradle of Folklore due to its contributions to Nicaraguan culture and Nicaragua myths and legends. Additionally Masaya is famous for Nicaragua arts and crafts – in particular, it's a great place to buy locally made hammocks. The city of Masaya has a number of excellent local markets and is also a major Nicaraguan transport hub. Additionally, Masaya is a great place to find Nicaragua local cuisine such as nacatamal, Nicaragua baho and more unusual delicacies like iguana. While Masaya is the smallest department in Nicaragua, it has a lot to offer from spectacular natural attractions like the active Masaya Volcano to the stunning volcanic lagoon Laguna de Apoyo. Finally, for a sombre look into Nicaragua's past you can also visit Coyotepe Fortress.
Matagalpa Nicaragua (capital Matagalpa)
Matagalpa is an inland department, located in the heart of Nicaragua. With a number of nature reserves, forests and rivers, this department is the perfect place for Nicaragua ecotourism. The economy of Matagalpa is well diversified, producing coffee, beef, dairy, vegetables, wood, gold as well as flowers. Its major cities of Matagalpa and Jinotepe enjoy eternal spring weather and a relaxed way of life.
North Caribbean Coast Autonomous Region Nicaragua (capital Bilwi)
The North Caribbean Coast Autonomous Region is on the Nicaraguan Mosquito Coast. This region has diverse indigenous cultures and a strong Caribbean influence. A major attraction in the region is the nature reserve Reserva Biológica Cayos Miskitos y Franja Costera Inmediata. This part of Nicaragua does not receive many tourists, although some missionaries visit the area. One thing to keep in mind when visiting this region is that this side of Nicaragua is heavily impacted by the tropical monsoon season. In the 2020 Nicaragua hurricane season this area was hit by two major hurricanes – Hurricane Eta and Hurricane Iota, both of which caused extensive damage.
Nueva Segovia Nicaragua (capital Ocotal)
Nueva Segovia is on Nicaragua's northern border with Honduras. It is located in Nicaragua's coffee country, which has a cool climate and mountainous terrain. The highest point in Nicaragua, Mogotón Peak, is in Nueva Segovia.
Río San Juan Nicaragua (capital San Carlos)
Río San Juan Nicaragua is on Nicaragua's southern border with Honduras. This department spans from Lake Nicaragua to the Caribbean Coast. The San Juan River runs through this department and was the planned location of the proposed Nicaragua canal. This part of Nicaragua has an abundance of natural beauty including Indio Maíz Biological Reserve and the Solentiname Islands.
Rivas Nicaragua (capital Rivas)
Located on the southern end of Nicaragua's Pacific Coast, Rivas shares a border with Honduras. This department has Lake Nicaragua on its east and the Pacific Ocean on its west. It's blessed with beautiful beaches and a stunning volcanic island. Its major tourist destinations are Ometepe Island and the beach town of San Juan del Sur.
South Caribbean Coast Autonomous Region Nicaragua (capital Bluefields)
Located in the south of the Nicaragua Caribbean coast, this region has some of the most beautiful islands in Nicaragua. The idyllic Corn Islands have beautiful white sand and crystal clear water. Another picture perfect tropical island destination are the Pearl Cays. The culture on the Nicaragua east coast (the Mosquito Coast) is distinct from the rest of Nicaragua. Spanish colonisers never got a foothold on the region, but this region did become a British protectorate. As such, English is the dominant language in this part of Nicaragua. The British used African slaves as well as indigenous slaves to work on their estates. Today the Nicaragua ethnic groups of the area are a diverse mix of Indigenous Miskitus, Mayangnas, Ulwas and Ramas, as well as Afro-descendent Creoles and Garífunas. Every year Nicaragua celebrates the abolition of slavery in Nicaragua on Crab Soup Day which is held on August 27.
How to get to Nicaragua
Nicaragua Travel Guide: Travelling to Nicaragua overland
Land border crossings for Nicaragua
Nicaragua neighbouring countries are Honduras and Costa Rica. There are 3 main land border crossings between Nicaragua and Honduras:
Las Manos (we have done this border crossing)
El Espino
El Guasaule
There are 2 main land border crossings between Nicaragua and Costa Rica:
Peñas Blancas
San Pancho (we have done this border crossing)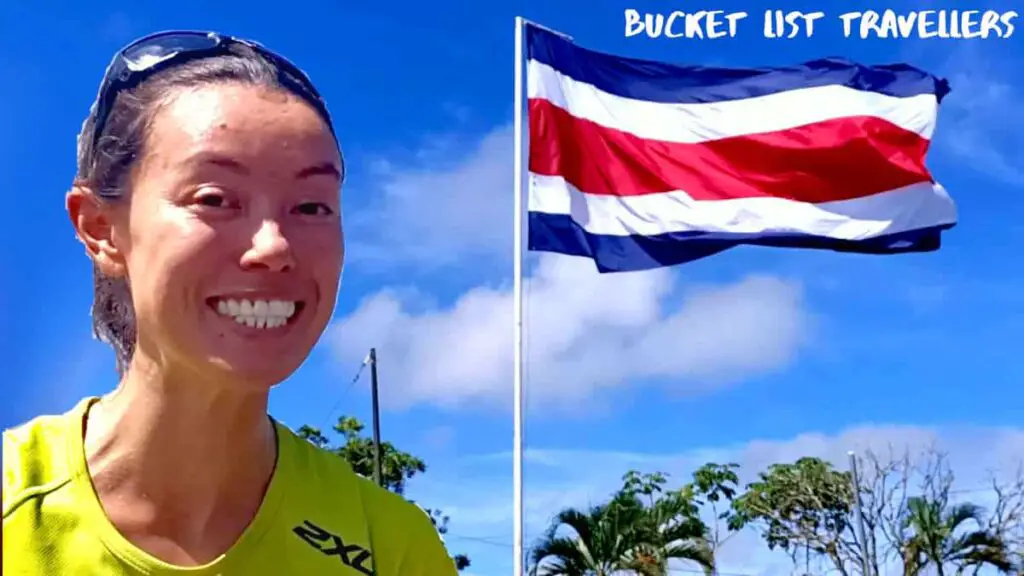 Nicaragua land border transport
There are a number of transport options for travelling overland to Nicaragua.
Private vehicle
It is possible to drive your own vehicle into Nicaragua. If you decide to do this, you will need to fill out paperwork and pay a fee. Keep in mind, if you decide to get a visa extension to stay in Nicaragua for longer you will also need to get an extension for your vehicle permit.
Private transport operator
We have heard many good things the services provided by Alex Ruiz of Pacific Tours. Alex has a reputation in for providing a reliable service and going the extra mile to ensure that his customers are taken care of.
Shuttle bus
There are two shuttle bus companies that operate in Nicaragua – Nicabus and Ticabus.
Nicabus operates buses between Nicaragua and Costa Rica:
Managua (Nicaragua)-San Jose (Costa Rica) – fares are US$28.75 one way or US$57.50 return (prices as at January 2022)
Chinandega (Nicaragua)-San Jose (Costa Rica) – fares are US$35 one way or US$70 return (prices as at January 2022)
Ticabus operates buses throughout Central America as well as Mexico.
Managua (Nicaragua)-San Jose (Costa Rica) – fares are US$29 one way or US$58 return (prices as at January 2022). There are a number of pick-up and drop-off points to choose from in both countries
Local transport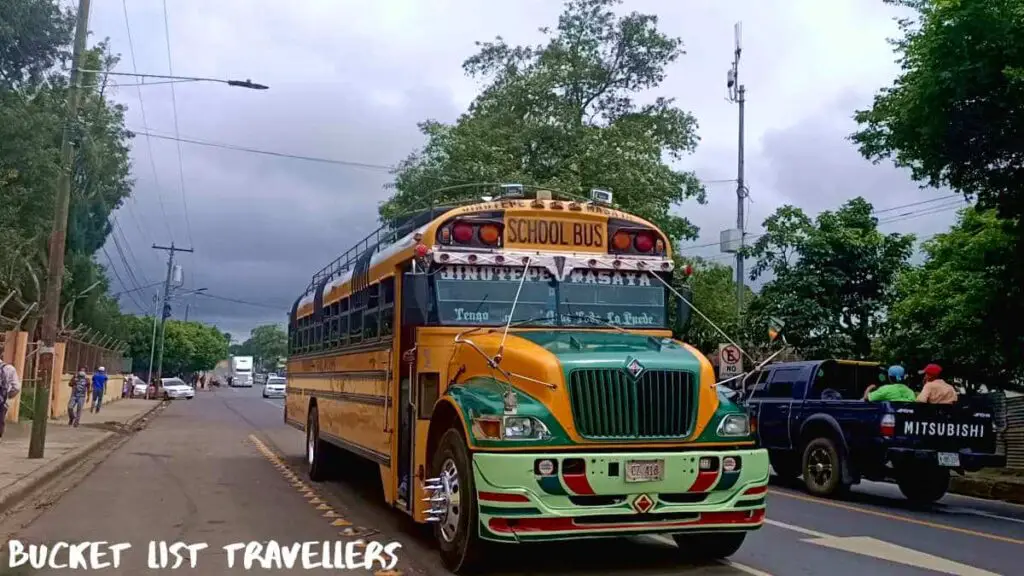 By far the cheapest option is to take public transport. Local transport is a slower option, but you get the experience of travelling with the locals. Moreover, buses and minivans are common throughout Nicaragua. The Nicaragua bus network is extensive and bus rides generally cost around 30 cordobas for a one hour
Nicargua travel guide: Travelling to Nicaragua by air
There is one international airport in Nicaragua – the Augusto C. Santino International Airport in Managua (Airport code MGA). Alternatiely, many people visiting Nicaragua fly to Liberia in Costa Rica and cross over to Nicaragua at Peñas Blancas.
Nicaragua travel guide: Traveling to Nicaragua by sea
There are a number of cruises that stop at the Nicaraguan beach town San Juan del Sur. This is a port town on the Pacific side of Nicaragua. San Juan del Sur is a pretty area with plenty of restaurants, bars as well as tourist activities. Moreover, some of the best beaches in Nicaragua can be found within a half hour drive of San Juan del Sur.
On the Carribean side of Nicaragua, there are also some cruises visit the Corn Islands.
There is also a tour company that operates regular ferry services between Nicaragua and El Salvador. Ruta del Golfo is the first tour company to operate a regular passenger service in the Gulf of Fonseca. This company has 2 services a week. Their boats run on Tuesdays and Saturdays, with boats travelling between Potosí Nicaragua and La Unión El Salvador. Additionally they offer transfers between Potosí Nicaragua and León, Nicaragua. The travel time is between 2 hours and 9.5 hours depending on your destination. The cost is between US$65 and US$135 per person one way. You can also book private hires through this company to take you to any destination within Central America.
Nicaragua travel guide: How to get around Nicaragua
Local transport in Nicaragua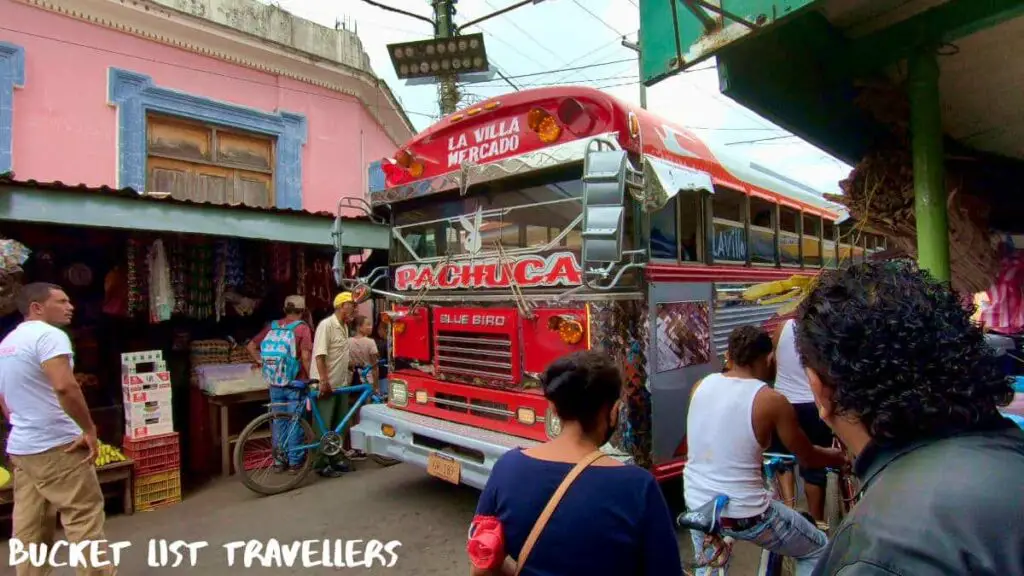 Local buses as well as minivans are the cheapest way to get around Nicaragua. Moreover, the Nicaragua bus network is extensive and very affordable. A one hour journey on a bus will cost around 30 cordobas. Minivans are only slightly more expensive. They are also generally a little bit more comfortable. We have more information on how to get around Nicaragua by bus here.
To get to island destinations as well as crossing Lake Nicaragua there are ferry options available. You can find our blog specifically about the Granada to Ometepe Island ferry here.
Shuttle buses in Nicaragua
Shuttle buses operate between major tourist destinations in Nicaragua. You can often book these shuttles through your accommodation or alternatively through tour operators.
There is also a shuttle service operating out of Hostel Casa Oro. This service provides shuttles to the beaches around San Juan del Sur for around US$3-5 per person one way.
Vehicle hire in Nicaragua
Bicycles, Motorcycles, ATVs, Cars as well as 4WDs can all be hired in Nicaragua. Prices are seasonal. As a rough Nicaragua travel guide, expect to pay around:
US$15 a day for a bicycle
US$20-30 a day for a motorcycle
US$50-65 a day for an ATV
US$30-100 a day for a car
US$100+ a day for a 4WD
The roads connecting major Nicaragua cities are paved and in good condition. However once you get outside the urban areas the roads are dirt roads. This is particularly true around Nicaragua beaches. Furthermore, in the rainy season the roads can become flooded. We would recommend getting a 4WD if you want to drive in Nicaragua. We'd also recommend avoiding driving at night. This is because the roads are not well lit. Furthermore animals such as cattle, horses and stray dogs may be on the road.
Taxis and Tuk-Tuks in Nicaragua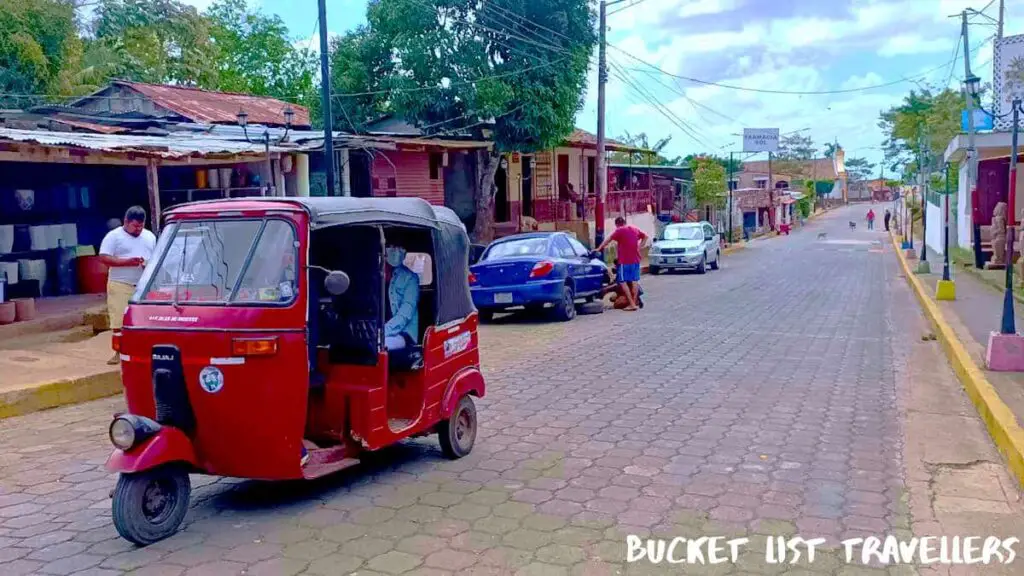 Taxis and Tuk-Tuks are common in Nicaragua. In some areas there are also bicycle taxis. Taxis in Nicaragua don't generally have metres, so be sure to agree on a price before you begin your journey. As a guide, in Granada the fare to get to anywhere within the city is C$10 per person during the day (7am-10pm) and C$15 per person after 10pm. Taxis may pick up other passengers along the way, so don't be surprised if you have to share a ride with other passengers.
Ride-share services in Nicaragua
Uber, Lyft and Grab do not operate in Nicaragua. However in Managua there are some alternatives:
Domestic flights around Nicaragua
If you want to visit the Carribean side of Nicaragua, the quickest way to get there is by air. The regional airline is La Costeña. It operates flights between Managua and 6 different Nicaragua destinations on the Carribean coast of Nicaragua:
Corn Island
Bluefields
Puerto Cabezas
Waspan
Siuna
Bonanza
The flight time from Managua to each of these destinations is between 45 minutes and an hour and a half. One way tickets cost around US$100.
Other transport options in Nicaragua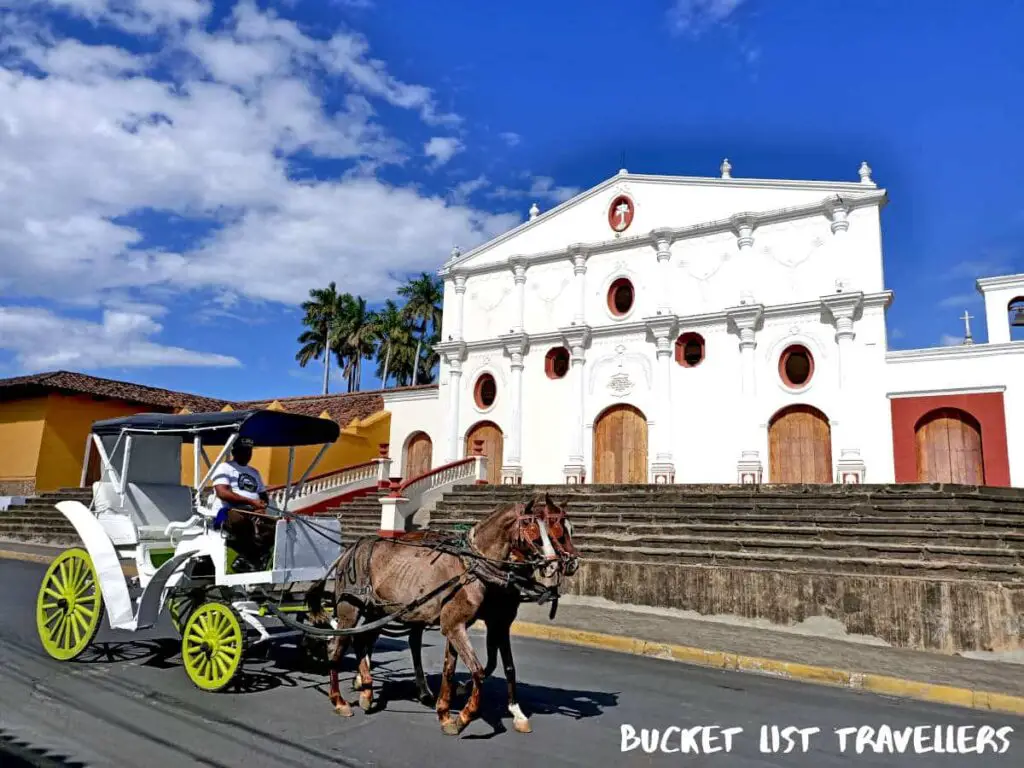 In some cities in Nicaragua, horse and cart are common forms of transport. In particular, you can find horses and carts around the Central Park in Granada. We recommend taking a horse and cart ride to see the sights of the city.
Nicaragua travel guide to travelling during Covid
Nicaragua Covid entry requirements
Travellers that have been fully Covid vaccinated are not required to provide a PCR test to enter Nicaragua. However for non-vaccinated or partially vaccinated travellers, a negative PCR test taken no more than 72 hours prior to arrival is required in order to enter Nicaragua.
Nicaragua Covid mandates
There are no Covid vaccine mandates or mask mandates in Nicaragua. However, many businesses will require you to wear a mask. This is particularly true for supermarkets and banks. These businesses often also have temperature checks and hand sanitiser at the entrance.
Where to get a Covid test in Nicaragua
There are only two place to get Covid tests in Nicaragua. Both are located in the Nicaragua capital city Managua. The tests are operated by the Nicaraguan Ministry of Health (MINSA). Covid tests cost US$150. Tests are conducted Monday to Sunday from 7am until 11am. The tests are returned on the same day between 3pm and 5pm. The two testing centres in Nicaragua are at the following locations:
The National Center for Diagnosis and Reference (CNDR)
The Nicaraguan Institute for Health Investigation (INIS). This is located in the Bolonia neighbourhood of Managua
Nicaragua travel guide: Is Nicaragua worth visiting?
It is certainly worth visiting Nicaragua. The land of lakes and volcanoes is filled with stunning scenery, beautiful wildlife and unique experiences. Nicaraguan culture is a distinctive blend of indigenous and colonial Spanish influences and Nicaraguan festivals are vibrant experiences that are not to be missed! Additionally, Nicaragua is one of the cheapest countries to visit in Central America, which means that your travel dollar will go far. We loved getting to know the friendly locals, sampling delicious Nicaraguan street food and immersing ourselves in the local way of life. Nicaragua is an enchanting country that will have you coming back for more.
Nicaragua travel guide: How long to spend in Nicaragua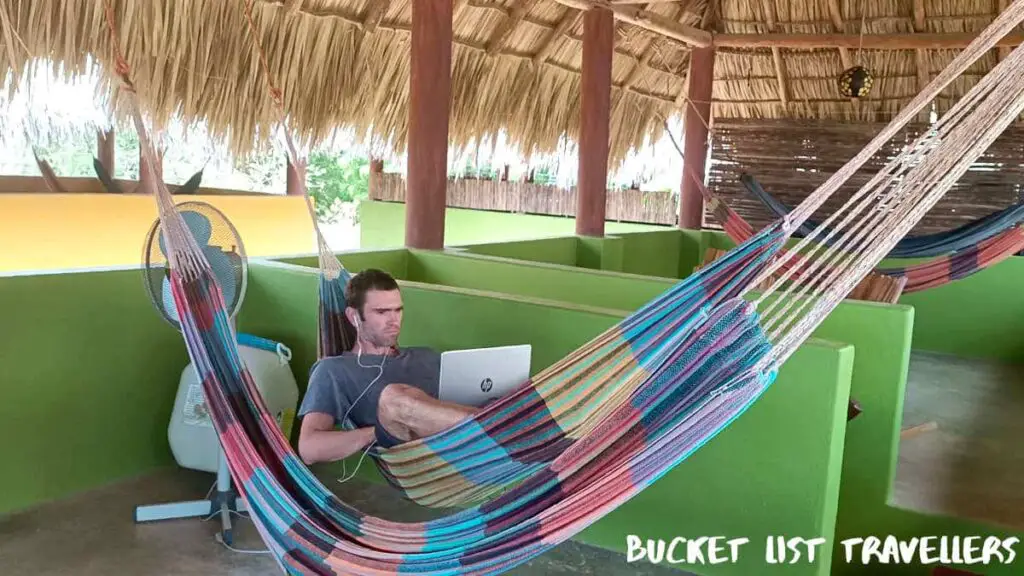 The most common visa is a CA4-90 day visa. This grants you access to Nicaragua, Honduras, El Salvador as well as Guatemala. Specifically, the visa allows you to travel within these 4 countries for a maximum of 90 days total. However 2 weeks in Nicaragua is a good amount of time to see the major destinations. If you have the time though, we recommend devoting more time to this beautiful country. We personally spent 18 months in Nicaragua. Even with this amount of time there are still a lot of places we are yet to visit.
Nicaragua travel guide: Best areas to visit in Nicaragua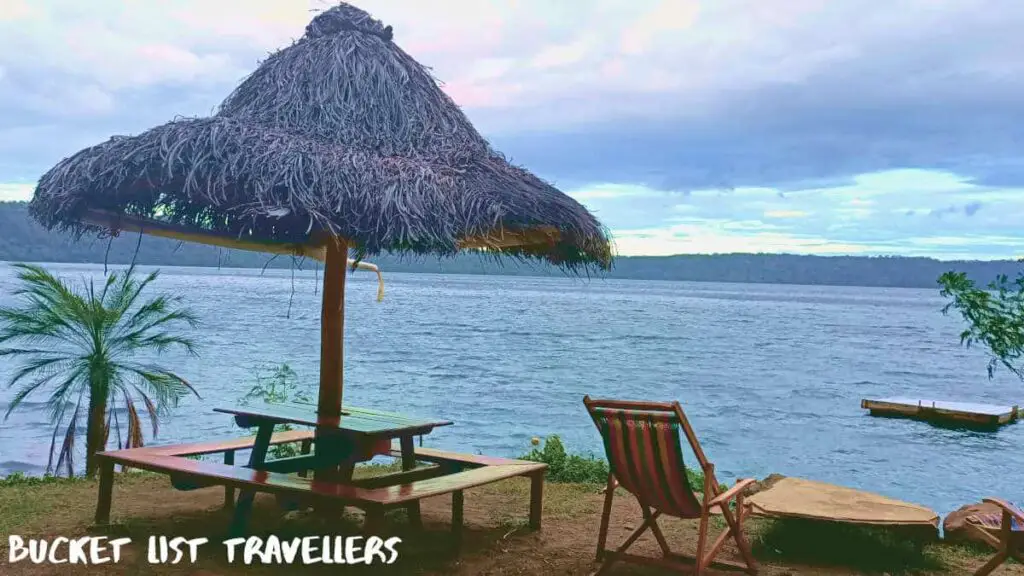 Nicaragua is full of beautiful beaches and rural areas as well as charming colonial cities and a cosmopolitan capital. The most popular Nicaragua places to visit are
Nicaragua famous landmarks – Nicaragua famous places include the colonial city of Granda Nicaragua, Cathedral-Basilica of the Assumption of the Blessed Virgin Mary in León, Masaya Volcano, Mombacho Volcano, Cerro Negro Volcano, Lake Nicaragua, Las Isletas near Granada, Ometepe Island, Cristo de La Misericordia Jesus statue in San Juan del Sur.
Best cities to visit in Nicaragua – colonial Nicaragua cities Granada and León.
Nicaragua islands – Ometepe Island, Las Isletas, Corn Islands.
Nicaragua best beaches – San Juan del Sur beaches such as Playa Maderas and Playa Hermosa, Popoyo, Las Peñitas.
Best Nicaragua surf spots – Playa Maderas, Popoyo, Playa El Yanke, Playa Colorado, Lance's Left.
Nicaragua mountains / Nicaragua coffee country – Estelí, Jinotepe, Matagalpa, Selva Negra.
Best places to see wildlife in Nicaragua – Indio Maíz Biological Reserve (Reserva Biológica Indio Maíz), Refugio de Vida Silvestre La Flor, Ometepe Island, Mombacho Volcano, Selva Negra.
Hidden gems in Nicaragua – Nicaragua off the beaten path destinations include San Rafael del Norte, Corn Islands, Laguna de Apoyo, Selva Negra, El Tránsito, Reserva Natural Miraflor, Reserva natural Tisey-La Estanzuela.
Nicaragua must see places – some of the best Nicaragua tourist attractions include Nicaragua volcano boarding at Cerro Negro, Nicaragua Jesus statue at San Juan del Sur, Ojo de Agua at Ometepe Island, Nicaragua active volcano at Mayasa Volcano, Nicaragua turtle sanctuary at Playa La Flor.
Nicaragua travel guide: Major events in Nicaragua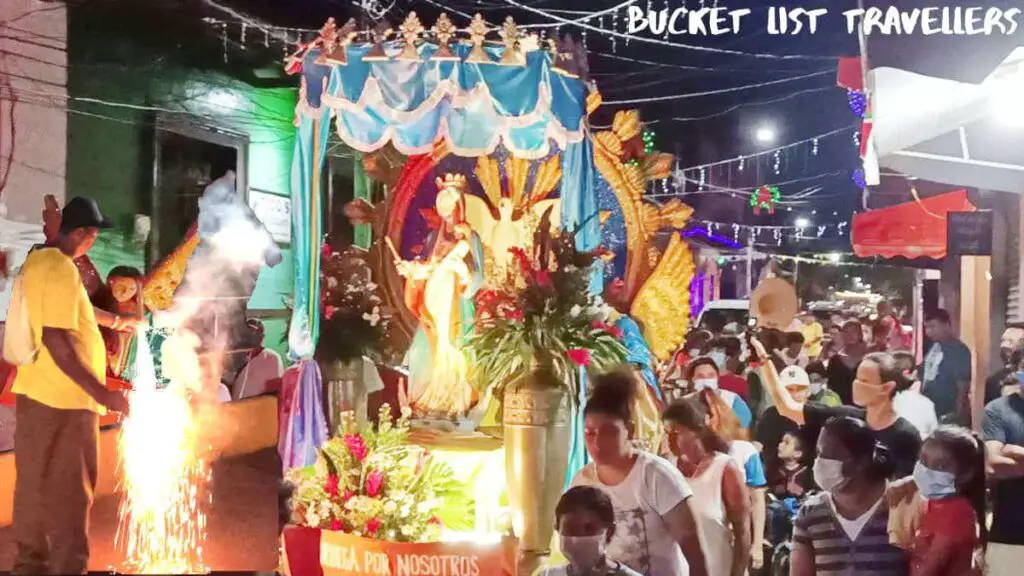 Nicaragua festivals and traditions are sights to behold. Some festivals such as the Hípica horse riding festival is held in major towns and cities at different times throughout the year. Other celebrations are nation-wide. Major Nicaraguan festivals include:
La Purísima and La Gritería – these are the biggest events on Nicaragua's calendar. It celebrates the conception of the Virgin Mary. The La Purísima celebrations run from 28 November to 8 December each year. The highlight of this event is La Gritería (which literally means "the shouting") on 7 December. The festival includes street parades, music, dancing, food, performances as well as plenty of fireworks. In León there is also a La Gigantona festival during La Purísima.
Hípica – this horse riding festival takes places in each Nicaraguan town or city at different times of year. It includes street parades with horses and horse riders dressed in their finest. Horses dance through the streets. There's always plenty of music, dancing and drinking.
Tope de los Torros (running of the bulls) – bulls run through the main streets of Granada. This happens on the Sunday before 15 August each year.
Patron Saint festivities – each town and city has its own patron saint festivities. These festivities often include traditional Nicaragua dance performances, parades, music, fireworks and food. Some notable patron saint festivities include the Tope de los Santos (parade of saints) in the 3 major cities of the Carazo department. In this festival, statues of saints are paraded around the streets. The UNESCO listed play El Güegüense is also performed during Diriamba's patron saint festivities. Another notable patron saint festival is held in San Juan de Oriente, where the Dance of the Chinegros is performed.
New Year's Eve – this is typically celebrated with bombas (fireworks) in the street as well as setting alight effigies at midnight.
Nicaragua travel guide: Nicaragua best time to visit
The most popular time to visit Nicaragua during the Nicaragua dry season, which is from November to May. However we actually prefer the rainy season, when it is a bit cooler. While it rains most days during the rainy season, this is generally only for a couple of hours in the afternoon and for the rest of the time the weather is sunny and a bit cooler than during the dry season. The other advantage of visiting Nicaragua during the rainy season is that there are less tourists and prices for accommodation tend to be a bit cheaper.
Weather in Nicaragua
What is the weather like in Nicaragua?
Nicaragua is a tropical country with a dry and wet season. The Nicaragua dry season is between November and May. This is also the best time to visit. During the wet season it is usually sunny in the morning and it typically rains for only a few hours in the afternoon.
There are also some mountain regions in the northern highlands of Nicaragua that have milder climates. Keep in mind that Nicaragua has a hurricane season which generally runs from June to November. However hurricanes mainly affects the Carribean side of Nicaragua.
When is rainy season in Nicaragua?
Nicaragua's rainy season typically begins in May and lasts until the end of October. The wet season in Nicaragua is also referred to as winter (inverano).
When is dry season in Nicaragua?
Nicaragua's dry season is from November through to April. The dry season in Nicaragua is also referred to as summer (verano).
When is hurricane season in Nicaragua?
Nicaragua's hurricane season typically lasts from June to November each year. During this time the country may experience tropical storms, particularly on the Atlantic coast. On average the country experiences one major storm a year. These storms bring strong winds, heavy rain as well as floods. The deadliest hurricane in Nicaragua's history was Hurricane Mitch in 1998. Around 3,800 people in Nicaragua lost their lives to this category 5 hurricane.
Internet and mobile phones in Nicaragua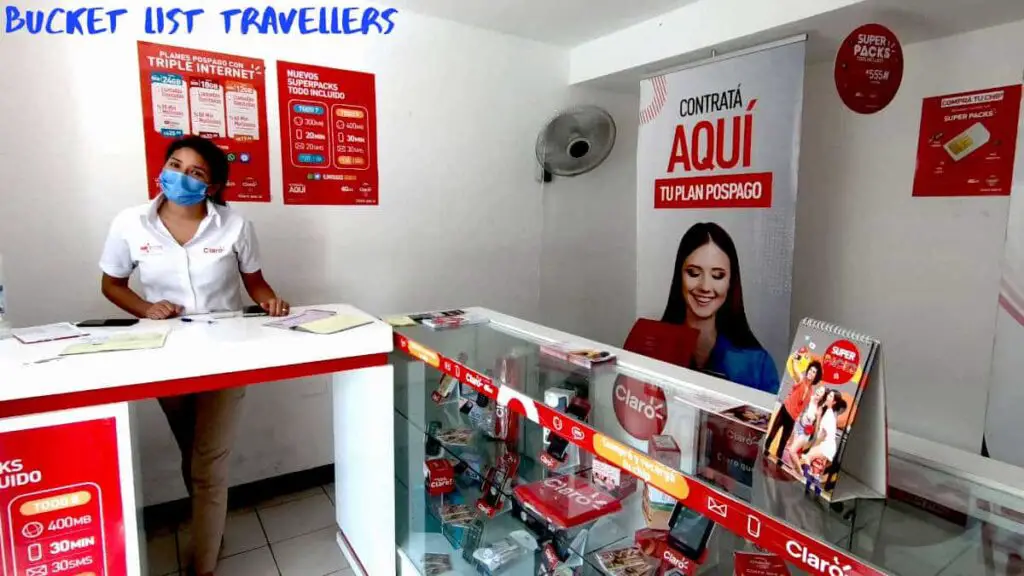 The main internet and phone companies in Nicaragua are Tigo and Claro. Tigo has the widest coverage but is slightly more expensive. Both providers currently operate on 4G. Movistar is another common provider.
The phone messaging app Whatsapp is used extensively in Nicaragua. The other major social media platforms are also popular.
High speed optic fibre internet is available in some areas of Nicaragua. The best speeds we've experienced have been around 40 Mbps download and 20 Mbps upload. However more common speeds that we have found in city hotels have been 4-5 Mbps download and 1-2 Mbps upload (as at 2021). Free wifi comes standard with most accommodation and you can find free wifi in many restaurants and cafes catered to tourists.
Cell phone SIM cards can be bought in many places throughout Nicaragua, including local corner stores known as pulperias.
For more on internet in Nicaragua, see this post.
How much to budget for Nicaragua?
Nicaragua travel guide: Daily spend for a couple travelling in Nicaragua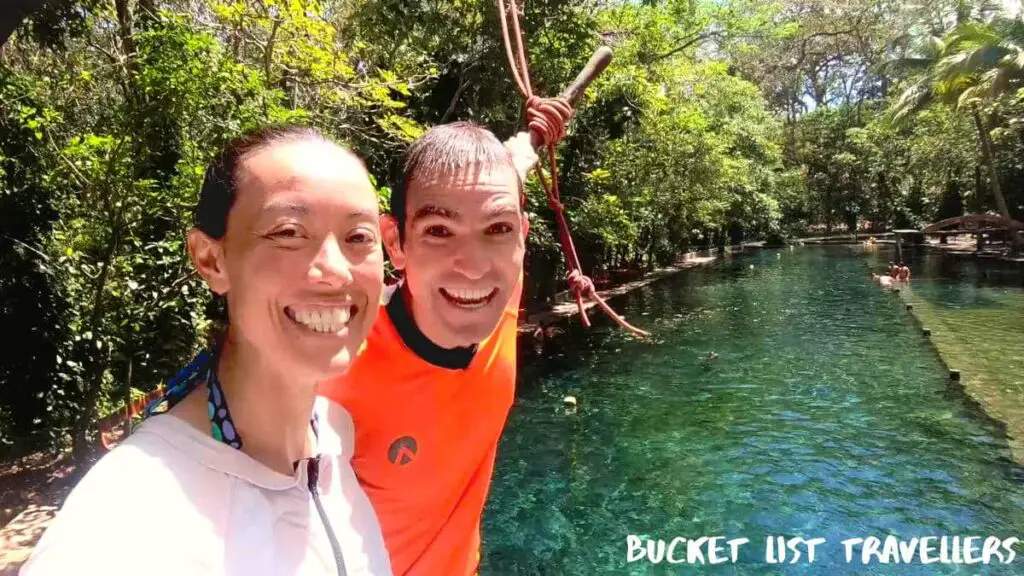 You may be wondering is Nicaragua expensive to visit? If you're looking for a low cost holiday, you're in luck! Nicaragua is a great value budget destination, but it also caters to those after a more luxurious experience.
As a rough guide, we recommend the following budgets for a couple:
Low-budget daily spend – US$30 per day for a couple will get you hostel accommodation, meals at local eateries and markets, local transport and free or cheap activities such as pub trivia, going to the beach and entry to the national park areas.
Mid-range daily spend – US$100 per day for a couple will get you mid-range accommodation, local transport or shuttles and a few tours during your Nicaragua trip.
Luxury spend – $500 per day for a couple will get you a premium experience in Nicaragua, staying at luxury resorts, travelling by private transport, doing a range of tours and eating at high end restaurants.
Ultra luxury – if you want the absolute best of the best, there is a luxury beachfront property which is owned by Nicaragua's first billionaire. Think ocean views, in-house chef as well as in-house massages. To find out more, visit the Mukul Resort website.
Nicaragua travel guide: Accommodation in Nicaragua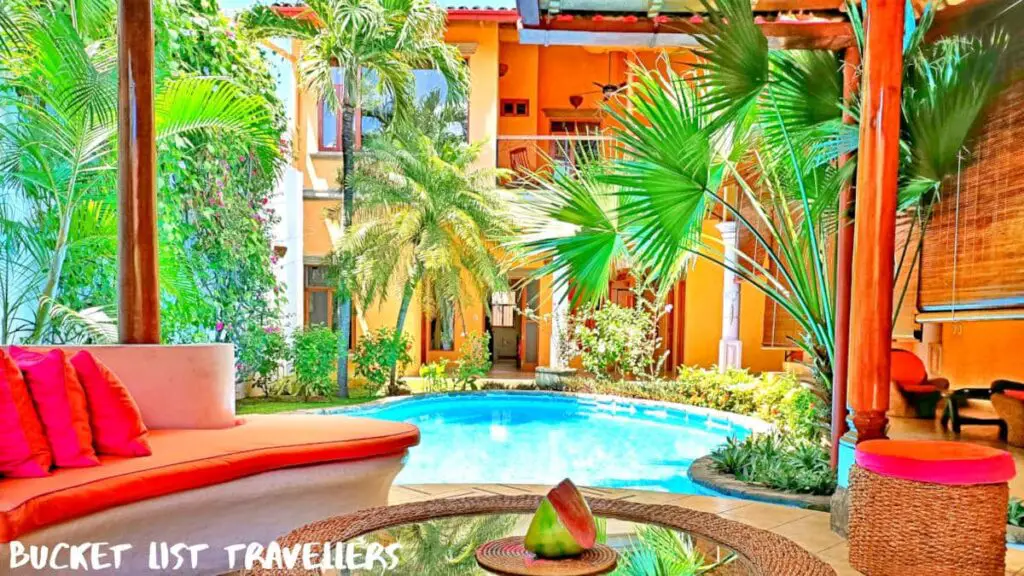 Nicaragua has a good range of accommodation to suit all budgets. Airbnb also operates in Nicaragua. However it is not as widespread as many other countries. It is also mainly concentrated in the popular tourist areas. Long-term fully furnished Nicaragua apartments for rent are available in areas such as Managua, Granada as well as San Juan del Sur.
How much is accommodation in Nicaragua?
For short-term Nicaragua accommodation, a general price per night is as follows:
Budget accommodation – US$7-15 for dorm accommodation
Mid-range accommodation – US$20-40 for a private room, often with breakfast included
Luxury accommodation – US$60-200 a night for a luxury hotel
Rental property – US$100-300 a night for a fully furnished 3-6 bedroom home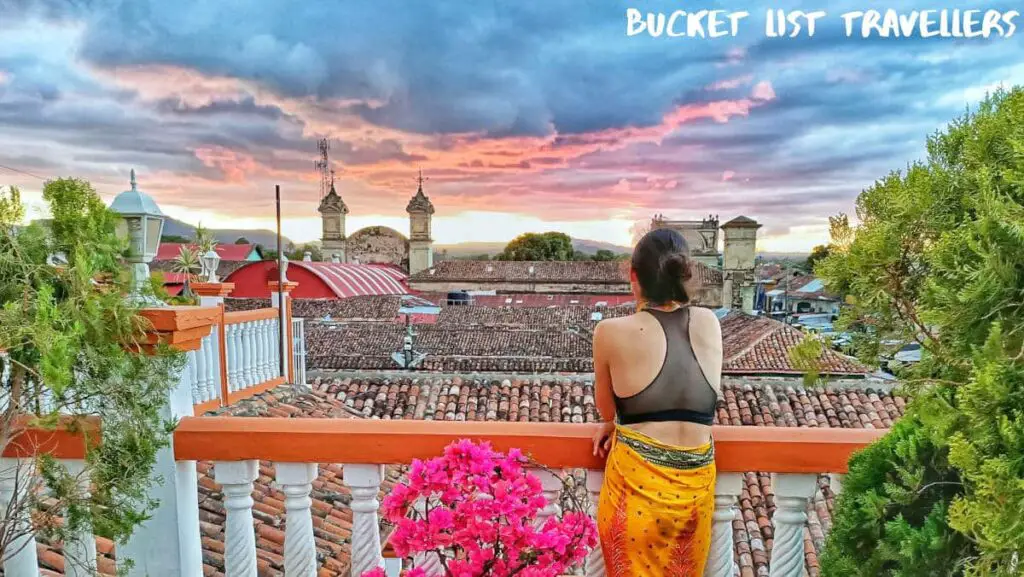 Nicaragua travel guide: Food in Nicaragua
The main tourist areas in Nicaragua are full of great cafes and restaurants. There is also plenty of Nicaragua street food to tempt your taste buds.
How much does food cost in Nicaragua?
Our price guide for your food budget in Nicaragua is as follows:
Restaurant meal – US$10-15 for a main dish (350-500 cordobas)
Local eatery – US$3-5 for a main dish (100-200 cordobas)
Street food – US$1 (30-40 cordobas)
Beer (try the local Nicaragua beer Toña) – US$1 (30-40 cordobas)
Local fruit drink (refresco) – US$0.30-0.50 (10-15 cordobas)
Must try dishes in Nicaragua
Must try dishes in Nicaragua include nacatamales, vigorón, quesillos and grilled meats from a local Nicaragua fritanga.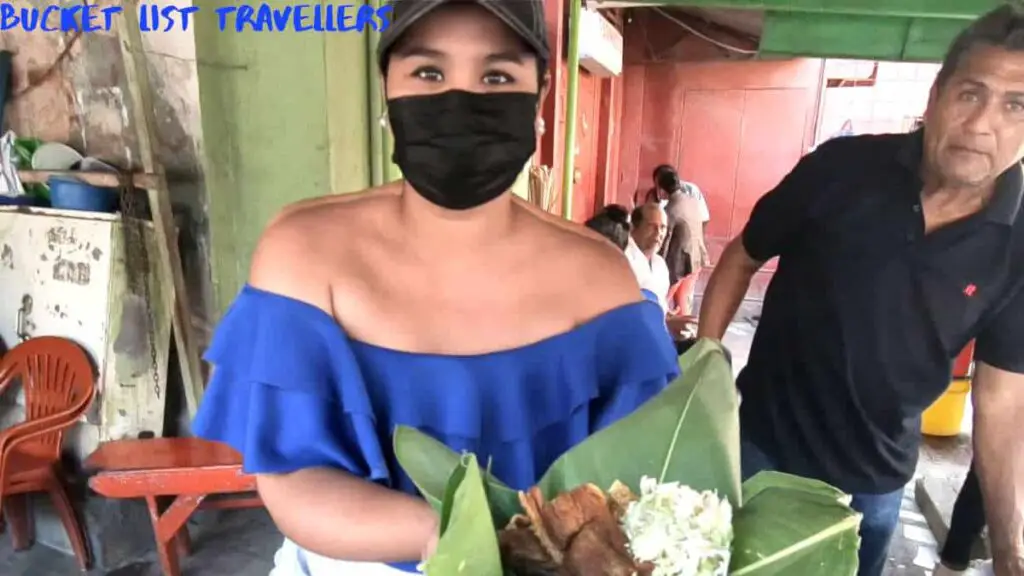 Nicaragua breakfast dishes
The typical Nicaragua breakfast food is Nicaragua gallo pinto (Nicaragua rice and beans) served with eggs, a local white cheese, tortillas, platano maduro (sweet plantains) and sometimes also natilla (sour cream). It is usually also serviced with juice or coffee (often served black). On weekends another popular Nicaraguan breakfast food are nacatamales, which are a dish made with corn masa, filled with meat, vegetables and herbs, all wrapped in a banana leaf and then either steamed or boiled.
Nicaragua culture
Nicaragua national holidays
New Year's Day – 1 January
Maundy Thursday (Holy Thursday) – the Thursday before Easter Sunday, typically in March or April
Good Friday – the Friday before Easter Sunday, typically in March or April
Easter Sunday – typically in March or April
Labor Day – 1 May (holiday on the Monday if it falls on a weekend)
Mother's Day – 30 May
Sandinista Revolution Anniversary – 19 July
Battle of San Jacinto – 14 September
Independence Day of Nicaragua – 15 September
Indigenous Resistance Day – 12 October
All Souls Day (Day of the Dead) – 2 November
Feast of the Immaculate Conception (Immaculate Conception Day) – 8 December
Christmas Eve – 24 December
Christmas Day (Navidad) – 25 December (holiday on the Monday if it falls on a weekend)
New Year's Eve – 31 December
National symbols of Nicaragua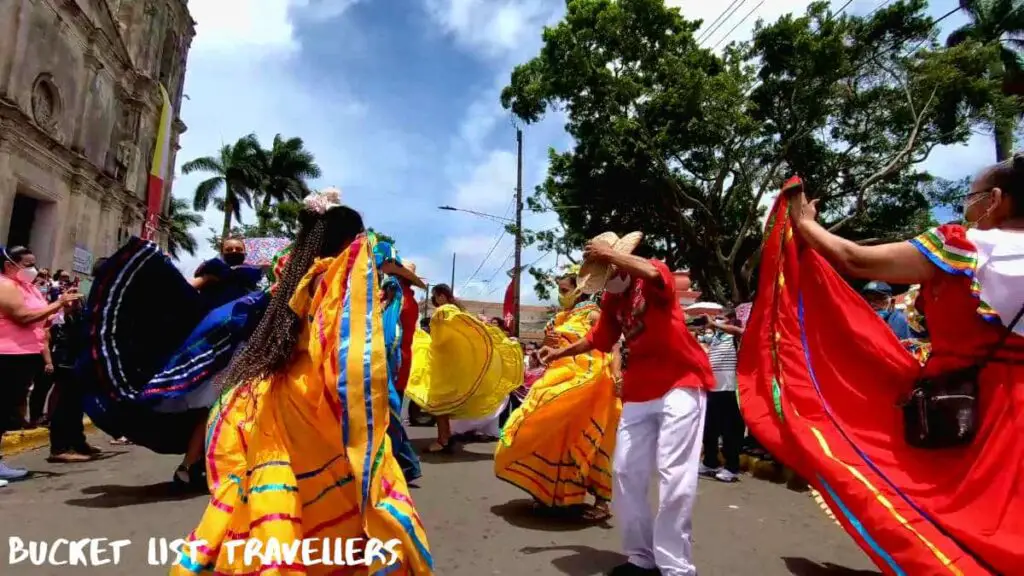 Nicaragua national symbols include the following:
Nicaragua flag – two blue bands with a white band containing the Nicaragua coat of arms in the middle. The blue bands represent the Pacific Ocean and the Caribbean Sea and the white band symbolises peace.
Nicaragua coat of arms – this consists of a triangle, the Cap of Liberty, a rainbow, the rays of sun and 5 volcanoes. The Cap of Liberty represents national freedom, the 5 volcanoes represent the original 5 member states of the United Provinces of Central America and the rainbow and sun represent the bright future of Nicaragua.
Nicaragua date of independence – 15 September 1581. This is the date that Nicaragua, Costa Rica, El Salvador and Honduras declared independence from Spain.
Nicaragua national flower – sacuanjoche. This is the flower of the frangipani tree.
Nicaragua national bird – guardabarranco.
Nicaragua national anthem – the Nicaragua anthem is Salve a ti, Nicaragua (Hail to thee, Nicaragua).
Nicaragua pastimes
National dish – gallo pinto. This is a dish of fried rice mixed with red beans and spices. It can be eaten at any time of day. It is typically served at breakfast along with eggs, tortillas, fried plantains and a type of cheese called queso fresco.
Popular drinks – Refrescos naturales fruit drink, Toña beer, Flor de Caña rum, Nicaraguan coffee as well as the national drink of Nicaragua, the Macuá cocktail.
National sport of Nicaragua – baseball
Nicaragua religion – the Nicaragua main religion is Catholicism, with 56% of Nicaraguans being Catholic. Additionally 28% of Nicaraguans are Protestant and 1% Jehovah's Witness (as at 2010).
Famous Nicaraguans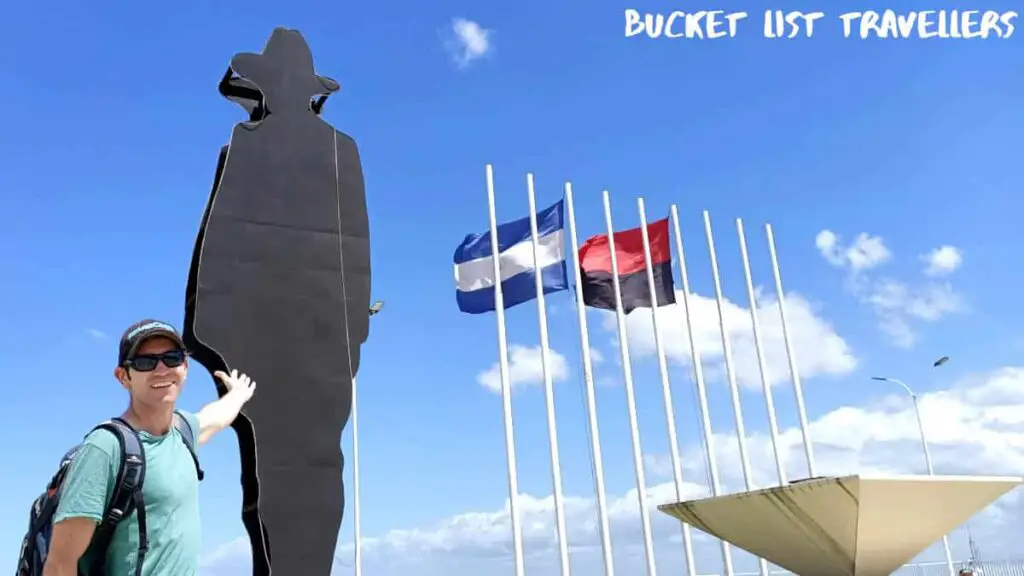 Nicaragua heroes – poet Rubén Dario, revolutionary leader Augusto C. Sandino.
National sports stars – Major league baseball player Dennis Martínez, MMA fighter Leonardo Morales and boxers Alexis Argüello and Ricardo Mayorga.
Is Nicaragua Safe?
Nicaragua travel guide: Safety in Nicaragua
Many people ask "is Nicaragua dangerous to visit?" In particular they ask "is Nicaragua dangerous for tourists?" We lived and travelled in Nicaragua for a year and a half and we found it to be a very safe place to visit. However petty crime and crimes of opportunity can be an issue, so we recommend taking care to keep your valuables secure and out of sight. As with any country, there are some areas that are safer than others. By and large though, we found the country very safe. For more information on safety in Nicaragua, watch this video.
Civil unrest in Nicaragua
Nicaragua did experience a period of civil unrest in 2018. This has now passed, and as a tourist you should not be affected.
Nicaragua travel guide: General safety considerations in Nicaragua
Other general safety considerations for travel in Nicaragua:
Drinking water – The tap water in most major cities and towns in Nicaragua is safe to drink. However in areas where the water is no safe to drink, most hotels will provide bottled water for guests to use. We always ask our hotel what the situation is with drinking water when we arrive in an area
Mosquitoes – There are mosquitoes in most areas of Nicaragua. Nicaragua has programs to control mosquitoes and many buildings throughout the country are sprayed regularly to keep mosquitoes under control. The mosquitoes on the Pacific side of Nicaragua don't generally carry tropical diseases. In 2021, the main risks related to mosquito borne diseases were on the Caribbean side of Nicaragua. For the most up to date information we recommend checking the CDC or NHS websites.
Road safety – In Nicaragua we often travelled standing up in the back of vans or in vehicles without helmets or seat belts. Be aware that this does come with an element of risk.
Water safety – If you visit any of the coastal areas or lakes, take care when swimming. This is because currents and waves may be stronger than you expect. Also be aware that the Nicaragua bull shark is in Lake Nicaragua.
Sun safety – The Nicaragua UV Index is very high. Therefore sun protection such as sunscreen, a hat and sunglasses is very important to ensure you don't get burnt.
Dogs – In many countries in Central America, stray dogs are common. For more on dog safety while travelling, check out this video.
As with any destination, take all of your normal safety precautions.
Nicaragua Blogs
You can find our Nicaragua blogs below.
Affiliate Links
This website contains affiliate links. This means we may earn a commission on any purchases at no additional cost to you. Your support helps us continue our travels and make more travel blogs as well as travel videos, thank you!
Subscribe to Bucket List Travellers on YouTube