Nicaragua's capital is an often overlooked destination, but it has a lot to offer. It is a sprawling city which is chaotic at times but also has areas that are quite leafy and peaceful. First timers can enjoy waterfront dining at Puerto Salvador Allende or the beautiful vista at Loma de Tiscapa. Those living in Nicaragua come to Managua for the international dining scene, modern shopping centres as well as all of the conveniences that the largest city in Nicaragua has to offer. Find out more in this Managua Nicaragua destination guide.
What is Managua Nicaragua famous for?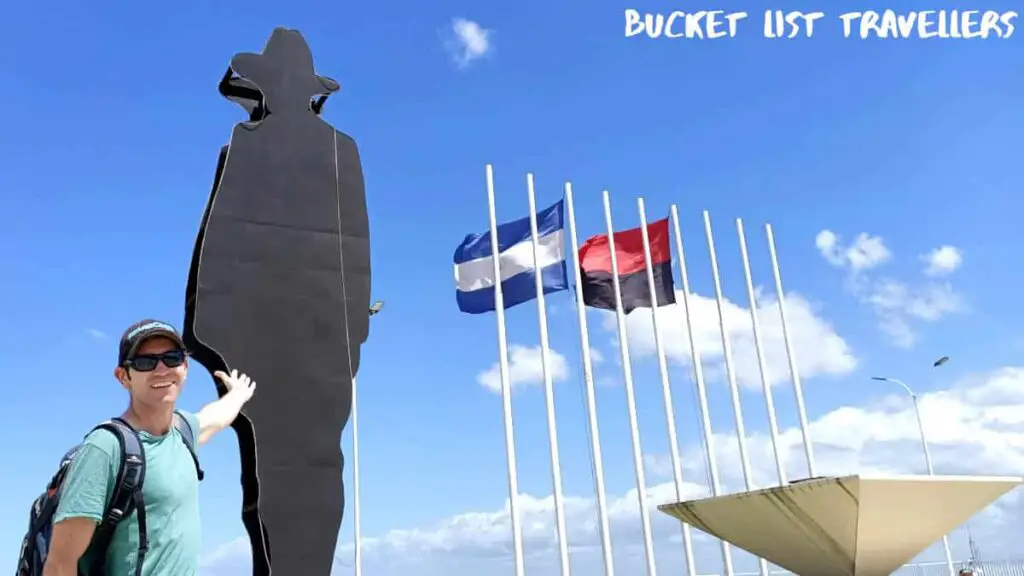 Managua is mainly known for being the capital of Nicaragua as well as Nicaragua's biggest city. Home to Nicaragua's international airport as well as major bus terminals, it is an important launchpad for getting into and around the country. Additionally, Managua is one of Central America's most important economic hubs, being home to modern shopping centres, government buildings, universities and other services. It is also a major cultural centre, with plenty of dining and shopping options as well as theatres, museums, stadiums and other landmarks.
Managua has faced a number of challenges over the years, with floods, earthquakes and fires destroying the city several times throughout its history. None was more devastating than the 1972 earthquake which destroyed 90% of the city. As Managua is located on fault lines, it is likely that a severe earthquake will hit the city approximately every 50 years. However Managua has rebuilt and is now home to over 1 million people. A distinctive feature of the city are the Trees of Life – an art installation consisting of over 100 colourful tree sculptures that line the city streets and light up at night. The city also hosts a number of festivals throughout the year.
Why you should visit Managua Nicaragua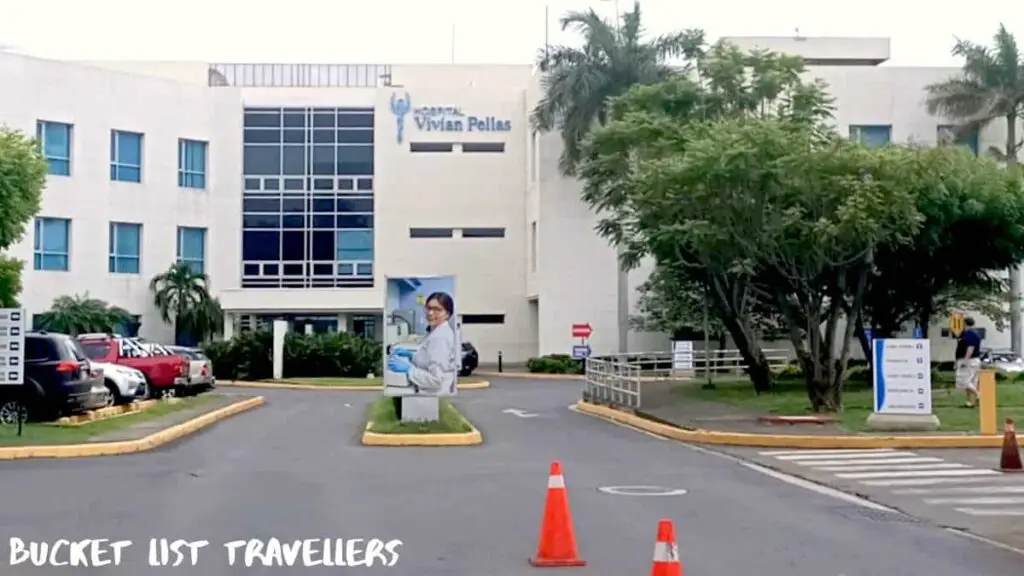 Managua is the capital of Nicaragua and also Nicaragua's biggest city. Founded in 1819, Managua became Nicaragua's capital in 1852. As an economic and cultural hub, there are plenty of activities in Managua to keep you entertained, including the best shopping and dining options in Nicaragua as well as sports stadiums, museums and theatres. Additionally Nicaragua's international airport is located in Managua. The city is a major transport hub, and its location in between the major cities of León and Granada means that you will no doubt pass by Managua at some point during your Nicaragua trip.
Managua Nicaragua Destination Guide: Know before you go
Basic info about Managua Nicaragua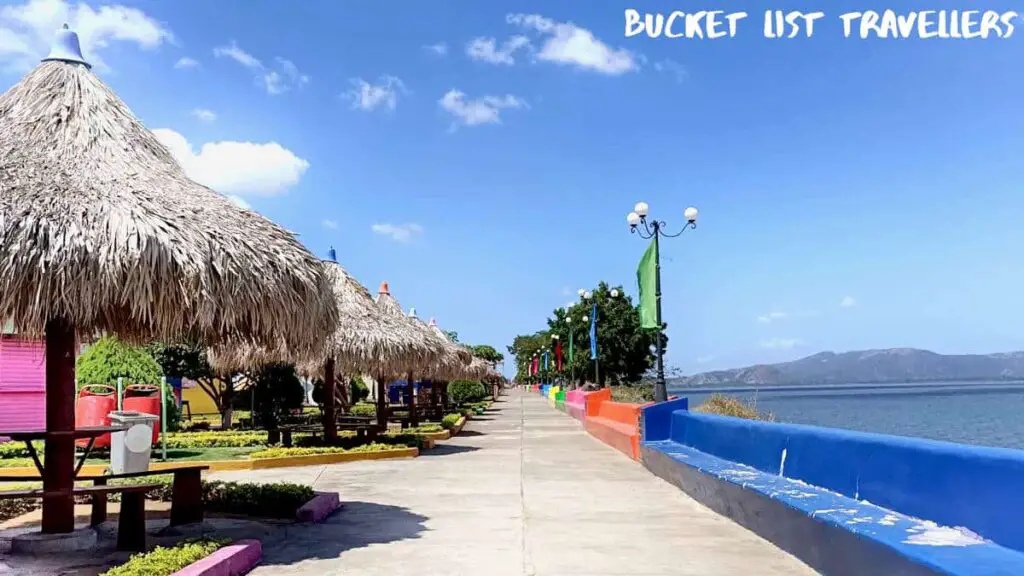 Official name – Leal Villa de Santiago de Managua (Loyal village of Santiago of Managua. However it is most commonly known simply as Managua.
Date founded – 1819
Date elevated to the capital of Nicaragua – 1852
Language – Spanish; Many tour operators and hotel staff speak English in popular tourist areas, but if you prefer travelling and shopping local you will need a basic understanding of Spanish.
Currency – Nicaraguan córdoba (NIO). Many hotels and restaurants also accept United States dollars (USD). ATMs dispense both cordobas and US dollars. For more details on money in Nicaragua, see this post.
Population – 1,052,000 (2019)
Area – 267 km2 (103 sq mi)
Department (Departmento) – Managua. Managua is the capital of this department.
Emergency number – 118
Police number – 101 (tourist police), 118 (police)
Utilities in Managua Nicaragua
Electricity – Nicaragua uses Types A and B power plugs, which is the same plug type as the United states. It operates on a 120v supply voltage at 60Hz. Power outages in Nicaragua are not uncommon but generally don't last for too long.
Water – the tap water in Managua Nicaragua is safe to drink. However many expats and tourists prefer to drink filtered water. Some accommodation in Managua provides filtered water for guests to use (however the one we stayed at did not).
Toilets – sit-down flushing toilets are the most common type of toilet in Nicaragua. Don't flush your toilet paper – use the bins provided. Public toilets are not common in Nicaragua, but you can usually find toilets in cafes and restaurants.
Telephone country code: +505
Where is Managua Nicaragua?
Managua is a city in the department of Managua Nicaragua. This city is situated on the shores of Lake Managua (also known as Lake Xolotlán). It is an inland city located in western Nicaragua.
The closest cities to Managua Nicaragua are Masaya and Granada. Managua is around 35 minutes by car from Masaya and 48 minutes from Granada.
How to get to Managua Nicaragua
Managua Nicaragua destination guide: Arriving by land
Managua Nicaragua intercity land transport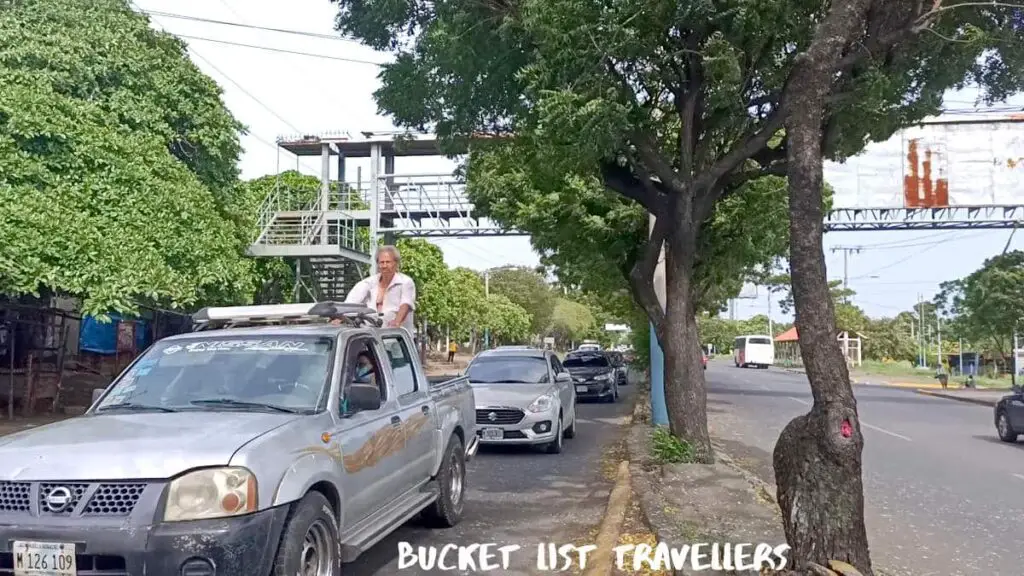 The main transport options for travelling overland to Managua Nicaragua are:
Private vehicle
Private transport operator
Shuttlebus
Bus
Minivan
Driving to Managua Nicaragua from within Nicaragua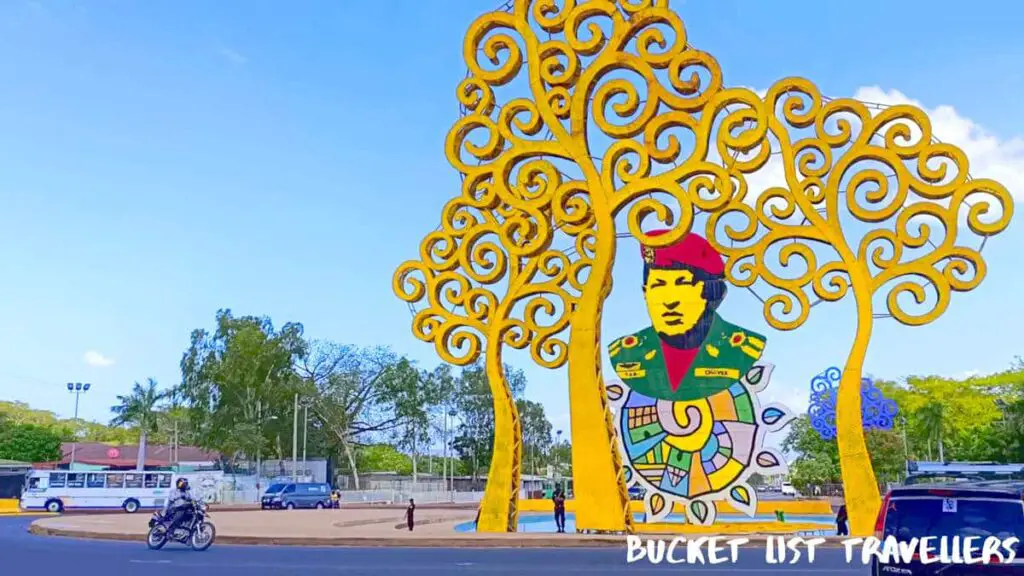 If you are driving to Managua Nicaragua from within Nicaragua, here are the travel times and distances:
Masaya – 35 minutes (26km, 16miles) without tolls
Granada – 48 minutes (41km, 26miles) without tolls
Rivas – 1 hour 48 minutes (101km, 63miles) without tolls
León – 1 hour 50 minutes (94km, 58miles) without tolls
Estelí – 2 hours 29 minutes (150km, 93miles) without tolls
San Juan del Sur – 2 hours 13 minutes (129km, 80miles) without tolls
Peñas Blancas border crossing to Costa Rica – 2 hours 23 minutes (136km, 85miles) without tolls
Las Manos border crossing to Honduras – 3 hours 55 minutes (250km, 155miles) without tolls
Bluefields – 6 hours 37 minutes (355km, 221miles) without tolls
Intercity trains to Managua Nicaragua
There are no trains in Nicaragua.
Shuttle buses to Managua Nicaragua
Shuttle buses operate between major tourist destinations in Nicaragua. You can often book these shuttles through your accommodation or through tour operators. Expect to pay around $35 per person for a shuttle between Managua and San Juan del Sur (as at 2023). Additionally there are two shuttle bus companies that provide shuttle services to Nicaragua from other countries in Central America: Nicabus and Ticabus.
Local buses to Managua Nicaragua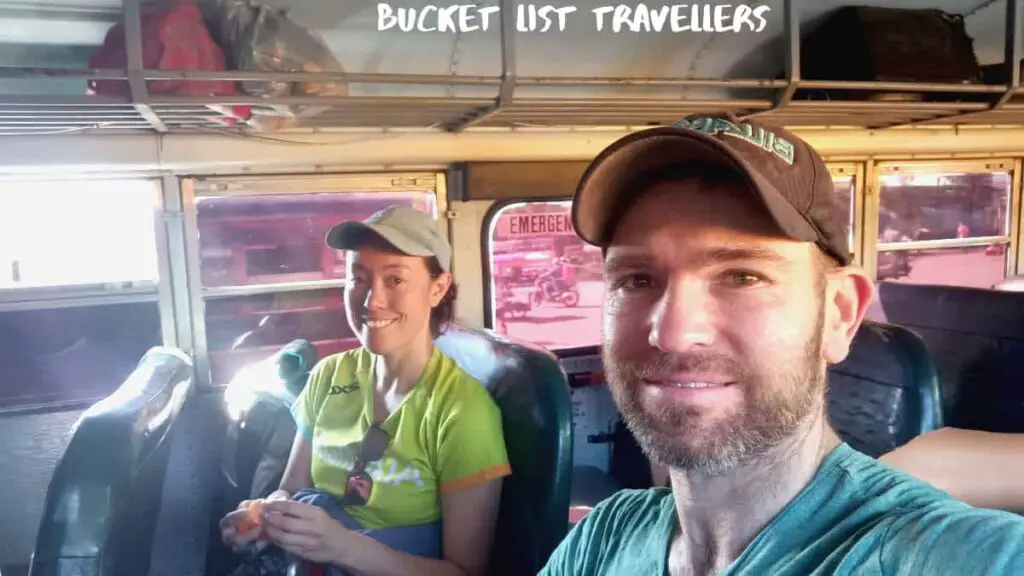 A common way to get around Nicaragua is by using local buses. Tourists often refer to these as chicken buses. Nicaragua public buses are old US yellow school buses that are often painted in bright colours. They have the destination on a sign at the front of the bus. Buses rarely leave on time, so patience is key. We also recommend that you ask about bus times at the station, particularly if you are considering a less regular route. Keep in mind that most locals, including local bus drivers, only speak Spanish.
Before the bus leaves as well as during the journey a number of vendors may get on the bus selling food and other goods. This is a great opportunity to get a snack for your trip or even do your grocery shopping.
Bus terminals in Managua Nicaragua
Managua has 4 bus terminal spread out at different ends of the city. Each of these terminals service different parts of the country. Given horrendous traffic in Managua, it is no wonder that these terminals are on the edges of the city for easy access to the part of the country they service. These bus terminals are:
Terminal de Autobuses Mercado Roberto Huembes (located towards the southern exit point for Managua) – Buses from Managua to Peñas Blancas (Costa Rica border), Granada, Masaya, Rivas, San Jorge or San Juan del Sur (southwest Nicaragua).
Terminal de Buses El Mayoreo (located towards the eastern exit point for Managua) – Buses from Managua to Matagalpa, Estelí, Jinotega, El Rama, San Carlos, Ocotal, Jalapa, Wasala, and Somoto (northern Nicaragua).
Terminal Israel Lewites (located towards the western exit point for Managua) – Buses from Managua to León and Chinandega and microbuses to León (north-west Nicaragua).
Terminal Mercado Ivan Montenegro – Buses from Managua to Bluefields and El Rama (Caribbean side of Nicaragua).
Additionally there is also a microbus terminal in Managua which has minivans that service all parts of the country.
Common bus routes for Managua Nicaragua
Details for some of the most common bus routes for Managua Nicaragua are listed below:
| | | | | |
| --- | --- | --- | --- | --- |
| From | To | Bus Fare | Duration | Frequency/Departure Time |
| Managua | León | C$52 | 2.5 hours | Half-hourly |
| Managua | Masaya | C$13 | 1 hour | Half-hourly |
| Managua | Granada | C$30 approx | 1.5 hours | |
The above bus fares are as at 2021.
Microbuses or minivans to Managua Nicaragua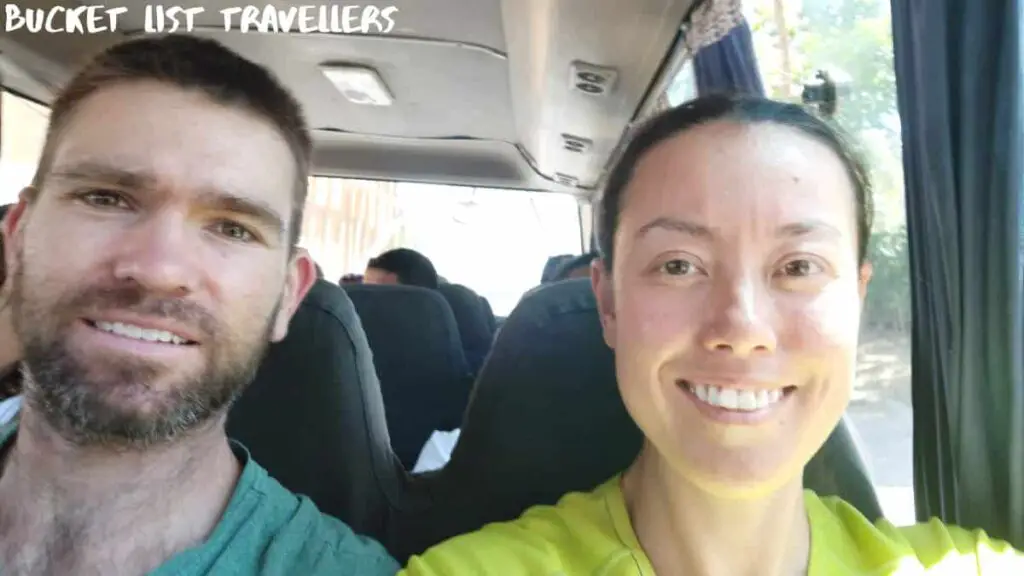 An affordable but slightly more expensive alternative to buses in Nicaragua are microbuses or minivans. These vans generally seat around 10-15 people. They are more direct and generally only a few córdobas more expensive than buses. They usually leave when they are full and are also typically more frequent than buses. We personally think that buses are more comfortable than the minivans as people do get crammed into the minivans and minivans generally don't provide much legroom. However you do always get a seat in minivans, albeit once my seat was just an upside-down crate in between two other seats. Microbuses in Managua Nicaragua depart from the microbus terminal: Managua – UCA Microbus Terminal. This microbus terminal is about 15 minutes walk from the Metrocentro shopping centre.
Managua Nicaragua destination guide: Arriving by air
The closest airport to Managua Nicaragua is Augusto C. Sandino International Airport (Airport code MGA). This international airport is located in Managua, on the western side of the city.
Other nearby airports include:
Costa Esmeralda Airport in Tola Nicaragua (Airport code ECI). This airport is 82km (51 miles) away.
Daniel Oduber Quirós International Airport (Airport code LIR) in Liberia Costa Rica. This airport is 188km (117 miles) away.
Toncontín International Airport in Tegucigalpa Honduras (Airport code TGU). This airport is 239km (148 miles) away.
There is currently no national airline of Nicaragua. However airlines that service Nicaragua include American Airlines, Aeromexico, Copa Airlines, Spirit Airlines, Avianca Airlines as well as United Airlines. The domestic carrier in Nicaragua is La Costeña.
Managua Nicaragua destination guide: Arriving by boat
The Port of Managua is a small port on Lake Managua. However the main seaport of Nicaragua is Puerto Corinto (Corinto Port). This port is around 2.5 hours drive away from the capital. Cruise ships sometime visit Corinto.
Managua Nicaragua destination guide: How to get around Managua Nicaragua
Walking in Managua Nicaragua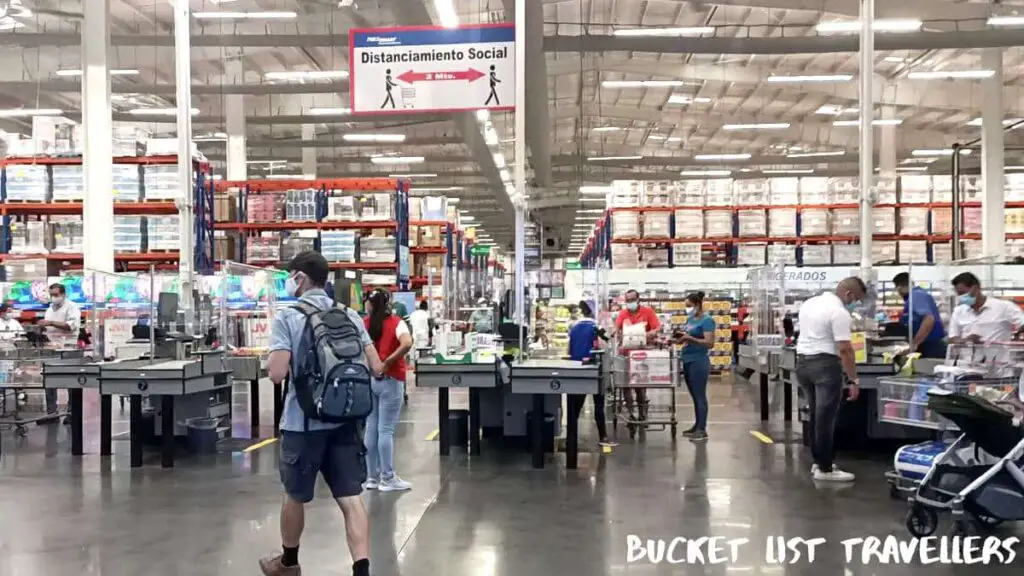 Managua Nicaragua is not a very walkable city as it is spread out and disorganised. There are some nice areas to walk in places like Puerto Salvador Allende as well as the leafy barrio (neighbourhood) Los Robles. However if you want to get from one area of the city to the next we recommend taking a bus for just a couple of cordobas. The city also does get uncomfortably hot and very sunny, so we'd recommend wearing a hat and bringing drinking water if you plan to walk around the city.
Local buses in Managua Nicaragua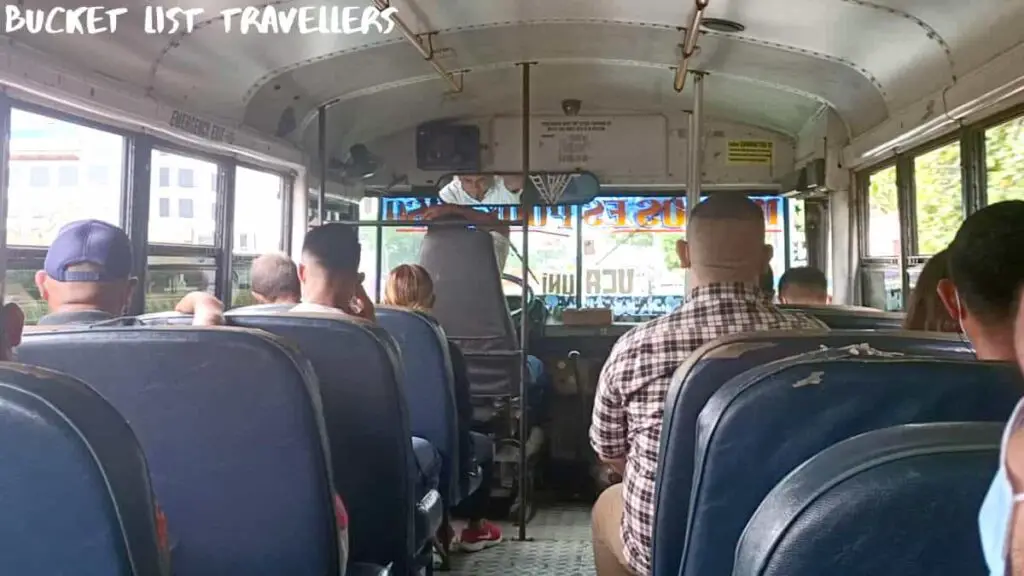 Local buses service Managua Nicaragua.
Trams in Managua Nicaragua
Managua Nicaragua does not have a tram system.
Local trains in Managua Nicaragua
Managua Nicaragua does not have a local train line.
Metro trains (subway or underground) in Managua Nicaragua
Managua Nicaragua does not have an underground train line.
Vehicle hire in Managua Nicaragua
A wide variety of vehicles can be rented in Managua Nicaragua. This includes:
Bicycles
Motorcycles
Cars
SUVs
In Nicaragua they drive on the right side of the road.
Tuk-Tuks in Managua Nicaragua
Auto-rickshaws or tuk-tuks are common in Nicaragua. They are a cheap and quick way to get from one place to the next. Agree on a price before you start your journey. Expect to pay around C$20-C$30 for a couple for a 10 minute trip. Tuk tuks may pick up other passengers along the way, so don't be surprised if you have to share a ride with other passengers. We didn't notice any tuk-tuks in Managua when we were there.
Taxis in Managua Nicaragua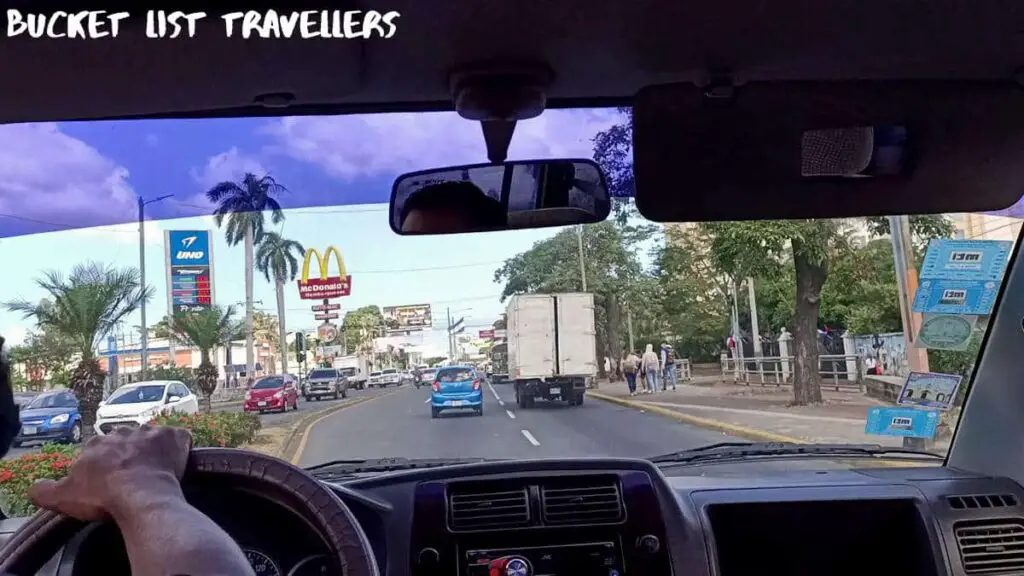 One of the most convenient ways to get around Nicaragua is by taxi. Taxis in Nicaragua don't generally have metres, so be sure to agree on a price before you begin your journey. Taxis may pick up other passengers along the way, so don't be surprised if you have to share a ride with other passengers.
Ride-share in Nicaragua
Uber, Lyft and Grab do not operate in Nicaragua. In Managua there are some alternatives:
Aventón
Ray Nicaragua
inDriver
Managua Nicaragua destination guide: Is Managua Nicaragua worth visiting?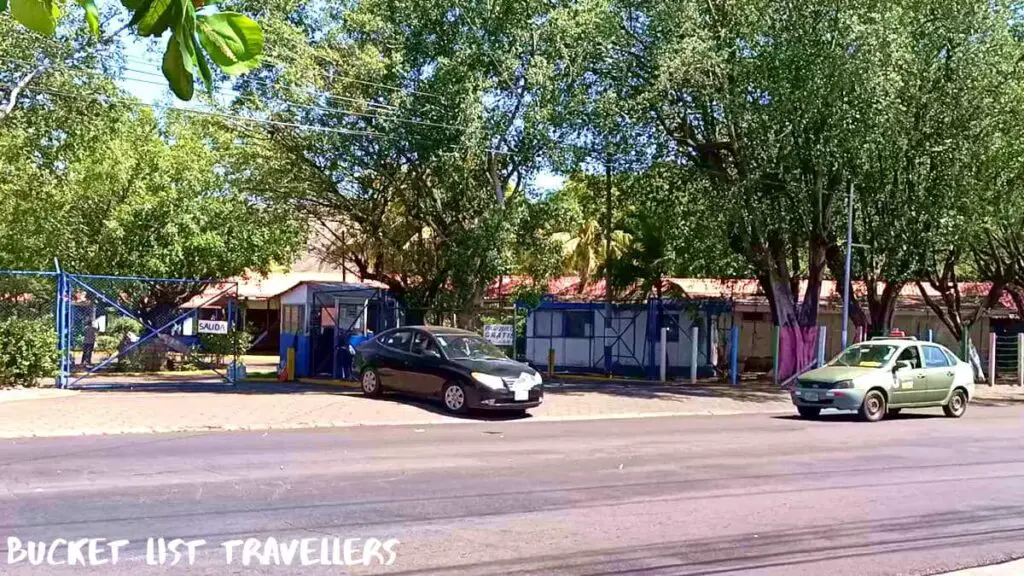 Managua is Nicaragua's capital city and is the location of Nicaragua international airport. As a main transport hub, you will most likely pass through the city at some point during your Nicaragua trip. Most people don't see much more of Managua than the airport or the bus stop. However if you take the time to explore, you will find a disorganised city that nevertheless contains a lot of gems waiting to be uncovered.
Given the spectacular volcanoes, beautiful beaches and gorgeous colonial cities awaiting you outside of the capital, we don't recommend devoting time to Managua if you are in the country for only a short amount of time. However if you plan to spend more than 3 months in the Nicaragua we'd recommend spending around one day per quarter in the capital to do some shopping, run errands and get some of the conveniences that you may not get in a smaller town or city. Additionally, if you need to renew visas, you can get same day processing at the Nicaraguan immigration head office in Managua.
Managua Nicaragua destination guide: How long to spend in Managua Nicaragua
Most people that visit Nicaragua don't see more of Managua than the airport. This is totally understandable given the attractions on offer outside of the capital. However if you do take the time to visit Managua, you will find a chaotic but interesting city with scenic spots, modern shopping centres and a great food scene. If you decide to live in Nicaragua we recommend taking a day trip to the capital at least a few times a year to shop, eat and run errands. However if you are in the country for a short amount of time we wouldn't prioritise spending too much time in Managua. We visited Managua a number of times throughout our 18 months living in Nicaragua. We really enjoyed going to the shopping centres, sitting by the water at Puerto Salvador Allende and eating our fill of international cuisine.
Managua Nicaragua destination guide: What to do in Managua Nicaragua
Nicaragua's capital is a chaotic city which has a number of attractions spread throughout. It has a range of great free activities as well as paid activities. If you want to know the best things to do in Managua, see our guide on the Top 5 Things To Do in Managua.
Managua Nicaragua destination guide: Free things to do in Managua Nicaragua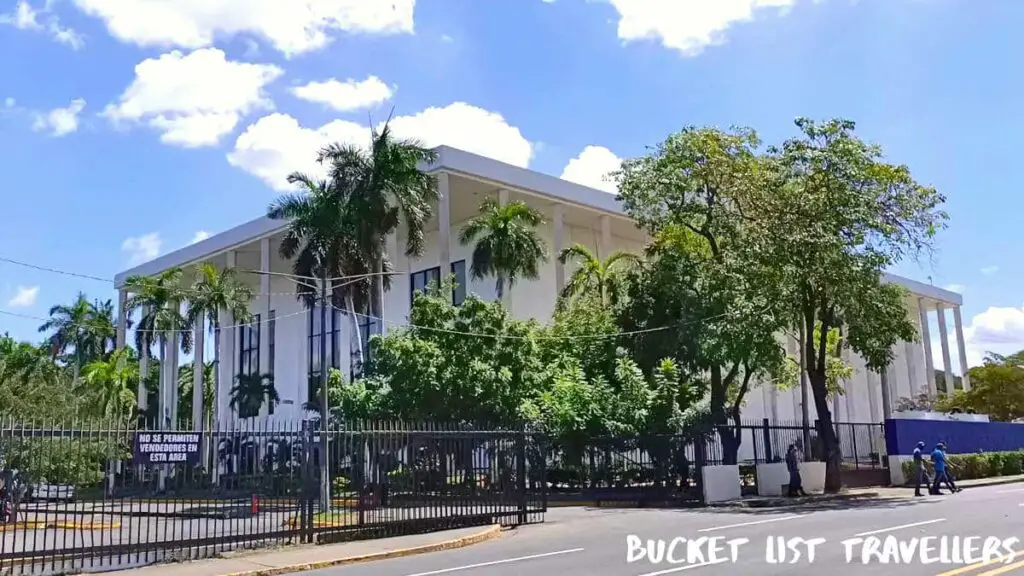 There are enough free activities in Managua Nicaragua to keep you entertained for a day or two:
Puerto Salvador Allende
Antigua Catedral de Managua (Catedral de Santiago Apóstol, St James' Cathedral)
Plaza de la Revolucion
Catedral Metropolitana de Managua (the New Cathedral)
Centro Comercial Galerías
Managua Seawall (Plaza Nicaragua)
Plaza La Fe
Metrocentro
Arboretum Nacional
Parque Japón Nicaragua
Mezquita de Managua
Parque Central
Managua Nicaragua destination guide: Paid activities in Managua Nicaragua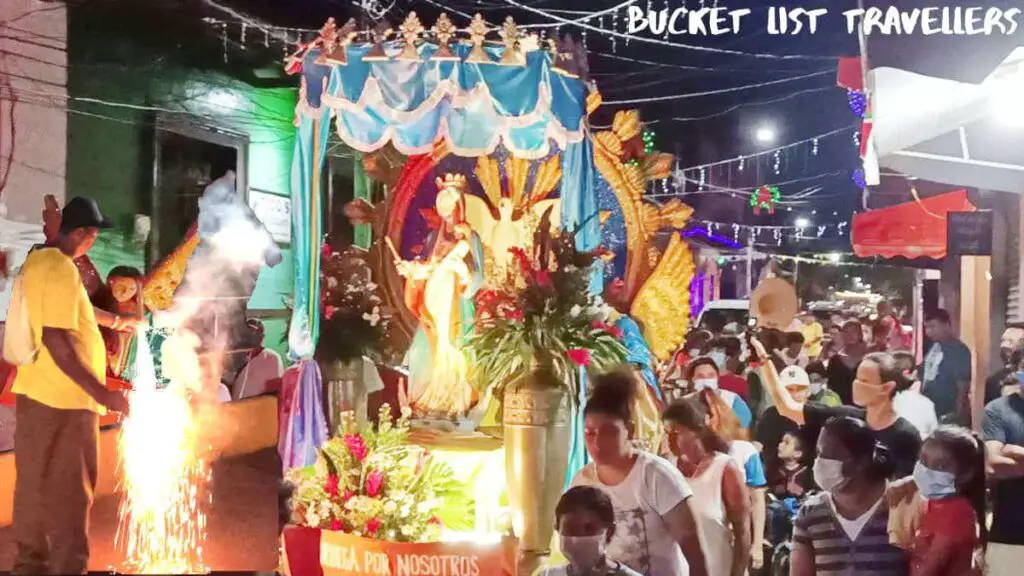 A number of attractions in Managua Nicaragua charge a fee:
Loma de Tiscapa – entry fee $1 USD (as at 2022).
Teatro Nacional Rubén Darío – ticket price depends on the show.
Palacio Nacional – entry fee $5 USD (as at 2023).
Parque Acuáticox – entry fee 30 cordobas (as at 2023).
Estadio Nacional Dennis Martínez – you can buy tickets to a baseball game here.
Events in Managua Nicaragua
Managua Nicaragua hosts a number of events throughout the year, including:
Año Nuevo – New Year's Day 1 January. Typically celebrated with bombas (fireworks) as well as setting alight effigies, which represents the burning of the Old Year. There may also be parades in the streets of Managua. Additionally, New Year's Eve mass is popular.
Semana Santa – Holy Week (Easter), typically in March or April. It's common for families and friends to flock to the beach during Semana Santa.
Joy for Life carnival (Alegria por la Vida) – this festival is usually celebrated between March and April. It is a celebration of Nicaraguan culture and folklore. It includes many activities as well as parades, floats, dancing, music, traditional costumes and food.
Sandinista Revolution Anniversary – 19 July. This celebrates the 1979 Sandinista National Liberation Army defeat of the Somoza dictatorship.
Patron Saint festivities – 1-10 August (feast day August 8). The patron saint of Managua is the Santo Domingo de Guzman. August 1: the patron saint statue is brought down the hill from the Las Sierritas Church in the Santo Domingo neighbourhood in a procession known as the "Bajada del Santo" (walk down of the saint). August 10: the statue returns to the church in the "Subida del Santo" (walking up of the saint) procession. Throughout the patron saint festival there are parades horse shows, as well as plenty of music, dancing and drinking.
Equestrians of Managua – 1-10 August. This horse riding festival (hipica festival) includes horse parades as well as plenty of food, music and dancing.
La Purísima – 29 November-8 December. This festival celebrating the Virgin Mary.
La Gritería – 7 December. This is the biggest day of the La Purísima festival and includes a parade, fireworks and performances.
Weather in Managua Nicaragua
The climate for Managua is classified as tropical, with relatively uniform hot temperatures and also high humidity throughout the year. The hottest month is April with an average temperature range of 24°C to 35°C (74°F to 94°F) and coldest month January with an average temperature between 24°C to 32°C (74°F to 90°F). There are two main seasons in Nicaragua; a wet season that typically commences in May and continues through to the end of October; and the dry season, which lasts from November through to April.
Best time to visit Managua Nicaragua
The dry season is a popular time of year to visit Nicaragua. This is from November to April. However many of the popular activities in Managua Nicaragua such as shopping and dining out are not weather dependent, so you can enjoy a trip to Managua Nicaragua at any time of year. If you want to experience a Nicaraguan festival in Managua, we recommend either the Joy for Life carnival (Alegria por la Vida) which is March and April or the Equestrians of Managua horse riding festival which is in August.
Internet and mobile phones in Nicaragua
The main internet and phone companies in Nicaragua are Tigo and Claro. Tigo has the widest coverage but is slightly more expensive. Both currently operate on 4G. Movistar is another common provider.
The phone messaging app Whatsapp is used extensively in Nicaragua, along with the other popular social media platforms.
High speed optic fibre internet is available in some areas of Nicaragua. The best speeds we've experienced have been around 40 Mbps download and 20 Mbps upload. More common speeds that we have found in city hotels have been 4-5 Mbps download and 1-2 Mbps upload (as at 2021). Free wifi comes standard with most accommodation and you can find free wifi in many restaurants and cafes catered to tourists.
Cell phone SIM cards can be bought in many places throughout Nicaragua, including local corner stores known as pulperias.
For more on internet in Nicaragua, see this post.
How much to budget for Managua Nicaragua?
Is Managua Nicaragua expensive?
We found Managua to be slightly more expensive than the nearby cities of León and Granada. In particular, Managua doesn't have as much budget accommodation as these two other cities. Additionally, due to the sprawling and decentralised nature of the city, transport costs are also generally higher. However, compared to other capital cities, Managua is a very inexpensive place to visit.
Managua Nicaragua destination guide: Daily spend for a couple travelling in Managua Nicaragua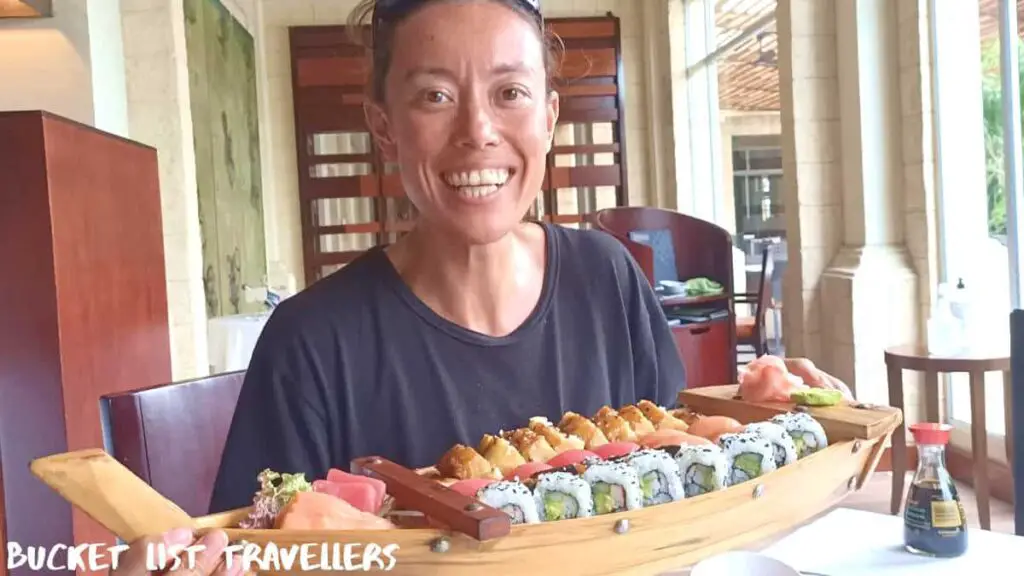 Managua Nicaragua is a great value budget destination, but it also caters to those after a more luxurious experience.
As a rough guide, we recommend the following budgets for a couple:
Low-budget daily spend – US$60 per day for a couple will get you hostel accommodation, meals at local eateries and markets, local transport and free or cheap activities such as visiting the central park, churches and local markets.
Mid-range daily spend – US$100 per day for a couple will get you mid-range accommodation, local transport and a few tours.
Luxury spend – $500 per day for a couple will get you a premium experience in Nicaragua, staying in luxury accommodation, travelling by private transport, doing a range of tours and eating at high end restaurants.
Managua Nicaragua destination guide: Accommodation in Managua Nicaragua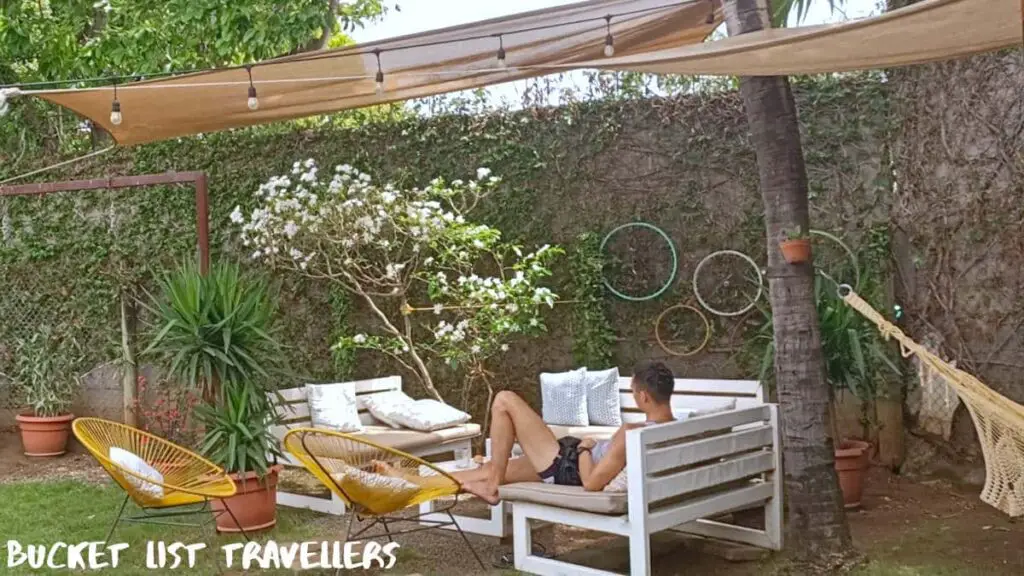 There is a good range of accommodation to suit most budgets in Managua Nicaragua. Airbnb also operates in Nicaragua, and there are a number of Airbnb properties in Managua Nicaragua.
Where to stay in Managua Nicaragua
We recommend the following accommodation in Managua Nicaragua: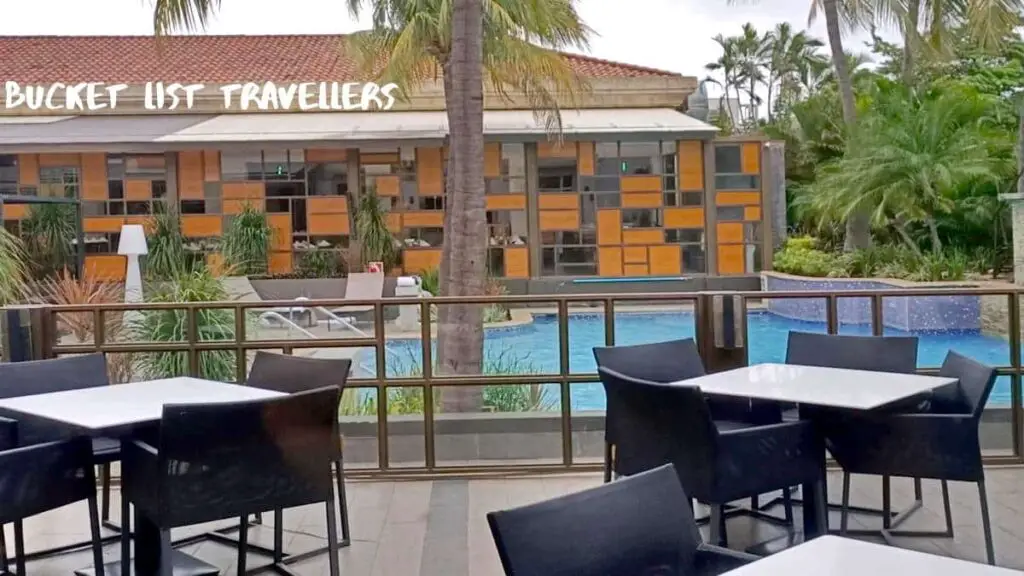 How much is accommodation in Managua Nicaragua?
For short-term accommodation, a general price per night is as follows:
Budget accommodation – US$19-$30 for a bed in a dorm.
Mid-range accommodation – US$35-130 for a private room.
Luxury accommodation – US$130-230 a night for a luxury hotel.
Rental property – US$35-275 a night for a fully furnished 3-4 bedroom home.
Managua Nicaragua destination guide: Food in Managua Nicaragua
How much does food cost in Managua Nicaragua?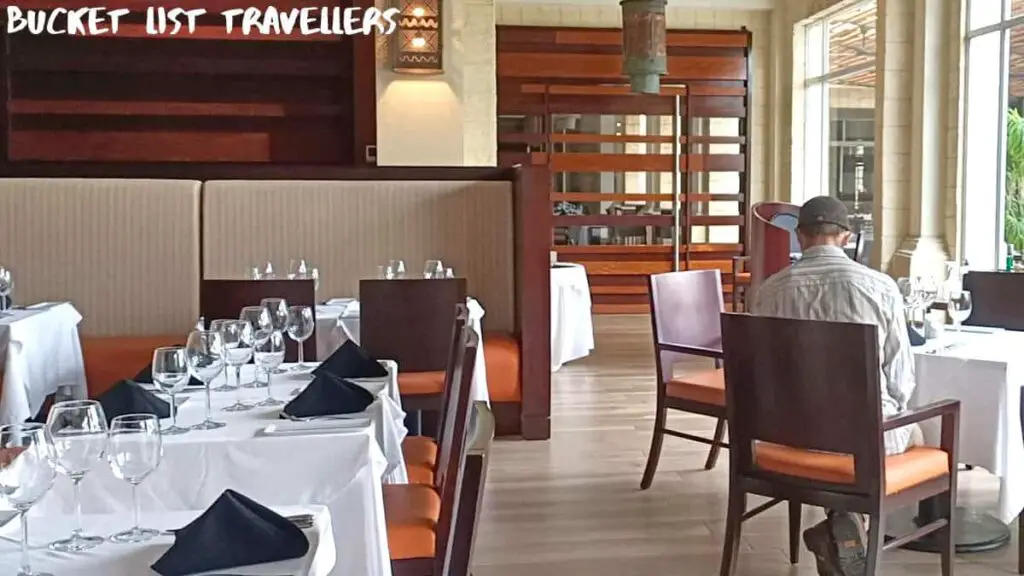 Our price guide for your food budget in Managua Nicaragua is as follows:
Restaurant meal – US$10-15 for a main dish (350-500 cordobas)
Local eatery – US$3-5 for a main dish (100-200 cordobas)
Street food – US$1 (30-40 cordobas)
Beer (try the local Nicaragua beer Toña) – US$1 (30-40 cordobas)
Local fruit drink (refresco) – US$0.30-0.50 (10-15 cordobas)
Must eat food in Managua Nicaragua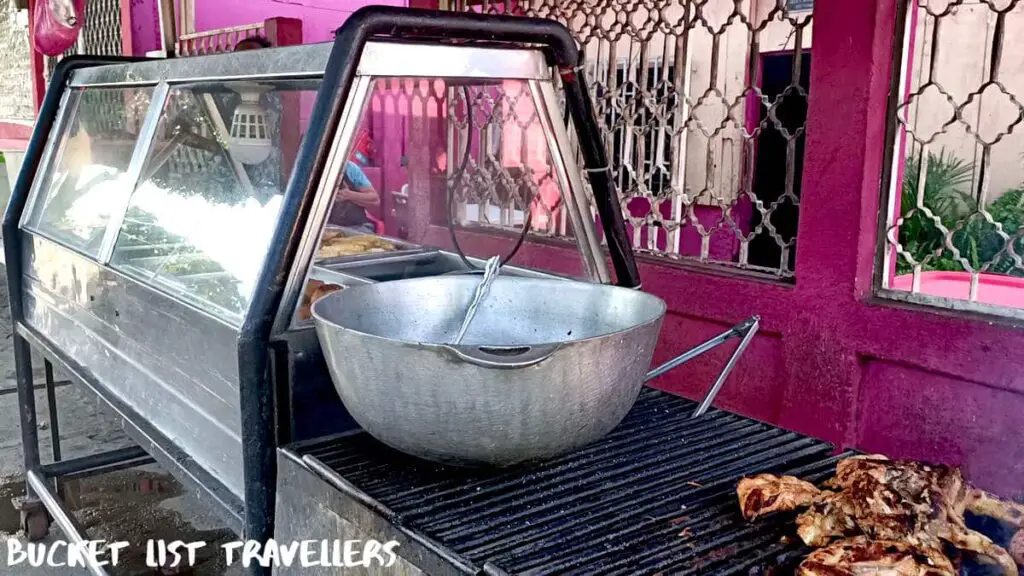 Local street food (typical assortment) from local fritangas
Gallo pinto
Desayuno Nica (Nicaraguan breakfast)
Pescado a la tipitapa
Baho (also called vaho)
Nacatamales
Tacos
Enchiladas
Indio Viejo (Nicaraguan Beef Stew)
Sopa de cola
Rosquillas
Tres leches cake
Cheap Eats in Managua Nicaragua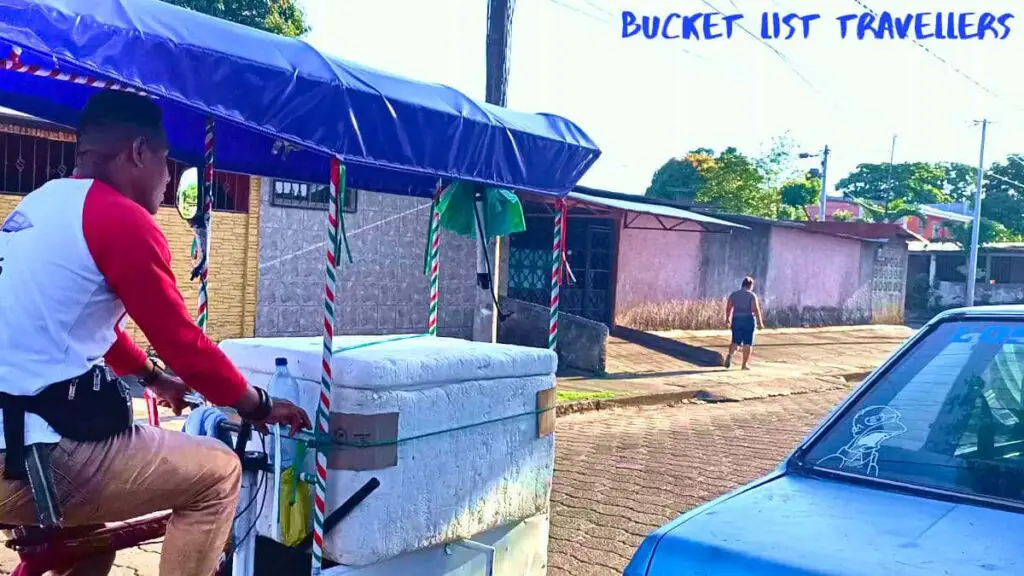 You can't go past street food for a cheap and delicious treat. Our favourite street food includes enchiladas, nacatamales, hamburgesas and raspados. You can find street food all around Managua, particularly around the markets as well as at transport hubs. A lot of street vendors sell food from in front of their homes or else go door to door down the street, so you're never far from great food!
Bakeries are a great place to get cheap and delicious food.
Managua Nicaragua culture
Weekends in Managua Nicaragua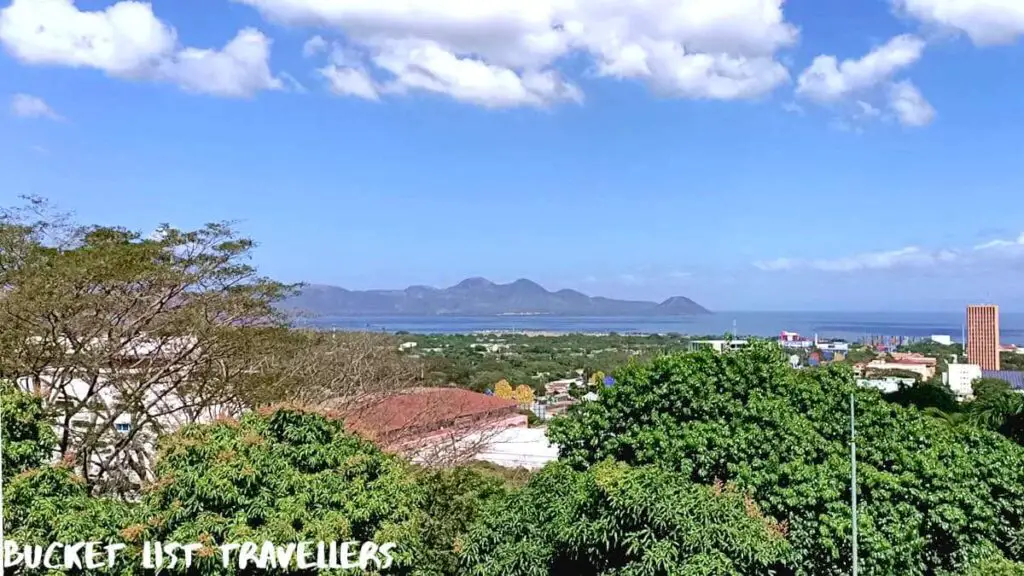 Weekends in Managua are on Saturdays and Sundays. Sundays are typically quieter in the city and public transport may be less frequent on Sundays as well.
Managua Nicaragua public holidays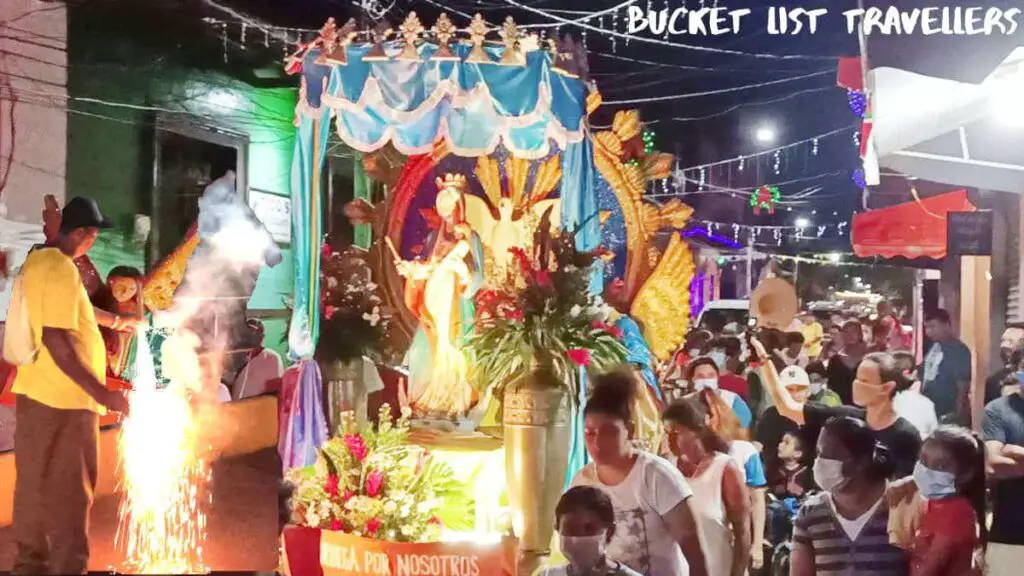 Public holidays for Nicaragua are as follows:
New Year's Day – 1 January
Maundy Thursday (Holy Thursday) – the Thursday before Easter Sunday, typically in March or April
Good Friday – the Friday before Easter Sunday, typically in March or April
Easter Sunday – typically in March or April
Labor Day – 1 May (holiday on the Monday if it falls on a weekend)
Mother's Day – 30 May
Sandinista Revolution Anniversary – 19 July
Battle of San Jacinto – 14 September
Independence Day of Nicaragua – 15 September
Indigenous Resistance Day – 12 October
All Souls Day (Day of the Dead) – 2 November
Feast of the Immaculate Conception (Immaculate Conception Day) – 8 December
Christmas Eve – 24 December
Christmas Day (Navidad) – 25 December (holiday on the Monday if it falls on a weekend)
New Year's Eve – 31 December
National symbols of Nicaragua
Nicaragua flag – two blue bands with a white band containing the Nicaragua coat of arms in the middle. The blue bands represent the Pacific Ocean as well as the Caribbean Sea and the white band symbolises peace.
Nicaragua coat of arms – this consists of a triangle, the Cap of Liberty, a rainbow, the rays of sun as well as 5 volcanoes. The Cap of Liberty represents national freedom, the 5 volcanoes represent the original 5 member states of the United Provinces of Central America and the rainbow and sun represent the bright future of Nicaragua.
National flower – sacuanjoche (the flower of the frangipani tree).
National bird – guardabarranco.
National heroes – poet Rubén Dario, revolutionary leader Augusto C. Sandino.
Nicaragua pastimes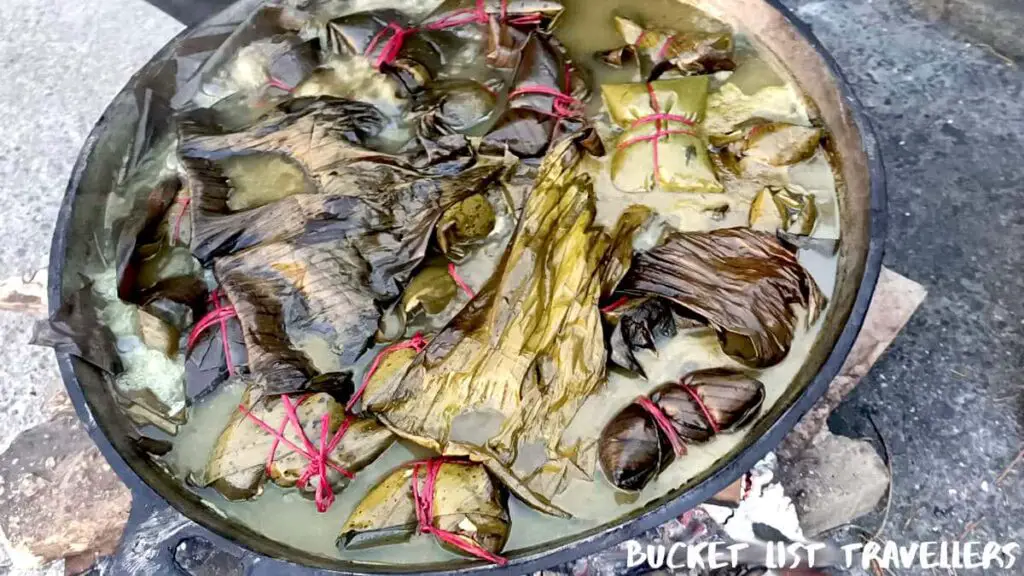 National dish – gallo pinto. This is a dish of fried rice mixed with red beans and also spices. It can be eaten at any time of day. It is typically served at breakfast along with eggs, tortillas, fried plantains as well as a type of cheese called queso fresco.
Popular drinks – grama, Toña beer, Flor de Caña Rum.
National sport – baseball.
Religion – 56% Catholic, 28% Protestant, 1% Jehovah's Witness (as at 2010).
Famous people from Managua Nicaragua
Famous people born in Managua Nicaragua – Human rights advocate and Mick Jagger's former wife Bianca Jagger, Vice President of Nicaragua Rosario Murillo, actor Pedro Miguel Arce, novelist and poet Gioconda Belli, former President of Nicaragua José Santos Zelaya, former Nicaraguan President Arnoldo Alemán, model Xiomara Blandino, dancer Lillian Molieri, singer Katia Cardenal, poet María Teresa Sánchez.
Sports stars from Managua Nicaragua – boxer Alexis Argüello, boxer Román González, baseball player Jonathan Loáisiga, boxer Felix Alvarado, boxer Rosendo Álvarez, boxer Cristofer Rosales, boxer René Alvarado.
Is Managua Nicaragua Safe?
Nicaragua travel guide: Safety in Managua Nicaragua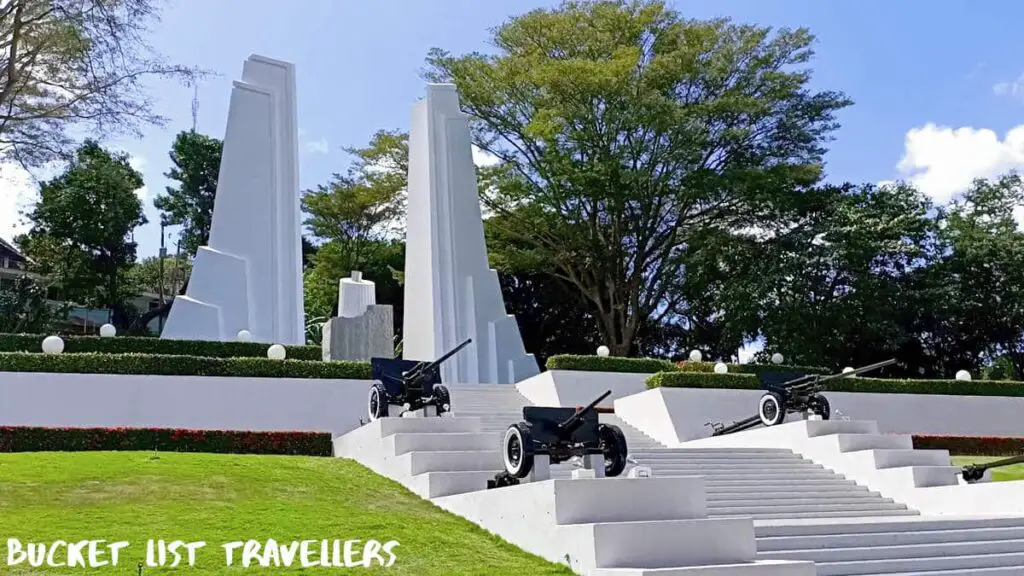 Managua has a reputation for not being a particularly safe place to visit. In particular the Mercado Oriental and surrounding area is known as a high-crime area. We personally avoided the Mercado Oriental area due to safety concerns. We have visited Managua multiple times and have found the city reasonably safe. However it is a major city, so crime tends to be higher here than other parts of the country. Notably, petty crime and crimes of opportunity can be an issue. As such, we recommend taking care to keep your valuables secure and out of sight. We also noticed that people in Managua were more wary of seeing foreigners taking photos or videos, so don't be surprised if you get asked to put your camera away. As with any major city, there are some areas that are safer than others. For more information on safety in Nicaragua, watch this video.
Nicaragua experienced a period of civil unrest in 2018. This has now passed, and as a tourist you should not be affected. However you may still see armed police manning a pedestrian bridge across the main road Carratera a Masaya.
General safety considerations in Nicaragua
Other general safety considerations for travel in Nicaragua:
Drinking water – Managua's tap water is safe to drink. We drank tap water without issue. However many tourists prefer to drink bottled water. Additionally, most accommodation provides purified water for guests to use.
Mosquitoes – The mosquitoes in Managua don't generally carry tropical diseases. Nicaragua has mosquito control programs and many buildings are sprayed regularly for mosquito control.
Scorpions – Nicaragua has scorpions. We recommend checking your shoes before putting them on and keeping bags zipped closed when not attended to ensure you don't get any nasty surprises.
Road safety – In Nicaragua we often travelled standing up in the back of vans or in vehicles without helmets or seat belts. This does come with an element of risk.
Water safety – take care when swimming as currents and waves may be stronger than you expect. Also, the Nicaragua bull shark is in Lake Nicaragua.
Earthquakes – Managua is located on fault lines and is predicted to experience a severe earthquake every 50 years. The 1972 earthquake decimated the city. In an earthquake, stay away from glass, windows, outside doors and walls and anything that could fall. If inside, get under a table, desk or solid furniture and hang onto it. Cover your head and torso to protect from falling objects. If outside, stay outside and go to an open area away from buildings.
Volcanic eruptions – the closest volcano to Managua is Masaya Volcano. Located around 20km south of Managua, this is one of the most active volcanoes in the world.
Hurricanes – Managua is not typically significantly affected by hurricanes. You may get some heavy rain during hurricane season and blackouts may occur.
Sun safety – The UV Index is very high in Nicaragua. Therefore sun protection such as sunscreen, a hat and sunglasses is very important.
Dogs – stray dogs are common. For more on dog safety, watch this video.
As with any destination, take all of your normal safety precautions.
Nicaragua Blogs
You can find our Nicaragua blogs below.
Affiliate Links
This website contains affiliate links, which means we may earn a commission on any purchases at no additional cost to you. Your support helps us continue our travels and make more travel blogs and travel videos, thank you!