Why you should go to El Salvador
El Salvador is one of Central America's best kept secrets! It is a country that often gets overlooked. However skipping this country would be a big mistake. We were pleasantly surprised with how much we enjoyed being in the country. Moreover, it is the perfect off-the-beaten path destination. The people that we met were incredibly warm and welcoming. We also got addicted to the national dish pupusas while we were there. In this El Salvador travel guide, we share everything you need to know to plan your next El Salvador trip.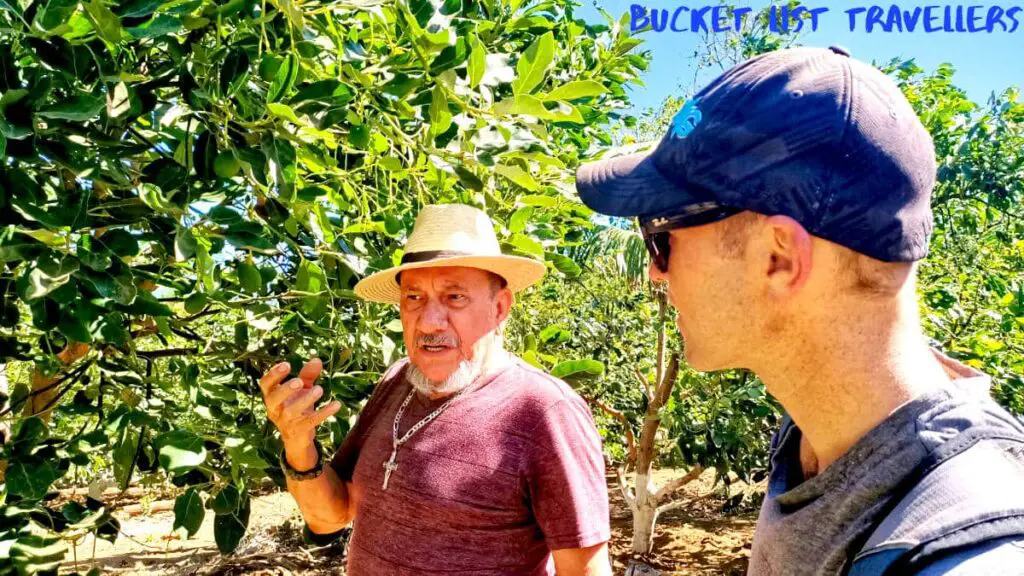 Know before you go
Basic info about El Salvador
Language – Spanish. Many tour operators as well as hotel staff speak English in popular tourist areas. However if you prefer travelling and shopping local you will need a basic understanding of Spanish.
Currency – the United States dollars (USD) has been the official currency of El Salvador since 2001. Additionally, on 7 September 2021 Bitcoin was adopted as legal tender. This made El Salvador the first country in the world to recognise cryptocurrency as legal tender.
Population – 6.486 million (2020)
Area – 21,041 km2
Capital – San Salvador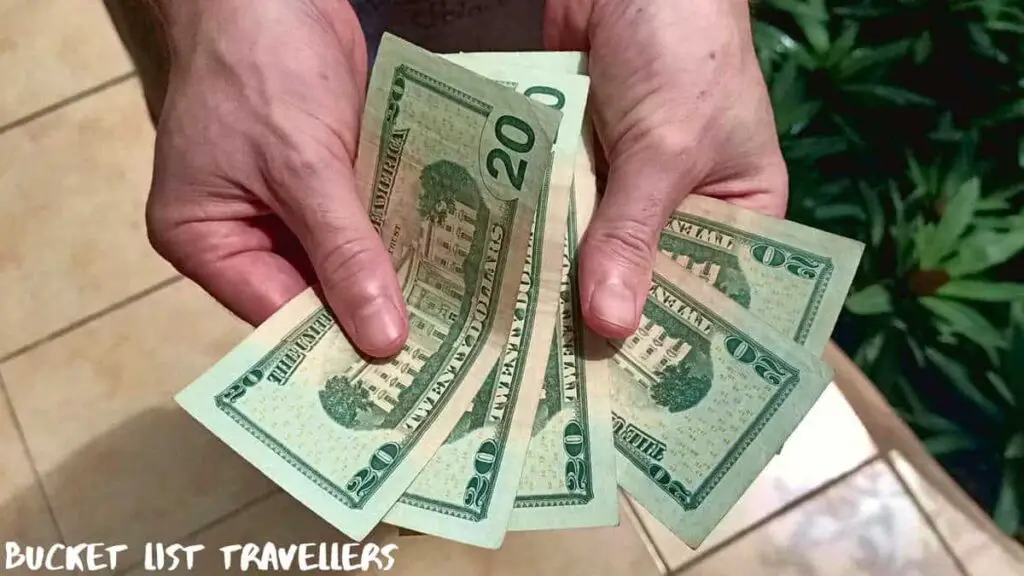 Utilities in El Salvador
Electricity – El Salvador uses Types A and B power plugs. This is the same plug type as the United States. The country operates on an 115v supply voltage at 60Hz. Power outages are not uncommon. However they generally don't last for too long.
Water – the tap water in El Salvador is not safe to drink. Your accommodation will generally provide bottles of purified water for guests to use.
Toilets – sit-down flushing toilets are the most common type of toilet in El Salvador. Don't flush your toilet paper. Instead use the bins provided. Public toilets are not common. However you can usually find toilets in cafes and restaurants.
Telephone country code: +503
Where is El Salvador?
El Salvador is a country in Central America. It is shares land borders with Guatemala and Honduras. To the south, it has a coastline that runs along the Pacific Ocean.
How to get to El Salvador
Travelling to El Salvador overland
Land border crossings for El Salvador
El Salvador shares land borders with Guatemala as well as Honduras.
There are 4 main land border crossings between Guatemala and El Salvador:
La Hachadura, Ahuachapán El Salvador – Ciudad Pedro de Alvarado, Jutiapa Guatemala
Las Chinamas, Ahuachapán El Salvador – Valle Nuevo Guatemala, Jutiapa Guatemala
Anguiatú, between El Molino Guatemala and El Panal, El Salvador
San Cristόbal, between El Progreso, Guatemala and Santa Ana, El Salvador
There are also 2 main land border crossings between El Salvador and Honduras:
El Amatillo – between Pasaquina, El Salvador and Las Lajas Honduras
El Poy – between San Ignacio, El Salvador and Ocotepeque, Honduras (we have done this border crossing)
Land border transport in El Salvador
The main transport options for travelling overland to El Salvador are:
Private vehicle
Private transport operator
Shuttle bus
Local buses – by far the cheapest option is to take public transport. We were impressed at how cheap and easy it is to get around El Salvador by local transport.
El Salvador travel guide: arriving by air
There is one international airport in El Salvador.
El Salvador International Airport Saint Óscar Arnulfo Romero y Galdámez (Airport code SAL). This airport was previously known as Comalapa International Airport. It is also referred to simply as El Salvador International Airport. This airport is the 3rd busiest airport in Central America. It is located in San Salvador.
The national airline of El Salvador is Avianca. Additionally, the US carrier with the most flights to El Salvador is American Airlines.
El Salvador travel guide: arriving by sea
There are two main sea ports in El Salvador:
Acajutla, which is close to the border with Guatemala. This port has modern cruise facilities.
La Unión, which is in the Gulf of Fonseca. Cruise ships stop as this port as well as boats that go to Honduras and Nicaragua. This port primarily services freight boats. However there is also a tour company that operates regular services to Nicaragua from this port. Ruta del Golfo is the first tour company to operate a regular passenger service in the Gulf of Fonseca. This company has 2 services a week. Their boats run on Tuesdays and Saturdays, with boats travelling between Nicaragua and El Salvador. The travel time is between 2 hours and 9.5 hours depending on your destination. The cost is between US$65 and US$135 per person one way. You can also book private hires through this company to take you to any destination within Central America.
El Salvador travel guide: How to get around El Salvador
Local buses in El Salvador
The cheapest way to get around El Salvador is on local buses. The local buses are often referred to by tourists as chicken buses. The bus network is very affordable with a one way ticket generally costing around US$1. Moreover, taking a bus in El Salvador is an experience in itself. It is also an excellent way to become immersed in the local culture. The buses are old US school buses that are painted in vibrant colours. To get more details on buses in El Salvador, we'd recommend visiting this website.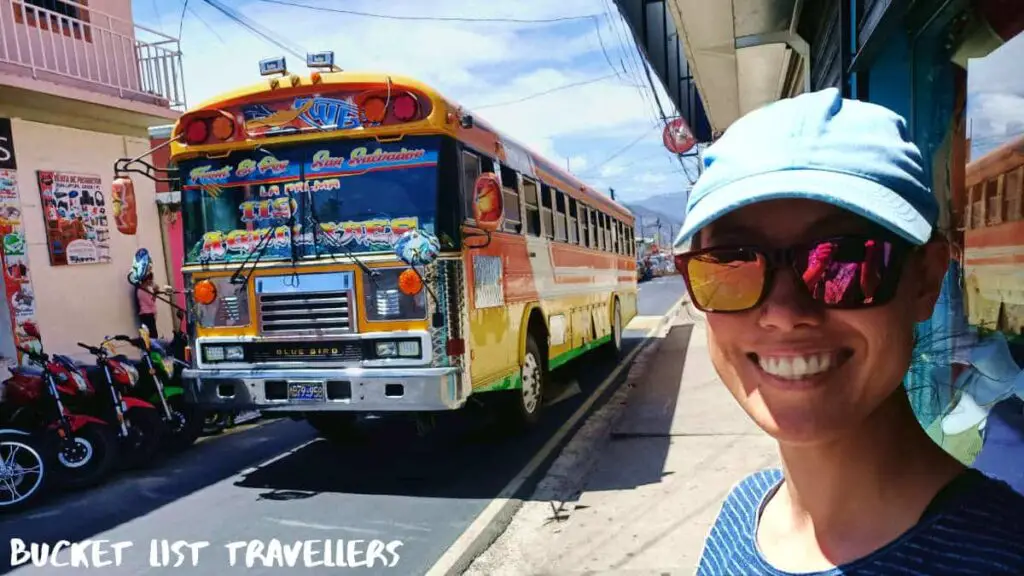 Collectivos in El Salvador
A popular mode of transport used by the locals are collectivos. These are slightly more expensive than local buses but are generally reasonably frequent. They are definitely an efficient way to travel around. Collectivos often take the form of open air trucks with a platform for passengers to ride on. Undoubtedly, it is a very Central American experience. While the safety standards might not be the same as your used to, it is certainly an exhilarating ride!
Shuttle buses (Minivans)
There are shuttle buses from El Tunco to Guatemala and Nicaragua. You can often book these minivans through your accommodation or alternatively through tour operators. Shuttles to other destinations in El Salvador are limited. However if you contact a local hostel they should be able to let you know if there are any shuttles available.
Vehicle hire in El Salvador
Bicycles, Motorcycles, ATVs, Cars and SUVs can all be hired in El Salvador. Expect to pay around:
US$25 a day for a motorcycle
US$15-100 a day for a car
US$80-150 a day for an SUV
Taxis and Tuk-Tuks in El Salvador
Both taxis and tuk-tuks are common in El Salvador.
Ride-share services in El Salvador
Uber and Carpool are rideshare services that operate in El Salvador.
Domestic flights around El Salvador
There are no domestic flights in El Salvador.
El Salvador travel guide to travelling during Covid
Covid entry requirements for El Salvador
Effective 17 November 2021, there are no Covid vaccine or testing requirements to enter El Salvador.
El Salvador Covid mandates
Face masks are recommended in public settings.All businesses are required to ensure compliance with social distancing measures. Additionally, there may be limits on capacity and opening times. These limits vary depending on the industry.
Where to get a Covid test in El Salvador
A number of private laboratories offer Covid testing in El Salvador:
How Long to Spend in El Salvador
The most common visa is a CA4-90 day visa. This grants you access to El Salvador, Guatemala, Honduras and Nicaragua for a maximum of 90 days total. However 2 weeks in El Salvador is a good amount of time to see the major destinations. If you have more time, you could easily stay here for much longer. Especially if you're an avid surfer. We spent 2 weeks in El Salvador and would have happily stayed for longer.
Best Areas to Visit in El Salvador
The most popular areas to visit in El Salvador are:
Beaches – La Libertad, Playa El Tunco, Playa El Sunzal, Playa Costa del Sol
Mountain areas / outdoor activities – Ruta de las Flores, Ruta Fresca
Cities – Santa Ana, San Salvador
Art areas – Suchitoto, Concepción de Ataco
Volcanoes – Santa Ana Volcano
Weather in El Salvador
El Salvador is a tropical country with a dry and wet season. The dry season is between November and April. This is the best time to visit. During the wet season the coastal and central regions of the country often experience afternoon rain. However it is usually pleasant and sunny for the rest of the day.
The mountain regions in El Salvador such as along the Ruta de las Flores and Ruta Fresca have milder climates.
Internet and mobile phones in El Salvador
The main internet and phone companies in El Salvador are Tigo, Claro, Movistar and Digicel. We'd recommend using either Tigo or Claro as they have the widest coverage.
Finding fast internet in El Salvador can be challenging. As at December 2021, El Salvador ranked 81st in the world for mobile internet speed and 112th for fixed broadband speed. On the plus side, free wifi comes standard with most accommodation. You can also find free wifi in many restaurants and cafes catered to tourists.
Cell phone SIM cards can be bought in many places throughout El Salvador. This includes service stations and corner stores.
How much to budget for El Salvador?
El Salvador travel guide: Daily spend for a couple travelling in El Salvador
With a low cost of living, El Salvador is a great value budget destination. It also caters to those after a more luxurious experience.
As a rough guide, we recommend the following budgets for a couple:
Low-budget daily spend – US$30 per day for a couple. This will get you hostel accommodation, meals at local eateries and markets, local transport and free or cheap activities such as going to the beach and visiting local food fairs.
Mid-range daily spend – US$80 per day for a couple. This will get you mid-range accommodation, local transport and a few tours during your trip.
Luxury spend – $400 per day for a couple. This will get you a premium experience in El Salvador, staying at luxury resorts, travelling by private transport, doing a range of tours and eating at high end restaurants.
El Salvador travel guide: Accommodation in El Salvador
There are a good range of accommodation options in El Salvador to suit all budgets. Airbnb also operates in El Salvador. Long-term fully furnished rentals are also available in beach side areas as well as cities such as San Salvador and Santa Ana.
For short-term accommodation, a general price per night is as follows:
Budget accommodation – US$5-15 for dorm accommodation
Mid-range accommodation – US$15-50 for a private room. This often includes breakfast
Luxury accommodation – US$60-250 a night for a luxury hotel
Rental property – US$90-400 a night for a fully furnished 3-5 bedroom home
El Salvador travel guide: Food in El Salvador
The main tourist areas in El Salvador are full of great cafes and restaurants. El Salvador also has plenty of street food to tempt your taste buds.Our price guide for your food budget in El Salvador is as follows:
Restaurant meal – US$5-10 for a main dish
Local eatery – US$2.5-5 for a main dish
Street food – US$0.5-1.50
Beer – US$1.50-3
Coffee – US$1.00-2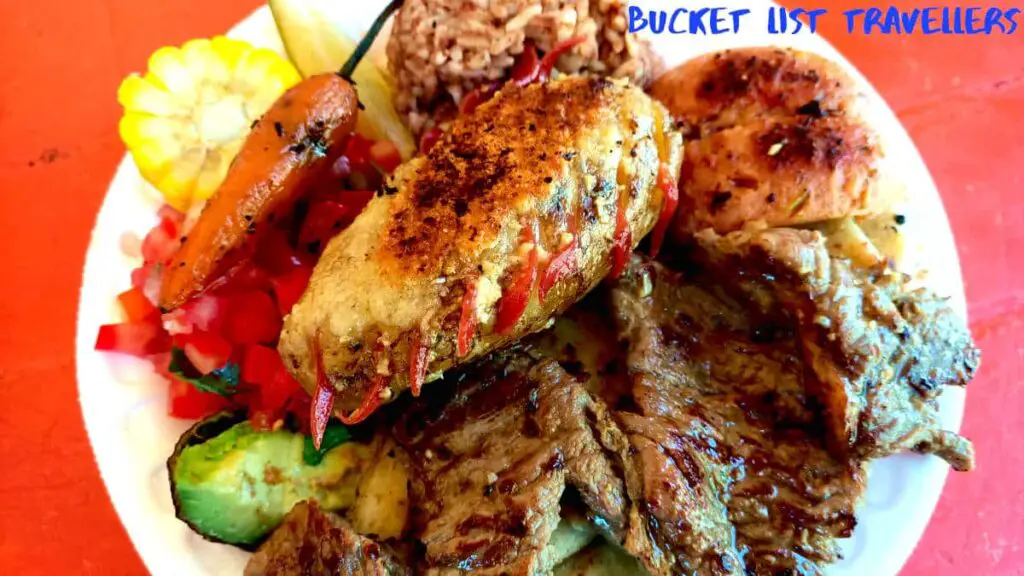 You absolutely must try the national dish pupusas when in El Salvador! These tasty little parcels are widely available throughout the country both from street vendors as well as in local eateries. They come with a variety of fillings and are cheap, tasty and very addictive!
El Salvador culture
National symbols of El Salvador
El Salvador flag – two cobalt blue horizontal stripes with a white bands containing the El Salvador coat of arms in the middle. The blue stripes represent the sky as well as the two oceans surrounding Central America (the Pacific Ocean and the Caribbean Sea). The white band symbolises peace and solidarity with the world.
El Salvador coat of arms – this consists of a number of symbols and words with special meaning in El Salvador. Firstly, the date 15 de Septiembre de 1821 is the date of El Salvador's independence. There are 5 volcanoes and 5 flags, which both represent the original 5 member states of the United Provinces of Central America. Additionally there are 2 oceans, which represent the 2 oceans surrounding Central America. Another symbol is 2 coffee tree branches with 14 clusters, which represents the 14 departments of El Salvador. Other symbols in the coat of arms include an equilateral triangle, a rainbow, rays of light, a star and a bright read Phygian cap (also known as a liberty cap).
National flower – izote (yucca flower blossom)
National bird – turquoise-browed Motmot
El Salvador pastimes
National dish – Pupusas
Popular drinks – Pilsenser and Suprema beer, Horchata de Morro, Tic Tack, Salvadoran coffee
National sport – football
Religion – 41% Catholic, 37% Protestant (as at 2020)
Famous Salvadorans
National heroes – Father José Matías Delgado, the first person to raise the call for El Salvador's independence from Spain.
National sports stars – footballer Jorge "El Magico" Gonzalez, footballer Raúl Díaz Arce, Boxer Carlos Hernández.
Is El Salvador Safe?
El Salvador travel guide: Safety in El Salvador
It is no secret that El Salvador does not have the best reputation in terms of safety. In particular, there is a history of gang violence in San Salvador. However the country has been making big improvements in safety in recent years. Moreover tourists are not generally targeted. In our two weeks of travelling around El Salvador we felt perfectly safe. You will see police officers and security guards carrying big riffles. However this is typical in many Central American countries and is not a cause for concern.
General safety considerations in El Salvador
Other general safety considerations for travel in El Salvador:
Drinking water – The tap water in El Salvador is not safe to drink. Most hotels will provide bottled water for guests to use
Mosquitoes – There are mosquitoes in most areas of El Salvador, apart from the high altitude areas including the Ruta de las Flores and Ruta Fresca. Malaria may be a risk in some rural areas of El Salvador, particularly near the border with Guatemala. For the most up to date information we recommend checking the CDC or NHS websites
Road safety – In El Salvador we often travelled standing up in the back of vans or in vehicles without helmets or seat belts. Be aware that this does come with an element of risk
Water safety – If you visit any of the coastal areas or lakes, take care when swimming. Currents and waves may be stronger than you expect
Sun safety – The UV Index is very high in Central America. Sun protection such as sunscreen, a hat and sunglasses is very important to ensure you don't get burnt
Altitude sickness – If you are planning to do a volcano hike on Acatenango or other high altitude area, make sure that you spend at least 48 hours in Antigua first to acclimatise to the altitude
Dogs – In many countries in Central America, stray dogs are common. For more on dog safety while travelling, check out this video
El Salvador Travel Blogs
You can find our El Salvador travel blogs below.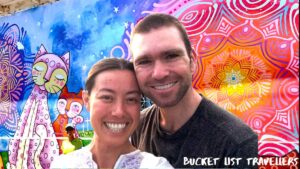 You must visit Ruta De Las Flores! In this El Salvador travel guide we share what this beautiful area has ...

Affiliate Links
This website contains affiliate links. This means we may earn a commission on any purchases at no additional cost to you. Your support helps us continue our travels and make more travel blogs as well as travel videos, thank you!
Subscribe to Bucket List Travellers on YouTube