Why you should go to Croatia
The secret is out – Croatia is one of the best tourist destinations in Europe! The country has seen a boom in tourism in recent years, and it's not hard to understand why. Croatia has an abundance of gorgeous islands, charming old towns and delicious food. Additionally it has become a popular destination for digital nomads, with stays of up to 12 months available on the digital nomad visa. It's also a pilgrimage destination for fans of the hit HBO drama series Game of Thrones who flock to the country to see the amazing filming locations from the show. In this Croatia travel guide, we share everything you need to know to plan your next Croatia trip.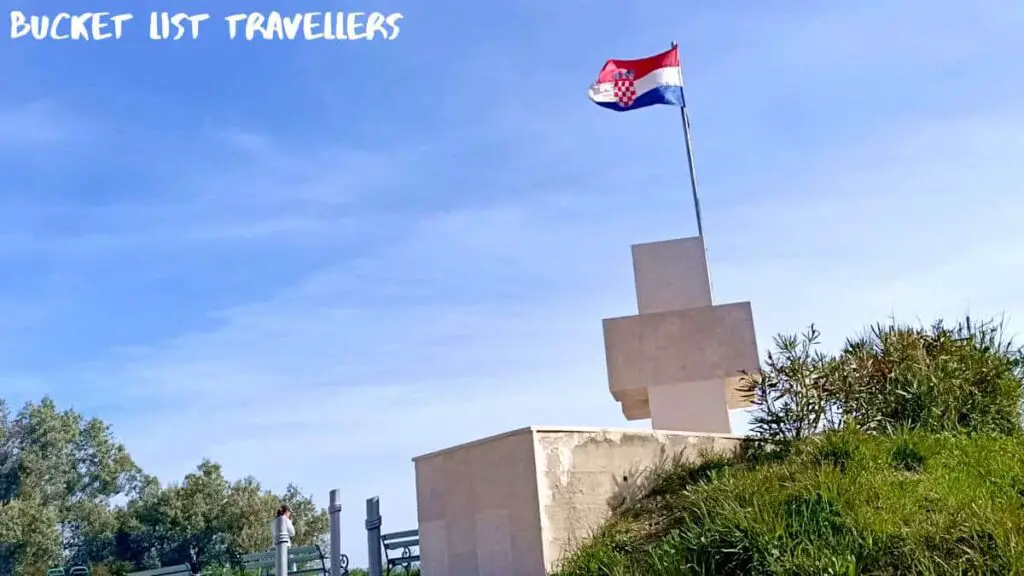 Croatia travel guide: Know before you go
Croatia travel guide: Basic info about Croatia
Language – Standard Croatian. English is widely spoken throughout the country, but not everyone you meet will be able to speak English.
Currency – euro (EUR). This has been the official currency of Croatia since 1 January 2023. Prior to 2023, the currency of Croatia was the Croatian Kuna (HKR). Currency exchanges can be found in most cities and ATMs are also available widely throughout the country.
Population – 4.05 million (2020)
Area – 56,594 km2 (21,851 sq mi)
Capital – Zagreb
Emergency number – 112
Police number – 192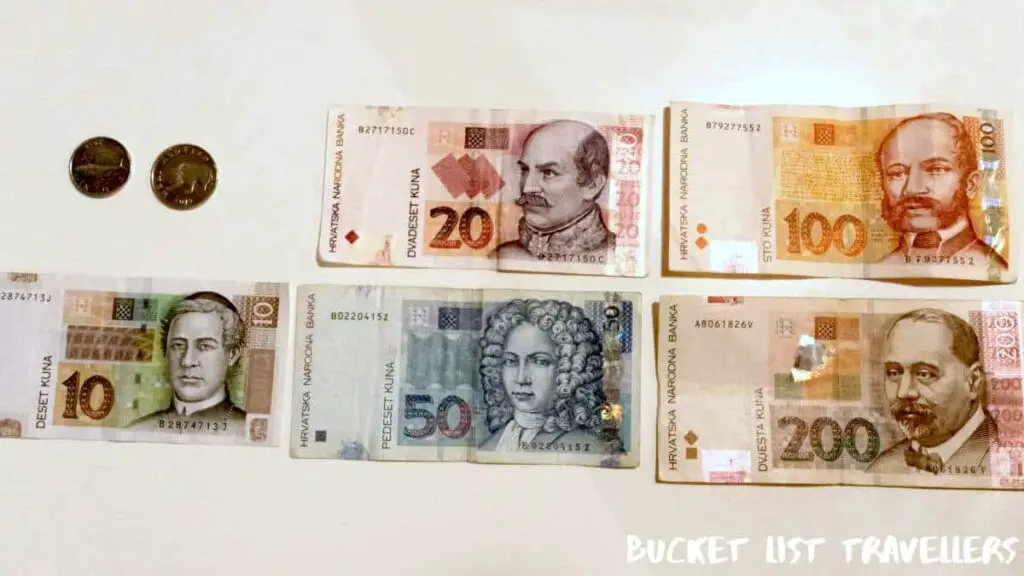 Utilities in Croatia
Electricity – Croatia uses Types C and F power plugs. The country operates on a 230v supply voltage at 50Hz. Power outages are not common in Croatia and typically do not last for long.
Water – the tap water in Croatia is safe to drink almost everywhere in the country.
Toilets – sit-down flushing toilets are the most common type of toilet in Croatia. You can flush your toilet paper directly into the toilet. Public toilets are common in the larger cities in Croatia. Public toilets along the coast often have a charge for use. This can range anywhere from 25 cents to 1 euro.
Telephone country code: +385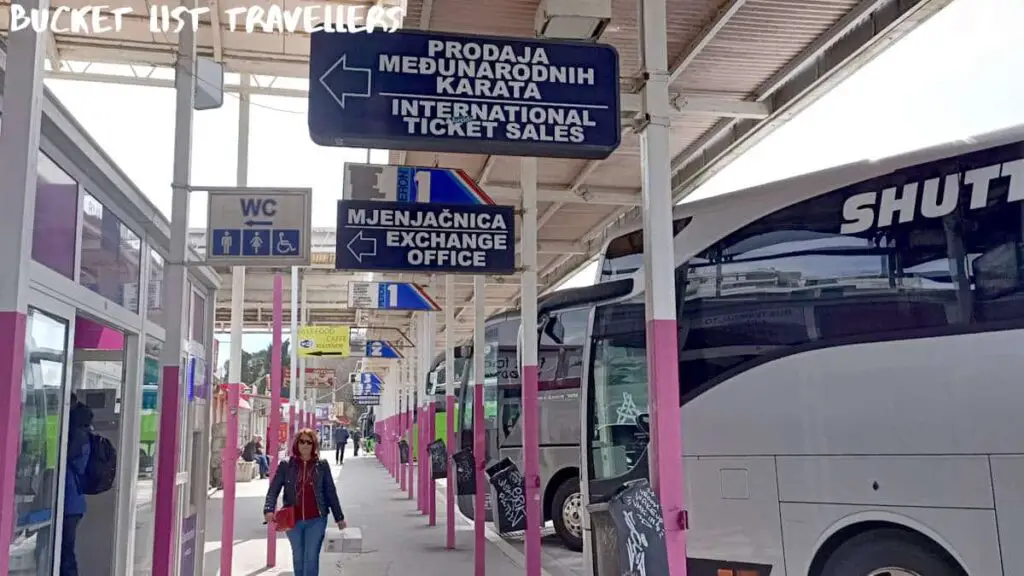 Where is Croatia?
Croatia is a country at the crossroads of Central and Southeast Europe. It is shares land borders with 5 countries – Slovenia, Hungary, Serbia, Bosnia and Herzegovina and Montenegro. Furthermore Croatia has a maritime border with Italy. It has a coastline along the Adriatic Sea.
How to get to Croatia
Croatia travel guide: arriving overland
Land border crossings for Croatia
Croatia has land borders with 5 countries:
Slovenia (we have done this border crossing)
Hungary
Serbia
Bosnia and Herzegovina
Montenegro (we have done this border crossing)
Croatia land border transport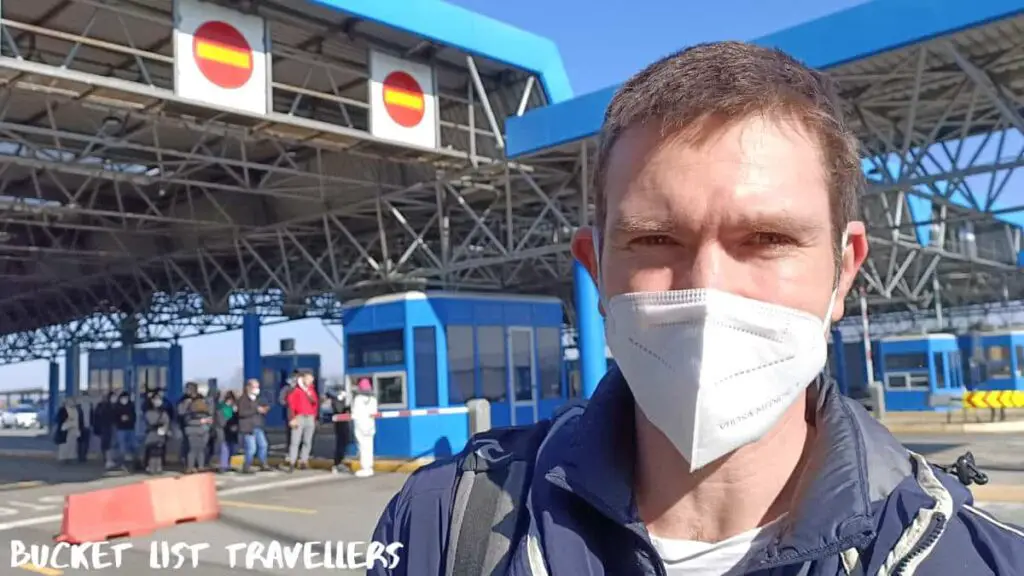 The main transport options for travelling overland to Croatia are:
Private vehicle
Private transport operator
Train
Shuttle
Intercity bus
Local bus
Croatia travel guide: arriving by air
There are 9 international airports in Croatia:
Split Airport (Airport code SPU). This airport is also known as Resnik Airport. It is one of the busiest airports in Croatia and is a popular destination during the European summer holiday season.
Zagreb Airport (Airport code ZAG). This airport is also known as Zagreb Franjo Tuđman Airport. It services the capital of Croatia.
Dubrovnik Airport (Airport code DBV). This airport is also known as Čilipi Airport. It is the 3rd busiest airport in Croatia.
Zadar Airport (Airport code ZAD)
Pula Airport (Airport code PUY)
Rijeka Airport (Airport code RJK)
Osijek Airport (Airport code OSI)
Brač Airport (Airport code BWK)
Lošinj Airport (Airport code LSZ)
The national airline of Croatia is Croatia Airlines.
Croatia travel guide: arriving by sea
There are 6 main seaports in Croatia. These are the ports of:
Our experience of entry to Croatia
We caught a FlixBus from Ljubljana Slovenia to Zagreb Croatia. Because we bought the tickets online, we had digital tickets on our phone. The bus driver checked our tickets and passports before we got on the bus. Seats were unallocated, so we chose our seats when we got on board.
Our bus was nearly at capacity. There was secure underbus storage for luggage if required. At the time of our trip there were signs asking passengers to wear masks. However only about half of the passengers wore masks and the driver didn't wear a mask.
At the border everyone had to get out of the bus pass the checkpoint to exit Slovenia. The process was quite quick and the bus picked us up to take us to the Croatia checkpoint. We again had to exit the bus in order to pass border control into Croatia. As we are not European Union citizens we had to show our passports and get an entry stamp. At the time of our entry we also had to show our digital passenger locator form. However this is no longer a requirement.
Croatia travel guide: How to get around Croatia
Local buses in Croatia
Most cities and towns in Croatia have a local bus. The buses in Croatia are a quick and cheap way to get around town. Buses are generally modern, clean and in good condition.
Trams in Croatia
In addition to buses, some of the larger cities in Croatia have a tram network. This is another efficient way to move around town.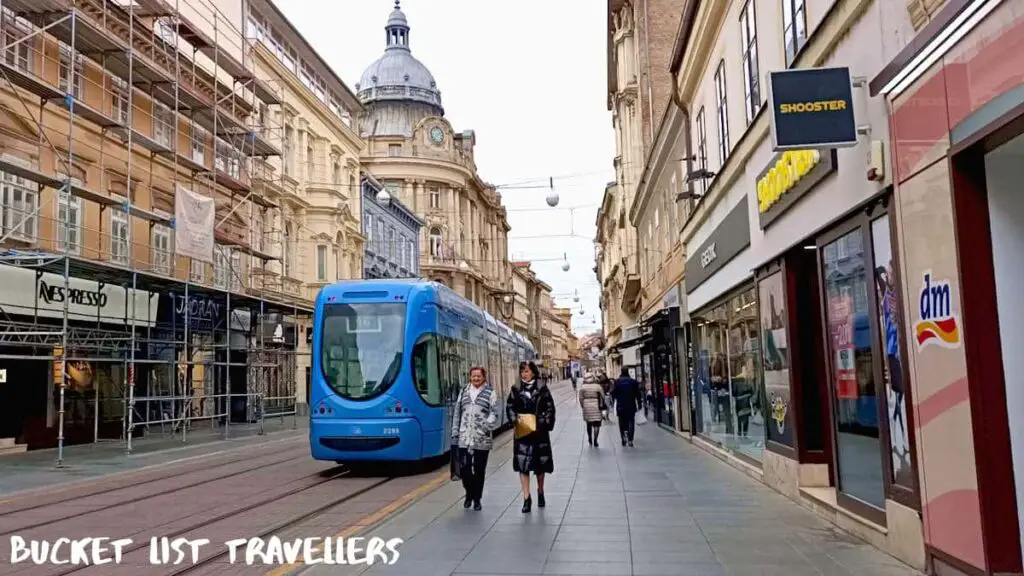 Metro trains (subway or underground) in Croatia
There are currently no metro systems in Croatia.
Intercity Trains in Croatia
Trains are a cheap way to get around Croatia. While the train network in Croatia isn't extensive, it does connect all the major Croatian cities except Dubrovnik. There are also connections to cities outside of Croatia. There have been some upgrades to the train tracks in recent years, but there have also been upgrades to the motorways. This has lead to road transport including buses being a more popular option. Furthermore buses are often faster than trains and the bus network is much more extensive, particularly along the coast.
The Croatian national railway company is called Croatian Railways.
Intercity buses in Croatia
A common way to get around Croatia is by using intercity buses. These are a budget friendly alternative to trains and the network is extensive. Intercity bus companies in Croatia include Arriva – Autotrans, Slavonija Bus, Čagalj Tours as well as FlixBus.
Vehicle hire in Croatia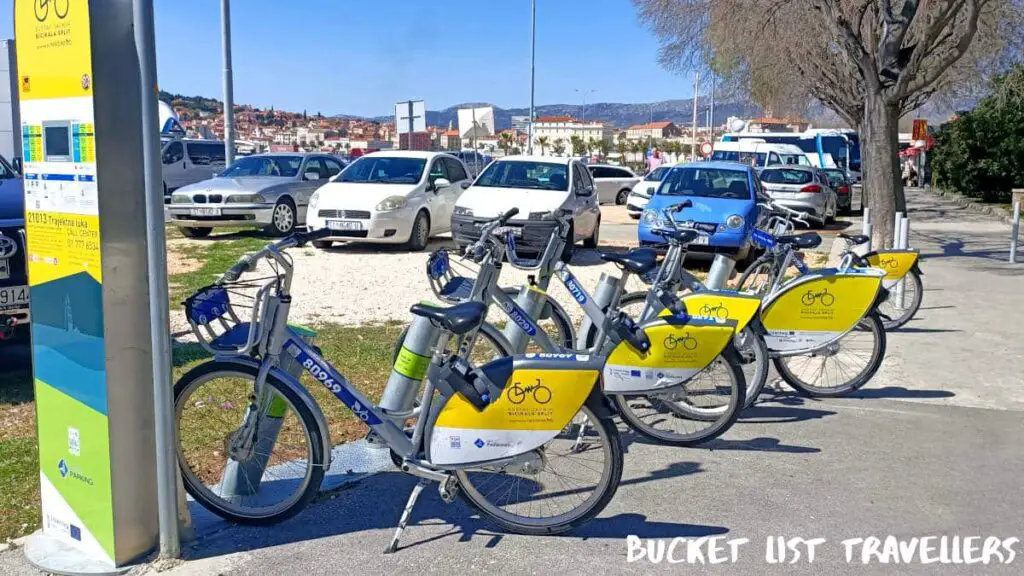 A wide variety of vehicles can be rented in Croatia. This includes:
Bicycles – Many towns and cities in Croatia have self service public bike rental and bike share services. Both electric and mechanical bikes are available for hire and you can also hire premium performance bikes.
Electric scooters
Motorcycles
Cars
SUVs
Campervans
Boats
Croatians drive on the right side of the road.
Shuttles in Croatia
Shuttles make short repetitive journeys between two destinations or on a fixed loop. Common journeys include going between the airport and the city centre. These journeys can often be booked on demand for a fixed price.
Taxis in Croatia
Taxis are common in Croatia. Fares are regulated and are usually metered. However outside of major cities taxis may not have meters. In this case the fare will be a fixed price. However in general your fare will include the following costs:
The pickup fee or minimum fee – this is charged as soon as you get into the vehicle.
Price per kilometre
Price per hour – this is a price that gets charged when the taxi is stuck in heavy traffic.
Taxi tariffs in Croatia are set by the cities or districts.
Ride-share services in Croatia
There are a number of rideshare services operating in Croatia. These include Uber, Bolt and CarpoolWorld. There is even UberBOAT on the Dalmatian coast during tourist season.
Domestic flights around Croatia
There are a 2 airlines offering regular domestic flights in Croatia:
Croatia Airlines
Trade Air
Journey times for domestic flights in Croatia are between 35 minutes and 1 hour and 20 minutes. Flight costs are generally around 50-100 euro.
Croatia travel guide to travelling during Covid
Covid entry requirements for Croatia
There are currently no Covid specific entry requirements to enter Croatia. You do not need to show proof of vaccination, nor do you need a negative test or proof of recovery. Furthermore there is no longer a requirement to complete an online entry form prior to entering Croatia.
Croatia Covid mandates
Covid vaccine mandates in Croatia
There are currently no Covid vaccine mandates for accessing venues in Croatia.
Mask requirements in Croatia
Masks are only required in health and social care settings in Croatia.
Where to get a Covid test in Croatia
Covid tests are conducted in a number of locations throughout Croatia. The cost of a rapid antigen test is around 15-40 euro and the cost of a PCR test is around 50-135 euro.
Croatia travel guide: How long to spend in Croatia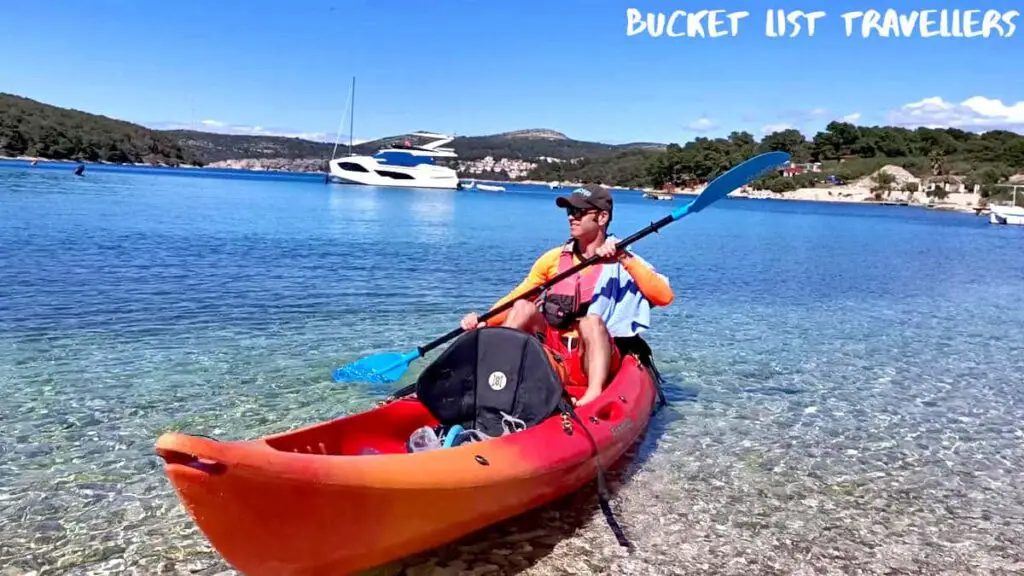 Croatia is a country that will keep you coming back for more. The country is blessed with amazing natural beauty, picturesque old towns and an abundance of the freshest seafood. Its dramatic landscape has featured as the backdrop for popular movies and television shows. In particular Croatia attracts its fair share of Game of Thrones fans wanting to experience Kings Landing in the flesh! We spent 2 months slow travelling across Croatia and particularly loved island hopping around the Dalmatian coast. Croatia suits those interested in beach escapes, adventure holidays, fine food and history. It really can accommodate any sort of holiday you are looking for. Additionally, with most visitors able to enter for 90 days visa free, it is perfect for weekends away as well as for extended trips.
Currently it is possible to travel to Croatia for up to 90 days in any 180 day period without a visa. However Croatia is currently on a pathway to join the Schengen area, which would mean that Croatia would need to follow the Schengen visa rules in future. The Schengen area is a EU passport-free zone that covers most European countries. Croatia is likely to join the Schengen area by the second half of 2024.
Croatia Travel Guide: Best Areas to Visit in Croatia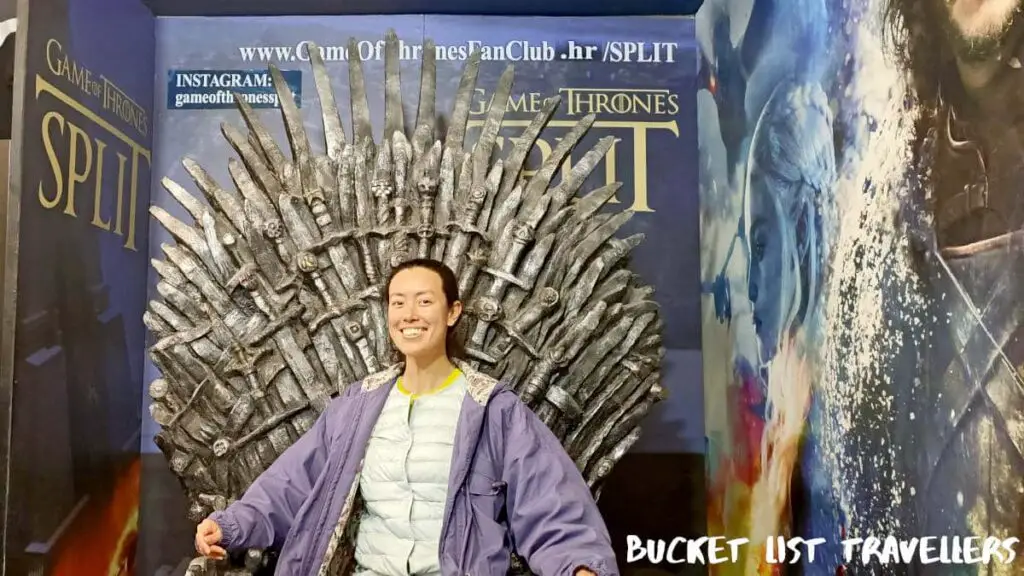 Popular areas to visit in Croatia include:
Beach Regions – Sakarun Beach (Dugi Island), Nugal Beach (Makarska), Zlatni Rat Beach (Brač Island), Banje Beach (Dubrovnik)
Lakes – Plitvice Lakes, Trakošćan Lake, Baćina Lakes, Lake Vrana
Mountains – Dinara, Biokovo, Velebit, Plješivica
National Parks – Plitvice Lakes National Park, Kornati National Park, Krka National Park, Sjeverni Velebit National Park, Paklenica National Park, Mljet National Park, Brijuni National Park, Risnjak National Park Croatia
Wine regions – Croatian Uplands, Istria & Kvarner, Slavonia & Podunavlje, Dalmatia
Weather in Croatia
Overall, Croatia enjoys a temperate climate. Croatia has 4 distinct seasons, with summer lasting from July to September and winter from January to March. However the weather varies considerably depending on the region. Croatia can be divided into 3 different climatic regions; Mediterranean, alpine and continental.
The Adriatic coast enjoys a Mediterranean climate with mild winters averaging between 5°C and 10°C and 26°C to 30°C in summer.
The Dinara region of Central Croatia has an alpine climate average winter temperatures between -5°C and 0°C and 15°C to 20°C in summer.
The Pannonian Plains in north Croatia have a continental climate. The weather in this region is characterised with cold winters between -1°C and 3°C and hot summers from 22°C to 26°C.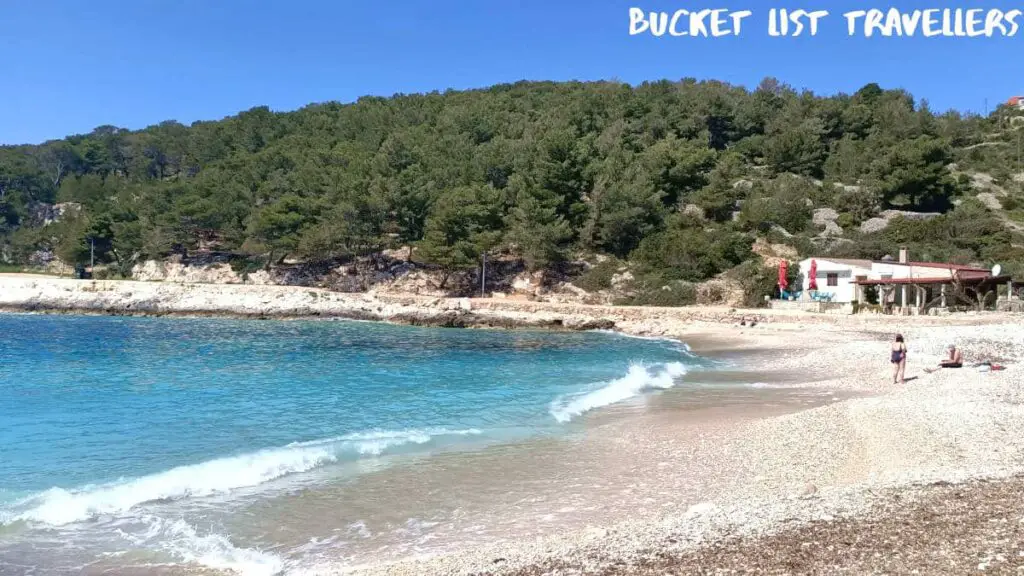 Internet and mobile phones in Croatia
Since June 15th, 2017, Roam Like at Home (RLAT) rules came into force for European Union countries. As such, people with European Union mobile numbers are no longer charged temporary mobile roaming fees if they travel within the European Union. This means that if you have a European Union mobile number, you can use that number anywhere within the European Union and you will be charged for calls, texts and data in the same rates as if you were in your home country. There are limits to this in order to prevent abuse of these rules.
The main internet and phone companies in Croatia include Croatian Telecom (Hrvatski Telekom), A1, Telemach, Bonbon as well as Tomato.
5G has been in Croatia since October 2020. 3G is expected to be switched off in Croatia on 31 December 2022.
Croatia is ranked 11th fastest in the world for mobile internet speeds and 81st fastest for fixed broadband. For Fixed Broadband the average download speed is 41mbps and upload is 18mbps (as at February 2022).
Cell phone SIM cards can be bought in many places throughout Croatia. These include phone stores, some supermarkets, newspaper kiosks as well as online.
How much to budget for Croatia
Croatia travel guide: Daily spend for a couple travelling in Croatia
Due to its rising popularity, Croatia is becoming a more expensive country to visit. It is particularly expensive over summer as tourists flock to the country for its amazing beaches and islands. However it is still possible to travel in Croatia on a budget, particularly in the off season.
As a rough guide, we recommend the following budgets for a couple:
Low-budget daily spend – 100 euro per day for a couple will get you hostel accommodation, meals from bakeries and markets, local transport and free or cheap activities such as visiting museums and parks
Mid-range daily spend – 300 euro per day for a couple will get you mid-range accommodation, local transport, restaurant meals and a few paid activities
Luxury spend – 1000 euro per day for a couple will get you a premium experience in Croatia, staying at luxury resorts, travelling by private transport, doing a range of paid activities and eating at high end restaurants
Croatia travel guide: Accommodation in Croatia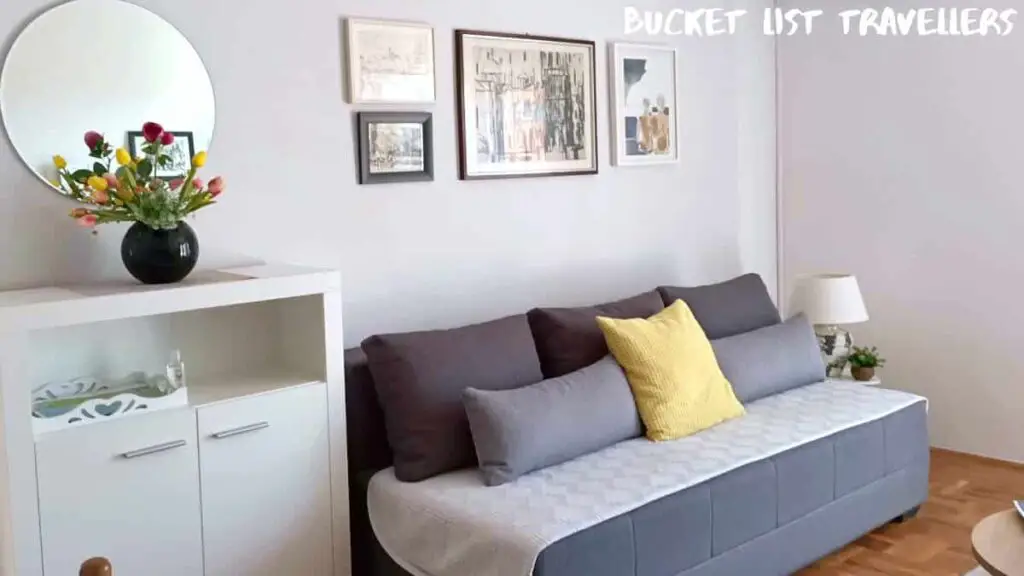 There is a good range of accommodation to suit all budgets in Croatia. Airbnb operates in Croatia and we were impressed with the range of options available throughout the country.
For short-term accommodation, a general price per night is as follows:
Budget accommodation – 15-40 euro for dorm accommodation
Mid-range accommodation – 40-120 euro for a private room
Luxury accommodation – 130-1700 euro a night for a luxury hotel/resort
Rental property – 60-1000 euro a night for a fully furnished 3-5 bedroom home
Croatia travel guide: Food in Croatia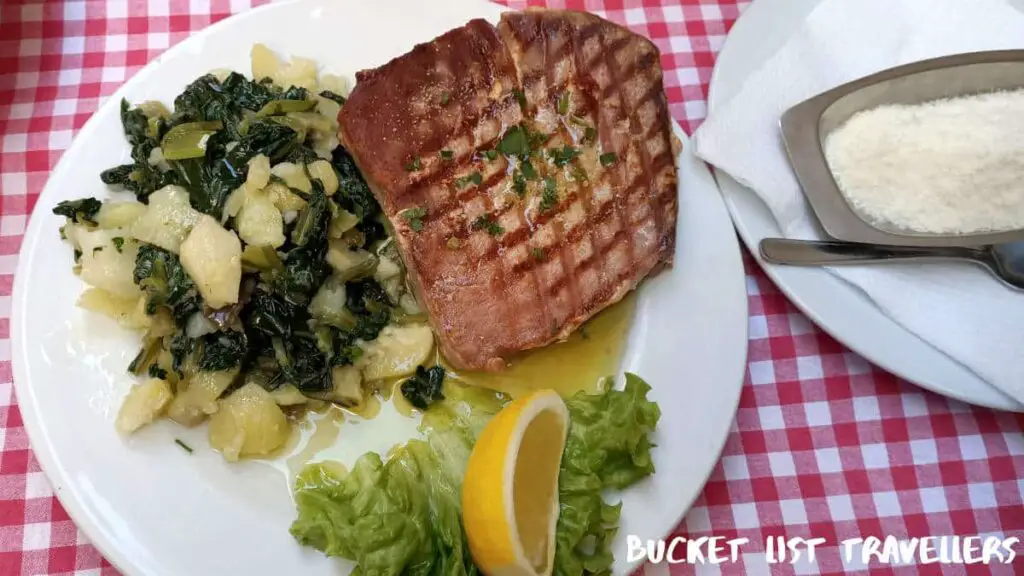 Croatia has a great food scene. It is home to a number of Michelin guide restaurants which are generally a lot more affordable than those in nearby countries. The local food is delicious and hearty and perfect for the cold winter months. Additionally, the seafood, on the Dalmatian coast is particularly good. Croatia is also one of the few countries where the rare white truffle grows. Apart from the food, Croatia is also renowned for its high quality wine and delicious schnapps. The biggest question you will have is "what should I eat first?"
How much does food cost in Croatia?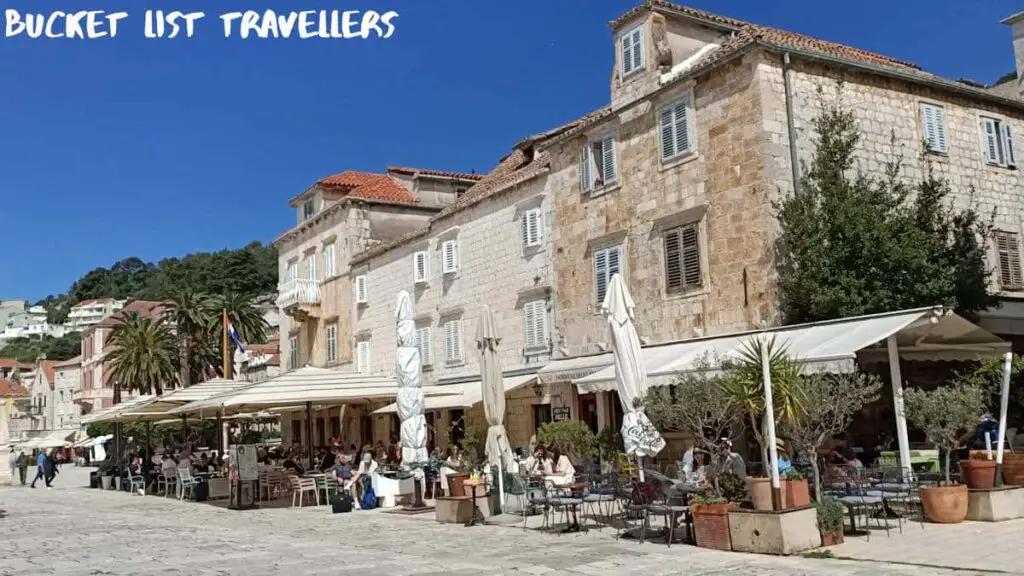 Our price guide for your food budget in Croatia is as follows (prices as at 2022):
Restaurant meal – 10-25 euro for a main dish
Bakery food – burek 2-3 euro, cake 2-3 euro, 1-2 euro for loaf of bread, chocolate donut
Glass of wine – 4-6 euro
Coffee – 2-3 euro
Regional dishes in Croatia
Croatia has many regional cuisines as well as food that is enjoyed throughout the country. Must try dishes in Croatia include Istrian stew (jota), Zagorski štrukli, zagrebački odrezak, black risotto, Pag cheese, truffles, peka, buzara, pasticada, fuži, njoki, manestra, gregada, soparnik, kulen, Dalmatinski pršut, pašticada, kotlovina, češnjovka, šestinska pečenica, pinca, brudet (also called brodetto), žganci, ričet, burek, čupavci, fritule, bajadera as well as cukarini.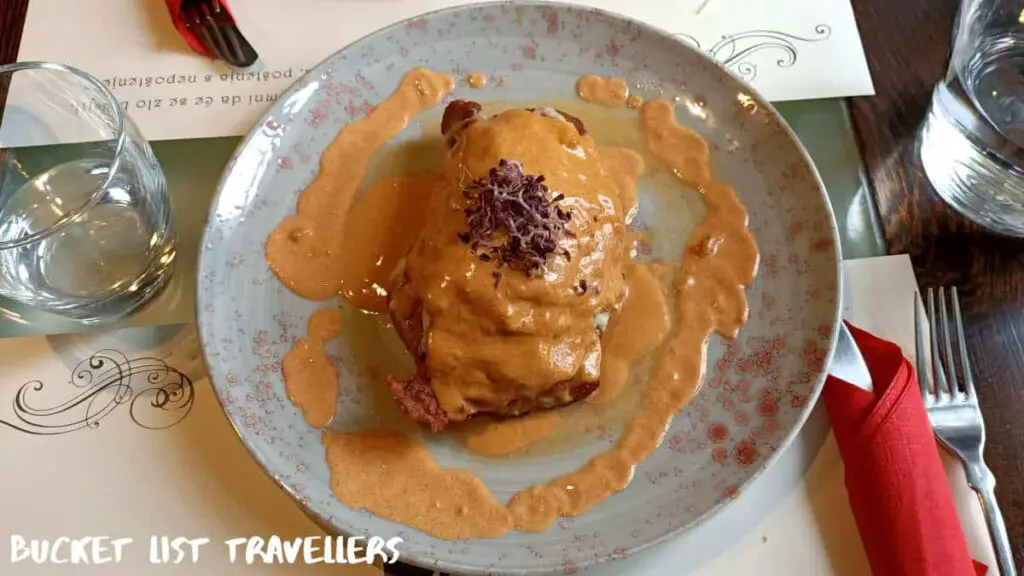 Croatia culture
National holidays in Croatia
New Year's Day – 1 January
Epiphany – 6 January
Easter Sunday – typically in March or April.
Easter Monday – the Monday after Easter Sunday, typically in March or April.
Labour Day – 1 May
Statehood Day – 30 May
Corpus Christi – 16 June
Anti-Fascist Struggle Day – 22 June
Victory Day – 5 August
Assumption of Mary – 15 August
All Saints' Day – 1 November
Remembrance Day for the victims of the Homeland War and Remembrance Day for the victims of Vukovar and Škabrnja – 18 November
Christmas Day – 25 December
Saint Stephen's Day – 26 December
National symbols of Croatia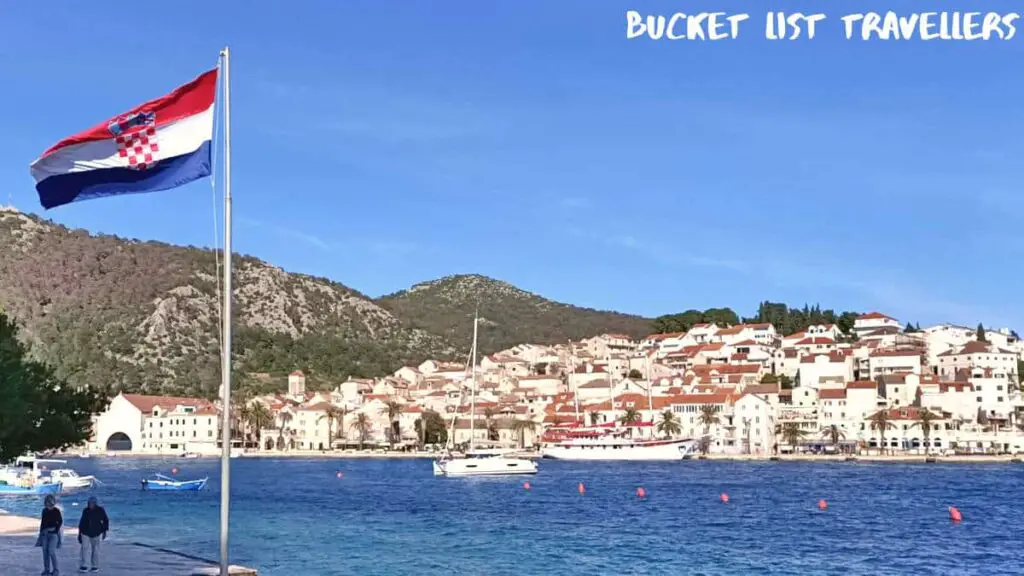 Croatia flag – a tricolour flag featuring three horizontal bands coloured red, white and blue from top to bottom. In the middle of the flag, across the three bands, is the Croatia coat of arms
Croatia coat of arms – a red and white checkerboard on a main shield with a crown of five smaller shields. The five smaller shields represent the five different historical regions of Croatia. These five shields have symbols on them, but their background colours alternate between bleu celeste and azure.
National flower – iris
National bird – common nightingale
Croatia's national animal – kuna zlatica (European pine marten)
Croatia pastimes
National dish – Istrian Yota
Popular drinks – Rakija, loza, Malvazija wine, Teran wine
National sport – football
Religion – 80% Catholic, 6% Eastern orthodox (as at 2019)
Famous Croatian people
Famous people from Croatia – scientist Nikola Tesla, actor Goran Visnjic, actor Rade Serbedzija, producer Branko Lustig, scientist Ruđer Bošković, inventor Slavoljub Penkala, polymath and inventor Faust Vrančić, sculptor Ivan Meštrović
Croatian sports stars – Olympic ski racer Janica Kostelić, Olympic high jumper Blanka Vlašić, tennis player Goran Ivanišević, tennis player Iva Majoli, Olympic discus thrower Sandra Perković, footballer Luka Modrić, basketball player Dražen Petrović, handball player Ivano Balić, water polo coach Ratko Rudić, fighter Mirko Filipović, Olympic ski racer Ivica Kostelić, footballer Davor Šuker
Is Croatia Safe?
Croatia travel guide: Safety in Croatia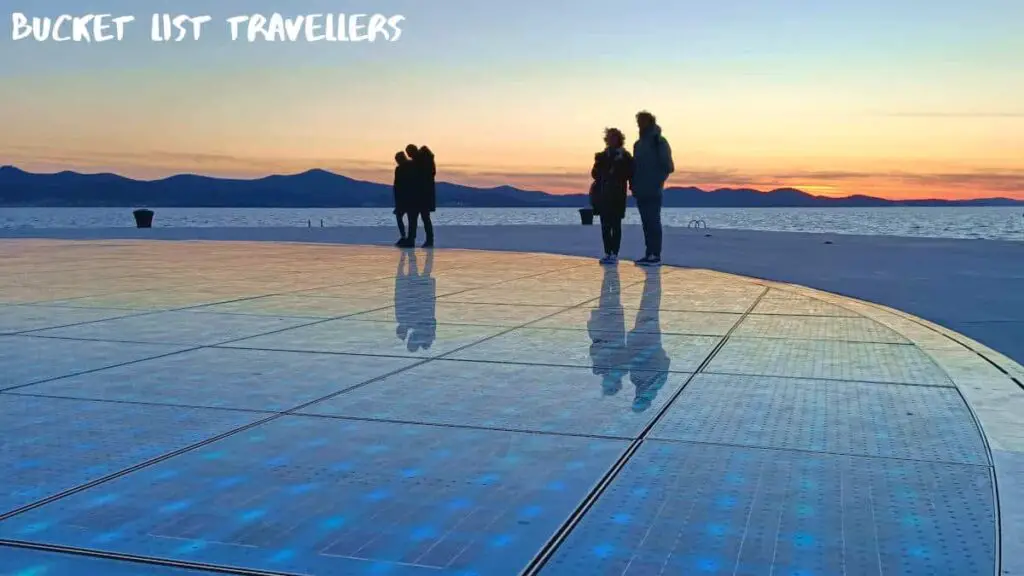 We travelled through Croatia for two months and found the country to be extremely safe. Croatia ranks 24th safest country on the Global Peace Index (as at 2021). As with any country, there are good areas and bad areas. Watch out for pickpockets particularly at crowded tourist attractions in Dubrovnik, Split and Zagreb as well as in National Parks. Make sure no-one is watching whenever you are entering pin codes and never lose sight of your credit card when making a purchase. Take care in nightclubs and don't accept free drinks as drink spiking is a particular risk.
If you are planning to explore more remote areas, beware that there may still be unexploded landmines from the Croatian War of Independence.
Croatia travel guide: General safety considerations in Croatia
Other general safety considerations for travel in Croatia:
Drinking water – Tap water is safe to drink almost everywhere in the country.
Mosquitoes – the tiger mosquito has been found in Croatia. This type of mosquito spreads diseases such as Zika, dengue and chikunguya. Malaria was eradicated in Croatia in 1964. Locally transmitted cases of dengue fever have been reported on the Adriatic Coast and in northeastern Croatia.
Altitude sickness – Croatia has areas of high altitude. This comes with the risk of altitude sickness. If you are planning to visit any high altitude areas in Croatia, be sure to allow sufficient time to acclimatise. If you experience any signs of altitude sickness, such as headache, nausea or vomiting, dizziness, tiredness, loss of appetite or shortness of breath, get help immediately.
Road safety – Croatia has been making progress with improvements in road safety in recent years. However it still has one of the highest rates of road fatalities in Europe. This is due to a combination of narrow and windy roads as well as speed and other driver behaviour. Take care on the roads in Croatia.
Water safety – If you visit any of the coastal areas or lakes, take care when swimming as currents and waves may be stronger than you expect. Watch out for sea urchins as they can sting.
Earthquakes – Croatia experiences earthquake activity. If you experience an earthquake, stay away from glass, windows, outside doors and walls and anything that could fall. If you are inside get under a table, desk or solid furniture and hang onto it. Cover your head and torso to protect from falling objects. If you are outside, stay outside and go to an open area away from buildings.
Sun safety – Exposure to the sun can have adverse short-term and long-term effects on the skin, eyes and immune system. Sun protection such as sunscreen, a hat and sunglasses is very important to ensure you don't get burnt.
As with any destination, take all of your normal safety precautions.
Croatia Blogs
You can find our Croatia travel blogs below.
Affiliate Links
This website contains affiliate links, which means we may earn a commission on any purchases at no additional cost to you. Your support helps us continue our travels and make more travel blogs and travel videos, thank you!
Subscribe to Bucket List Travellers on YouTube