Most people visit Masaya to stare into the heart of an active volcano, but Masaya has so much more to offer. Nicaragua's City of Flowers, Masaya is the cultural centre of Nicaragua. It is known as the Cradle of Nicaraguan Folklore due to its contributions to Nicaraguan cultural heritage in the form of dance, poetry, theatre and music. Nicaragua's 4th biggest city is also home to one of the best arts and crafts markets in Nicaragua. You can find a wide range of goods at Masaya's markets including clothing, footwear, locally made hammocks, as well as fresh produce and electronics. Additionally, Masaya is surrounded by natural wonders including a pristine volcanic lake. Furthermore Masaya has excellent local cuisine, historic attractions, beautiful lakeside promenades and much more. Find out more in this Masaya Nicaragua destination guide.
What is Masaya Nicaragua famous for?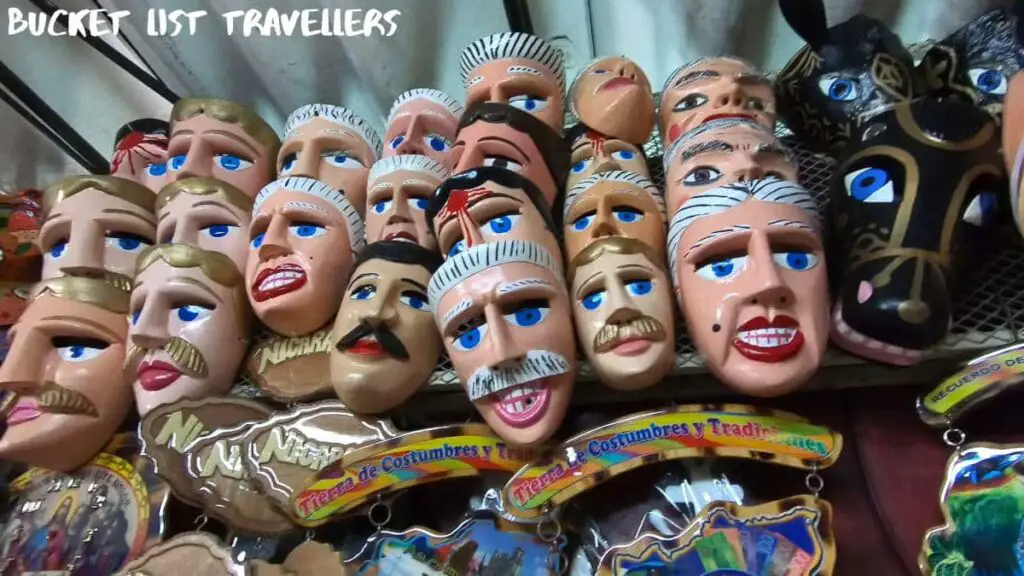 Masaya has a surprising number of claims to fame. Known as the Capital of Folklore in Nicaragua, Masaya has produced many of Nicaragua's important cultural traditions including traditional dances, marimba music, theatre as well as processions. Masaya is also one of the main craft centres in Nicaragua and is home to Nicaragua's best handicraft market. Masaya is famous for its arts and crafts, in particular the production of hammocks. Masasya's local markets are also a popular place to find traditional Nicaraguan food, in particular a dish called baho.
Nicaragua's 4th biggest city is surrounded by some of Nicaragua's most impressive natural attractions. The city is named after Masaya Volcano – an active volcano where you can see glowing lava flows. This volcanic landscape has also produced another must see Nicaraguan attraction – Laguna de Apoyo, which is a stunning lagoon nestled in a volcanic crater.
Why you should visit Masaya Nicaragua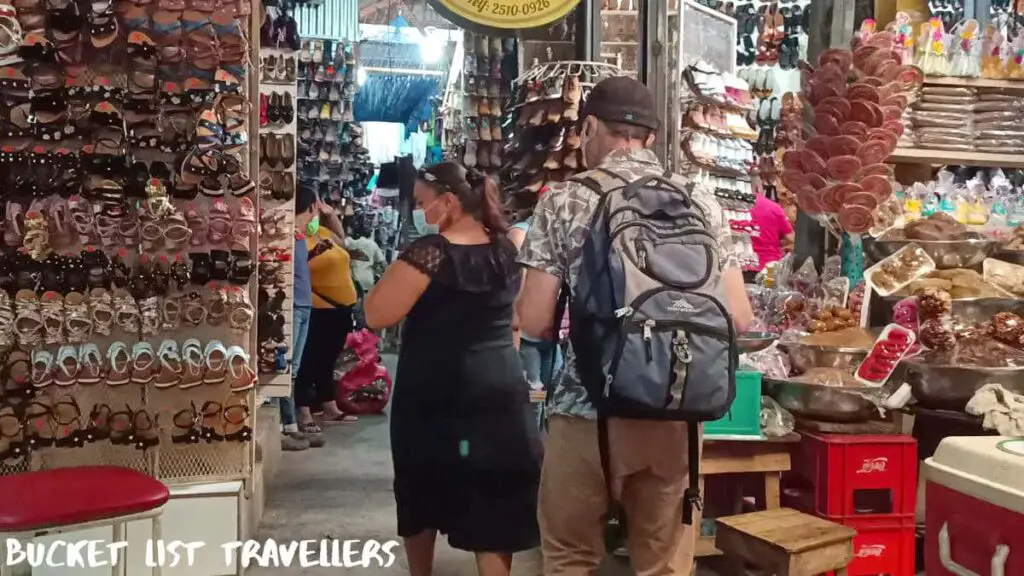 If you want a snapshot of Nicaragua, there is no better place to come than the city of Masaya. Located conveniently between the capital Managua and the popular tourist city Granada, Masaya is the perfect place to experience Nicaraguan culture, cuisine and history as well as magnificent natural beauty. Many tourists come to Masaya to see the active volcano, Volcán Masaya. Others come to spend a day swimming and enjoying the views at Laguna de Apoyo. Masaya is also a popular place to shop for Nicaraguan souvenirs, with Mercado Masaya and Mercado de Artesanías de Masaya being excellent places to find beautiful pieces of Nicaraguan arts and crafts. With all that sightseeing, you will certainly work up an appetite, and Masaya is also a great place to sample some delicious Nicaraguan food including sweets known as cajetas, savoury dishes like baho as well as Nicaraguan drinks like atol.
Masaya is also the perfect place to discover Nicaraguan history. The area was first settled by indigenous tribes prior to the Spanish conquest. In the 1500s Masaya was settled by Spanish colonisers and was subsequently given the title "Very Noble and Loyal Village Faithful to San Fernando of Masaya". In 1912 Masaya was the setting of the Battle of Masaya, which was part of the United States occupation of Nicaragua as well as the Nicaraguan Civil War of 1912. Another notable part of Masaya's history is El Coyotepe Fortress which once served as a prison for political prisoners and is now open for tours.
Masaya Nicaragua Destination Guide: Know before you go
Basic info about Masaya Nicaragua
Official title – Muy Noble y Leal Villa Fiel de San Fernando de Masaya (Very Noble and Loyal Village Faithful to San Fernando of Masaya)
Nickname – City of Flowers
Date founded – there is evidence of settlements in the area as far back as the 6th century CE. Spanish colonists commenced their conquest of Masaya in 1524. Masaya was officially declared a city on 2 September 1839.
Language – Spanish; Many tour operators and hotel staff speak English, but if you prefer travelling and shopping local you will need a basic understanding of Spanish.
Currency – Nicaraguan córdoba (NIO). Many hotels and restaurants also accept United States dollars (USD). ATMs dispense both cordobas and US dollars. For more details on money in Nicaragua, see this post.
Population – 183,874 (2019)
Area – 147 km2 (57 sq mi)
Department (Departmento) – Masaya. Masaya is the capital of this department.
Emergency number – 118
Police number – 101 (tourist police), 118 (police)
Utilities in Masaya Nicaragua
Electricity – Nicaragua uses Types A and B power plugs, which is the same plug type as the United states. It operates on a 120v supply voltage at 60Hz. Power outages in Nicaragua are not uncommon but generally don't last for too long.
Water – the tap water in Masaya Nicaragua is safe to drink. However many expats and tourists prefer to drink filtered water. Most accommodation in Nicaragua provides filtered water for guests to use.
Toilets – sit-down flushing toilets are the most common type of toilet in Nicaragua. Don't flush your toilet paper – use the bins provided. Public toilets are not common in Nicaragua, but you can usually find toilets in cafes and restaurants.
Telephone country code: +505
Where is Masaya Nicaragua?
Masaya is the capital of the department of Masaya Nicaragua. This inland city is situated in western Nicaragua.
Masaya is conveniently located between Nicaragua's capital Managua as well as the popular tourist city of Granada. Masaya is 22 minutes by car from Granada and 35 minutes by car from Managua.
How to get to Masaya Nicaragua
Masaya Nicaragua destination guide: Arriving by land
Masaya Nicaragua intercity land transport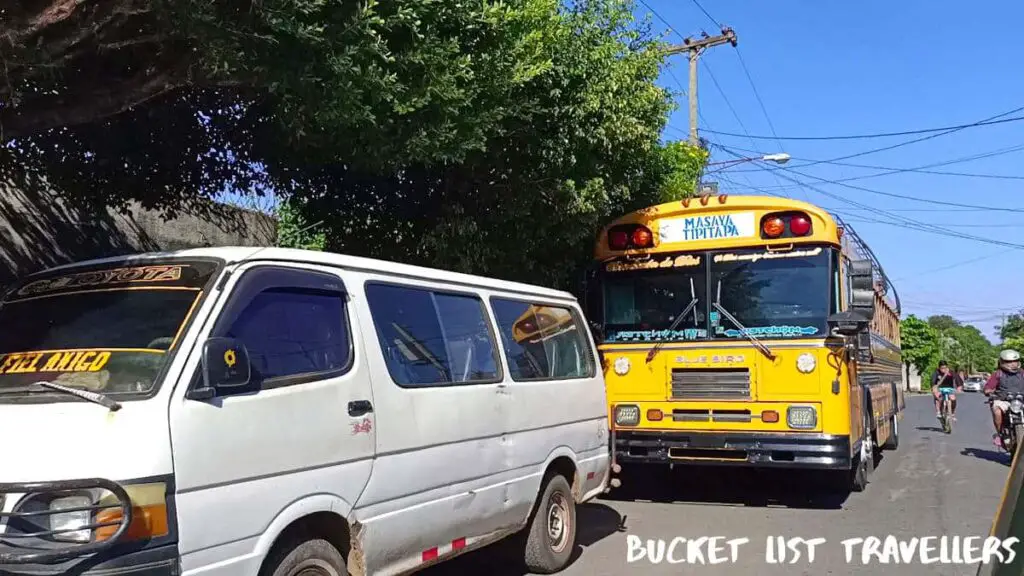 The main transport options for travelling overland to Masaya Nicaragua are:
Private vehicle
Private transport operator
Shuttlebus
Bus
Minivan
Driving to Masaya Nicaragua from within Nicaragua
If you are driving to Masaya Nicaragua from within Nicaragua, here are the travel times and distances:
Granada – 22 minutes (18km, 11miles) without tolls
Managua – 35 minutes (26km, 16miles) without tolls
Rivas – 1 hour 18 minutes (75km, 47miles) without tolls
San Juan del Sur – 1 hour 43 minutes (103km, 64miles) without tolls
Peñas Blancas border crossing to Costa Rica – 1 hour 56 minutes (109km, 67miles) without tolls
León – 2 hours 19 minutes (121km, 75miles) without tolls
Estelí – 2 hours 38 minutes (156km, 97miles) without tolls
Las Manos border crossing to Honduras – 4 hours 28 minutes (257km, 160miles) without tolls
Bluefields – 5 hours 53 minutes (336km, 209miles) without tolls
Intercity trains to Masaya Nicaragua
There are no trains in Nicaragua.
Shuttle buses to Masaya Nicaragua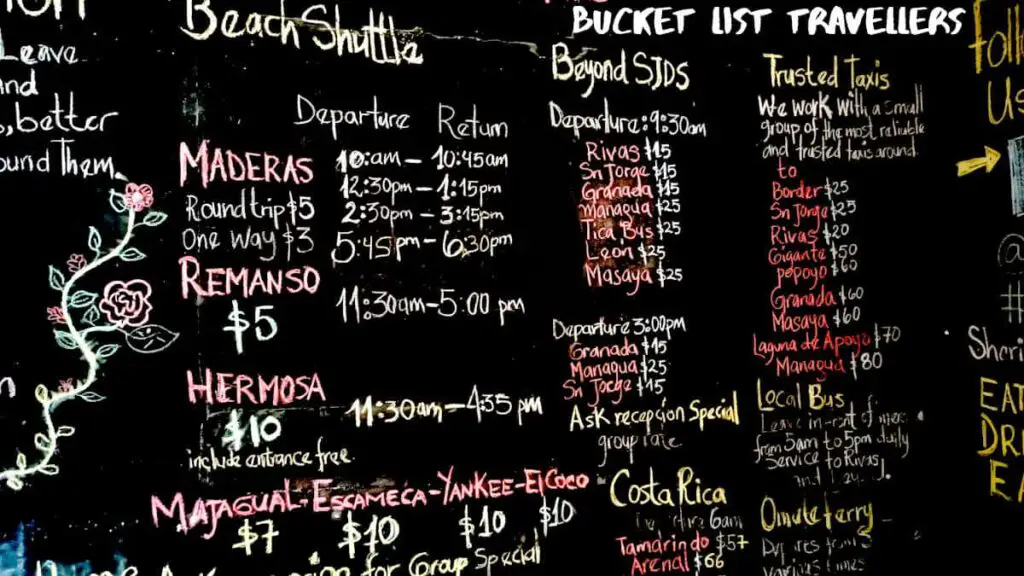 Shuttle buses operate between major tourist destinations in Nicaragua. You can often book these shuttles through your accommodation or through tour operators. Expect to pay around $25 per person for a shuttle between Masaya and San Juan del Sur (as at 2021).
Additionally there are two shuttle bus companies that provide shuttle services to Nicaragua from other countries in Central America: Nicabus and Ticabus.
Local buses to Masaya Nicaragua
A common way to get around Nicaragua is by using local buses. Tourists often refer to these as chicken buses. Nicaragua public buses are old US yellow school buses that are often painted in bright colours. They have the destination on a sign at the front of the bus. Buses rarely leave on time, so patience is key. We also recommend that you ask about bus times at the station, particularly if you are considering a less regular route. Keep in mind that most locals, including local bus drivers, only speak Spanish.
Before the bus leaves as well as during the journey a number of vendors may get on the bus selling food and other goods. This is a great opportunity to get a snack for your trip or even do your grocery shopping.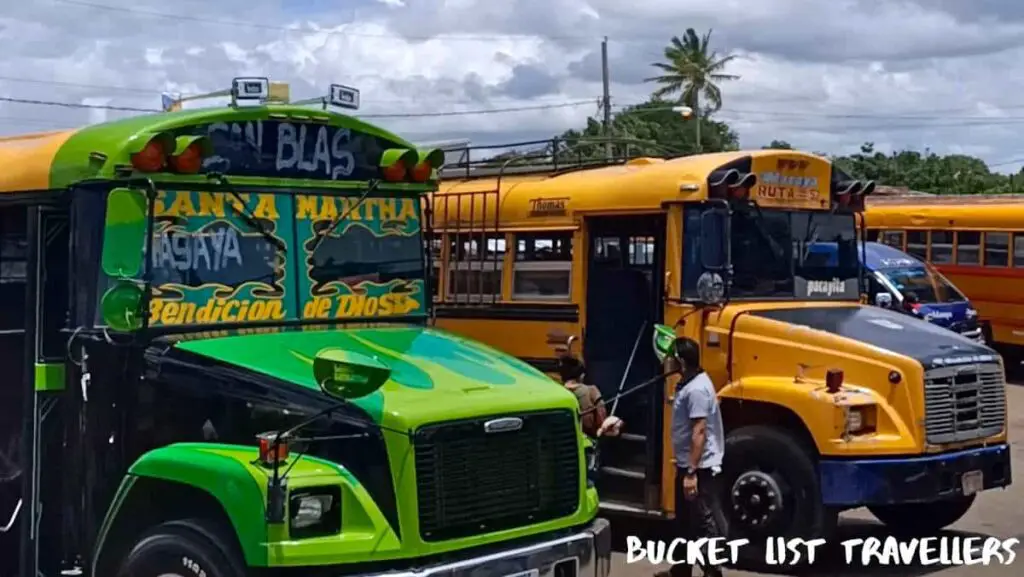 Bus terminals in Masaya Nicaragua
The main bus terminal in Masaya is near the Mercado Masaya.
Common bus routes for Masaya Nicaragua
Masaya is one of the main bus interchanges in Nicaragua and you can get buses to most parts of the country from here. Masaya is also conveniently positioned halfway between the major Nicaraguan cities of Granada and Managua.
Details for some of the most common bus routes for Masaya Nicaragua are listed below:
| | | | | |
| --- | --- | --- | --- | --- |
| From | To | Bus Fare | Duration | Frequency/Departure Time |
| Managua | Masaya | C$13 | 1 hour | Half-hourly |
| Granada | Masaya | C$15 | 45 minutes | |
The above bus fares are as at 2021.
Microbuses or minivans to Masaya Nicaragua
An affordable but slightly more expensive alternative to buses in Nicaragua are microbuses or minivans. These vans generally seat around 10-15 people. They are more direct and generally only a few córdobas more expensive than buses. They usually leave when they are full and are also typically more frequent than buses. We personally think that buses are more comfortable than the minivans as people do get crammed into the minivans and minivans generally don't provide much legroom. However you do always get a seat in minivans, albeit once my seat was just an upside-down crate in between two other seats. Microbuses depart near Parque San Miguel.
Masaya Nicaragua destination guide: Arriving by air
The closest airport to Masaya Nicaragua is Augusto C. Sandino International Airport (Airport code MGA). This international airport is 20km (13 miles) away.
Other nearby airports include:
Costa Esmeralda Airport in Tola Nicaragua (Airport code ECI). This airport is 61km (38 miles) away.
Daniel Oduber Quirós International Airport (Airport code LIR) in Liberia Costa Rica. This airport is 165km (103 miles) away.
Nosara Airport in Nosara Costa Rica (Airport code NOB). This airport is 228km (141 miles) away.
There is currently no national airline of Nicaragua. However airlines that service Nicaragua include American Airlines, Aeromexico, Copa Airlines, Spirit Airlines, Avianca Airlines as well as United Airlines. The domestic carrier in Nicaragua is La Costeña.
Masaya Nicaragua destination guide: Arriving by boat
Masaya is an inland city and does not have a port. The main seaport of Nicaragua is Puerto Corinto (Corinto Port). This port is around 3 hours drive away from Masaya. Cruise ships sometime visit Corinto.
Masaya Nicaragua destination guide: How to get around Masaya Nicaragua
Walking in Masaya Nicaragua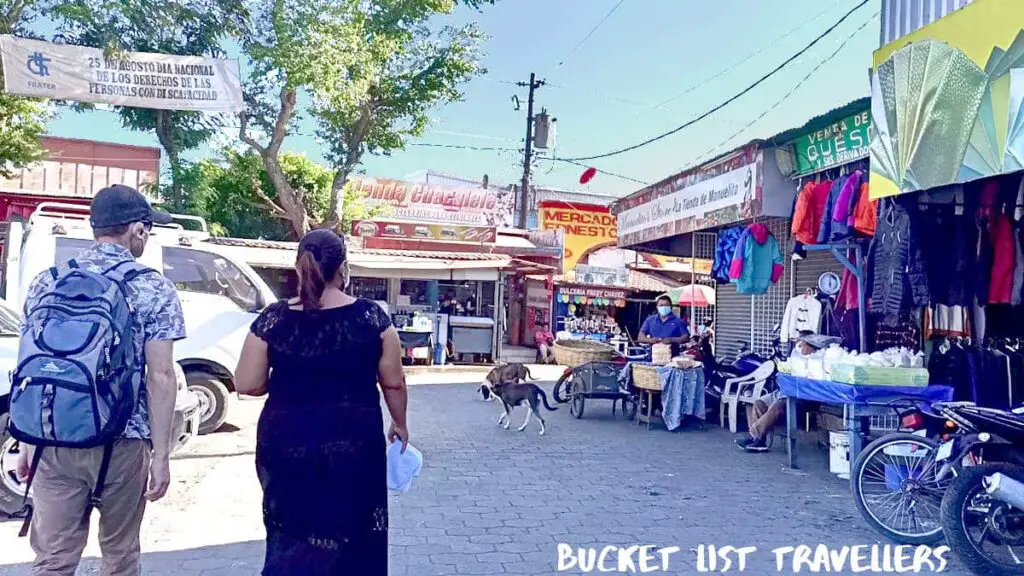 Masaya Nicaragua is a very walkable city. However some of the major attractions of Masaya such as Masaya Volcano and Fortaleza El Coyotepe are a short drive from the main part of the city.
Local buses in Masaya Nicaragua
Local buses service Masaya Nicaragua. However these are mainly used to go from Masaya to other towns and cities in Nicaragua.
Trams in Masaya Nicaragua
Masaya Nicaragua does not have a tram system.
Local trains in Masaya Nicaragua
Masaya Nicaragua does not have a local train line.
Metro trains (subway or underground) in Masaya Nicaragua
Masaya Nicaragua does not have an underground train line.
Vehicle hire in Masaya Nicaragua
A wide variety of vehicles can be rented in Masaya Nicaragua. This includes:
Bicycles
Motorcycles
Cars
SUVs
In Nicaragua they drive on the right side of the road.
Tuk-Tuks in Masaya Nicaragua
Auto-rickshaws or tuk-tuks are common in Nicaragua. They are a cheap and quick way to get from one place to the next. Agree on a price before you start your journey. Expect to pay around C$20-C$30 for a couple for a 10 minute trip. Tuk tuks may pick up other passengers along the way, so don't be surprised if you have to share a ride with other passengers.
Taxis in Masaya Nicaragua
One of the most convenient ways to get around Nicaragua is by taxi. Taxis in Nicaragua don't generally have metres, so be sure to agree on a price before you begin your journey. Taxis may pick up other passengers along the way, so don't be surprised if you have to share a ride with other passengers.
Ride-share in Nicaragua
Uber, Lyft and Grab do not operate in Nicaragua. In Managua there are some alternatives:
Aventón
Ray Nicaragua
inDriver
Masaya Nicaragua destination guide: Is Masaya Nicaragua worth visiting?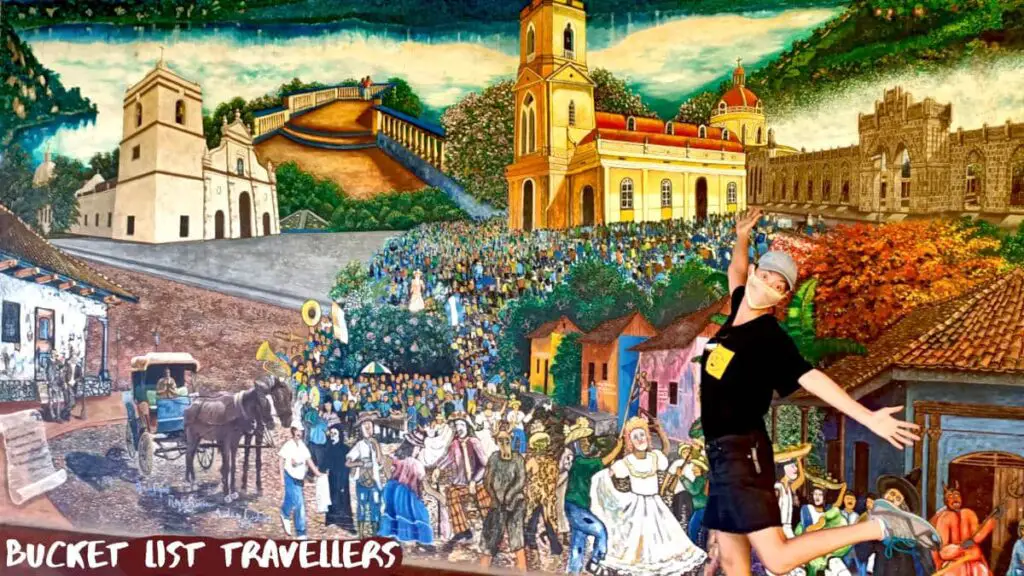 Masaya is certainly one of the must visit destinations in Nicaragua. It's position between Managua and Granada makes it a convenient stop on any Nicaragua trip. Masaya is a major transport hub in Nicaragua, however even if it wasn't easy to visit, it would be worth the trip. Despite being the smallest department in Nicaragua, Masaya contains some of the countries finest tourist attractions. There are not many places in the world where you can look into the mouth of a volcano and see the glow of lava, but Masaya Volcano is one such place. Another one of our other favourite things to do in Masaya is visiting the picture perfect volcanic lagoon, Laguna de Apoyo. This lagoon is nestled in the crater of a volcano and its crystal clear waters are perfectly heated by the lava lake below.
Masaya is also famous for being the cradle of Nicaraguan folklore, which makes it a very important city from a cultural perspective. If you visit Masaya on a Thursday night you will be treated to a folklore festival at the craft market. Masaya is known for its crafts and the markets are a great place to shop for souvenirs and locally made goods such as Nicaraguan hammocks. The markets are also a great place to find local Nicaraguan food including sweets called cajetas. For a glimpse into Nicaragua's dark history, a trip to El Coyotepe Fortress is certainly eye opening.
Masaya Nicaragua destination guide: How long to spend in Masaya Nicaragua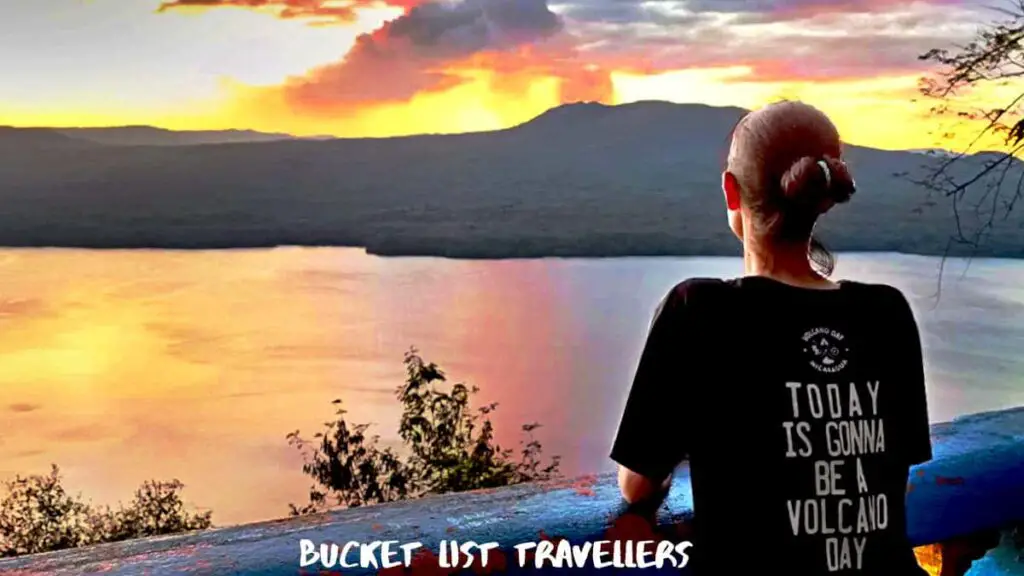 Tourists generally only visit Masaya on a day trip. If you are short on time, we recommend at the very least devoting half an hour to stopping by the impressive active volcano, Masaya Volcano. However to enjoy all that Masaya has to offer, we recommend devoting a day or two to this stunning part of Nicaragua. For a day trip to Masaya, we'd recommend spending the morning at Laguna de Apoyo followed by a couple of hours exploring the markets and perhaps a visit to Fortaleza El Coyotepe and before finishing off at Masaya Volcano at sunset. If you go on a Thursday you could also see the Thursday night folklore festival at the Masaya craft market.
Masaya Nicaragua destination guide: What to do in Masaya Nicaragua
Masaya Nicaragua is a relaxed Nicaraguan town which is full of interesting activities. It has a range of great free activities as well as paid activities. Find out about the best things to do in Masaya Nicaragua in our Masaya travel vlog below.
Masaya Nicaragua destination guide: Free things to do in Masaya Nicaragua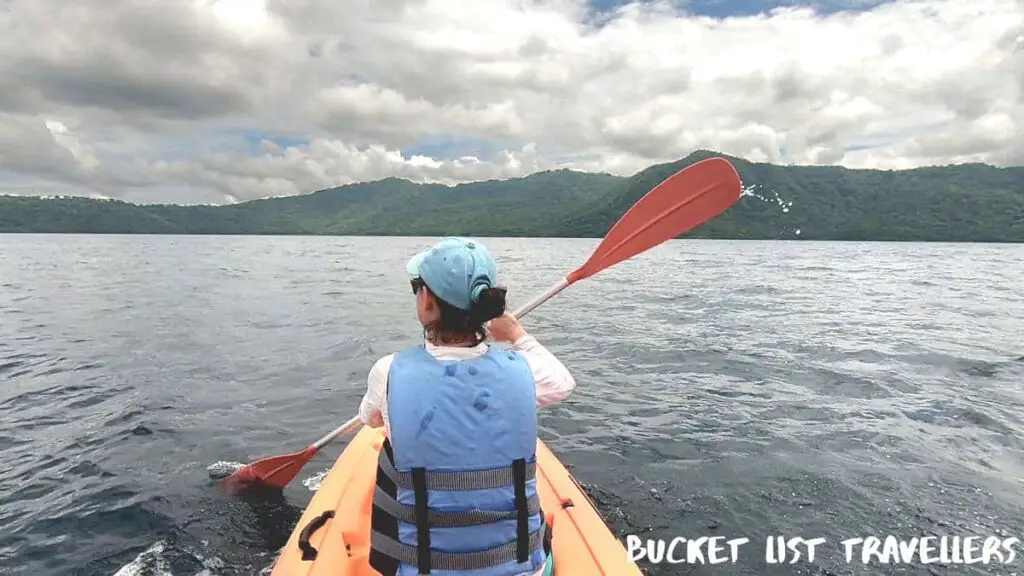 There are enough free activities in Masaya Nicaragua to keep you entertained for as little or as long as you like:
Laguna de Apoyo
Malecon de Masaya
Mirador de la Laguna de Masaya
Mercado Masaya (Masaya Market)
Mercado de Artesanías de Masaya (Cultural Center Old Craft Market)
Parque Central Masaya
Parroquia San Miguel Arcangel
Parque San Miguel
Parque de ferias de Monimbo
Masaya Nicaragua destination guide: Paid activities in Masaya Nicaragua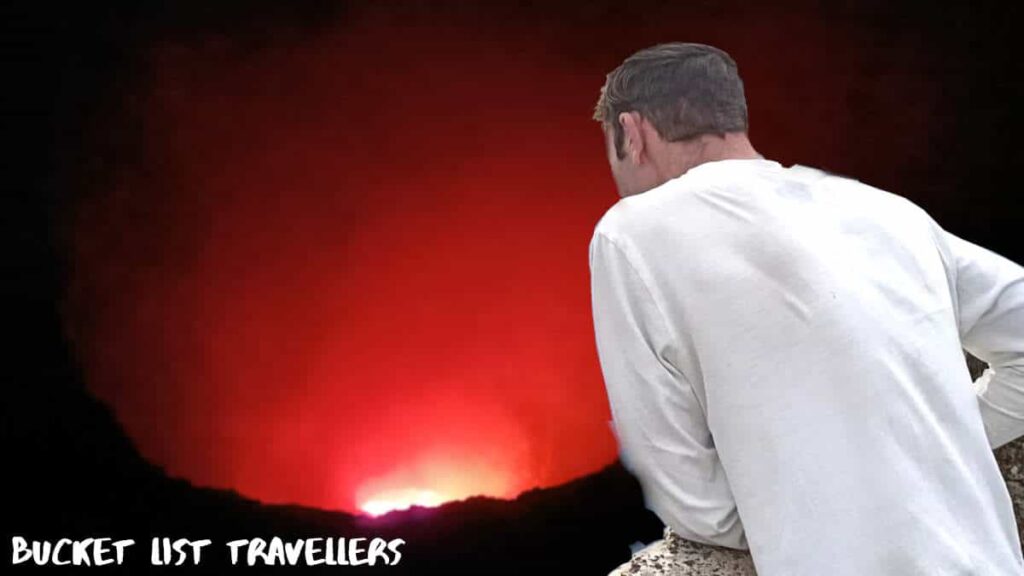 A number of attractions in Masaya Nicaragua charge a fee:
Masaya Volcano National Park – daytime visit is 100 cordobas for foreigners and nighttime visit is $10 USD for foreigners (as at 2023).
Fortaleza El Coyotepe (El Coyotepe Fortress) – entry fee $2 USD for foreigners plus 20 cordobas to go into the dungeon (as at 2023).
Events in Masaya Nicaragua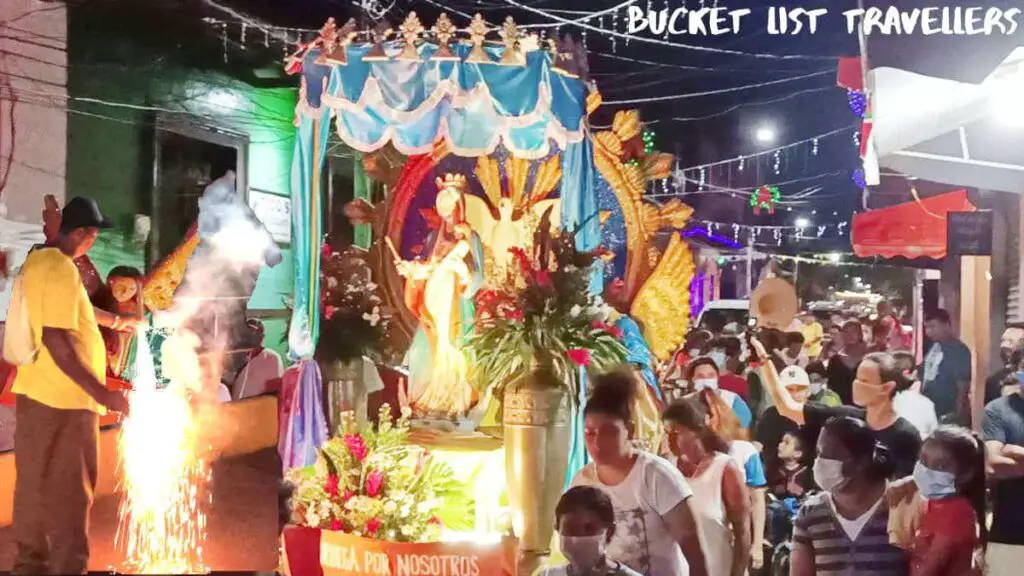 Masaya Nicaragua hosts a number of events throughout the year, including:
Verbenas de Masaya – a weekly folkloric festival held in the Masaya crafts market on Thursday nights. This is a celebration of Nicaraguan culture and includes dancing and performances.
Año Nuevo – New Year's Day 1 January. Typically celebrated with bombas (fireworks) in the street as well as setting alight effigies.
Semana Santa – Holy Week (Easter). This is celebrated in March or April each year. Traditionally there were religious processions in the streets of Masaya during this time. During the Semana Santa holiday period its common for families and friends to flock to the beach.
Patron Saint festivities – 15 August-1st Sunday of December. The patron saint of Masaya is San Jerónimo. There are festivities every Sunday in October and November. Key dates during the Masaya patron saint festivities include 20 September (feast day of San Jerónimo), 30 September (official public holiday for San Jerónimo) and 7 October (Octave of San Jerónimo, also known as the festival of the Masayas).
Hípico en Masaya – a horse riding festival (hipica festival) which includes horse parades as well as plenty of food, music and dancing. This is usually in September and coincides with the Patron Saint festivities.
Sandinista Revolution Anniversary – 19 July. This is a celebration of the National Liberation Army's defeat of the Somoza dictatorship in 1979.
Folkloric Festival – the 4th Sunday in November.
La Purísima – a festival celebrating the Virgin Mary. This festival is held from November 29 to December 8 each year.
La Gritería – this is the final day of the La Purísima festival. It culminates in a parade, fireworks and performances. It is held on the 7th of December each year.
Weather in Masaya Nicaragua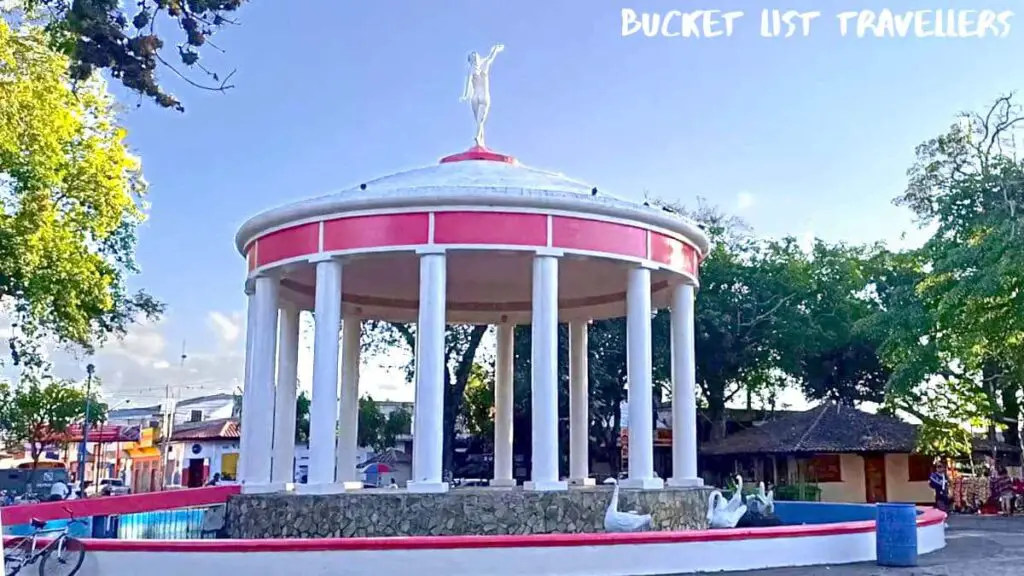 The climate for Masaya Nicaragua is classified as tropical, with relatively uniform hot temperatures and also high humidity throughout the year. The hottest month is April with an average temperature range of 23°C to 33°C (74°F to 91°F) and coldest month January with an average temperature between 21°C to 30°C (69°F to 87°F). There are two main seasons in Nicaragua; a wet season that typically commences in May and continues through to the end of October; and the dry season, which lasts from November through to April.
Best time to visit Masaya Nicaragua
The dry season is the best time of year to visit Masaya Nicaragua. This is from November to April.
Internet and mobile phones in Nicaragua
The main internet and phone companies in Nicaragua are Tigo and Claro. Tigo has the widest coverage but is slightly more expensive. Both currently operate on 4G. Movistar is another common provider.
The phone messaging app Whatsapp is used extensively in Nicaragua, along with the other popular social media platforms.
High speed optic fibre internet is available in some areas of Nicaragua. The best speeds we've experienced have been around 40 Mbps download and 20 Mbps upload. More common speeds that we have found in city hotels have been 4-5 Mbps download and 1-2 Mbps upload (as at 2021). Free wifi comes standard with most accommodation and you can find free wifi in many restaurants and cafes catered to tourists.
Cell phone SIM cards can be bought in many places throughout Nicaragua, including local corner stores known as pulperias.
For more on internet in Nicaragua, see this post.
How much to budget for Masaya Nicaragua?
Is Masaya Nicaragua expensive?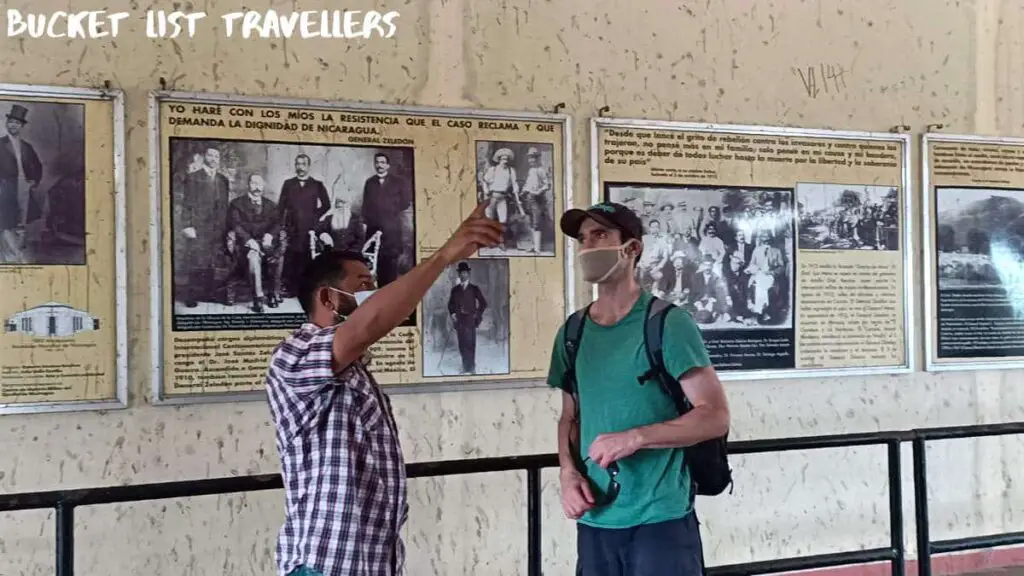 Masaya is one of the biggest cities in Nicaragua, but most tourists only visit Masaya as part of a day trip. As such, prices in Masaya are generally not over-inflated by tourist dollars, which makes it an affordable place to visit. Furthermore, the local markets in Masaya are an affordable place to shop for authentic Nicaraguan souvenirs as well as to local Nicaraguan food.
Masaya Nicaragua destination guide: Daily spend for a couple travelling in Masaya Nicaragua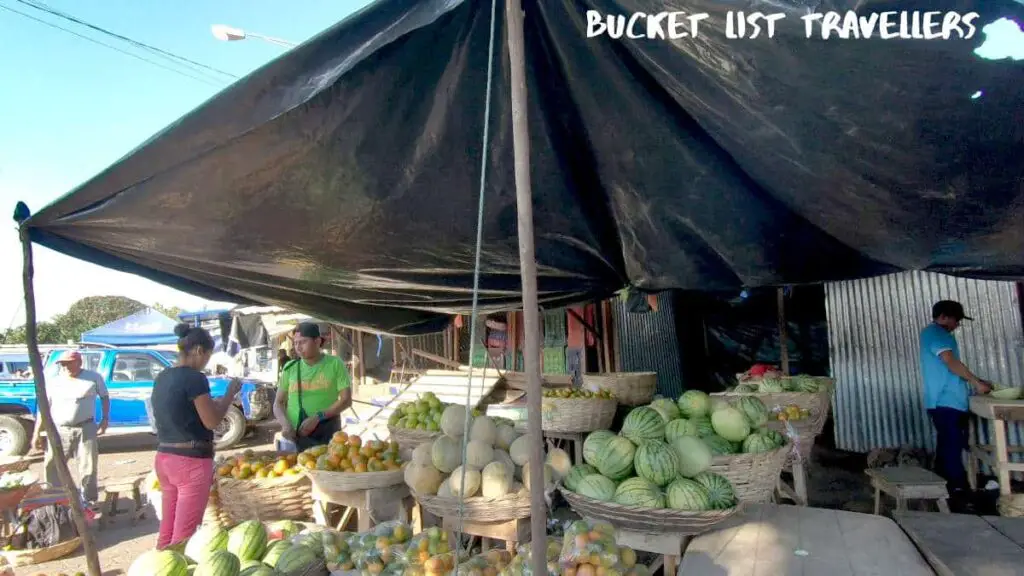 Masaya Nicaragua is a great value budget destination, but it also caters to those after a more luxurious experience.
As a rough guide, we recommend the following budgets for a couple:
Low-budget daily spend – US$60 per day for a couple will get you budget accommodation, meals at local eateries and markets, local transport and free or cheap activities such as visiting the central park, churches and local markets.
Mid-range daily spend – US$150 per day for a couple will get you mid-range accommodation, local transport and a few tours.
Luxury spend – $600 per day for a couple will get you a premium experience in Nicaragua, staying in luxury accommodation, travelling by private transport, doing a range of tours and eating at high end restaurants.
Masaya Nicaragua destination guide: Accommodation in Masaya Nicaragua
There is a good range of accommodation to suit most budgets in Masaya Nicaragua. Airbnb also operates in Nicaragua, and there are a number of Airbnb properties in Masaya Nicaragua.
Where to stay in Masaya Nicaragua
We recommend the following accommodation in Masaya Nicaragua:
Best hotel in Masaya Nicaragua – Hostal Libertad is the best place to stay in Masaya Nicaragua. Conveniently located, the hotel is great value, clean and modern. However it is next to a bar that is very loud on the weekends, so we'd only recommend staying here during the week.
Best self contained apartments in Masaya Nicaragua – Apartamentos Nokal has fully furnished apartments in Masaya Nicaragua. Located in the centre of town, the apartments are spacious and well equipped. Furthermore the owner is friendly and helpful, which makes this an excellent choice for a trip to Masaya.
Best eco lodge in Masaya Nicaragua – Hacienda Puerta Del Cielo Eco lodge & Spa Nicaragua is the perfect luxury accommodation in Masaya Nicaragua. This is a boutique ecolodge resort which has magnificent views of Masaya Volcano. It is relaxing sanctuary surrounded by nature.
How much is accommodation in Masaya Nicaragua?
For short-term accommodation, a general price per night is as follows:
Budget accommodation – we couldn't find any dorm accommodation in Masaya.
Mid-range accommodation – US$20-65 for a private room.
Luxury accommodation – US$160-280 a night for a luxury hotel.
Rental property – US$35-120 a night for a fully furnished 1-2 bedroom home.
Masaya Nicaragua destination guide: Food in Masaya Nicaragua
How much does food cost in Masaya Nicaragua?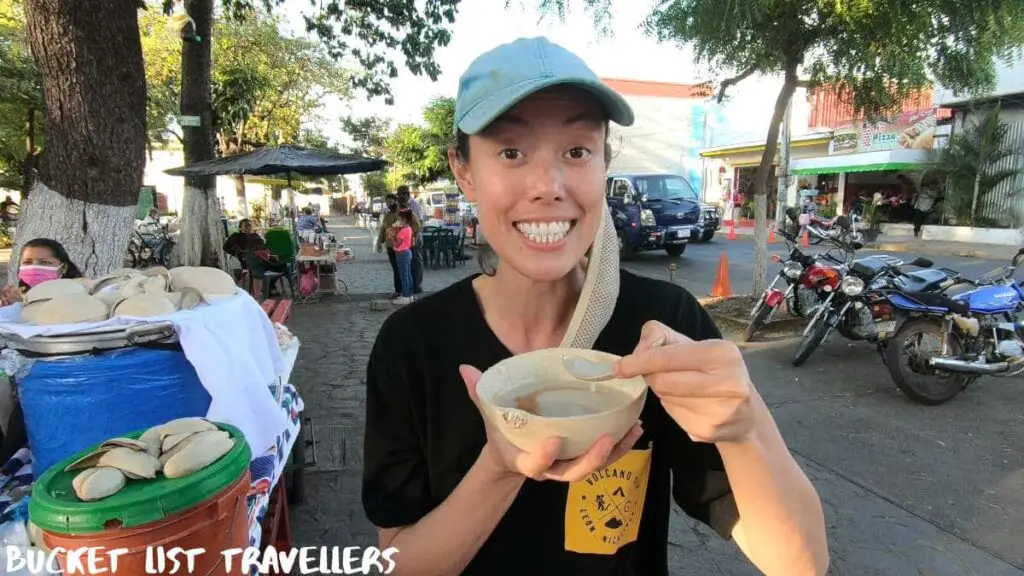 Our price guide for your food budget in Masaya Nicaragua is as follows:
Restaurant meal – US$10-15 for a main dish (350-500 cordobas)
Local eatery – US$3-5 for a main dish (100-200 cordobas)
Street food – US$1 (30-40 cordobas)
Beer (try the local Nicaragua beer Toña) – US$1 (30-40 cordobas)
Local fruit drink (refresco) – US$0.30-0.50 (10-15 cordobas)
Local food in Masaya Nicaragua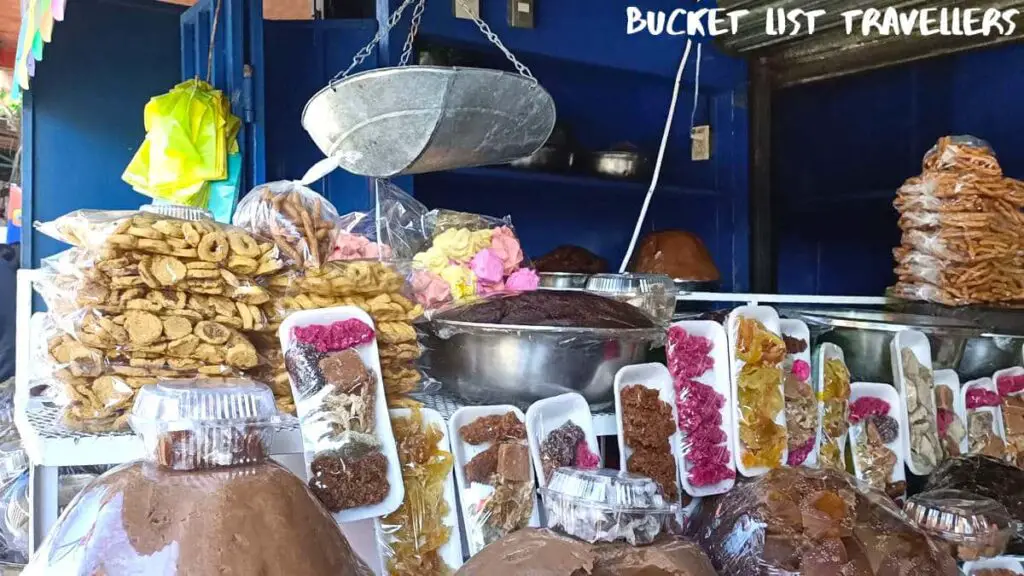 Cajetas
Nacatamal
Baho (also called Vaho)
Enchiladas
Valencia rice
Atol
Buñuelos
Armadillo
Cheap Eats in Masaya Nicaragua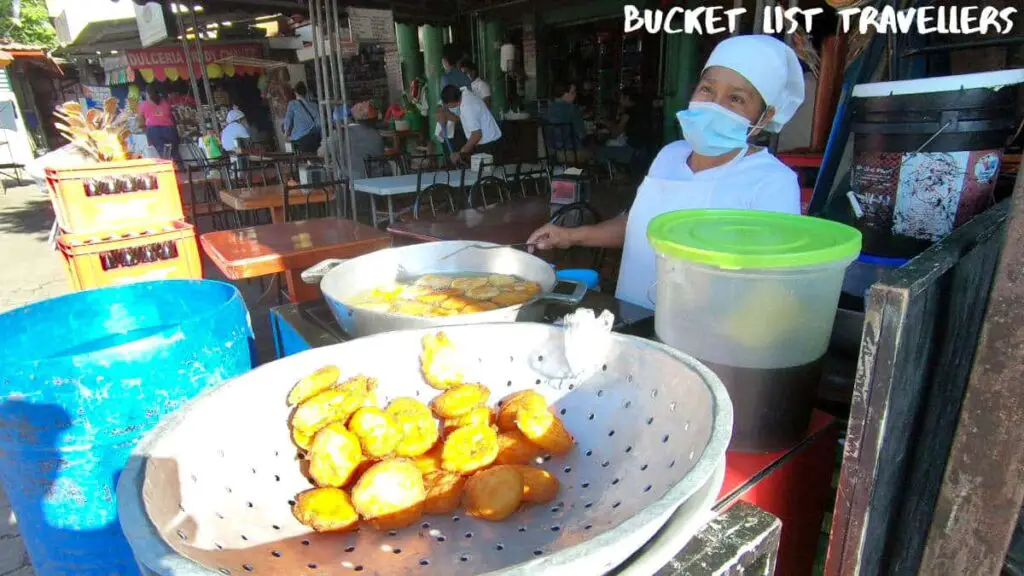 You can't go past street food for a cheap and delicious treat. Our favourite street food includes enchiladas, nacatamales, buñuelos and raspados. You can find street food all around Masaya, particularly around the markets as well as at transport hubs. A lot of street vendors sell food from in front of their homes or else go door to door down the street, so you're never far from great food!
Bakeries are a great place to get cheap and delicious food.
Masaya Nicaragua culture
Weekends in Masaya Nicaragua
Weekends in Masaya are on Saturdays and Sundays. Sundays are typically quieter in the city and public transport may be less frequent on Sundays as well.
Masaya Nicaragua public holidays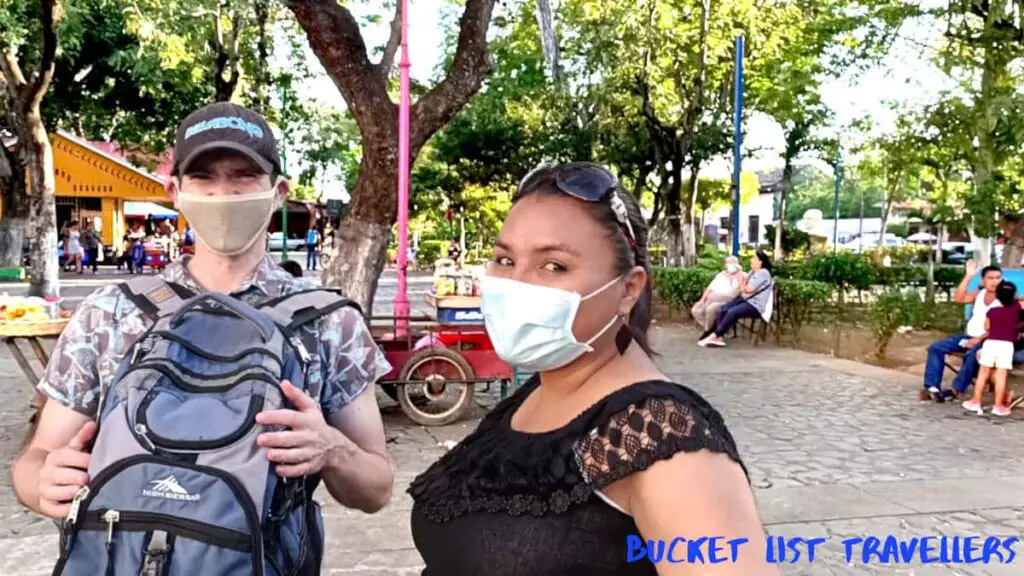 Public holidays for Nicaragua are as follows:
New Year's Day – 1 January
Maundy Thursday (Holy Thursday) – the Thursday before Easter Sunday, typically in March or April
Good Friday – the Friday before Easter Sunday, typically in March or April
Easter Sunday – typically in March or April
Labor Day – 1 May (holiday on the Monday if it falls on a weekend)
Mother's Day – 30 May
Sandinista Revolution Anniversary – 19 July
Battle of San Jacinto – 14 September
Independence Day of Nicaragua – 15 September
Indigenous Resistance Day – 12 October
All Souls Day (Day of the Dead) – 2 November
Feast of the Immaculate Conception (Immaculate Conception Day) – 8 December
Christmas Eve – 24 December
Christmas Day (Navidad) – 25 December (holiday on the Monday if it falls on a weekend)
New Year's Eve – 31 December
National symbols of Nicaragua
Nicaragua flag – two blue bands with a white band containing the Nicaragua coat of arms in the middle. The blue bands represent the Pacific Ocean as well as the Caribbean Sea and the white band symbolises peace.
Nicaragua coat of arms – this consists of a triangle, the Cap of Liberty, a rainbow, the rays of sun as well as 5 volcanoes. The Cap of Liberty represents national freedom, the 5 volcanoes represent the original 5 member states of the United Provinces of Central America and the rainbow and sun represent the bright future of Nicaragua.
National flower – sacuanjoche (the flower of the frangipani tree).
National bird – guardabarranco.
National heroes – poet Rubén Dario, revolutionary leader Augusto C. Sandino.
Nicaragua pastimes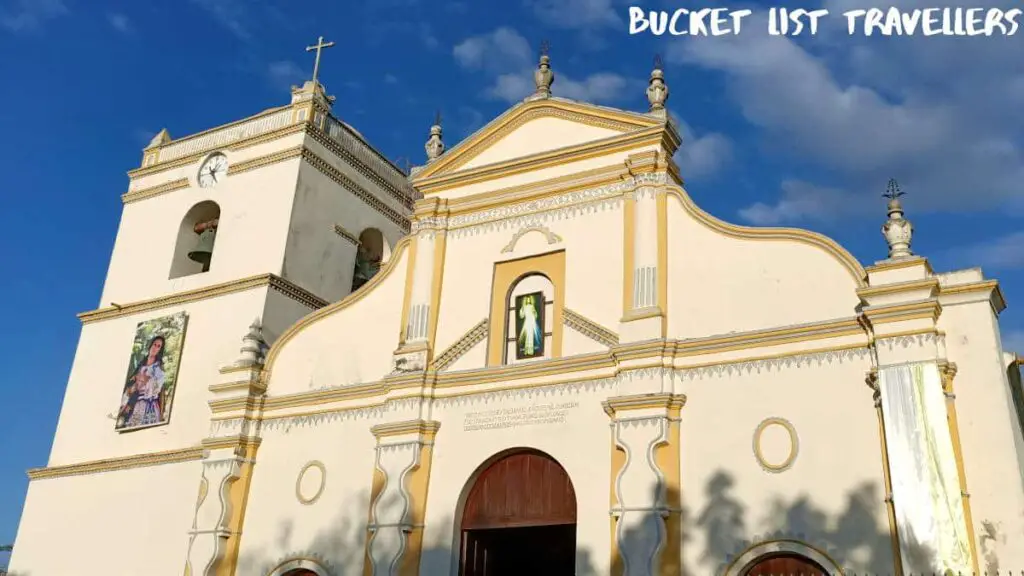 National dish – gallo pinto. This is a dish of fried rice mixed with red beans and also spices. It can be eaten at any time of day. It is typically served at breakfast along with eggs, tortillas, fried plantains as well as a type of cheese called queso fresco.
Popular drinks – grama, Toña beer, Flor de Caña Rum.
National sport – baseball.
Religion – 56% Catholic, 28% Protestant, 1% Jehovah's Witness (as at 2010).
Famous people from Masaya Nicaragua
Famous people born in Masaya Nicaragua – first female lawyer in Nicaragua and first female notary Olga Núñez Abaunza, former First Lady of Nicaragua Lila T. Abaunza, civil engineer Pedro J. J. Alvarez, Bishop Silvio José Báez, former President of Nicaragua Enrique Bolaños, former President of Nicaragua Carlos Alberto Brenes, pianist and composer Donald Vega, bishop César Bosco Vivas Robelo.
Famous people that lived in Masaya Nicaragua – singer-songwriter Hernaldo Zúñiga.
Sports stars from Masaya Nicaragua – footballer Milton Busto, footballer Justo Lorente.
Is Masaya Nicaragua Safe?
Nicaragua travel guide: Safety in Masaya Nicaragua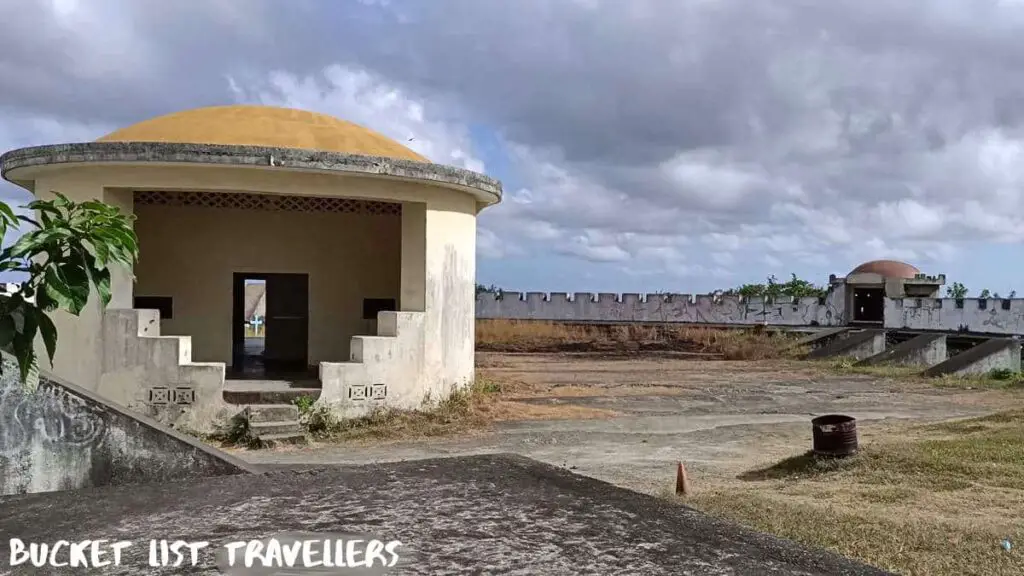 We found Masaya Nicaragua to be a very safe place to visit. However a particular safety risk in Masaya is Masaya Volcano. As an active volcano, there are volcanic gases present near the crater at Volcán Masaya. Consequently visits to the crater are restricted to 15 to 20 minutes due to this risk.
Petty crime and crimes of opportunity can also be an issue in Masaya, so we recommend taking care to keep your valuables secure and out of sight. As with any country, there are some areas that are safer than others. For more information on safety in Nicaragua, watch the video below.
Nicaragua did experience a period of civil unrest in 2018. This has now passed, and as a tourist you should not be affected.
General safety considerations in Nicaragua
Other general safety considerations for travel in Nicaragua:
Drinking water – Tap water in Masaya Nicaragua is safe to drink. We drank tap water without issue. However many tourists prefer to drink bottled water. Additionally, most accommodation provides purified water for guests to use.
Mosquitoes – The mosquitoes in Masaya don't generally carry tropical diseases. Nicaragua has mosquito control programs and many buildings are sprayed regularly for mosquito control.
Scorpions – Masaya has scorpions. We recommend checking your shoes before putting them on and keeping bags zipped closed when not attended to ensure you don't get any nasty surprises.
Road safety – In Nicaragua we often travelled standing up in the back of vans or in vehicles without helmets or seat belts. This does come with an element of risk. Furthermore the roads outside of the town area are unsealed and can become flooded during rainy season.
Water safety – take care when swimming as currents and waves may be stronger than you expect. Also, the Nicaragua bull shark is in Lake Nicaragua.
Earthquakes – Nicaragua experiences regional and local earthquake activity. In an earthquake, stay away from glass, windows, outside doors and walls and anything that could fall. If inside, get under a table, desk or solid furniture and hang onto it. Cover your head and torso to protect from falling objects. If outside, stay outside and go to an open area away from buildings.
Volcanic eruptions – the closest volcano to Masaya is Masaya Volcano. This is one of the most active volcanoes in the world.
Hurricanes – Masaya is not typically significantly affected by hurricanes. You may get some heavy rain during hurricane season and blackouts may occur.
Sun safety – The UV Index is very high in Nicaragua. Therefore sun protection such as sunscreen, a hat and sunglasses is very important.
Dogs – stray dogs are common. For more on dog safety, watch this video.
As with any destination, take all of your normal safety precautions.
Nicaragua Blogs
You can find our Nicaragua blogs below.
Affiliate Links
This website contains affiliate links, which means we may earn a commission on any purchases at no additional cost to you. Your support helps us continue our travels and make more travel blogs and travel videos, thank you!