Chic and cosmopolitan, Nice is a must visit destination on the French Riviera. The city is blessed with wide stretches of gorgeous beaches overlooking the azure waters of the Mediterranean Sea. The oceanfront promenades take full advantage of the unbelievable view. Not only that, but there are countless cafes and restaurants to tempt your taste buds! You will feel relaxed as soon as you get here. In this Nice destination guide we explore the Jewel of the French Riviera and help you plan the ultimate Nice vacation.
What is Nice known for?
Nice, a dazzling jewel on the French Riviera, attracts tourists from all over the world with its stunning beaches. The long stretches of pebble beach are caressed by the sparkling blue water of the Mediterranean Sea, creating a breathtaking contrast of colours. One of the most famous sights in Nice is the Promenade des Anglais, a lively waterfront boulevard where people stroll, bike, skate or simply enjoy the views. The charming Old Town of Nice offers a glimpse into the city's rich history and culture, with its vibrant markets, quaint cobblestone streets and cosy outdoor cafes.
Why you should visit Nice France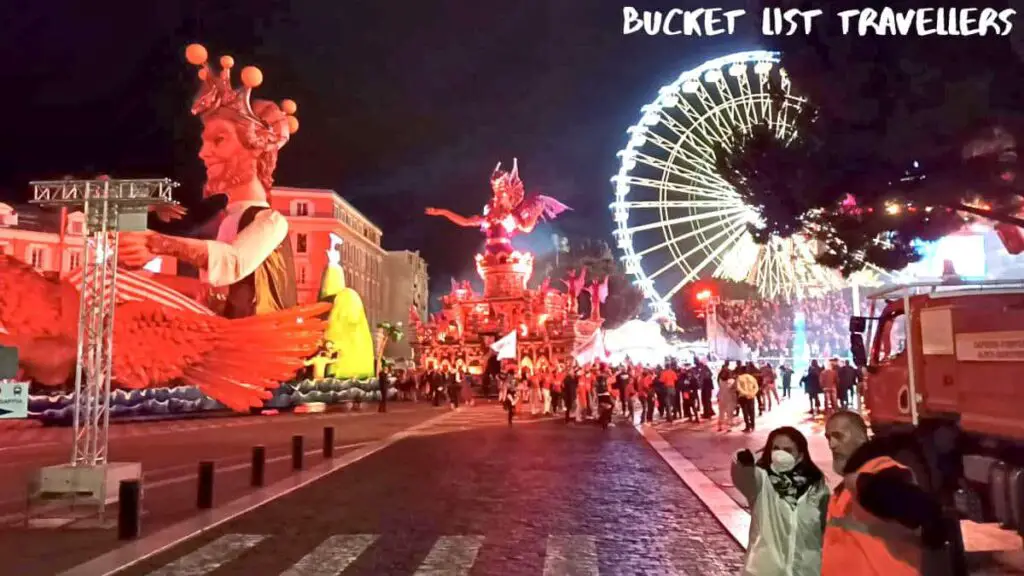 Nice is the ultimate French destination on the Cote d'Azur. Its Mediterranean location means year round sunny weather. This is perfect for enjoying the crystal clear waters of its impressive array of beaches. Our favourite thing to do in Nice is to enjoy the views with a relaxing stroll along the Promenade des Anglais. After working up an appetite, there's nothing better than having a long lunch at one of the many restaurants or cafes that are abundant throughout the city. Be sure to try some of Nice's local specialties such as ratatouille and salade niçoise. Nice is also the perfect base for exploring other popular destinations in this region including Cannes and Monaco, which are just a short drive away.
Nice Destination Guide: Know before you go
Basic info about Nice France
Language – French, although the Niçard Provençal dialect of the regional language Occitan is still spoken by a small portion of the population and some local television news is presented in Niçard. Being a popular tourist destination, English is spoken in many hotels, restaurants and tourism businesses. However not everyone you meet will be able to speak English. We find that if you at least attempt to speak a bit of French, you will get a warmer reception than if you just assume everyone speaks English. In our experience, most people we've spoken to start speaking English as soon as they hear our feeble attempts at speaking French.
Currency – euro (EUR). This has been the official currency of France since 2002. Currency exchanges can be found in Nice and ATMs are widely available.
Population – 343,000 (2015)
Area – 72 km2 (28 sq mi)
Department – Alpes-Maritimes. Nice is the capital of this department.
Region – Provence-Alpes-Côte d'Azur
Emergency number – 112 (calls) or 114 (sms or fax)
Police number – 17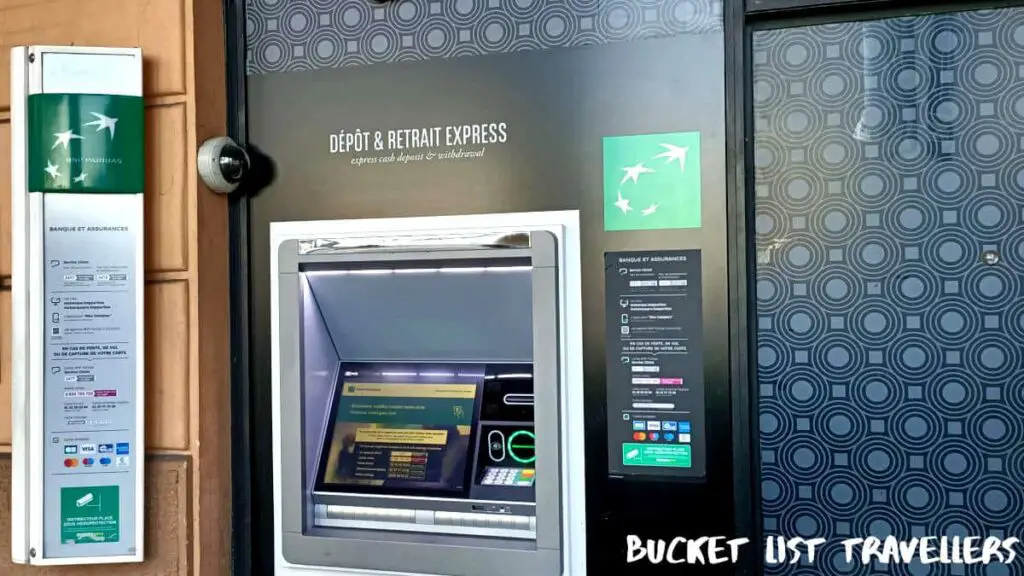 Utilities in Nice France
Electricity – France uses Types C and E power plugs. The country operates on a 230v supply voltage at 50Hz. Power outages are not common in France.
Water – the tap water in Nice is safe to drink. In cafes and restaurants, you can ask for a "caraffe d'eau", and the waiter will bring you a pitcher of water that is free and safe to drink.
Toilets – sit-down flushing toilets are the most common type of toilet in France. You can flush your toilet paper directly into the bin. Public toilets are common in France. Many public toilets are free to use, but some charge anywhere from 50 cents to 2 euros to use.
Telephone country code: +33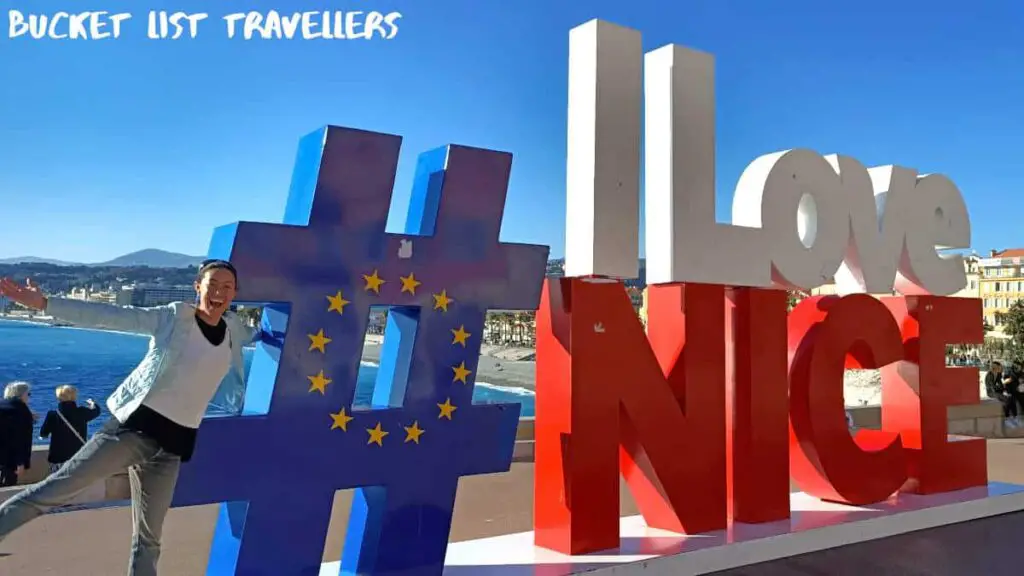 Where is Nice France?
Nice is the capital of the Alpes-Maritimes department in the Provence-Alpes-Côte d'Azur region of southern France. It is a port city on the Mediterranean Sea in the French Riviera. Nice is close to the border with Monaco as well as with Italy.
The closest major French cities to Nice are Cannes, Menton, Toulon and Marseille. Nice is less than half an hour by train from Cannes and Menton, 2 hours by train from Toulon and around 3 hours from Marseille.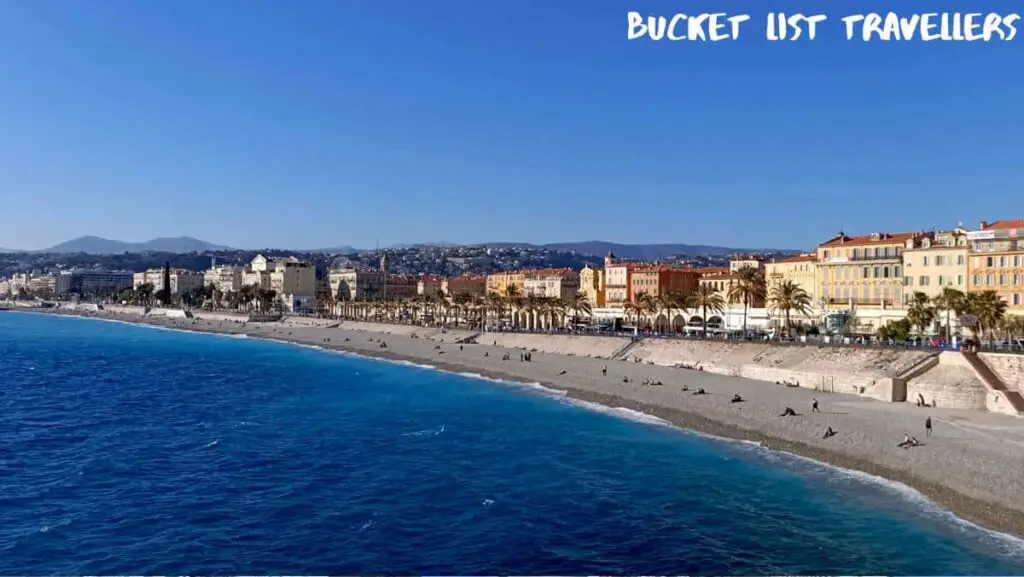 How to get to Nice France
Nice destination guide: Arriving by land
Nice France intercity land transport
The main transport options for travelling overland to Nice France are:
Private vehicle
Private transport operator
Navette (Shuttle Bus) – there are a number of regular as well as on demand shuttle buses that run from Nice Airport. Regular shuttles from Nice Airport go to Monaco and Menton, Cannes as well as Vallauris and Golfe-Juan. The cost is 11-22 euro per person, depending on the destination (price as at 2022). The journey time is 20-40 minutes. Alternatively on demand navettes between Nice Airport and Nice for example cost 40 euro for 1-4 people for a shared service.
Train
Bus
Bike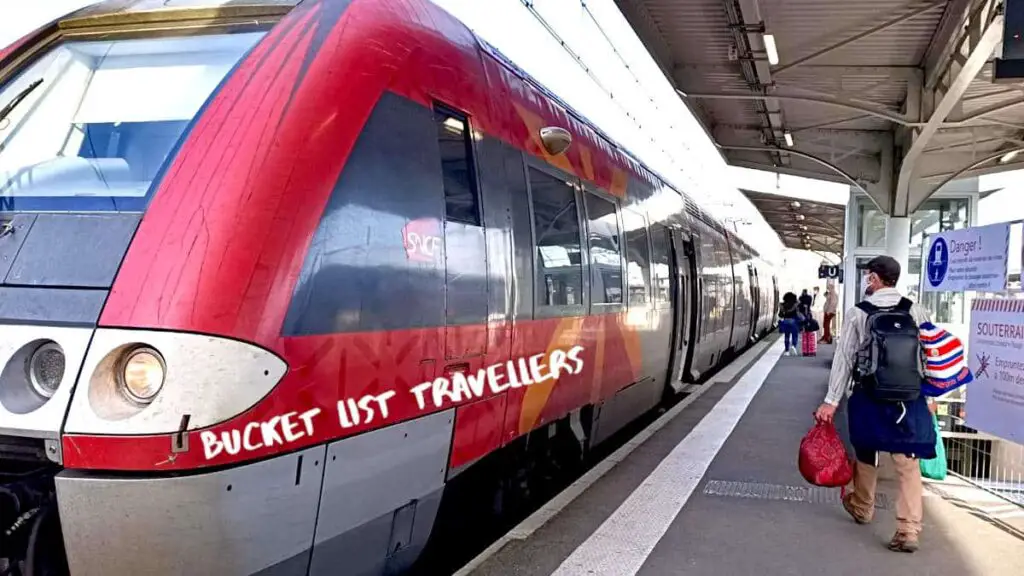 Driving to Nice from within France
If you are driving to Nice from within France, here are the travel times and distances:
Cannes – 35 minutes (34km, 21miles) with tolls or 46 minutes (32km, 20miles) without tolls
Toulon – 1 hour 50 minutes (151km, 94miles) with tolls or 2 hours 50 minutes (163km, 101miles) without tolls
Marseille – 2 hours 8 minutes (200km, 124miles) with tolls or 3 hours 38 minutes (217km, 135miles) without tolls
Paris – 8 hours 54 minutes (933km, 580miles) with tolls or 13 hours 59 minutes (920km, 572miles) without tolls
Intercity trains to Nice France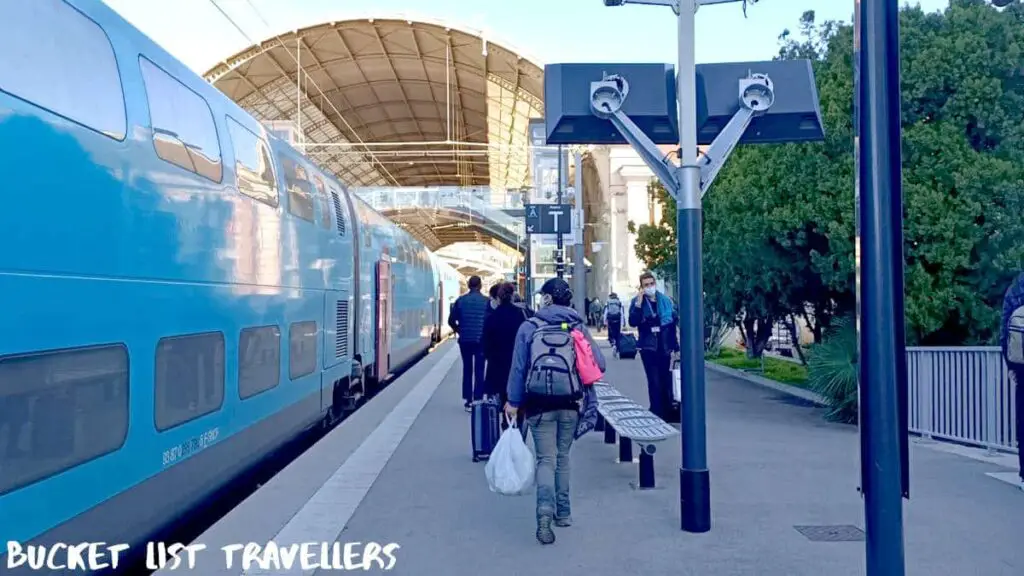 Trains are a cheap and efficient way to get to Nice France. There are 3 train stations in Nice. The main train station in Nice is Nice-Ville train station (Gare de Nice-Ville). This is located in the heart of Nice. It is also known as Gare de Nice-Thiers. The other train stations in Nice are Nice St Augustin near the airport as well as Nice Riquier near the port. These secondary train stations only service TER trains.
The following train brands service Nice:
TGV train – this is France's intercity high speed rail service.
Trenitalia France train – this intercity rail service covers France, Monaco and Italy. This line connects Nice to Monte Carlo in Monaco and then on towards Milan in Italy.
TER (Transport Express Régional) – the TER rail service is run by the regional councils of France.
The French national railway company that operates these services is called SNCF.
We recommend using the app and website TrainLine to book intercity train tickets in France. This is the app we used. We found it very easy to use with great functionality. Another great feature is that you can see days ahead to see what times of the day were the cheapest rates. The TrainLine app was much easier to use than the SNCF website and app, which we found really cumbersome and difficult to use.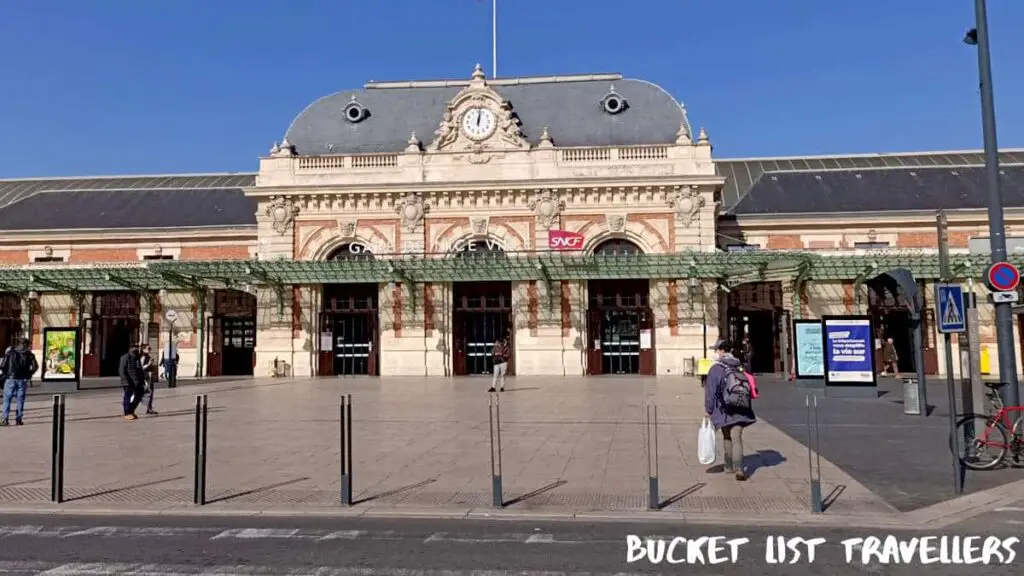 Intercity buses to Nice France
A common way to get around France is by using intercity buses. These are a budget friendly alternative to trains, but are generally a slower option. Intercity bus companies operating in Nice France include FlixBus as well as Blablacar Bus. Popular bus destinations from Nice include:
Marseille France – travel time 3 hours. Tickets start from 5 euro one way.
Toulon France – travel time 2-3 hours. Tickets start from 5 euro one way.
Lyon France – travel time 7-10 hours. Tickets start from 12 euro one way.
Paris France – travel time 14-16 hours. Tickets start from 22 euro one way.
Turin Italy – travel time 4 hours. Tickets start from 10 euro one way.
Milan Italy – travel time 6-8 hours. Tickets start from 11 euro one way.
Nice destination guide: Arriving by air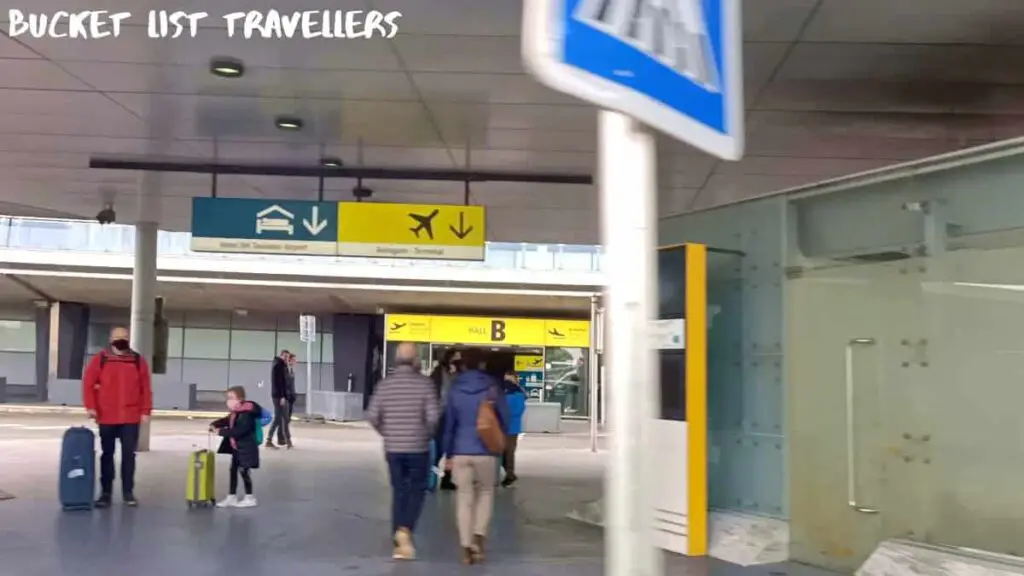 The nearest airport to Nice France is Nice Côte d'Azur Airport (Airport code NCE). This international airport is 6km (4miles) southwest of the city. Nice Airport is the 3rd busiest airport in France. It is a hub for Air France, a base for easyJet and also the closest airport to the city-state of Monaco.
Other nearby airports include:
Cannes – Mandelieu Airport Airport (Airport code CEQ). This airport is 31km (19miles) away.
Riviera Airport (Airport code ALL). This airport is 79km (49miles) away.
La Môle – Saint-Tropez Airport Airport (Airport code LTT). This airport is 84km (52miles) away.
Cuneo International Airport, Italy (Airport code CUF). This airport is 98km (61miles) away.
Toulon Airport (Airport code TLN). This is 113km (70miles) away.
The national airline of France is Air France.
Nice destination guide: Arriving by boat
The city of Nice is on the Mediterranean Sea. From Nice, there are ferries to Corsica as well as Sardinia. There are up to 14 ferry crossings from Nice per week. However availability may vary depending on the season. The only ferry company that operates out of Nice is Corsica Ferries.
There are around 12 ferries per week from Nice to Corsica. These ferries connect Nice to 4 different destinations in Corsica – Ajaccio, Bastia, Ile Rousse as well as Porto Vecchio. The sailing time is between 4.25 and 10 hours. A one-way ticket for a foot passenger is around 20-55 euro without a cabin and 90-110 euro with a cabin (price as at 2022).
There are around 2 ferries per week from Nice to Sardinia. These ferries connect Nice to Porto Torres in Sardinia. The sailing time is 10.5 hours.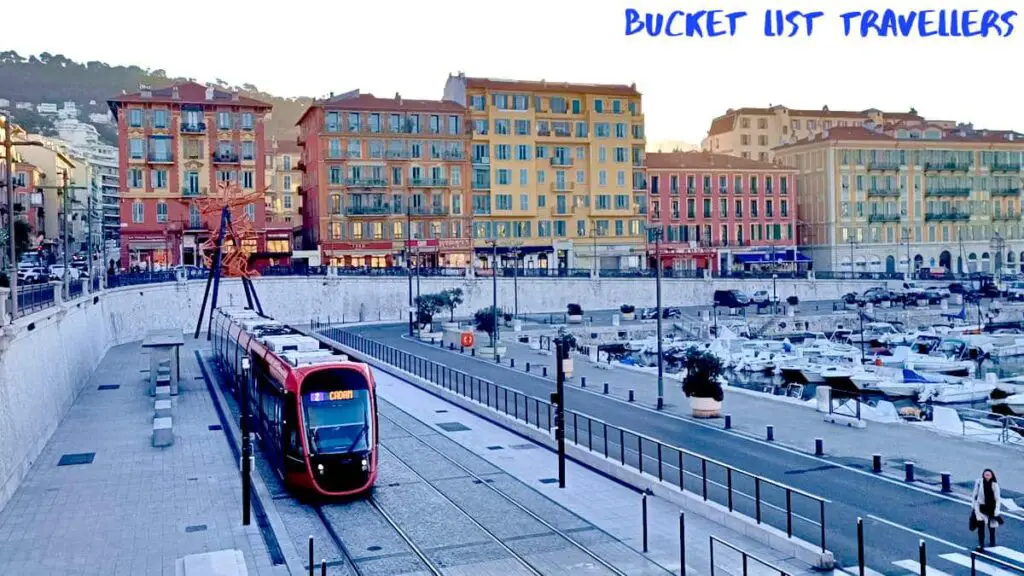 Nice destination guide: How to get around Nice France
Walking in Nice France
By far the easiest and cheapest way to get around Nice is to walk. Most of the main attractions in the city area are within easy walking distance. The beaches are about half an hour walk from the main part of town.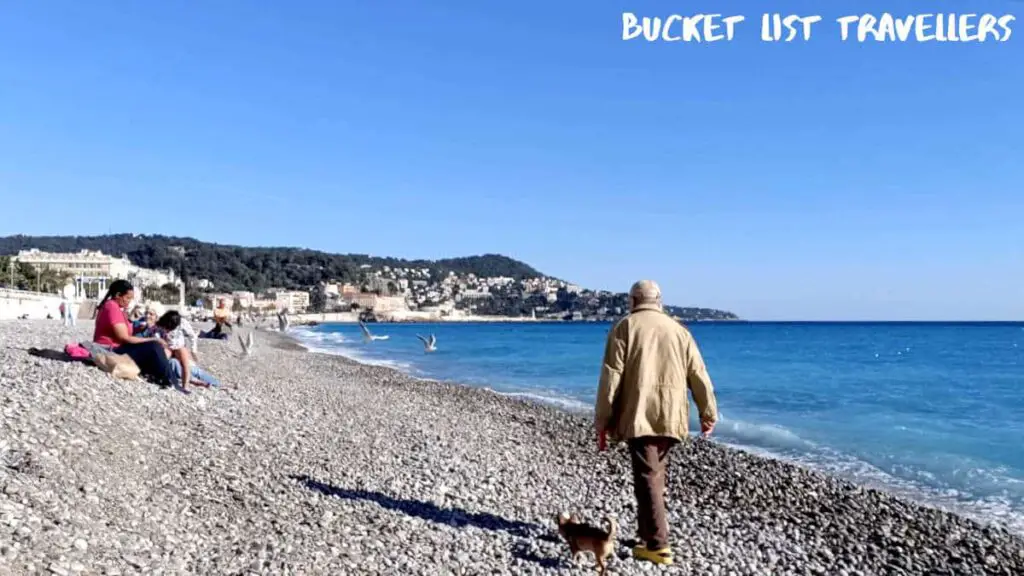 Local buses in Nice France
Local buses service Nice. For more information, see this website: https://www.lignesdazur.com/
Local trains in Nice France
There are 3 main train stations in Nice France. Trains are a convenient option for travelling between the city centre (Nice-Ville), the airport (Nice St Augustin) and the port (Nice Riquier).
Le petit train électrique de Nice (tourist train in Nice France)
The are Nice tourist trains depart from the Centennial monument on Promenade des Anglais. They operate all year round and depart every 30 minutes. There are two routes to choose from:
The "city centre" circuit. This runs on a 45 minute circuit which includes Place Masséna, the Church of Notre-Dame du Port de Nice and the museum of Modern and Contemporary Art.
The "castle" circuit. This runs on a 50 minute circuit which includes a 10 minute stop at the lookout point Baie des Anges.
Tickets are 10 euro for ages 13+, 5 euro for ages 4-12 and free for ages under 4 (prices as at 2023). For more information see this website: https://nice.city-life.fr/Loisirs/Nice/Divertissements/1397/Le-Petit-Train-de-Nice?lang=en
Scenic train rides from Nice France
There are a number of scenic train rides that depart from Nice France:
Trams in Nice France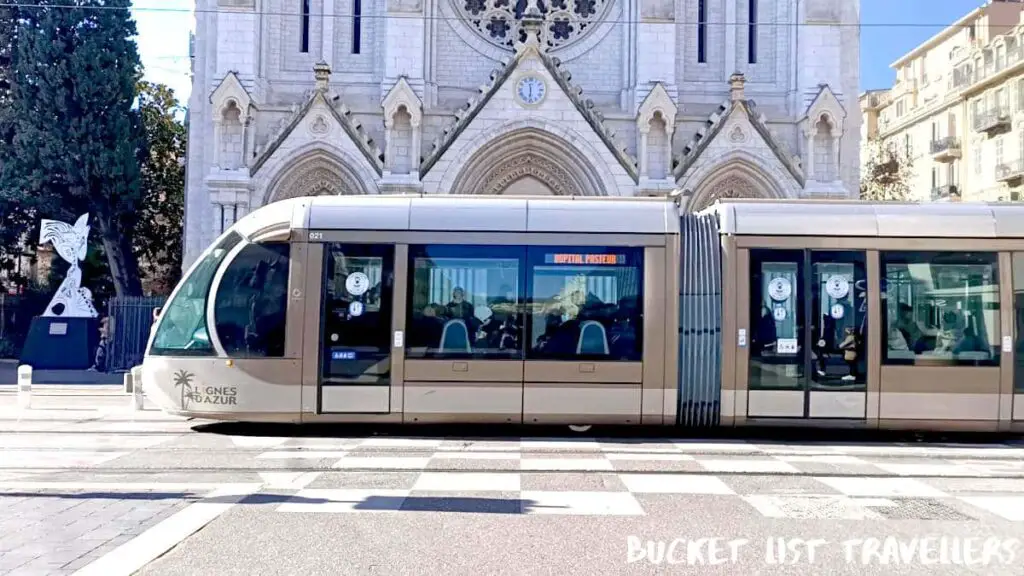 The Nice tramway is a three-line tram system which services Nice France. There are currently 55 stations in the network. Plans are in place for expansion of the network in future, with another line as well as more stations proposed.
Métro trains (subway or underground) in Nice France
Nice does not have a metro train system.
Vehicle hire in Nice France
A wide variety of vehicles can be rented in France. This includes:
Bicycles – There are self-service bike share services available in the city from companies such as Velo Bleu. Alternatively you can hire a bike from a bike hire shop such as Ma Bicyclette Bleue.
Electric scooters
Motorcycles
Cars
SUVs
Campervans
Boats
The French drive on the right side of the road.
Navettes (shuttles) in Nice France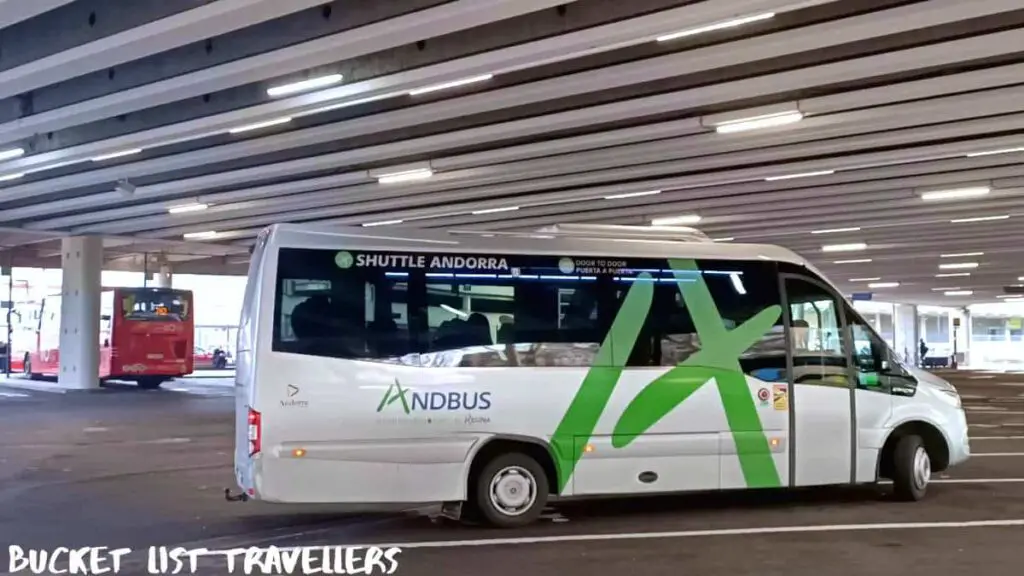 Navettes make short repetitive journeys between two destinations. Common journeys include going between the airport and nearby cities. There are navettes from Nice Airport. For more information see this website: https://www.niceairportxpress.com/en/home
Navettes Maritimes (maritime shuttles or boat buses) from Nice France
There are plans for maritime shuttles between Nice and Cap-d'Ail. This would provide easy access to Monaco.
Taxis in France
Taxis are common in France. Fares are regulated and are usually metered. The exception to this will be standard journeys such as airport trips. In this case the fare will be a fixed price. However in general your fare will include the following costs:
The pickup fee or minimum fee – this is charged as soon as you get into the vehicle
There may also be an additional fee for extra people or heavy luggage
A reservation fee – this will be higher if you book in advance compared to if you want a taxi immediately
Price per kilometre – this price can vary depending on the time of day
Price per hour – this is a price that gets charged when the taxi is stuck in heavy traffic. The price also varies depending on the time of day
Ride-share services in France
There are many rideshare services operating in France. These include Uber, BlaBlaCar, GoCarShare, Zify France, Flix Mobilityand CarpoolWorld.
France travel guide to travelling during Covid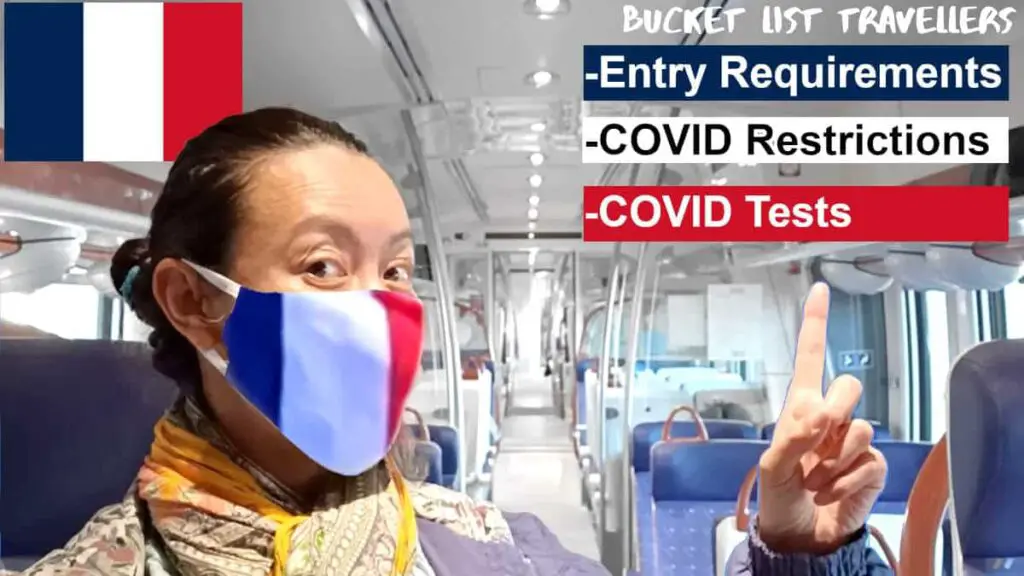 We have written a detailed post outlining the Covid entry requirements. You can find the post here.
Nice France destination guide: Is Nice France worth visiting?
Nice is an unmissable French destination. Bordered by the Mediterranean Sea, it is a dazzling jewel of the French Riviera. The city boasts a rich history that spans from ancient Greeks to modern celebrities. It showcases its heritage with stunning architecture such as its baroque churches and Old Town area. Nice also celebrates its culture with vibrant festivals and events, such as the Nice Jazz Festival and Carnival de Nice, that fill the streets with music and colours. Moreover, Nice delights food lovers with its mouthwatering cuisine, influenced by Provence and Italy, and featuring specialities like socca and salade niçoise. To top it all off, Nice enjoys a sunny and mild Mediterranean climate that makes it a perfect destination all year round.
Nice destination guide: How long to spend in Nice France
Nice is a great place to come for a weekend. It is a relaxed port city with a pretty old town area, some great waterfront restaurants near the port as well as some beautiful beaches. We spent 4 days in Nice and enjoyed taking time to enjoy the various activities available in this beautiful city.
Nice destination guide: What to do in Nice France
Nice is a beautiful French city with many activities on offer. It has a range of great free activities as well as paid activities.
Nice destination guide: Free things to do in Nice France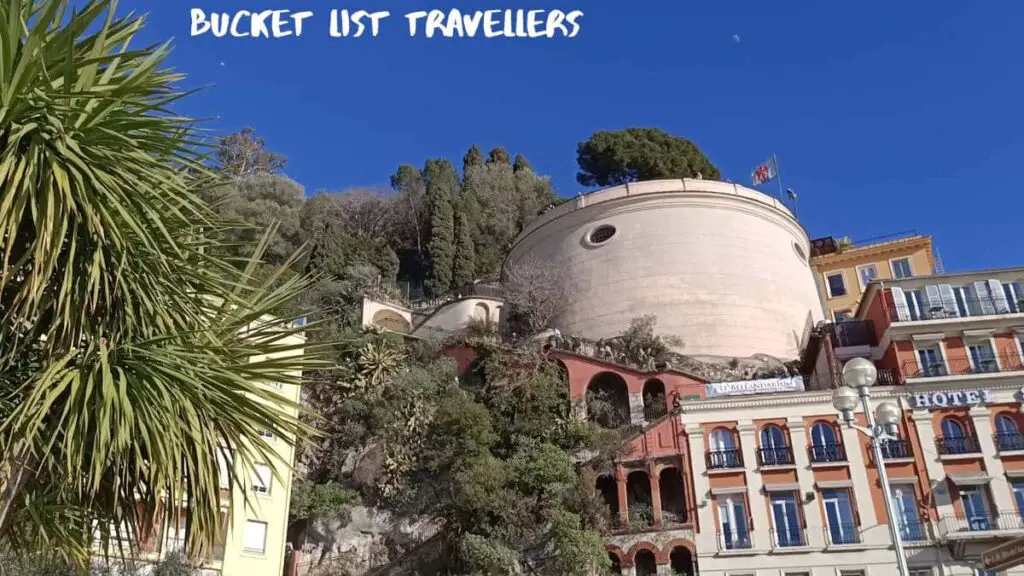 There are enough free activities in Nice France to keep you entertained for a weekend or even a leisurely week:
For more details, see our Nice travel guide on the 20 Best Free Things To Do in Nice France.
On the 1st Sunday of every month entry to some Nice museums is free. This includes:
Marc Chagall National Museum. On other days the entry fee is 8 euro for adults (as at 2023).
Nice destination guide: Paid activities in Nice France
A number of attractions in Nice France charge an entry fee:
Musée Massena – entry fee is 15 euro for adults (as at 2023)
Parc Phœnix – entry fee is 5.20 euro for adults (as at 2023)
Train des Merveilles – day pass for unlimited travel on the TER network is 16 euro for adults (as at 2023)
Musée Matisse – entry fee is 12 euro for adults (as at 2023)
Le Petit Train Electrique de Nice – cost per ride is10 euro for adults (as at 2023)
Palais Lascaris – entry fee is 5 euro for adults (as at 2023)
Musée d'Art Moderne et d'Art Contemporain – entry fee is 10 euro for adults (as at 2023)
However many of these attractions have free entry with the French Riviera Pass. See the French Riviera Pass section below for more information.
Nice Carnival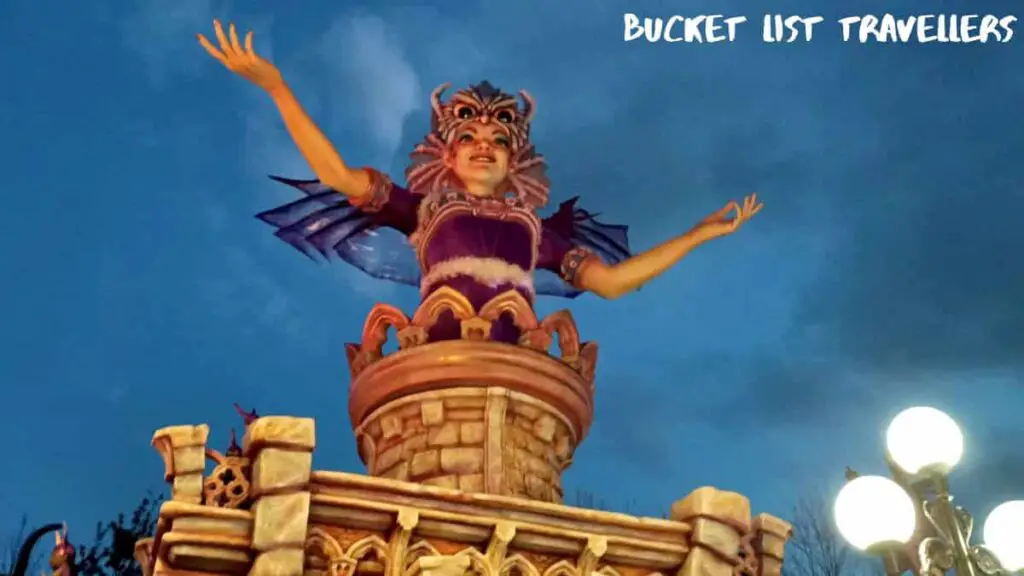 The Nice Carnival is a major event that is held in Nice in February or early March each year. It is one of the biggest carnival events in the world. This vibrant two week festival includes parades, masquerades, floats and competitions. Some of the major events during carnival include the Battle of the Flowers and the Burning of the King in the Sea. Each year a theme is chosen for the carnival, and floats are decorated to reflect the theme. Note that many events are ticketed and are tickets may be limited.
French Riviera Pass
The French Riviera Pass is a city card that allows you to explore many of the attractions in Nice for free. Additionally you can get discounts and special offers for a selection of shops and activities in the area. There are 24 hour, 48 hour and 72 hour passes are available. You can also get a pass with transport included for 4 euro per day extra (price as as 2023). The transport option includes bus and tramway travel in Nice, including to the airport. However it does not include transport to Antibes or Monaco.
The prices for the French Riviera Pass are as follows (prices as at 2023):
24 hour French Riviera Pass – 28 euro without transport, 32 euro with transport
48 hour French Riviera Pass – 40 euro without transport, 48 euro with transport
72 hour French Riviera Pass – 59 euro without transport, 71 euro with transport
For more information about the French Riviera Pass, see this website: https://en.frenchrivierapass.com/
Three-Day Museum Pass
For 15 euro, you can get access to all municipal museums and galleries in Nice for 72 hours. To buy this pass, click here: https://billetterie-museesnice.tickeasy.com/fr-FR/produits
Weather in Nice France
Nice enjoys a warm temperate climate. Its climate is heavily influenced by the nearby Mediterranean area. It has cold winters, with average temperature range between 5°C and 12°C in the coldest month of January. Summers last from June to September and are hot and sunny, with the average temperature range between 20°C and 27°C in the hottest month of August. It is a windy city and experiences frequent and sometimes powerful winds. The month with the most rainfall is November with 6.9 days of rain on average and the driest month is July with an average of 2.4 rainy days.
Best time to visit Nice France
Nice is a destination that you could visit all year round, with mild weather, plenty of activities to do and sights to see. Being a seaside resort town, Nice is best enjoyed during warmer weather. However during the peak season of June to August Nice gets very busy and prices are higher. Therefore we recommend visiting during the shoulder season months of April, May, September or October when the weather is pleasant but prices are lower. We visited Nice in early February and we lucky enough to experience Carnaval de Nice, which is one of the major festivals in the city.
Internet and mobile phones in France
Since June 15th, 2017, Roam Like at Home (RLAT) rules came into force for European Union (EU) countries. As such, people with EU mobile numbers are no longer charged temporary mobile roaming fees if they travel within the European Union. This means that if you have a European Union mobile number, you can use that number anywhere within the European Union and you will be charged for calls, texts and data in the same way as if you were in your home country. There are limits to this in order to prevent abuse of these rules.
The main internet and phone companies in France include Orange, SFR, LeFrenchMobile, Bouygues Telecom, Lebara, Lycamobile and Free.
5G has been in France since November 2020. However 2G is expected to continue in France until 2030.
Cell phone SIM cards can be bought in many places throughout France. These include phone stores, some supermarkets, newspaper kiosks as well as online.
How much to budget for Nice France?
Is Nice expensive?
Nice is one of the more expensive places to stay on the Mediterranean. This is particularly in relation to accommodation costs. Additionally, food costs for eating out at restaurants can also be high, but there are plenty of more budget friendly options as well. However Nice has plenty of free or cheap activities and transport costs are very reasonable. Overall Nice is a relatively expensive place to stay by European standards, but is cheaper than Paris.
Nice destination guide: Daily spend for a couple travelling in Nice France
As a rough guide, we recommend the following budgets for a couple:
Low-budget daily spend – 100 euro per day for a couple will get you budget accommodation, self catering and bakery meals, walking or catching local transport to get around the city and free or cheap activities.
Mid-range daily spend – 300 euro per day for a couple will get you mid-range accommodation, walking or catching local transport to get around the city, dining at reasonably priced cafes and restaurants and some paid activities.
Luxury spend – 1000 euro per day for a couple will get you a premium experience, staying at high end hotels, travelling by private transport, doing a range paid activities and eating at high end restaurants.
Nice destination guide: Accommodation in Nice France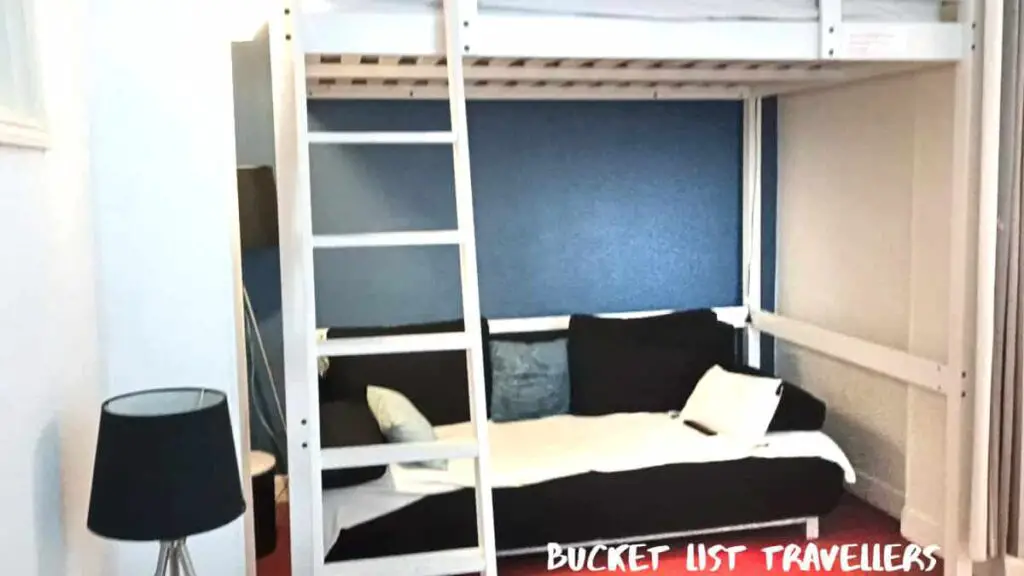 There is a good range of accommodation to suit most budgets in Nice France. Airbnb operates in France and we were impressed with the range of options available in Nice.
Where to stay in Nice France?
We recommend the following accommodation in Nice France:
Best 4 star hotel in Nice France – Hôtel Apollinaire Nice is a stylish and impeccably clean hotel with friendly and accommodating staff. It is centrally located and also close to trams to the airport. Their breakfasts are varied and delicious.
Best luxury hotel in Nice France – Hotel Le Negresco is an iconic hotel in a prominent location on Promenade des Anglais. The building itself is stunning and its interior is exquisitely adorned with artwork. It has beautiful views over the water.
Best furnished apartment in Nice France – Aparthotel AMMI Vieux Nice is conveniently located close to the Old Town as well as the beach. The apartments are clean and spacious with a well-equipped kitchen and comfortable beds. Additionally, the own is very friendly and helpful.
How much is accommodation in Nice France?
For short-term accommodation, a general price per night is as follows:
Budget accommodation – 17-40 euro for a dorm
Mid-range accommodation – 40-175 euro for a private room
Luxury accommodation – 250-400 euro a night for a luxury hotel
Rental property – 250-800 euro a night for a fully furnished 3-5 bedroom home
Nice destination guide: Food in Nice France
Being on the water, seafood is very popular in Nice.
How much does food cost in Nice France?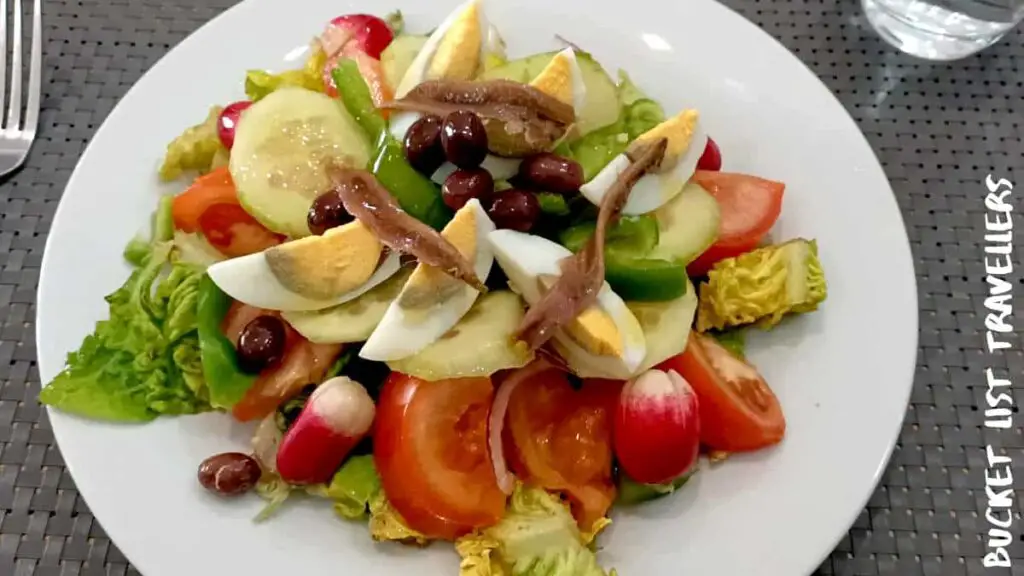 Our price guide for your food budget in Nice France is as follows (prices as at 2022):
Restaurant meal – 15-20 for a main dish
Bakery food – 1-2 euro for a croissant or baguette, 2-3 euro for a slice of pizza
Glass of wine – 4-6 euro
Coffee – 3-4 euro
Regional dishes in Nice France
Ratatouille
Salade niçoise
Pissaladière
Pan bagnat
Daube niçoise
Socca
Les beignets de fleur de courgette
Petits farcis
Soupe au pistou
Tourte aux blettes
Ganses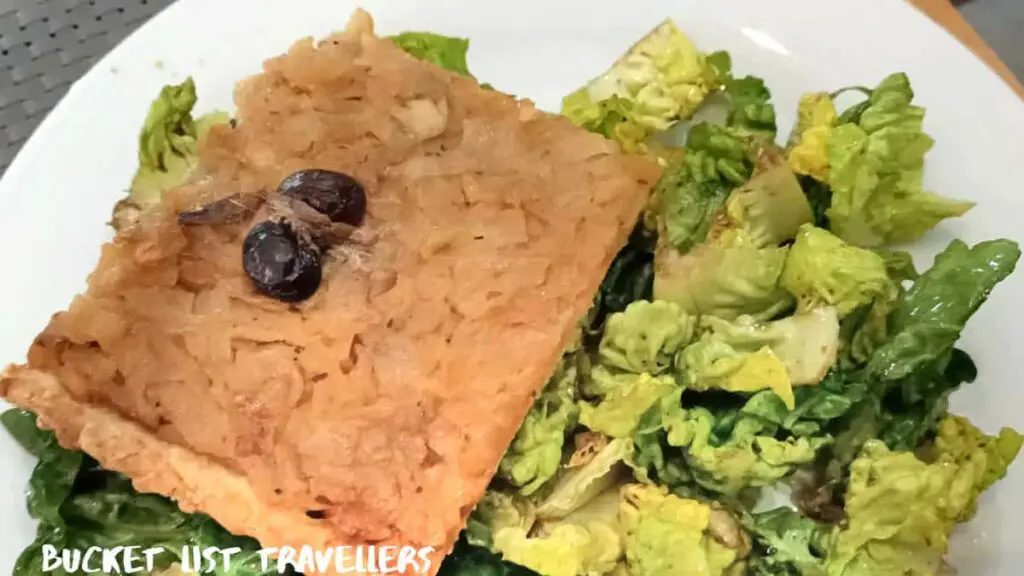 Cheap Eats in Nice France
Boulangeries (French bakeries) are a great place to get cheap and delicious food. Baguettes are typically around 1 euro. Croissants and pain au chocolat are also around 1 euro. Other common food that can be found in boulangeries include quiches, pastries, sandwiches as well as pizzas.
Crêpes are a great cheap eat option in France. They are made fresh to order and are a delicious local food. Expect to pay 1-5 euro per crêpe, depending on the filling.
Fine dining in Nice France
Nice is home to a number of Michelin Guide restaurants.
2 star Michelin restaurants in Nice France (2023)
1 star Michelin restaurants in Nice France (2023)
L'Aromate
Pure & V
Le Chantecler
Les Agitateurs
JAN
Michelin Bib Gourmand restaurants in Nice France (2023)
Chez Davia
L'Alchimie
Fine Gueule
La Merenda
Olive et Artichaut
Bistrot d'Antoine
Rouge
Michelin Plate restaurants in Nice France (2023)
Bistrot Marin
Le Séjour Café
Onaka
Racines
Les Deux Canailles
Eau de Vie
L'Atelier
Le Canon
Peixes Opéra
Comptoir du Marché
Bar des Oiseaux
La Rotonde
Peixes Bonaparte
Yose
Chabrol
Epiro
La Réserve de Nice
Le Mesclun
Nice France culture
France national holidays
New Year's Day – 1 January
Good Friday – the Friday before Easter Sunday, typically in March or April. This is only observed in Alsace and Moselle.
Easter Monday – the Monday after Easter Sunday, typically in March or April.
Labor Day – 1 May
Victory Day – 8 May
Ascension Day – this is celebrated 40 days after Easter
Whit Sunday – this is the Christian holiday of Pentecost. It is celebrated 50 days after Easter, typically in May or June
Whit Monday – it is the day after Whit Sunday, typically in May or June
Bastille Day – 14 July
Assumption Day – 15 August
All Saints Day – 1 November
Armistice Day – 11 November
Christmas Day – 25 December
St Stephen's Day – 26 December. This is only observed in Alsace and Moselle.
National symbols of France
France flag – a tricolour flag featuring three vertical bands coloured blue, white and red from left to right.
France coat of arms – this features a lictor's fasces (a bundle of wooden rods with an axe protruding from the top). This symbol rests on branches of laurel and oak. There is also a ribbon with the national motto "Liberté, égalité, fraternité". The lictor's fasces represents magisterial power, law and governance. The oak is the national tree of France and symbolises strength and endurance. The laurel is a symbol of triumph.
National flower – fleur-de-lis (also known as the lily flower)
National bird – Gallic rooster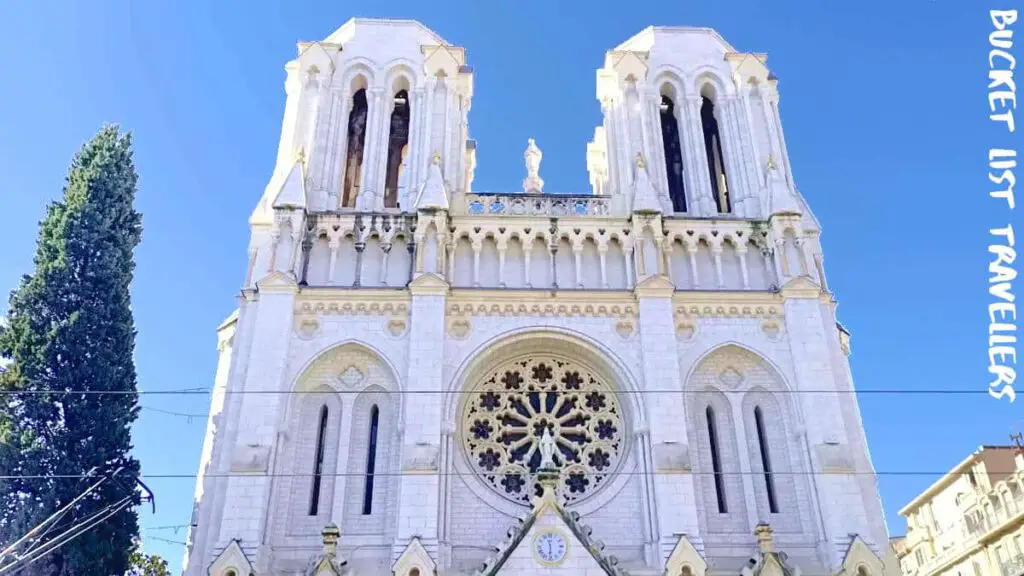 France pastimes
National dish – Pot-au-Feu
Popular drinks – Pastis, wine
National sport – football
Religion – 41% Catholic, 40% non-religious (as at 2019)
Famous people from Nice France
Famous people born in Nice France – philosopher Henry Cavendish, US Army general Billy Mitchell, actor Lucas Bravo, psychologist Alfred Binet, military leader André Masséna, magistrate and politician Simone Veil, celebrity children Vivienne and Knox Jolie-Pitt,
Sports stars from Nice France – footballer Hugo Lloris, F1 race car driver Jules Bianchi, tennis player Gilles Simon, figure skater Surya Bonaly, tennis player Alizé Cornet, footballer Jonathan Matijas
Is Nice France Safe?
France travel guide: Safety in France
We travelled through France for two months and found the country to be extremely safe. As with any country, there are good areas as well as bad areas. Watch out for pickpockets particularly in Paris, Marseilles, Nice, Lyon, Cannes as well as Strasbourg. Also, make sure no-one is watching whenever you are entering pin codes and never lose sight of your credit card when making a purchase.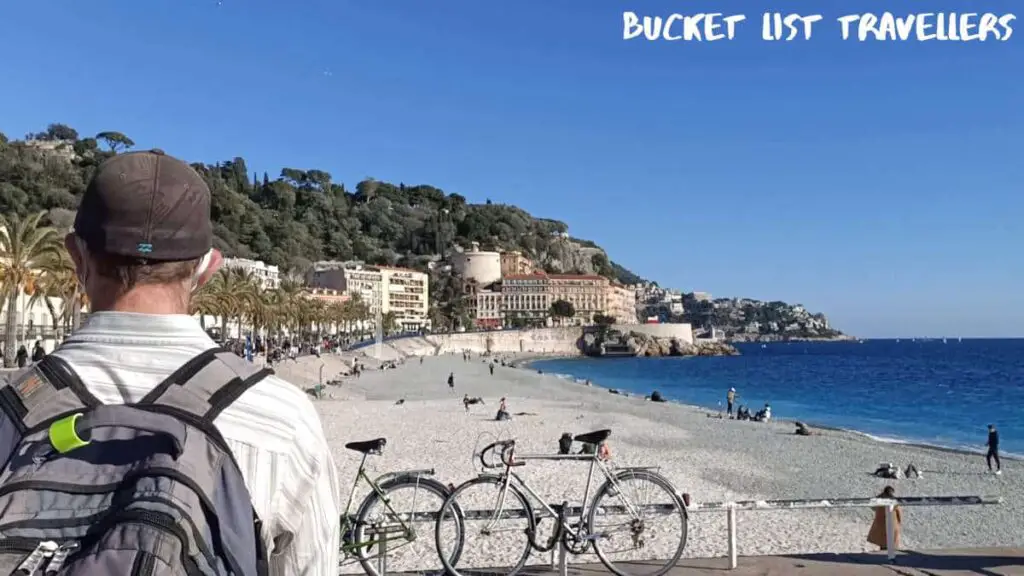 General safety considerations in France
Other general safety considerations for travel in France:
Drinking water – The tap water is safe to drink in Nice.
Mosquitoes – the tiger mosquito has been present in France since 2004. This type of mosquito spreads diseases such as Zika, dengue and chikunguya.
Road safety – French motorways are the safest in continental Europe. However the National and Departmental roads are much less safe. Additionally, roads are the leading cause of violent death in the country. Take care on the roads in France.
Water safety – If you visit any of the beaches or waterways near Nice take care when swimming as currents and waves may be stronger than you expect.
Sun safety – Exposure to the sun can have adverse short-term and long-term effects on the skin, eyes as well as the immune system. Sun protection such as sunscreen, a hat and sunglasses is very important to ensure you don't get burnt.
As with any destination, take all of your normal safety precautions.
France Blogs
You can find our France travel blogs below.
Affiliate Links
This website contains affiliate links, which means we may earn a commission on any purchases at no additional cost to you. Your support helps us continue our travels and make more travel blogs and travel videos, thank you!