The charming castle town of Carcassonne is set on the banks of the Canal du Midi in southern France. This beautiful fortified city is one of the most visited destinations in France. A major drawcard of any Carcassonne visit is its 2 UNESCO World Heritage Sites as well as its impressive selection of restaurants and cafes. In this Carcassonne travel guide, we'll give you everything you need to plan your next trip to Carcassonne France.
What is Carcassonne famous for?
Carcassonne is famous for the Carcassonne medieval city, the Cité de Carcassonne. This UNESCO heritage site is one of France's most famous monuments. It is the largest medieval walled city in Europe and was a stronghold of the Occitan Cathars during the Albigensian Crusades. The fortress was built in the 13th century and restored by famous French architect Eugène Viollet-le-Duc in the 19th century.
Why you should visit Carcassonne France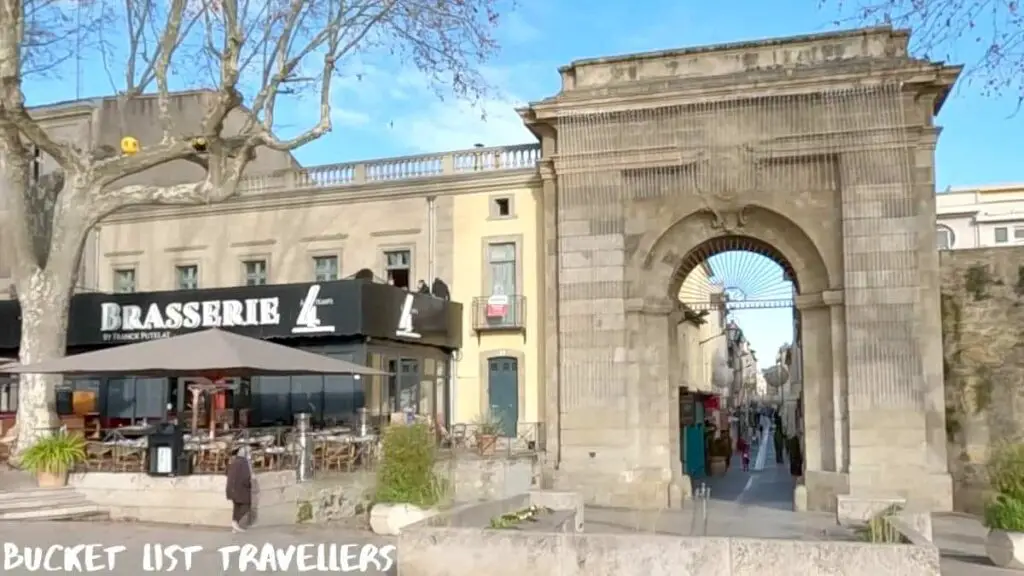 Carcassonne is one of the most impressive cities in southern France. This historic city has been carefully restored and is one of the best examples of a medieval fortified city. It is a foodie's paradise, being home to a number of Michelin guide restaurants including one 2 Michelin star restaurant. There are 3 rivers running through the city, plenty of scenic walking paths to wander down and a number of beautiful parks and squares to relax in. It is the perfect place for a relaxing weekend away in France.
Carcassonne Destination Guide: Know before you go
Basic info about Carcassonne France
Language – French, although historically the language Occitan was spoken here. English is widely spoken, but not everyone you meet will be able to speak English. We find that if you at least attempt to speak a bit of French, you will get a warmer reception than if you just assume everyone speaks English. In our experience, most people we've spoken to start speaking English as soon as they hear our feeble attempts at speaking French.
Currency – euro (EUR). This has been the official currency of France since 2002. Currency exchanges can be found in Carcassonne and ATMs are widely available.
Population – 46,000 (2015)
Area – 65 km2
Department – Aude (Carcassonne is the capital of this department)
Region – Occitanie (in the former Languedoc-Roussillon region)
Utilities in Carcassonne France
Electricity – France uses Types C and E power plugs. The country operates on a 230v supply voltage at 50Hz. Power outages are not common in France.
Water – the tap water in Carcassonne is safe to drink. In cafes and restaurants, you can ask for a "caraffe d'eau", and the waiter will bring you a pitcher of water that is free and safe to drink.
Toilets – sit-down flushing toilets are the most common type of toilet in France. You can flush your toilet paper directly into the bin. Public toilets are common in France. Many public toilets are free to use, but some charge anywhere from 50 cents to 2 euros to use.
Telephone country code: +33
Where is Carcassonne France?
Here is a map of Carcassonne France:
Carcassonne is the capital of the Aude department, which is in the Occitanie region of southern France. The Occitanie region was formed in 2016 as an amalgamation of 2 former regions. The region that Carcassonne lies in used to be known as the Languedoc-Roussillon region.
The closest major cities to Carcassonne are Toulouse, Narbonne and Montpellier. Carcassonne is around one hour by train from Toulouse, 40 minutes by train to Narbonne and 1.5 hours from Montpellier.
How to get to Carcassonne France
Carcassonne travel guide: Arriving by land
Carcassonne France intercity land transport
The main transport options for travelling overland to Carcassonne France are:
Private vehicle
Private transport operator
Navette (Shuttle Bus) – this runs from Carcassonne Airport to the SNCF train station. The cost is 6 euro per person.
Train
Bus
Bike
Driving to Carcassonne from within France
If you are driving to Carcassonne from within France, here are the travel times and distances:
Toulouse – 1 hour 9 minutes (93.4km) with tolls or 1 hour 45 minutes (105 km) without tolls
Narbonne – 47 minutes (60km) with tolls or 58 minutes (57km) without tolls
Montpellier – 1 hour 42 minutes (154km) with tolls or 2 hours 6 minutes (164km) without tolls
Paris – 7 hours 59 minutes (769km) with tolls or 10 hours 2 minutes (765km) without tolls
Intercity trains to Carcassonne France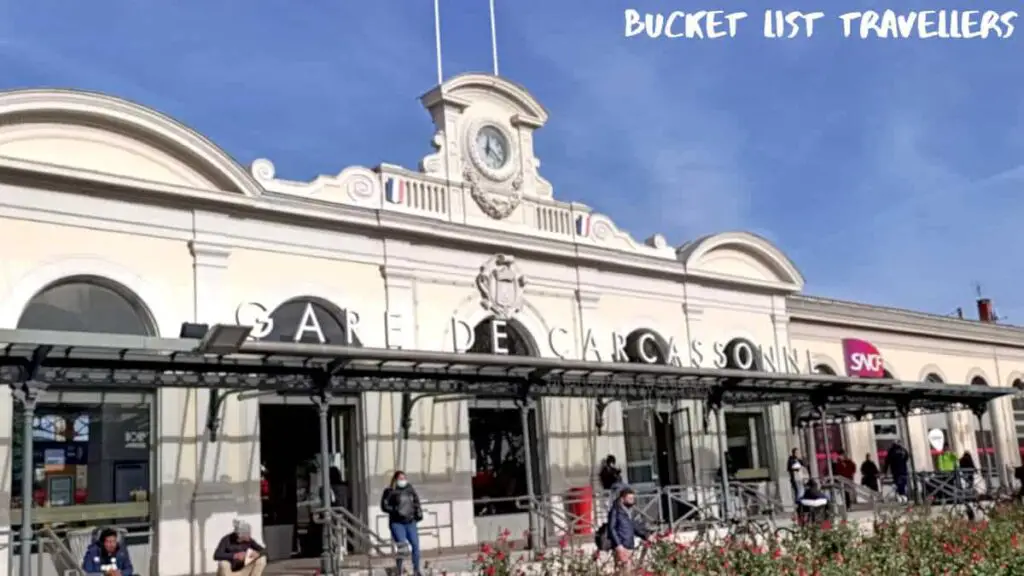 Trains are a cheap and efficient way to get to Carcassonne France. Carcassonne Train Station is called Gare de Carcassonne in French. The train station has 3 platforms which receive on average 5 trains per hour. The following train brands service Carcassonne:
TGV train – this is France's intercity high speed rail service
Intercités – this is a non-high speed rail service which operates on the 'classic' rail network in France.
TER (Transport Express Régional) Languedoc-Roussillon train – the TER rail service is run by the regional councils of France.
The French national railway company that operates these services is called SNCF.
We recommend using the app and website TrainLine to book intercity train tickets in France. This is the app we used. We found it very easy to use with great functionality. Another great feature is that you can see days ahead to see what times of the day were the cheapest rates. The TrainLine app was much easier to use than the SNCF website and app, which we found really cumbersome and difficult to use.
Intercity buses to Carcassonne France
A common way to get around France is by using intercity buses. These are a budget friendly alternative to trains, but are generally a slower option. Intercity bus companies operating in Carcassonne France include FlixBus and Blablacar Bus. Popular bus destinations from Carcassonne include:
Barcelona Spain – Barcelona to Carcassonne bus travel time 4-5 hours. Tickets start from 15 euro one way.
Toulouse France – Toulouse to Carcassonne bus travel time 1 hour 20 minutes. Tickets cost 3 euro per way.
Montpellier France – Montpellier to Carcassonne bus travel time 2-6 hours. Tickets start from 5 euro one way.
Marseille France – Marseille to Carcassonne bus travel time 4-8 hours. Tickets start from 10 euro one way.
Lyon France – Lyon to Carcassonne bus travel time 7 hour 15 minutes. Tickets cost 25 euro per way.
Carcassonne travel guide: Arriving by air
The nearest airport to Carcassonne France is Carcassonne Airport (Airport code CCF). This international airport is also known as Carcassonne Salvaza Airport. It is 3.2 km away from the city. The budget airline Ryanair operates from this airport. Flights to and from Carcassonne service 9 destinations across 5 countries in Europe. These countries are Belgium, Ireland, Italy, Portugal and the United Kingdom. There are currently no domestic flights to Carcassonne Salvaza Airport.
The closest airport to Carcassonne offering domestic flights is Perpignan Airport (Airport Code PFG). Perpignan airport is 67.7km from Carcassonne. This airport has domestic flights to Lille and Nantes with the airline Volotea as well as Paris Orly with Transavia France.
Other nearby airports include:
Toulouse Airport (Airport code TLS). This airport is 91.1km away.
Montpellier Airport (Airport code MPL). This is 136.2km away.
The national airline of France is Air France.
Carcassonne travel guide: Arriving by boat
The rivers Aude, Fresquel and the Canal du Midi run through Carcassonne. It is possible to get to Carcassonne by boat. Keep in mind that there are 17 locks in Greater Carcassonne, so expect a leisurely trip.
Carcassonne travel guide: How to get around Carcassonne France
Walking in Carcassonne France
By far the easiest and cheapest way to get around Carcassonne is to walk. Carcassonne is a very walkable city. It is also very scenic, so walking is a very pleasant way to get around. Keep in mind that the cheaper supermarkets such as Lidl and Aldi are on the outskirts of the city. This is about half an hour walk from the main part of town. You can however find markets, convenience stores and bakeries in the centre of town. Check out our Self Guided Walking Tour of Carcassonne France for more a sample walking route with map.
Local buses in Carcassonne France
Local buses service Carcassonne.
Trams in Carcassonne France
There are no trams in Carcassonne.
Métro trains (subway or underground) in Carcassonne France
Carcassonne does not have a metro train system. It does however have a train station that connects it with other parts of France.
Vehicle hire in France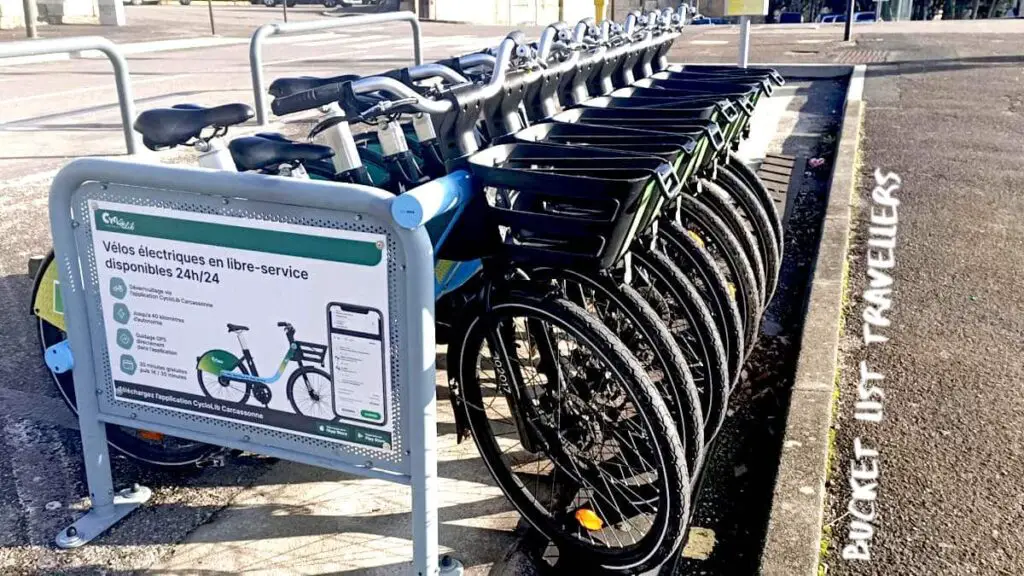 A wide variety of vehicles can be rented in France. This includes:
Bicycles – Carcassonne is the perfect place for cycling. There are self-service electric bike share services available in the city. To use the bike share service, download the "Cyclolib Carcassonne" app to your phone and follow the instructions. Bikes can be found outside the train station at Carcassonne and throughout the city. Alternatively you can hire a bike from a bike hire shop such as Evadeo Cycles. The best places to cycle in Carcassonne include the bike path next to the Canal du Midi as well as the path next to the Aude River.
Electric scooters – electric scooters are another popular mode of transportation in France. They are lightweight and less bulky compared to bikes. They are great for navigating the little alleyways that are typical throughout France. Much like bikes, electric scooters can be hired in many areas around France. To hire a scooter you will need to download the relevant app in order to unlock the scooter. The price usually includes an unlocking fee as well as a by the minute rate. Expect to pay around 10-13 euro an hour.
Motorcycles
Cars
SUVs
Campervans
Boats
The French drive on the right side of the road.
Navettes (shuttles) in Carcassonne France
Navettes make short repetitive journeys between two destinations. Common journeys include going between the airport and the city centre. These journeys can be booked on demand for a fixed price. The navette between Carcassonne Airport and the SNCF train station costs 6 euro per person.
Taxis in France
Taxis are common in France. Fares are regulated and are usually metered. The exception to this will be standard journeys such as airport trips. In this case the fare will be a fixed price. However in general your fare will include the following costs:
The pickup fee or minimum fee – this is charged as soon as you get into the vehicle
There may also be an additional fee for extra people or heavy luggage
A reservation fee – this will be higher if you book in advance compared to if you want a taxi immediately
Price per kilometre – this price can vary depending on the time of day
Price per hour – this is a price that gets charged when the taxi is stuck in heavy traffic. The price also varies depending on the time of day
Ride-share services in France
There are many rideshare services operating in France. These include Uber, BlaBlaCar, GoCarShare, Zify France, Flix Mobilityand CarpoolWorld.
France travel guide to travelling during Covid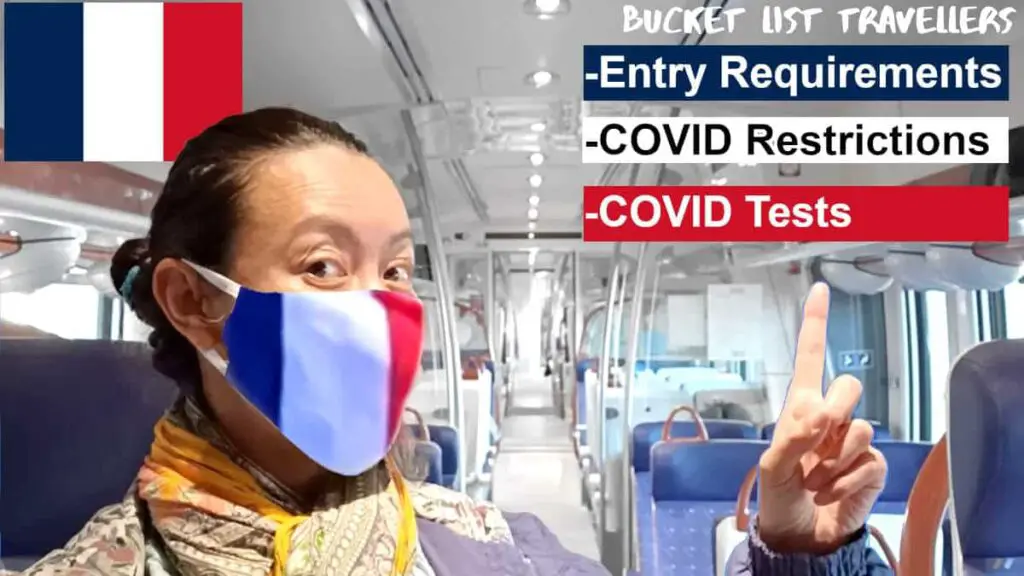 We have written a detailed post outlining the Covid entry requirements. You can find the post here.
Carcassonne France destination guide: Is Carcassonne France worth visiting?
Carcassonne is certainly a French destination worth visiting. This is particularly true for lovers of history as well as for board game enthusiasts. However the city has plenty to offer for those after a short vacation in France. With a great range of accommodation and dining options available, it's the perfect place for a day trip or a weekend away. Furthermore it's beautiful waterways, charming town squares and elegant parks provide plenty of areas to explore.
Carcassonne travel guide: How long to spend in Carcassonne France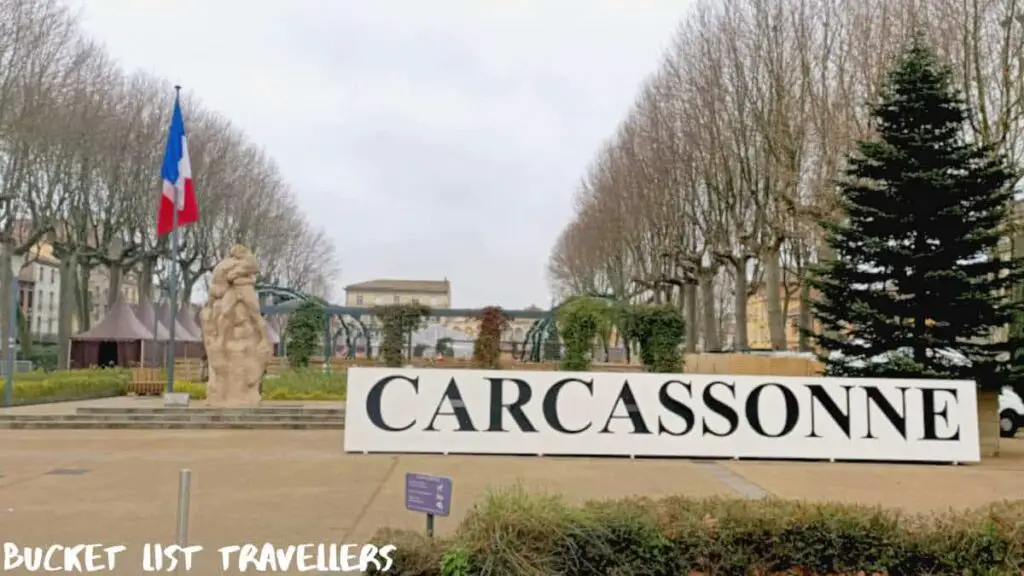 Are you trying to decide on how many days in Carcassonne France? Visiting Carcassonne is certainly possible as a day trip. You can see most of the major sites within a day. However your final decision on how much time to visit Carcassonne depends on whether you want to just see the major sites or have a more leisurely holiday. We spent a week in Carcassonne and enjoyed taking time to enjoy the relaxed pace of life of this beautiful city.
What to do in Carcassonne France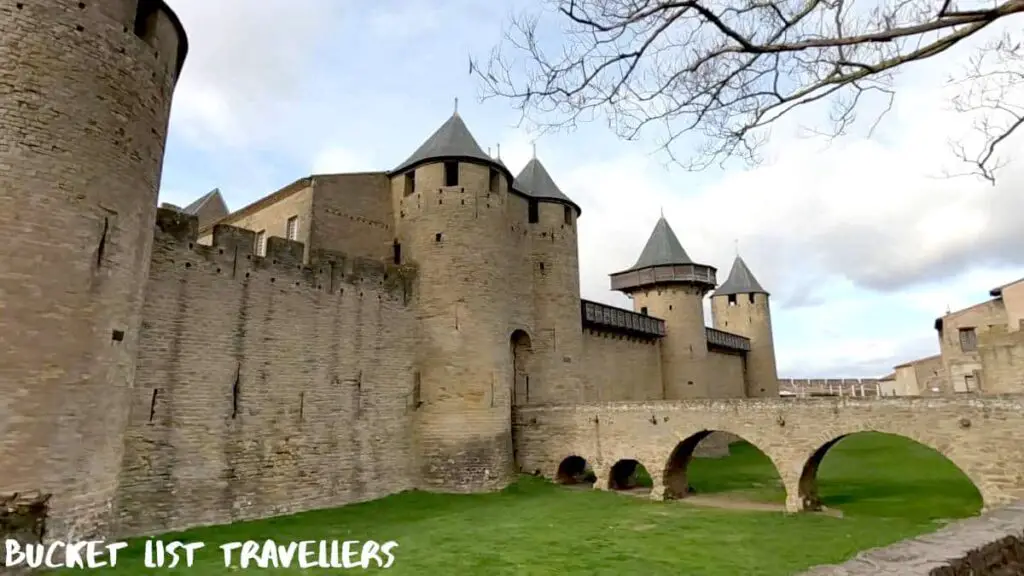 Carcassonne is a beautiful French city with many activities on offer. It has a range of great free activities as well as paid activities. If you want to know what to see in Carcassonne as well as things to do around Carcassonne, you've come to the right place! We have detailed information about the best Carcassonne things to do in our Best Things to Do in Carcassonne travel guide. We have a summary of the best free and paid things to do in Carcassonne below.
Carcassonne what to do: Free things to do in Carcassonne France
There are enough free activities in Carcassonne France to keep you entertained for a weekend or even a leisurely week:
For more details about Carcassonne things to do, see our Carcassonne travel guide on the 10 Best Free Things To Do in Carcassonne France.
Things to do Carcassonne: Paid activities in Carcassonne France
A number of attractions in Carcassonne France charge an entry fee:
Château Comtal (Carcassonne France castle) – entry fee is 9.50 euro for adults (as at 2023)
Parc Aquaviva – entry fee to the waterpark starts from 12 euro for 1 hour or 22 euro for a daypass (as at 2023)
Musée de l'école – entry fee is 4 euro for adults (as at 2023)
Carcassonne what to see: Things to do in Carcassonne for families
We recommend the following Carcassonne France things to do for families:
Cité de Carcassonne – the historic city is a great place for kids to explore
Place Gambetta (Square Gambetta) – this square has a lot of space for kids to run around. It also conveniently has a car park underneath
Walk along the riverside path running along the Aude River
Lac de la Cavayère – this family friendly recreation area has picnic areas, swimming spots and plenty of green space
Parc Aquaviva – this waterpark is a fun place to take the kids
Places to visit near Carcassonne France
Carcassonne's position on the train line as well as on the Canal du Midi makes it perfect for day trips both to and from the city. There are a number of great day trips from Carcassonne:
Canal trip down the Canal du Midi
Drive to medieval castle ruins – Château Puilaurens, Château de Peyrepertuse and Château de Quéribus are all around 1.5 hours drive from Carcassonne
Adge – a charming commune on the Canal du Midi near the Mediterranean Sea
Sète – a port city on the Mediterranean Coast
Minerve – one of the most beautiful villages in France
Castelnaudary – this market town claims to be the world capital of cassoulet, a popular dish in this region of France
Narbonne – historically the first Roman colony established in Gaul. It is now a beautiful beach resort which is surrounded by a national park, lagoons and vineyards. The city also has a popular covered market (les Halles)
Weather in Carcassonne France
Carcassonne enjoys a warm temperate climate. Its climate is heavily influenced by the nearby Mediterranean area. It has mild winters and hot and sunny summers. It is a windy city and experiences frequent and sometimes powerful winds. Snow is rare but not unheard of in Carcassonne. The snow generally falls between December and March. The rainiest months are October and April and the driest month is July. The hottest months are June to September.
Best time to visit Carcassonne France
Carcassonne is a beautiful place to visit at any time of year. This is because many of the best things to do in Carcassonne are indoors such as museums and restaurants. We visited in winter and enjoyed seeing the city at a time when it was less busy. However for mild and pleasant weather the best time to visit Carcassonne is from May to September.
Internet and mobile phones in France
Since June 15th, 2017, Roam Like at Home (RLAT) rules came into force for European Union countries. As such, people with European Union mobile numbers are no longer charged temporary mobile roaming fees if they travel within the European Union. This means that if you have a European Union mobile number, you can use that number anywhere within the European Union and you will be charged for calls, texts and data in the same way as if you were in your home country. There are limits to this in order to prevent abuse of these rules.
The main internet and phone companies in France include Orange, SFR, LeFrenchMobile, Bouygues Telecom, Lebara, Lycamobile and Free.
5G has been in France since November 2020. However 2G is expected to continue in France until 2030.
We had particularly slow internet speeds in the Airbnb we stayed at in Carcassonne. Our internet speed was 8mbps download and 0.8mbps upload. If you need fast internet in Carcassonne we recommend going to Tribe Carcassonne. Their internet speeds were incredibly fast and they have a small reasonably priced cafe on the ground floor of the hotel.
Cell phone SIM cards can be bought in many places throughout France. These include phone stores, some supermarkets, newspaper kiosks as well as online.
How much to budget for Carcassonne France?
Is Carcassonne expensive?
Carcassonne caters to a wide variety of budgets. The city is easily walkable, which definitely helps keep costs down. The city is also well connected to other parts of France by public transport. Additionally, many of the major attractions in Carcassonne are free. Therefore it is possible to take a day trip to Carcassonne France and not spend much money at all. However if you want a more luxurious experience, perhaps with some fine dining and a stay at an upmarket Carcassonne hotel, it can be easy to spend a lot as well.
Carcassonne travel guide: Daily spend for a couple travelling in Carcassonne France
As a rough Carcassonne guide, we recommend the following budgets for a couple:
Cheap Carcassonne holidays daily spend – 100 euro per day for a couple will get you hostel accommodation, self catering and bakery meals, walking throughout the city and free or cheap activities such as strolls along the waterways, exploring the fortress town and spending time in the parks and squares throughout the city.
Mid-range Carcassonne vacations daily spend – 300 euro per day for a couple will get you mid-range accommodation, walking or hiring a bike to get around the city, dining at reasonably priced cafes and restaurants and some paid activities such as entrance to the chateau section of the medieval city.
Luxury travel Carcassonne daily spend – 1000 euro per day for a couple will get you a premium experience in France, staying at luxury hotels, travelling by private transport, doing a range of paid activities and eating at high end restaurants.
Carcassonne guide: Accommodation in Carcassonne France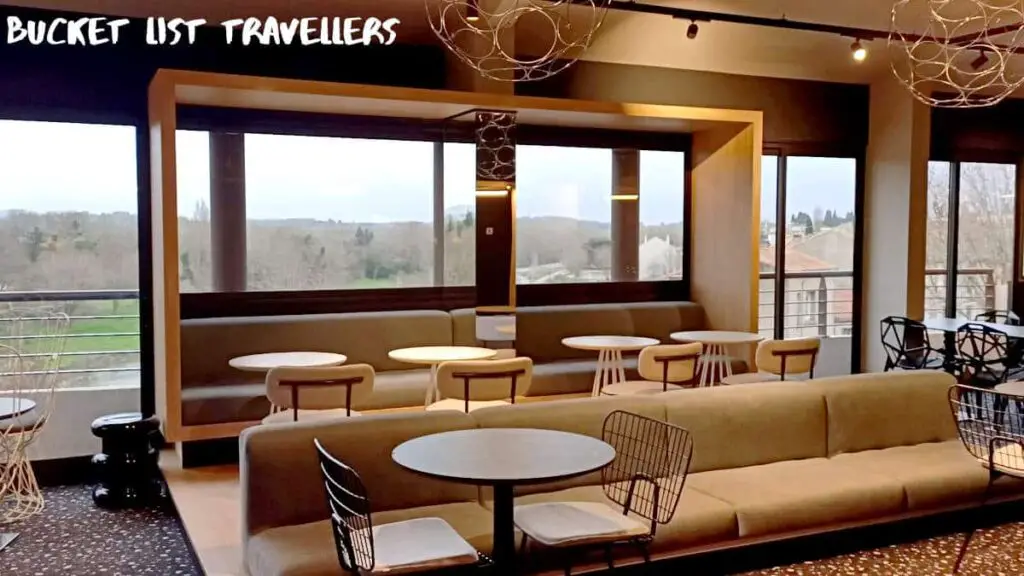 There is a good range of Carcassonne accommodation to suit all budgets. Airbnb operates in France and we were impressed with the range of options available in Carcassonne. You can find a one bedroom apartment from 40 euro a night. We found that some Airbnbs in France have very slow internet speeds, so we'd recommend making sure you are happy with the internet speed provided before making a booking.
Where to stay in Carcassonne France?
We recommend the following accommodation in Carcassonne France:
How much is accommodation in Carcassonne France?
For short-term accommodation, a general price per night is as follows:
Budget accommodation – 25-30 euro for a bed in dorm accommodation in Carcassonne France.
Mid-range accommodation – 50-150 euro for a private room in Carcassonne hotels.
Luxury accommodation – 200-300 euro a night for a Carcassonne luxury hotel.
Rental property – 70-250 euro a night for a fully furnished 3-5 bedroom home.
Carcassonne travel guide: Food in Carcassonne France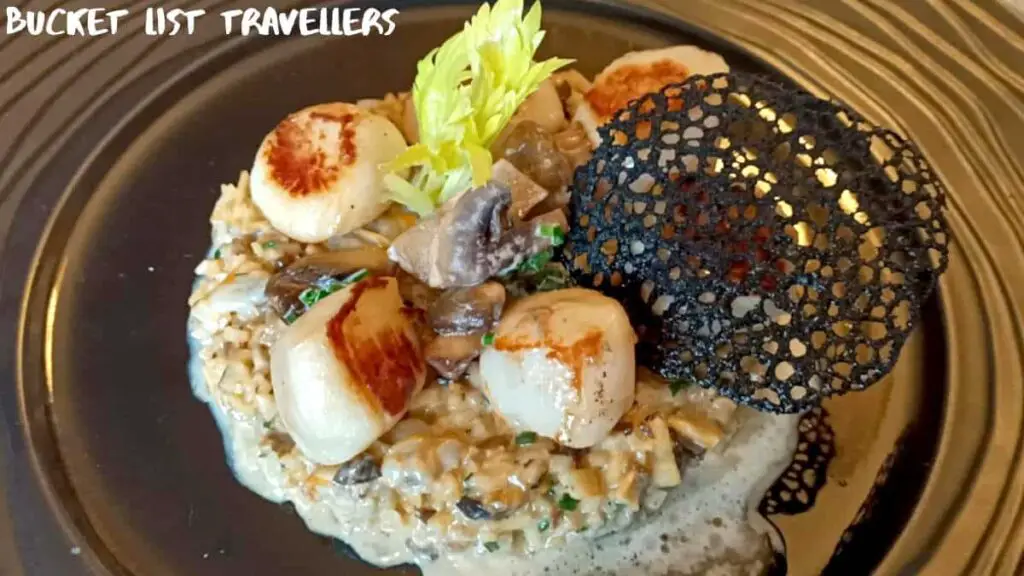 Expect to be extremely well fed in Carcassonne! The city is filled with Michelin guide restaurants, gorgeous chocolateries and patisseries as well as plenty of cafes and restaurants. We loved exploring all of the gastronomic delights that the city has to offer.
How much does food cost in Carcassonne France?
Our price guide for your food budget in Carcassonne France is as follows (prices as at 2022):
Restaurant meal – 15-20 for a main dish
Bakery food – 1-2 euro for a croissant or baguette, 5 euro for a sandwich
Glass of wine – 4-6 euro
Coffee – 3-4 euro
Tasting menu at 2 Michelin star restaurant – 90-160 euro per person
Regional dishes in Carcassonne France
Cheap Eats in Carcassonne France
Boulangeries (French bakeries) are a great place to get cheap and delicious food. Baguettes are typically less than 1 euro. Croissants and pain au chocolat are around 1 euro. Other common food that can be found in boulangeries include quiches, pastries, sandwiches and pizzas.
Fine dining in Carcassonne France
Carsassonne is home to a number of Michelin Guide restaurants.
Michelin 2 star restaurants in Carcassonne France (2023)
La Table de Franck Putelat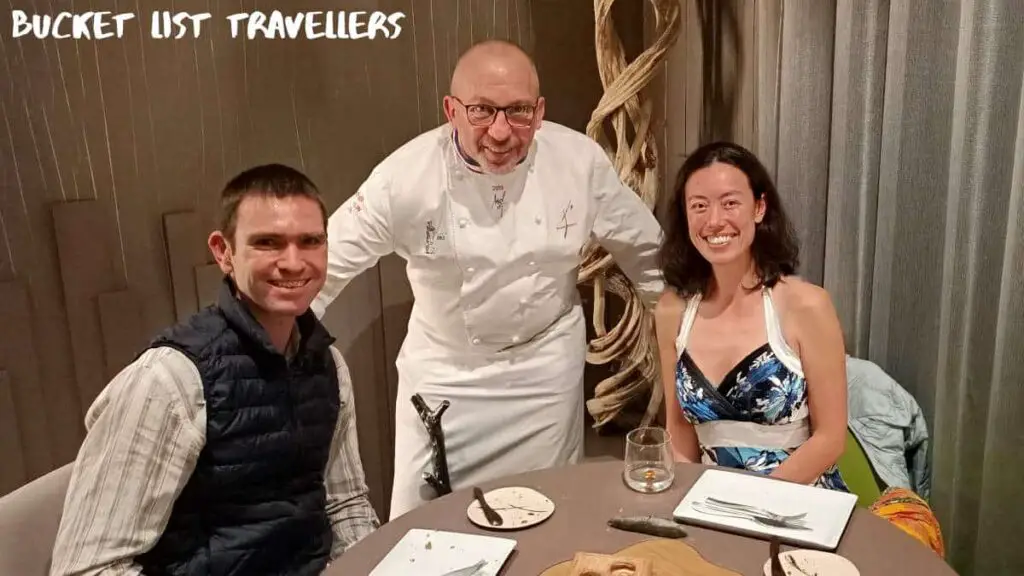 Michelin 1 star restaurants in Carcassonne France (2023)
La Barbacane
Le Puits du Trésor
Carcassonne France Michelin Plate restaurants (2023)
Brasserie à 4 Temps
Restaurant Comte Roger
La Table d'Alais
Domaine D'Auriac
Le Moulin de Trebes
L'Ambrosia
La Bergerie
La Bourdasso Cucina Italiana
Carcassonne France culture
France national holidays
New Year's Day – 1 January
Good Friday – the Friday before Easter Sunday, typically in March or April. This is only observed in Alsace and Moselle.
Easter Monday – the Monday after Easter Sunday, typically in March or April.
Labor Day – 1 May
Victory Day – 8 May
Ascension Day – this is celebrated 40 days after Easter
Whit Sunday – this is the Christian holiday of Pentecost. It is celebrated 50 days after Easter, typically in May or June
Whit Monday – it is the day after Whit Sunday, typically in May or June
Bastille Day – 14 July
Assumption Day – 15 August
All Saints Day – 1 November
Armistice Day – 11 November
Christmas Day – 25 December
St Stephen's Day – 26 December. This is only observed in Alsace and Moselle.
National symbols of France
France flag – a tricolour flag featuring three vertical bands coloured blue, white and red from left to right.
France coat of arms – this features a lictor's fasces (a bundle of wooden rods with an axe protruding from the top). This symbol rests on branches of laurel and oak. There is also a ribbon with the national motto "Liberté, égalité, fraternité". The lictor's fasces represents magisterial power, law and governance. The oak is the national tree of France and symbolises strength and endurance. The laurel is a symbol of triumph.
National flower – fleur-de-lis (also known as the lily flower)
National bird – Gallic rooster
France pastimes
National dish – Pot-au-Feu
Popular drinks – Pastis, wine
National sport – football
Religion – 41% Catholic, 40% non-religious (as at 2019)
Famous people from Carcassonne France
Born in Carcassonne France – physicist Albert Fert (Nobel laureate), chemist Paul Sabatier (Nobel laureate)
People that shaped Carcassonne France – architect Eugène Viollet-le-Duc (restored the medieval city of Carcassonne), engineer Pierre-Paul Riquet (built the Canal du Midi)
Is Carcassonne France Safe?
France travel guide: Safety in France
We travelled through France for two months and found the country to be extremely safe. As with any country, there are good areas and bad areas. Watch out for pickpockets particularly in Paris, Marseilles, Nice, Lyon, Cannes as well as Strasbourg. Also, make sure no-one is watching whenever you are entering pin codes and never lose sight of your credit card when making a purchase.
General safety considerations in France
Other general safety considerations for travel in France:
Drinking water – The tap water is safe to drink in Carcassonne.
Mosquitoes – the tiger mosquito has been present in France since 2004. This type of mosquito spreads diseases such as Zika, dengue and chikunguya.
Road safety – French motorways are the safest in continental Europe. However the National and Departmental roads are much less safe. Additionally, roads are the leading cause of violent death in the country. Take care on the roads in France.
Water safety – La Cavayère Lake is a 10 minute drive from the town of Carcassonne. Take care when swimming as currents and waves may be stronger than you expect. Swimming is not permitted in the Canal du Midi.
Sun safety – Exposure to the sun can have adverse short-term and long-term effects on the skin, eyes and immune system. Sun protection such as sunscreen, a hat and sunglasses is very important to ensure you don't get burnt.
As with any destination, take all of your normal safety precautions.
Carcassonne Blogs
You can find our Carcassonne travel blogs below.
France Blogs
You can find our France travel blogs below.
Affiliate Links
This website contains affiliate links, which means we may earn a commission on any purchases at no additional cost to you. Your support helps us continue our travels and make more travel blogs and travel videos, thank you!